The Aquaculture Stewardship Council (ASC) spoke to The Innovation Platform's Junior Editor, Lorna Malkin, about how it develops and manages industry standards to ensure that responsible seafood is farmed with minimal social and environmental impacts.
Aquaculture now produces half of the seafood that is consumed globally. As the industry continues to expand, implementing robust and relevant standards is essential for ensuring food supply chains are sustainable and transparent and that those farmers who practice aquaculture are incentivised to meet industry standards and, in turn, minimise any negative environmental and social impacts.
The Aquaculture Stewardship Council (ASC) is an international, non-profit organisation responsible for developing and managing industry standards that are focused around three key principles: legal, environmental, and social. Lorna Malkin, Junior Editor of The Innovation Platform, spoke to the ASC about the work the organisation is doing to increase the supply of sustainably sourced seafood and how industry standards are developed, assessed, and implemented to boost certified responsible seafood worldwide.
Could you introduce the work and role of the ASC?
The Aquaculture Stewardship Council (ASC) is the world's leading certification scheme for farmed seafood, and the ASC label only appears on food from farms that have been independently assessed and certified as being environmentally and socially responsible. ASC was set up in 2010 by WWF and IDH, a Dutch NGO, to manage standards for responsible aquaculture that had been developed by the 'Aquaculture Dialogues' – a long and multi-stakeholder process looking at the key impacts of farming different species and how they can best be minimised. ASC is a fully independent organisation and has grown a lot since then, adding standards for many more species, along with plans for a standard covering the use of feed on farms. But our mission and principles have stayed the same – we are looking to drive up standards in aquaculture by managing the most stringent requirements in the industry; and everything we do remains centred around a transparent and multi-stakeholder approach. That means any new standard, or revisions to standards, and every single farm audit, involve a period of public consultation and total transparency.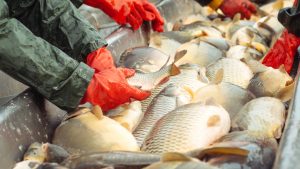 The basic premise behind ASC is that farmed seafood is a vital part of the global food supply, but like all food production it has impacts, and some of these can be made worse by irresponsible practices. We believe in a market-based approach to driving up standards. That means those farms that demonstrate they are meeting the ASC's stringent requirements can use the ASC logo on their products; consumers can look for this logo and know that it is responsible seafood. By purchasing ASC certified seafood, they are rewarding those farmers and creating more demand for responsible seafood, encouraging more farmers to work towards the ASC standards.
How would you define 'sustainable aquaculture'?
We prefer to think about 'responsible aquaculture' because, for us, the social impacts of farming are just as important as the environmental ones. All ASC standards include three principles: legal, environmental, and social. To become certified, a farm must meet the requirements of all three of these principles. In terms of the environment, that means minimising your impact. Exactly how will depend on the species being farmed and the location and type of farm, but a number of indicators can inform whether a farm is doing this. These include: monitoring and maintaining good water quality in and around the farm, as well as on the seabed; preventing the use of antibiotics preventatively, and only using medicines when required, to encourage a more holistic approach to fish health; preventing the escape of fish into the wider ecosystem; monitoring dissolved oxygen levels which can be a good indicator of fish welfare and the impact of the farm on the body of water; and using feed that has been responsibly sourced. But to be truly responsible seafood, a farm also needs to focus on how it treats people. This includes its staff, who must be fairly treated and paid, free to join unions, and provided with safety equipment and training; and local communities, who must be treated with respect. These communities can also have their say on ASC farm audits and auditors should proactively seek their input in this process.
The global demand for seafood has grown rapidly in recent years. Do you believe that aquaculture offers a sustainable solution to meet this growing demand? How can the industry ensure the welfare of farmed fish, as well as environmental and social impacts are suitably monitored and addressed?
Aquaculture now provides over half of the seafood eaten around the world, so it is already absolutely vital to food security, as well as to the livelihoods of countless people. It is likely that as the world's growing population demands more seafood, which is a relatively low-carbon and healthy protein source, much of this will have to come from aquaculture. We believe farming is really well placed to meet this demand, as it can provide this protein with relatively little energy and land use. But if the world is to fully benefit from aquaculture it has to be done responsibly. This is exactly why ASC was set up and why we are working hard to drive up standards as aquaculture grows.
We believe that the best way to do this is by harnessing the power of consumers. Previous surveys on consumers carried out for ASC have demonstrated a widespread and global desire to contribute towards change in the way food is produced and a demand for trustworthy, independent information to help do that. If consumers can be given the information about which products have been produced responsibly, they can use that information to choose these products, thereby rewarding responsible farmers. We believe this targeted approach, which looks at farms on an individual basis and assesses them based on their performance and management, is the way to improve standards in food production. In terms of welfare, this is an increasingly important issue and one which was previously little understood but is now being widely studied. At ASC we are at the forefront of this, contributing to studies while also developing new requirements that will be added to ASC standards to ensure farms are treating their animals with respect and thinking about their welfare.
How do farms achieve the ASC certification?
ASC is a third-party certification scheme – what that means in English is that ASC develops and manages the standards but does not audit farms. This is done by independent bodies known as Conformity Assessment Bodies (CABs). They are totally independent and ASC does not interfere with their certification decisions. This is widely accepted as the most thorough system for certification as it ensures the process is fully independent – and because ASC does not receive any money for the certification process it is not possible to 'buy' ASC certification.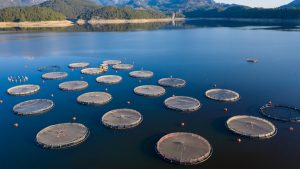 Having said that, we can still tell you what the audit process involves. Once a farm has arranged an audit with an independent CAB, they will be visited by auditors (including a qualified social auditor) who will conduct a multi-day on-site audit, checking the farm's performance against every single requirement in the relevant ASC standard. As you can imagine, this is a lengthy process and involves taking samples, checking paperwork, interviewing staff, and talking to local communities. If a farm does not meet every requirement, it may result in a minor or major non-conformity. A farm cannot be certified with a major non-conformity; if there are minor non-conformities they must be corrected. On top of this, the audit report is published online on the ASC website and members of the public are able to provide feedback. This two-week consultation period happens for every single farm that is aiming for ASC certification, and if there are local communities or indigenous groups their feedback may be proactively sought by the auditors.
If a farm is certified, this certification lasts for three years – but during this period the CAB must carry out surveillance audits at least once a year. These audits are not as long as initial audits but allow the auditors to ensure the farm is still meeting the ASC's high standards. As with an initial audit, non-conformities can mean a farm's certification being suspended or withdrawn. At any point during certification a CAB can also conduct an unannounced audit – if this happens, the farm must allow them access. After three years, the farm must undergo another initial audit in order to maintain certification.
How are ASC standards developed and how have these changed since the organisation was first established?
The process of developing standards has changed in some ways since those first Aquaculture Dialogues, but the key principles of collaboration, transparency, and consultation have remained. Standards are developed by Technical Working Groups (TWGs) that are made up of multi-stakeholder representatives from diverse backgrounds: industry, science, retail, NGOs, and so on. This is vitally important because it ensures we are getting the benefits of as much expertise and experience as possible. Standards are subject to at least one round of public consultation, and often more. This is much more than a box-ticking exercise: we publish the draft standard, along with the rationale, and proactively seek feedback from as many different stakeholders as possible. Public feedback is taken into account and used to refine the standard. All standards are also signed off by our Supervisory Board and Technical Advisory Group: again, both of these are made up of multi-stakeholder experts from a diverse background.
The standards are based on the best science available at the time they are created, but they are not static documents; reviews and revisions are happening at ASC at all times. That can be of entire standards, or aspects of standards which may need updating. Aquaculture is a fast moving and innovative industry and we have to recognise that there will always be more scientific evidence to take into account – including data that has been generated by the ASC programme as part of our Monitoring & Evaluation project – and that means we can never stand still or rest on our laurels. Some current examples of this are our projects looking at creating additional requirements for animal welfare, and additional requirements for Recirculating Aquaculture Systems (RAS), which are becoming more widespread in the industry and have unique benefits and challenges which need to be reflected in our standards.
Currently, we have separate standards for different farmed species – a Salmon Standard; a Seabass, Seabream, and Meagre Standard; a Bivalve Standard covering oysters, mussels, and clams; and so on. A major project currently underway will change this by creating an 'aligned' Farm Standard. This one standard will cover all ASC species and will ensure greater consistency – while still including requirements that deal with the specific impacts of different species. This will mean future updates and revisions will be more efficient, while still going through the same comprehensive process involving multi-stakeholder development and public consultation. The Farm Standard itself will, of course, be based on public consultation; indeed the consultation on the first set of environmental requirements has just closed, so we will now be assessing this feedback. There are so many environmental requirements in the Farm Standard that we are consulting on them in two batches, with the next set due for public consultation later this year, before one final round next year followed by release.
What are some of the negative impacts that can occur when aquaculture is not practiced in a responsible way?
This can vary from species to species and farm to farm as it depends on a number of variables, but some of the common impacts that the ASC standards do not allow include detrimentally impacting the water or seabed quality; overusing medications with knock-on effects on nearby wildlife or even on the effectiveness of vital antibiotics; spreading disease or parasites to wild populations; and negative impacts on local communities or workers. This is just a selection of impacts that irresponsible farming can have, but it is important to note that all food production has impacts and can be done irresponsibly.
The idea behind ASC is that we should assess farms based on their individual merits and performance, which is what the ASC logo is for. While a seabass farm will have different impacts to a mussel farm, for example, to become ASC certified they all must demonstrate they are minimising these impacts and treating the environment, their neighbours, and their workers, responsibly.
How are new technologies helping to advance aquaculture practices?
One of the exciting things about the aquaculture industry is how innovative it is. Though fish farms have existed for thousands of years, as a global industry aquaculture is only a few decades old, and it shows in how fast paced and innovative it is. We see that in the new alternative feed ingredients that are being developed as well as in new designs for farms. Recirculating Aquaculture Systems are an example of a new technology that is expanding rapidly in the industry – and of how ASC is always working to identify these trends and adapt to them. These farms are closed systems, meaning they can be placed on land. This has a number of benefits, such as removing the risk of escapes, but it also presents different challenges to other aquaculture systems – it can require a great deal more energy and land, for example.
One of the interesting things about working at ASC is we have to assess both sides of new developments, the challenges as well as the benefits, to make sure we can develop appropriate requirements for them. It is another reminder that sweeping statements are rarely helpful: rather than asking if a certain technology will make things better or worse, we ask what the specific impacts of that technology are and how they can be minimised, because technology will not change the fact that a farm's impacts will ultimately be determined by how that farm is managed.
Finally, what other steps need to be taken to make it easier for consumers to purchase seafood from sustainable sources?
We are always working hard with retailers, restaurants, processors, and others to increase the supply of certified responsible seafood available to consumers, and that is a big part of the solution. We know that consumers want to be able to make a difference with their purchasing decisions, so we need to make sure they can do that. We hope to create a virtuous circle: making it easier for consumers to choose ASC certified seafood, enabling consumers to reward those certified farmers, which in turn encourages more farmers to work towards ASC certification, further increasing the choice for consumers. It is why we work closely with farmers as well as commercial partners, not to mention directly with the public to raise awareness of the benefits of ASC.
As far as consumers are concerned, the answer is an easy one: look for the ASC logo. It directly rewards farmers who are minimising their impacts and demonstrates that there is a market for responsibly produced farmed seafood.
www.asc-aqua.org/
Please note, this article will also appear in the sixth edition of our quarterly publication.