The team behind the TAPAS project reflect on their last four years of research and how it can shape the future of aquaculture licensing in Europe.
As the four year Horizon 2020 TAPAS project comes to an end, the needs of the European aquaculture licensing industry has become a lot clearer. Delivering solutions for licensing across the continent was always going to be a challenge, even for this €6.9m interdisciplinary project, but the foundations have been set for a transition to a more streamlined and accessible licensing process that benefits both people and the environment.
The TAPAS project was developed in response to the challenge of a fragmented licensing process within and between European nations holding back industry development. As one of the EU's key sectors for Blue Growth, many EU Member States have ambitious targets to expand their national aquaculture industries. However, considerable bottlenecks were identified that actually prevented growth. This includes inaccessible and over-complex license application requirements, access to relevant scientific tools and data, lack of public support for aquaculture developments, and inconsistent national policy and legislation.
"A lack of effective licensing and regulation is restricting the development of Europe's aquaculture sector" says Professor Trevor Telfer of the University of Stirling, who leads the project. "Most of the seafood that we eat in Europe is imported, and inefficient licensing is contributing to lost opportunities for European producers."
The Aquaculture Toolbox
To address these challenges, a team of 15 research institutions, SMEs, aquaculture organisations and regulators from across Europe collaborated to fill research gaps, develop technological applications (including automated remote sensing and monitoring), and develop environmental modelling and guidance tools to aid the licensing process for stakeholders. The project took a pan-European approach to develop and test tools in a range of environments, and production systems that feature within the European aquaculture sector.
Based on a legislative review and policy recommendations, in consultation with stakeholders, the four-year TAPAS project has produced the Aquaculture Toolbox, hosting modelling and guidance tools for aquaculture license applicants, regulators and decision makers; a framework for assessing the synergies between aquaculture and the environment; and improved and novel integrated operational tools for the timely and cost-efficient monitoring of aquaculture production.
The research spanned spatial scales from in-situ monitoring to large-scale remote Earth observation, capturing environmental processes that drive the interaction between aquaculture and its surrounding environment. Diverse case studies from across Europe were used to test and demonstrate the applicability of the data and tools produced by the project, and to paint a picture of how stakeholders can utilise the outputs of the TAPAS project to benefit both development and regulation.
No 'one size fits all' solution
Aquaculture governance systems considered by the TAPAS project ranges from national-level strategies to decisions made locally by license applicants. These are linked by legislation to implement national policies, resulting in a licensing process. Implementation challenges exist at each level which are inherently linked to one another, therefore taking a more holistic approach is required to effect systematic change. For example, environmental reporting requirements (at the 'decision support' level) are driven by the requirements of the licensing process, which in turn are influenced by national legislation. Consequently, an ambitious national strategy to increase aquaculture production may be rendered ineffective if the legislation, and administrative frameworks, are not fit for purpose or are inefficient.
There is a diverse aquaculture industry across EU Member States, and while commonalities exist between sectors and nations, a multitude of pressures and environmental conditions drive the challenges experienced by both. Therefore, tools and guidance must be sufficiently broad to have a far-reaching impact yet detailed enough to capture the finer details of individual sectors (and to be accepted by these sectors as robust and reliable). The diversity in European aquaculture development also allows opportunities from lessons learned between different sectors, yet each has their own requirements which must be addressed by any tools and guidance that is developed. The ambitions of the Member States can also vary regarding the development of their aquaculture sectors which can also add to the complexity of the tools and guidance established. These challenges have been investigated within TAPAS.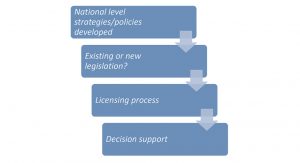 Accessible yet robust licensing process
Through stakeholder consultations, a theme emerged of unnecessarily complex, time consuming and costly application processes, further exacerbated by poor communication and frequent license renewals required for single operations. Consequently, the licensing process at national level should be robust in order to develop the industry sustainably.
Processes within the licensing system, including the statutory Environmental Impact Assessments and public consultations, should ensure that developments are sited appropriately and that they carry out the necessary environmental monitoring and reporting. This robustness must be retained; yet consideration must also be given to the ability of the applicant to meet the requirements of a licensing system. The recommendations developed by the TAPAS project will guide regulators in improving the licensing system to work for both people and the environment, creating a simplified and streamlined yet robust process by which both applicants and regulators can develop appropriate and sustainable aquaculture developments. EU Member State governments and regulators can now benefit from access to these recommendations, informed by a diverse range of European stakeholders to improve national-level licensing frameworks.
Securing public support
A sustainable aquaculture industry is one that secures not only environmental protection but also economic viability and public community support. Stakeholder consultations revealed that a negative perception of aquaculture can have a disproportionately detrimental influence on industry in the eyes of the general public compared to its positive consequences, leading to a lack of confidence and trust and reduction in public support for, or even encouragement of active resistance to, the development of aquaculture. Poor public image also discourages the political support for the sector.
Addressing a need for better public support means improving transparency and public understanding of the licensing process, to build confidence, trust and to give the public and the media accurate information regarding aquaculture. In addition, improvements can be made to spatial planning frameworks under which aquaculture developers can liaise with other resource users to avoid conflict and to highlight positive contributions of aquaculture to society and to the environment.
Achieving greater public support for aquaculture developments has a two-way benefit – creating closer ties and improved relationships between communities and aquaculture developers, as well as benefiting the industry by minimising the disruption created by public opposition and increasing long-term sustainability. The transparency, guidance and tools from the TAPAS project and presented in the Aquaculture Toolbox will aid in better public understanding of licensing, management and environmental regulation and will also have knock-on benefits to enhance public awareness of the aquaculture industry.
Building on the success of the TAPAS project
The TAPAS project has successfully created a framework to augment aquaculture governance in EU Member States, therefore contributing to sustainable development through provision of environmental models, regulatory guidance and real-time monitoring tools. In turn, this results in an enhanced understanding of the relationship between aquaculture and the environment through effective licensing.
The Aquaculture Toolbox, as one of the principal outputs of the project, is available as a 'Version 1' stage – delivering a proof of concept of a Decision Support System that allows developers and regulators to access tools, guidance materials and case studies to improve national licensing processes and environmental management. This online platform is ready to be taken forward, built on and refined to encompass a greater range of tools and information for the European aquaculture industry. It is hoped that the Aquaculture Toolbox will be adopted by a body with the capacity to develop the framework in line with the needs of the sector, presenting an opportunity to further enhance a novel, EU-wide framework that holds the potential to improve economic, societal and environmental benefits and relieve licensing bottlenecks.
Dr Trevor Telfer
Professor
Tools for Assessment and Planning
of Aquaculture Sustainability (TAPAS Project)
+44 (0)1786 467921
t.c.telfer@stir.ac.uk
Tweet @tapas_h2020
http://tapas-h2020.eu/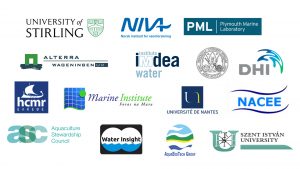 Please note, this article will also appear in the second edition of our new quarterly publication.