Sirios Resources has been an active player in Québec for decades with significant gold discoveries, including the Cheechoo project, and promising prospects for lithium.
Québec is one of the world's top mining-friendly jurisdictions and the second-largest gold producer in Canada, following Ontario. Together, these two provinces account for more than 70% of the country's gold output. This indicates that companies in the gold mining sector are actively seeking opportunities in both regions due to their abundant resources.
Québec alone contributes around a third of Canada's gold production, with the majority originating from the Abitibi Gold Belt that stretches from Val d'Or, Québec, to Timmins and Kirkland Lake in Ontario. Additionally, the Eeyou Istchee James Bay (IEJB) district, situated in the mid-northern part of Québec, is an emerging area for gold and critical metals exploration and mining due to its rich geological diversity.
A brief history of Sirios
Sirios (TSX-V: SOI) was created in 1994 and has since been led by the founding CEO, Dominique Doucet. Doucet holds a degree in geological engineering from the École Polytechnique de Montréal. His primary goal was, and is still, to explore the otherwise unexplored region of IEJB in Northern Québec, leading Sirios to become a pioneering company in that region owing to its untapped potential in precious, base, and critical metals.
Doucet and his team were awarded the Discovery of the Year Award in 2001 and 2016 by the Québec Mineral Exploration Association for significant gold discoveries made in IEJB. Dominique was also Co-Founder and Director of Dios Exploration Inc. and Khalkos Exploration between 2001 and 2011 and has actively been involved in the mining industry for more than four decades.
Today, Sirios Resources holds great opportunity for those looking for promising gold and lithium investments. The company has a strong shareholder base, including the world's largest gold producer, Newmont Corporation – its main shareholder, which owns 12% of Sirios.
Cheechoo project
The Cheechoo property, owned entirely by Sirios, is located 320km north of Matagami, IEJB, less than 12km of the Eleonore gold mine operated by Newmont. It is composed of three non-contiguous blocks for a total of 300 claims covering an area of 157km2.
Prior to Sirios acquiring its first claims in 2004, Cheechoo was an unexplored area. Years of fieldwork then led to significant gold discoveries, allowing Sirios to win the Discovery of the Year Award for the project in 2016 by the Québec Mineral Exploration Association.
In 2022, Sirios updated its resource estimate on Cheechoo thanks to the consulting firms BBA Inc. and PLR Resources Inc. The gold project now boasts:
Indicated resources of 1,404,000 ounces of gold (Au oz) contained in 46.3 millions of tonnes (Mt) at a 0.94g of gold per tonne average grade (Au g/t); and
Inferred resources of 494,000 ounces of gold (Au oz) contained in 21.1 millions of tonnes (Mt) at a 0.73g of gold per tonne average grade (Au g/t).
Meanwhile, exploration completed on the property totals over 76,000m of drilling in 329 holes, and more than 3,000m of channel sampling. Approximately half of the main gold area has been drilled, with 50m of spacing to define indicated resources.
Sirios Resources has also conducted numerous metallurgical tests, the results of which include:
Gold recovery of up to 97.1%, including up to 88% gravity recovery;
Free gold, often coarse;
Potential for flotation of the gravity process' tailings; and
Low polluting (< 0.2% sulfides in the tailings).
Work to date has shown that these gold discoveries span over 1,400m along the tonalitic intrusive and meta-sediments contact, and go up to 500m inside the intrusion. Gold mineralisation has also been tested down to 650m below the surface, while exploration work to the west of the main area shows that the mineralised envelope could extend to the west towards a region called Eclipse. In 2022, gold mineralisation was discovered at the surface in new trenches located in the metasediments to the east and outside the tonalitic intrusion. Intervals of up to 2,65 g/t Au over 13ms were obtained in Trench B including 10,9 g/t Au over 1m. Dominique Doucet mentioned that this new zone could lead toward a new and second gold deposit on the property, having more similarities with the Eleonore Newmont mine hosted in metasedimentary rocks.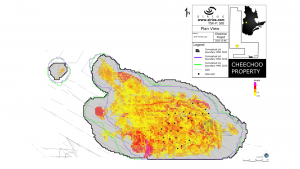 The Cheechoo project has numerous positive characteristics, including a strong exploration potential, a low strip ratio of 2.3:1, and proximity to infrastructure such as an airfield, hydroelectric power line, the Eleonore mine camp, accessibility by road, and a 3G / LTE Network and optical fibre.
Sirios wants to keep advancing the Cheechoo project by targeting new potential areas for gold as well as identifying the potential for lithium discoveries on the property. Spodumene (lithium mineral) bearing boulders have already been identified on the Cheechoo property, 3km north of the gold deposit.
Aquilon project
Sirios Resources is also focused on its advanced exploration, Aquilon high-grade gold project, which consists of 140 claims and covers approximately 70km2. It is located 10km south of the LA-1 hydroelectric complex, and approximately 490km east of Radisson, and is easily accessible year-round by road via the Trans-Taiga highway crossing the IEJB region. An airstrip outfitter is located less than a 40-minute drive from the property.
To date, 32 gold discoveries have been found, while some of the drill intercepts are among the highest grades found on the surface in Québec, including:
12,906.5 g/t gold over 0.20m (Lingo showing);
3,527.4 g/t gold over 0.40m (Moman showing); and
133.67 g/t gold over 0.82m (Fleur-de-Lys showing).
The project is located in a large-scale fold hinge in a greenstone belt along the Wolf-Gold bearing corridor, that features several gold showings. However, a large part of the property remains unexplored.
In December 2022, the company signed a $14.8m option agreement with Sumitomo Metal Mining Canada Ltd. for the Aquilon project where Sumitomo is granted an option to acquire up to an 80% interest in the project. Sumitomo has been a producer for over 300 years and has operations in 15 countries.
An initial winter programme was completed in March 2023 and will be followed this summer by intensive fieldwork, including mapping, geological structural studies, additional soil and rock sampling, as well as geophysical in order to advance the property to a drill-ready stage by the end of 2023. Sirios is the operator of the exploration's current programmes.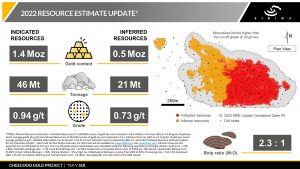 Sirios Resources identifies lithium projects
In January 2023, the company announced it had completed an in-depth evaluation of the lithium potential on its projects in the James Bay region. The company said in a press release that four of its projects have been identified as very promising for hosting lithium because of their geological characteristics.
None of Sirios' current projects have previously been explored specifically for lithium.
Highlights include:
Mineral prospects favourable to the presence of lithium mineralisation have been identified on the Cheechoo property;
Significant geochemical lithium bottom lake sediment anomalies have been identified on the Maskwa property in addition to positive gold and tungsten till anomalies;
The Li-52 property is the newest Sirios project, primarily targeting lithium based on highlighted lithium-rich lake-bottom sediment anomalies. This property was recently enlarged to 507 claims covering 252 km2; and
Lithostratigraphic and structural geological locations of both the Maskwa and Li-52 properties show very good potential for lithium and gold.
Additional value related to the lithium potential was obtained through the recent sale of its Pontax property to Cygnus Metals Ltd. for a $1.2m cash payment, as well as 750,000 shares of Cygnus, other further payments and share issuances of up to $3m and one million additional shares, respectively, in the event of a future delineation of a lithium resource on the Pontax property. All this is in addition to a 1.5% net smelter return royalty on the property with a buy-back clause by Cygnus for 0.75% in consideration of a $600,000 cash payment.
Sirios is based in the province of Québec, a leading mining jurisdiction, and maintains mutually beneficial relationships with the Cree communities of Eeyou Istchee. As a pioneering company with two advanced exploration gold projects, as well as several promising lithium prospects, Sirios Resources Inc. remains a strategic investment with a long-term vision backed by solid investors such as Newmont Corporation.
Please note, this article will also appear in the fourteenth edition of our quarterly publication.