The SKA Observatory (SKAO) has revealed its plans for creating what will be the world's largest radio telescope arrays, which will be situated in Australia and South Africa.
The SKAO telescopes will be the two most complex networks and largest radio telescope arrays ever created, which will be aptly named SKA-Low and SKA-Mid – to describe the radio frequency range in which they will cover, providing unprecedented insights into a plethora of enigmatic features of the Universe.
Earlier this year, SKAO became an intergovernmental organisation, a landmark achievement that brought with it two vital pieces of documentation – the Observatory Establishment and Delivery Plan and the Observatory's Construction Proposal – both of which have been instrumental in bringing this ambitious endeavour to reality. Over 500 experts from 20 countries have worked for the past seven years to design and engineer technologies for the soon to be world's largest telescope arrays, comprising 11 international consortia from over 100 global institutions.
"I am ecstatic. This moment has been 30 years in the making," said SKAO Director-General Prof. Philip Diamond. "Today, humankind is taking another giant leap by committing to build what will be the largest science facility of its kind on the planet; not just one but the two largest and most complex radio telescope networks, designed to unlock some of the most fascinating secrets of our Universe."
"I would like to thank everyone who has contributed to making this possible over the past decades, from the early inception of the project until now, and in particular all the teams who have worked so hard over recent years and powered on through a pandemic in very difficult circumstances to meet deadlines and make this milestone possible. I would also like to thank our Member States for their vision and the trust they're placing in us by investing in large-scale, long-term research infrastructure at a time when public finances are under intense pressure."
"I would like to add my thanks to the members of the SKAO Council and the governments they represent," said Dr Catherine Cesarsky, Chairperson of the SKAO Council. "Giving the green light to start the construction of the SKA telescopes shows their confidence in the professional work that's been done by the SKAO to get here, with a sound plan that is ready for implementation and in the bright future of this groundbreaking research facility."
The inception of the telescopes will bring with it huge economic and societal benefits, creating highly skilled, technological jobs and enhanced industrial capacity, in addition to providing groundbreaking scientific discoveries that will advance our understanding of existence itself.
World's largest telescope arrays: An astronomical project
The two largest telescope arrays in the world will cost €2bn to build between 2021 to 2030, which includes associated operations and business-enabling functions. The project has triggered considerable excitement across the scientific community and beyond, with in excess of 1,000 researchers from 40 countries being involved in SKAO's Science Working Groups to maximise the potential of the novel observatory.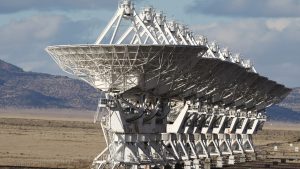 Throughout this process, SKAO has operated meticulously with local partners to guarantee the seamless construction of the world's two largest telescope arrays, including local communities, the South African Radio Astronomy Observatory (SARAO) and Australia's Commonwealth Scientific and Industrial Research Organisation (CSIRO). SARAO has a cordiality with Agri-SA – South Africa's agricultural industry association – with many of the farms owned by Agri-SA already sharing boundaries with the MeerKAT radio telescope or will be home to some of SKA-mid's antennas.
SKAO has also embarked on discussions with Indigenous communities to ensure cultural boundaries will not be crossed – highlighted by signing a Memorandum of Understanding between the San Council of South Africa and SARAO. Furthermore, the Wajarri Yamaji – the traditional owners of the land where the SKA-Low telescope will be constructed, have shown their support for the projects.
"The SKAO will be a good neighbour and will work with local stakeholders, and in particular Indigenous communities, to ensure that they also benefit from the SKA project alongside other stakeholders nationally and internationally," added Prof. Diamond. "We certainly intend to play our part in supporting local communities and boosting the local economy."
The next phase of production
The telescope's development will now move on to acquiring major contracts, with around 70 contracts to be placed within the SKAO member states of which competitive bidding will occur within each country. Construction will commence in early 2022 and will continue until 2028, with the two largest radio telescope arrays in the world estimated to have a scientific lifetime of around 50 years.