Kayleigh Thomas, Senior Manager at KORE Wireless, describes how the Internet of Things and smart EV charging is the solution to the challenges facing the EV sector.
More than ten million electric battery cars were on the world's roads in 2020 and Europe had the largest annual increase to reach 3.2 million, according to the IEA. Electric cars are a key contributing factor towards improving air quality, as electric cars produce no carbon dioxide emissions when driving – reducing air pollution. According to a recent EDF Energy article, 'In over a year, just one electric car on the road can save an average 1.5 million grams of CO2. That's the equivalent of four return flights from London to Barcelona.'
We face a global environmental crisis, and industries, organisations and people are looking for innovative new ways to drive the green agenda. The Internet of Things (IoT) is one of those advancements that is helping drive innovation, and IoT-enabled charging stations are redefining how the world fuels its vehicles.
In an interview with Innovation News Network, Kayleigh Thomas, Senior Manager, Product Marketing at KORE Wireless, explains their EV charging technology.
Can you provide an overview of KORE Wireless and where your expertise lies?
Often referred to simply as IoT, the Internet of Things is the reality that connects devices to the Internet to collect and communicate data. It is what drives the possibility of remotely monitoring the glucose levels for diabetes patients, connects vehicles with alert and emergency systems for safety, and allows you to monitor your EV's charging status from your smartphone, no matter where in the world you are.
It enables the things around us to gather data and turn that data into action. EV charging is no different. IoT-enabled charging stations gather large quantities of varying data (battery charge, billing, time taken, etc.) that is then communicated in real-time. And at KORE, we believe in translating data into insights and actions and, most importantly, to results. As Marco Bijvelds, SVP EAP of KORE, says: "We help organisations deploy, manage, and scale their IoT solutions. Whatever IoT means to those companies – from remote patient monitoring to fleet management to remote asset monitoring, we help them successfully deploy IoT solutions."
Most people do not think about what they do as IoT. They think of it as solving a business problem, reengineering a business process, or taking their digital transformation out to the edge of their business. But at the end of the day, if a sensor or device is going to be connected to the internet and provide data to make our planet more intelligent, it is IoT. It is estimated that by 2030, there will be ~75 billion IoT devices connected to the internet. In total, if you add consumer devices like smartphones and laptops, there will be about 91 billion connected devices. To put that in perspective, that's about nine or ten devices per person on the planet.
Now, getting these devices safely and securely connected anywhere in the world presents a tremendous set of challenges. But that is where KORE comes in – that complexity is our opportunity. When it comes to IoT, there are many moving pieces across the ecosystem, and KORE is at every single touchpoint. KORE orchestrates the IoT ecosystem on behalf of our customers.
What are the main challenges surrounding connectivity when it comes to smart EV charging currently?
EVs are here to stay, and the growth is undeniable. In a recent survey carried out by Nissan across Europe, the most popular reason for choosing an EV car is that drivers consider the environmental impact and benefit of a zero emissions vehicle. But, there are a few reasons why adoption is not as fast as many would like it to be; the vehicles are still quite expensive over traditional petrol or diesel vehicles, there is limited driving range, and the EV charging infrastructure is just not available right now.
The customer-facing challenges have been well written about, as mentioned above, but the smart EV charging operator's challenges with connectivity are less so. But fundamentally, without connectivity, the smart EV charging unit is redundant. Finding reliable connectivity for charging stations amidst a fragmented cellular network ecosystem, as well as mitigating other issues like signal penetrability, was an issue. The EV charging unit requires always-on resilient connectivity to ensure that each and every day of the year – a customer can use the charger, and the unit can process payments.
So, let's tackle two key challenges: always-on connectivity and hard to reach areas.
Always-on connectivity
Manufacturers of smart EV charging units might not know where their unit will be sent, so SIMs must be ordered separately and many times in small batches depending on orders placed. With eSIM technology, you can have a single SIM for the device's lifetime with network switching capabilities depending on
its location.
What if the network goes down or the technology you are using, like 2G or 3G, is phased out? Again, eSIM helps mitigate that risk by providing service continuity with over-the-air provisioning should the original network solution need to change.
Hard-to-reach areas
Hard-to-reach areas do not always mean rural areas; as we know, connectivity coverage can be spotty anywhere. But in dense urban areas like London, most vehicles are parked in underground car parks or basements reinforced with thick cement and steel. A car charging station would need deeply penetrative signals for reliable connectivity in those conditions. For smart EV charging vendors – having the proper hardware is a crucial element of the overall solution.
What are the critical requirements for a reliable and effective EV charging station, and how does KORE's technology help charging station companies meet these requirements?
The KORE 'DNA' empowers companies to drive their transformational IoT initiatives by providing solutions that include Devices, Network connectivity and Applications to manage IoT connections – all wrapped up with services to reduce time to market. Our IoT EV charging offering includes just that. Hardware (routers and antennas) that drive high reliability 'smart roaming' technology, as well as multinetwork, resilient eSIM connectivity for full coverage in all locations – managed by one connectivity management platform and managed services to scale, manage and deploy.
Devices
Procuring and configuring IoT hardware that meets your company's requirements and user preferences can be complicated. Look to providers that offer a variety of devices from various brands, so you get customised hardware solutions for smart EV charging that are preconfigured for connectivity from your choice of leading carriers. The Robustel R1511P embedded LTE router is one of the hardware solutions available from KORE that is of most interest to smart EV charging companies. It is a small footprint embedded 4G router capable of using any standard KORE SIM, including eSIM and has the following benefits:
Small footprint to fit inside small enclosures;
Extensive device management platform with API;
Offers faster time to market and lower risk than customer own designs;
Ethernet, WiFi and 3G/4G internet connection options; and
Lowest cost off the shelf CAT4 LTE solution.
Network Connectivity
Connectivity is often described as the heart of an IoT solution, so it is important to get it right, and working with one of the high street brands might be your first thought. Firstly, we advise going to an independent. Being carrier agnostic ensures you get the right network technology (LTE, Cat-M, narrowband IoT, satellite, etc.) and carrier (Vodafone, Telstra, T-Mobile, etc.) for your need. Secondly, it is worth asking about eSIM and Multi-IMSI. By adopting either of these technologies, you can achieve fail-over connectivity out-of-the-box for global coverage that ensures it is always on the right network for your service needs.
Connectivity Management Platform
Getting the coverage you need often means managing multiple carriers and contracts, which can make things complicated. To simplify things, look to providers that offer a single platform that gives you all the tools you need to manage your IoT data plans in one place. From comprehensive provisioning to connectivity management, rate plan information, usage monitoring, and cost control.
Managed Services
Deploying and managing hundreds or thousands of assets across an enterprise and worldwide can be a daunting task. From hardware selection and multiple carrier contracts to device management, security, coverage, and global rollout, the complexities are numerous. It is important to work with a provider that can offer technology or services that encompass network management, device management, deployment and logistics, and, if required, solution design and consulting. All these offerings can help deliver your loT project faster with a reduced total cost of ownership.
The vendor perspective: Car Charged UK
KORE has partnered with Car Charged UK to further the widespread adoption of EVs. KORE's IoT technology, alongside their Wireless Power Transfer (WPT) technology, offers open protocol hardware, network platform and software carefully selected for its best performance and a leader in the current market – Including V2G, Wireless (WPT) technology and hardware.
It is their global approach encompassing all aspects of experience and operation – from business vision, siting, connectivity, reliability, user experience, services, maintenance, site engagement and solvency – that truly drives innovation in the smart EV charging space.
Car Charged UK believes that all these elements must be considered and work together to achieve long-lasting success and a sustainable EV infrastructure for their commercial customers operating destination, large workplaces, homes and residential on-street parking and more.
Are you currently working on any projects to further KORE's solutions for EV charging?
Due to the time it takes for cars to gain a sufficient charge, EV charging companies are looking for alternative locations to service station car parks, workplaces and homes. And the retail industry has realised the power of offering smart EV charging capabilities while encouraging customers to shop, eat at restaurants, etc.
We are also working with one of those entrepreneurial companies in North America. They install EV charging stations at critical fast food outlets throughout the North East of America and grocery stores – capitalising on customers that might be taking a pitstop on the long trip to grab some food or while shopping for groceries at a local food market. But they do not stop there; with industry-leading hardware and a robust network of public charging stations, they have deployed thousands of EV chargers across the United States, including airports, car dealers, healthcare/medical, hotels, municipal locations, recreation areas, schools, stadiums, and more.
EV Charging is only the tip of the iceberg, where it comes to green charging capabilities. The pace and scale of change to the energy and utilities market is unlike anything we have ever seen before. IoT is helping innovate in many ways and helping organisations like Involtum stand out from the crowd.
The demand for electrical activation in pay-per-use applications such as EV charging stations, marinas, campgrounds, and laundromats has sky-rocketed in recent years. And as a cashless society, the ability to request and pay for services on demand and in remote locations is no longer aspirational but essential. Involtum understood the power that comes from connectivity. Providing real-time transactional capabilities to remote services in an agnostic way has allowed Involtum to support a wide range of solutions, saving service providers from having to develop custom solutions for themselves.
The partnership between Involtum and KORE has connected more than 4,000 activation points across Europe, leading to more than 50,000 users completing more than 600,000 transactions. The Involtum solution has been able to deliver 24/7 service across a variety of industry verticals. "We are expanding with all our services throughout Europe, from Svalbard to Seville. The truck charging network NomadPower is increasing its locations along Europe. The first boat charging projects have started in cities like Amsterdam. In 2022 more cities will follow so that it will be a real charging network. Just like Tesla, electric boats will sail from charging station to charging station," said Maarten Hektor, Managing Director, Involtum.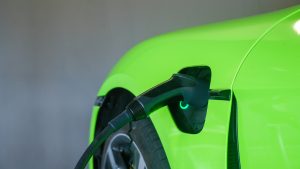 One very interesting 'green charging' use case that Involtum has pioneered is the idea of an E-Harbour. Working with a harbour in Amsterdam, Involtum supports them in this endeavour by fully equipping them for electric boating, making it Europe's first-ever harbour with zero emissions. There are a whole host of services provided by Involtum that help achieve this, including fast charging and invoicing of their boats, e-access to the port and other electronic services via a single account, which allows them to switch power on and pay with the touch of a button.
The use of environmentally friendly and sustainable power sources are going to continue on a growth trajectory. And IoT can unlock the digital transformation required to drive the IoV (Internet of Vehicles).
Please note, this article will also appear in the eighth edition of our quarterly publication.