Volt Carbon Technologies will utilise its superior classifier separation technique to purify large-flake graphite.
Volt Carbon Technologies (VCT) is an industry-leading carbon sciences, battery engineering, and battery technology company. In addition to developing solid-state batteries, the company is focusing on developing sustainable graphene- and graphite-related products for a net zero future. In contrast to the use of synthetic graphite which continues to burden the environment with its large carbon footprint, VCT has developed alternative air classifier separation technology that will facilitate purification of natural graphite with far less energy consumption when compared to synthetic graphite.
VCT's ability to liberate graphite from ore reduces the lead time from raw materials to graphene and enables the company to build products with its graphene materials. VCT's current graphene expertise and access to resources are being utilised to research other products such as DNA sensing, superconductivity, and energy storage. VCT has projects currently involved in using graphene to enhance energy storage capabilities.
Air classifier separation (graphite purification)
VCT is developing new and proprietary air classification systems for separating out large-flake graphite, leveraging the difference in the aerodynamic properties of the flake graphite and the denser, more spherical surrounding material. The result is an effective, energy-efficient, and mobile means of extracting natural graphite after the initial primary crushing processes.
Air classification is a method of separating particles based on their density, shape, and aerodynamic properties. VCT has optimised its air classifiers through computational fluid dynamics. Volt Carbon Technologies' gravitational-crossflow air classifiers use air to push 12 mesh size material horizontally through the system. A diffuser further breaks down particles which are then sorted into bins at the bottom of the air classifier. The graphite flakes are separated from the ore material using aerodynamics. The denser particles settle faster due to their weight, while the lighter particles are carried farther along with the air current before settling. The airflow through the classifier is adjustable, meaning the system can be tuned to classify different material properties as needed.
Advantages of air classification
This proprietary graphite separation technology separates ore into high purity graphite to levels above 90%. VCT believes that, compared to traditional flotation methods for separating graphite from ore, air classification has the potential to become a viable extraction process with advantages in costs, tailing management, and positive environmental impacts.
This type of processing of dry materials is highly effective in purifying graphite. In tests so far, VCT's air classifiers have demonstrated effectiveness in extracting large flakes of graphite, which were observed to be more than 1.7mm, far exceeding capabilities from flotation processes. These super jumbo flakes have many uses, such as nuclear applications and further micritisation into battery anodes.
Commenting on the new technology, V-Bond Lee, Chief Technology Officer, said: "We are very excited that we were able to demonstrate that the air classifier is capable of producing statistically similar results to the engineering computer simulation. This shows the importance of ensuring high fidelity in the engineering simulations. We are also motivated by the possibility that our proprietary air classifier technology, using aerodynamics, can provide competitive advantages over traditional wet processes such as flotation, where chemicals and reagents from wet tailings need to be reclaimed. The advantages of air classification are substantial in simplicity, costs, and impact to the environment."
The Lochaber Property
In July 2018, VCT acquired a 100% ownership of the historical mining property known as the Lochaber claims located in southwestern Quebec (the 'Lochaber Property'). The property consists of nine tenures (6000.83 ha). It is anticipated that the company's air classification process may be used in the future development of the Lochaber Property.
Over the years, VCT has diversified from graphite mining exploration to the development of processing and products in carbon sciences. VCT has built lithium-ion pouch cells using graphite from the anode material extracted from its air classifiers. This present technology has its drawbacks in safety and power density, which led VCT to explore more recent developments. The acquisition of Solid Ultrabattery Inc. enables VCT to enter the rechargeable energy storage market with an innovative product.
The acquisition of Solid UltraBattery Inc.
Since this acquisition, VCT has gone forward to build and commission a new greenfield battery research centre in Guelph, Ontario, which became operational in December 2021. This new plant will enable Solid UltraBattery to develop and commercialise its newly acquired solid-state battery intellectual property. The new facility is currently expanding the development of solid electrolyte batteries using its patent-pending technologies. This facility enables the company to build up core capabilities and expertise to develop this technology, with the goal to commercialise its intellectual property. Solid UltraBattery's mission is to bring a solid-state battery design that offers exceptional performance and unparalleled safety to the market.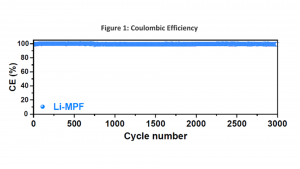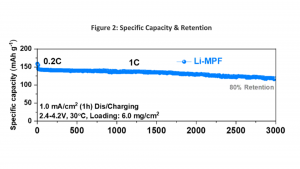 In November 2021, the company released its initial test data from batteries built using Solid UltraBattery's proprietary solid electrolyte battery. The results of 3,000 charge/discharge cycles from Solid UltraBattery's LiFePO4 coin cells are shown in Fig. 1. The capacity retention of these cells indicates a high Coulombic efficiency (CE) close to 100%. After 3,000 cycles of testing at C-rates of 0.2C and 1C charge/discharge, the cells maintained capacity retention of 80%, shown in Fig. 2.
The first pouch cells fabricated with Solid UltraBattery's solid electrolyte technology were made using an NMC chemistry and tested for safety against perforations by subjecting the pouch cell to a nail penetration test. During the penetration test, it was observed that Solid UltraBattery's cells did not catch fire or exhibit any thermal runaway during the safety testing.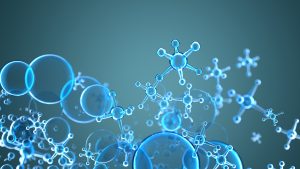 Looking to the future
Although the world is moving towards a carbon-neutral future, unfortunately, the use of synthetic graphite continues to strain our environment. Manufacturing synthetic graphite from petroleum and coal by-products comes with a large carbon footprint. The energy consumption and CO2 emissions generated from these processes are substantial in the fabrication of synthetic graphite, requiring up to 3,000°C for an extended duration to transition these petroleum by-products into graphite. As an alternative, VCT's air classification technology will enable the purification of natural graphite at a tiny fraction of the energy consumption, as compared with synthetic graphite.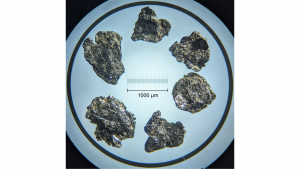 The mining industry is beginning to bring several natural ore bodies of graphite online to meet the needs of the industry. This means that the interest and availability of natural graphite will greatly increase. VCT has an offtake agreement with Ameca Mining, which coupled with the great potential of the unique air classification technology, means the company is well-positioned in the supply chain and to responsibly process high-quality natural graphite.
VCT's air classification technology has been tested on the ore of a number of potential users, successfully separating flake graphite at purities ranging from 80% to 95% contained graphite. Present processes that use flotation and accompanying CapEx equipment, costing more than $20m per project, may be offset by air classification at a fraction of the cost. The processes the company proposes will reduce water usage and wet tailing requirements, along with substantially lowering the use of reagents and harsh chemicals that must be neutralised. VCT is excited to see the first phase of graphite recovery from these orebodies be accomplished with no water, using its technology, with a great saving of CapEx and also resulting in a much lower environmental impact.
The next five to ten years will be an exciting time to be in the energy storage space, as globally, there will be over 100 gigafactories coming online which will drive demand for new innovative technologies. Solid UltraBattery seeks to revolutionise the market through its technological innovations and is looking to enter the market with a proprietary solid-state battery design that is a step up from the current technology. Solid UltraBattery's design, with its ability to integrate into existing manufacturing processes, can result in faster industry adoption.
Please note, this article will also appear in the eleventh edition of our quarterly publication.

Go to this partner's profile page to learn more about them