Ingmar Høgøy, CEO and Chairman of the Board at Greentech Innovators AS, spoke to The Innovation Platform about the company's innovative and sustainable fish feed solution for the aquaculture industry
While aquaculture is increasingly looked to as a way to provide more food for an ever-increasing human population, two potential problems are potentially being overlooked – the fact that this will further increase the amount of organic waste being produced, and that current soy production is unsustainable. Therefore, innovative and sustainable fish feed methods need to be developed.
Greentech Innovators have developed a new solution which consists of an adaptable production process whereby microbiology and chemistry is combined with innovative new technologies. Nutrients and energy from selected waste streams are extracted and concentrated through complex bio processes, like fermentation. The organic fertiliser produced by this process is then utilised as a resource for microalgae. The cultivation technology is being developed to solve the challenges seen in global food production and is based on Norwegian maritime technology and space technology solutions.
The Innovation Platform spoke to the company's CEO and Chairman of the Board, Ingmar Høgøy, about how this vision is being achieved and how the company hopes to expand moving forwards.
What is the background to your company?
Greentech Innovators was founded in 2018 with the business idea of developing and commercialising new and sustainable solutions for organic waste. I have been in the Norwegian aquaculture industry for many years and engaged in fish farming, processing, marketing, and R&D, including product development from raw materials at fish processing plants. This has now become a large and sustainable industry. However, I have also realised that we still have a long way to go before we achieve a more sustainable treatment of our food waste. Indeed, organic waste in landfills is a huge environmental problem which causes some 14% of global methane emissions. We simply must find a more sustainable solution than those used today, which include the use of landfills, incineration, composting, and biogas production.
Food waste is a modern problem caused by urbanisation. My grandparents did not have this problem as they used food waste as feed. We must learn from this but also find solutions that fit into the modern urban lifestyle.
Exploring this, I came to realise that the answer for a promising solution was very close – reducing greenhouse gas emission and increasing aquaculture feed production via the fermentation of food waste into single cell protein and fertiliser for microalgae production.
How do you source biowaste to achieve this? What are the biggest challenges?
The second largest waste management company in Norway, BIR, is our partner and we have the opportunity to scale-up and commercialise our solutions. BIR sources biowaste from both industry and the residential sector. There is, however, a challenge in terms of achieving uniform quality.
How is this biowaste then converted into an aquaculture feedstock? What barriers have you experienced here?
The opportunity to produce aquaculture feed whilst simultaneously utilising food waste was my main trigger. Our approach utilises biotechnology solutions for the fermentation of food waste which is then converted it to a single cell protein (SCP) for use in aquaculture feed. Our solution also uses nitrogen and phosphorus as organic fertiliser as a substitute for mineral fertiliser for the farming of microalgae in a controlled environment. We can convert the waste into two products, namely a protein and omega-3 fatty acids.
All large aquaculture feed companies are searching for new and sustainable proteins and omega-3 sources as feed ingredients. Single cell protein is one of the most promising candidates for a high-quality protein ingredient which can act as a substitute for fish meal and soy protein. Microalgae is the origin of omega-3 production in Nature, and is also a good substitute for fish oil.
Feed companies are also interested in new alternatives to fish meal and soya as a feed ingredient. Developing new markets and documenting the benefits for the customers builds on the networks and communications that we have worked to establish over many years. It is a multidisciplinary field requiring the expertise of extremely high calibre professionals within both academia and the aquaculture industry.
Building a new industry is always a challenge, and regulatory issues must be adjusted to stimulate circular economy solutions. Access to capital is also a challenge when building up new and sustainable industry.
In terms of 'industrial side streams', how are you involved in the aquaculture, petroleum, smelteries and minerals, and waste management sectors? How does this fit into your overall aim of contributing to the bioeconomy?
In our region, the west coast of Norway, salmon farming is a large industry and side streams from the processing industry are well developed. We still have a great potential for using fish sludge from RAS as fertiliser for microalgae production. As previously mentioned, our partner BIR will supply us with food waste for the fermentation process. There is also great potential for utilising process water and CO2 from oil refineries and other process industry.
What projects are you involved in? What do you hope they will achieve?
The global aquaculture industry is one of the most promising sources for enhancing the required food production as the human population continues to increase. However, in order to continue growing there is a need for new and sustainable feed ingrediencies. The sustainability of two of the most used feed ingrediencies today, fish meal and soy, is now being questioned. We are therefore focusing on the documentation of single cell protein as feed for the aquaculture industry. Another interesting project is the use of microalgae as feed for cleaner fish.
What are your longer-term goals?
We are planning our commercialisation and expansion in four steps. First, a pilot plant for R&D and proof of concept will be established. Second, a demo plant for 1,000 tonnes of organic waste will be developed. Then, a full-scale plant for processing 30,000 tons of food waste will be created. Finally, we aim to expand internationally in co-operation with local waste management companies.
Those interested in ESG investments are welcome to contact us for more detailed information regarding our business proposal.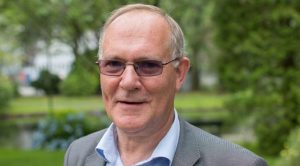 Ingmar Høgøy
CEO and Chairman of the Board
Greentech Innovators ASCEO                
+47 93432494
ingmar@greentechinnovators.no
www.greentechinnovators.no
Please note, this article will also appear in the fourth edition of our new quarterly publication.