Cell Impact Forming™ is a high-velocity production process for fuel cell flow plates.
The greatest challenge in the fuel cell and electrolysis industry is the current lack of scalable production processes and the high component cost for flow plate production. Scaling up production with conventional progressive stamping technology is prohibitively costly and challenging. In addition, the conventional stamping equipment required is very large and typically requires a costly factory accommodation, making this technology less suitable when flow plate production volumes increase.
Now, there is an available solution – Cell Impact Forming™. It is a cost-efficient manufacturing method, friendly to the environment, flexible for prototyping and lower volumes, and easily scalable for high-volume production due to the small equipment size and low tooling costs.
What is Cell Impact Forming™?
Cell Impact Forming is an innovative technology rooted in the defence industry. It uses a one-stroke high-velocity process to take advantage of a metal's physical properties when exposed to a significant impact force.
Instead of slowly pressing and stretching a sheet of metal into a preferred shape, Cell Impact Forming's high-velocity tool impacts the sheet metal. The energy transfer makes the metal stiffen momentarily in high-strained regions, drastically reducing unwanted thinning of the material. The result is a flow plate with an unsurpassed uniform material thickness and design accuracy.
Better still, this method of forming does not require any lubrication. The process is completely dry and eliminates large investments in water-based oil removal, avoiding hazardous waste. In addition, Cell Impact Forming requires only a fraction of the energy used in conventional technology to form a plate.
The qualitative and environmental aspects, in combination with its small equipment size, makes this technology the most cost-efficient, green, and scalable production method for metal flow plates.
A new tooling standard
Tooling is a vital part of metal forming. Cell Impact has collaborated with leading European tool makers for over ten years to develop processes, materials, and coatings for high-precision tool production. Our tools have no moving parts, significantly reducing wear and maintenance. The tools enable the following excellent quality outcomes:
Uniform depth: The tool distributes the impact energy uniformly, resulting in a very consistent depth – a critical feature for flow plates;
•   Minimal wall thinning: Due to the high velocity, strain rate hardening reduces material thinning in critical regions;
•   Four to five times longer tool life: Our tools have been verified to be within tolerance even after two million flow plates.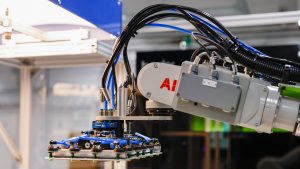 Compact and easy to scale
Cell Impact Forming is a very different technology compared to legacy forming methods, but it is quickly gaining recognition as the preferred method for mass-producing metal flow plates.
The forming equipment is compact and lightweight and now has a footprint of only 1.5 x 1.5m. To assemble or install the equipment takes a week, and it can generally be installed on a standard factory floor without any floor reconstruction.
Rapid demand response
The forming machines are also easy to maintain – a crucial cost advantage when producing even greater volumes of flow plates. With around 400 bipolar plates in a fuel cell stack, even small stack volumes require significant production capacity. With the ability to respond to demand by rapidly adding additional production capacity, Cell Impact Forming can significantly contribute to quickly getting fuel cells to the market.
A complete bipolar plate production line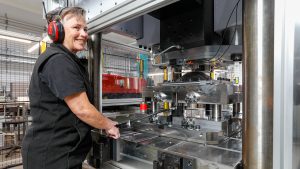 Since 2018, Cell Impact has carried out over 50 flow plate projects, which has created substantial application and process engineering know-how. Together with our partners, we have continued to innovate and develop machinery and methods for bipolar flow plate production. Today, we have an extensive range of processes for bipolar plate mass production.
Design for manufacturing (DFM) services
With our extensive experience in bipolar plate manufacturing, we work closely with our customers to optimise their designs to achieve the best cost and quality. During the DFM process, required tools and fixtures are designed, often involving improvements in flow plate geometry based on experience and results from our advanced simulation tools.
High- and low-volume cutting methods
After the plate has been formed, the outermost edge and holes are cut from the sheet. Cell Impact's philosophy is to separate the forming and cutting into different processes to maximise each process' capability and tool durability. Depending on the requested volume and the maturity of the design, we offer two alternatives that produce excellent cutting quality with minimal burr:
Laser cutting: For small to medium volumes and for designs that are less mature, laser cutting is
the most economical alternative. The cutting path can easily be changed in laser cutting, and no costly high-precision tools are required; and
Mechanical cutting: For larger volumes, mechanical cutting should be used for mature designs and larger volumes to reduce the cost per plate. Cell Impact uses an innovative high-precision cutting tool with a comparatively long life, providing cost and quality advantages similar to the tooling in Cell Impact Forming.
To create a bipolar flow plate
Cell Impact typically uses laser welding to join an anode and a cathode plate into a bipolar plate. High-precision fixtures and welding patterns are crucial parameters for weld quality and process stability. Over the years, we have accumulated extensive experience in designing our own fixtures and optimising welding patterns for leak-proof welding.
Leak-testing bipolar flow plates
Bipolar plates are tested using a co-developed industry-first automated helium leak-testing system. It will verify material and welding seam integrity by accurately testing for coolant, reactant, or overboard leakage.
Cleaning – dust or particle removal
Cell Impact offers optional dry and wet cleaning methods for dust and particle removal. Depending on requirements, these cleaning steps can be placed at various stages during the production process.
Quality control
To ensure consistent, high-quality flow plates, we use inspection with high accuracy measurement equipment.
Coating
A highly appreciated element of Cell Impact Forming is that it works well with pre-coated metals since the coating stays intact in critical regions during forming. In addition, Cell Impact Forming yields a uniform surface roughness on uncoated material, simplifying post-coating as this process can be tailored to a higher degree to optimise coating integrity.
Karlskoga production centre
Cell Impact's production facility in Karlskoga, Sweden, is growing into one of the world's largest factories for bipolar plate production. Located about the same distance from Stockholm, Gothenburg, and Oslo city centres, Karlskoga is easily accessible from anywhere in the world.
The factory space of 6,000 square metres can contain upwards of ten Cell Impact Forming lines with downstream process equipment, potentially enabling one of the world's largest production outputs of flow plates.
A growing international market
Cell Impact serves a global market with some of the biggest fuel cell companies in the world as its customers. A key customer segment is fuel cell manufacturers offer hydrogen-powered fuel cells to electrify forklifts, cars, ships, aircraft, and trucks. Other applications for fuel cells include reserve power used in mobile networks, hospitals, and data centres. Bipolar plates for electrolysers represent another growing market segment for Cell Impact.
Lowering the cost of fuel cells
The cost of the stack is still a substantial part of a hydrogen fuel cell system. Cell Impact's mission is to clear the way for increased application of hydrogen technology by lowering the cost of high-quality bipolar plates. This includes making Cell Impact Forming production technology a pivotal contributor to the scaling up of the green hydrogen industry to reduce fossil fuel dependence and fight climate change.
What does the future hold?
The hydrogen industry is accelerating, and demand for flow plates is growing, potentially much quicker than we anticipated a few years ago.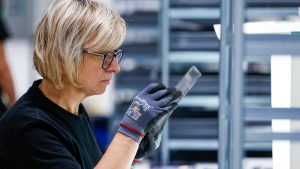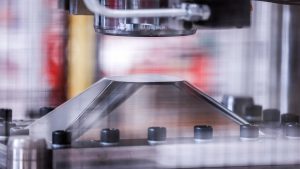 This represents a unique opportunity for Cell Impact in that Cell Impact Forming can be quickly installed to add production capacity. In addition, we can rapidly establish regional or local production centres or factory-in-factory solutions for customers who need even more flexible sourcing options.
Cell Impact is an innovative company that is taking on the challenge to satisfy customers' cost, quality, and scalability requirements worldwide.
Cell Impact Forming™ – highlights:
A cost-efficient and green technology – solving the big scaling-up challenge for flow plate production:
Weapons technology converted to a high-velocity machine element;
Compact equipment that can be built in large numbers in a short time;
Easy to install directly on the industrial floor; no factory accommodation;
Low complexity means low CapEx and OpEx;
Low life cycle tooling cost with four to five times longer lifespan or two million forming cycles;
Excellent quality outcomes in pre- or post-coated stainless steel or titanium material; and
Lubrication-free, zero water cleaning with low power consumption = green performance.
Please note, this article will also appear in the thirteenth edition of our quarterly publication.