Kabanga Nickel Ltd's CEO Chris Showalter, outlines how the world-scale nickel sulphide deposit in Tanzania will meet the increasing global demand for clean nickel.
The Kabanga deposit is located North West of Tanzania in the Ngara District of the Kagera region, close to the Burundi and Rwanda borders and approximately 1,320km inland, West of the main port of Dar Es Salaam. The license area covers about 4,000ha. Kabanga is the largest development-ready nickel sulphide deposit in the world, unmatched in scale and grade, with at least 30 years life of mine and further exploration upside.
The project has an extensive history, and a large amount of exploration and resource definition has been completed to date, setting the Kabanga nickel project on a well-defined path to production.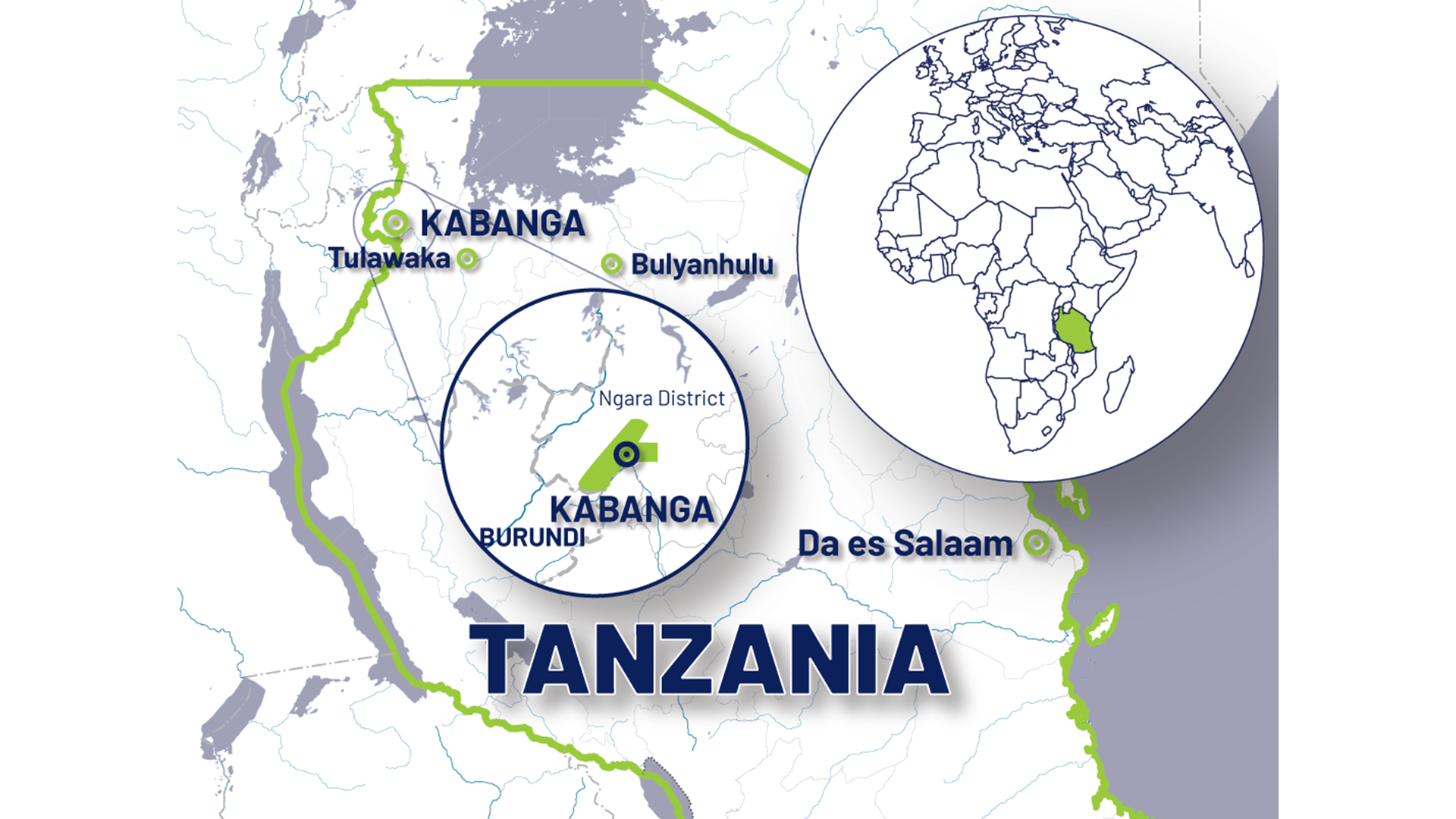 The Kabanga orebody: More than just clean nickel
Based on approximately 600km of drilling, previous resource estimates suggest the deposit contains 58 million tonnes of ore containing 1.52 million tonnes of nickel. Not only does the Kabanga deposit contain nickel, but also two other critical metals for decarbonisation – cobalt and copper.
The in situ metal content comprises:
Nickel: 1.52 million tonnes (3,351 million pounds);
Copper: 0.19 million tonnes (419 million pounds); and
Cobalt: 0.12 million tonnes (265 million pounds).
The Kabanga deposit hosts two primary ore bodies – North and Tembo. Recent work has identified several opportunities to enhance project outcomes, including a development plan that facilitates higher production rates and access to high-grade ore earlier in the mining schedule compared to the previous definitive mine plan by Barrick and Glencore.
The current project development timeline anticipates the first production in 2025. The output will ramp up to target a minimum annual production of 40,000 tonnes of nickel, 6,000 tonnes of copper and 3,000 tonnes of cobalt.
Why the world needs clean nickel to decarbonise
Nickel is a key element required to transition to a low-emission world, particularly in electric vehicle (EV) batteries. With the growing demand for batteries used in EVs, the World Economic Forum estimates that demand for high-purity Class 1 nickel will increase 24-fold between 2018 and 2030.
However, the metals required for a low-emission world are, and traditionally have been, carbon-intensive to produce what is known as the 'Green Paradox'. There needs to be a method of extracting and producing these metals with the least impact on the atmosphere, environment, and communities where these metals are hosted.
The ore body's quality and geology mean the project will be a cradle-to-gate mining operation producing Class 1 nickel, copper and cobalt refined metals in Tanzania, ready for use by OEMs and battery makers without any further processing.

Kabanga Nickel also intends to cut the emissions footprint of the development by using hydrometallurgy technology to process the concentrated ore rather than traditional smelting. This should reduce Kabanga's energy use and emissions significantly. The process will also eliminate the need to export concentrate to overseas smelters and refineries, thus reducing capital and operating costs with low environmental impact while maximising value within Tanzania.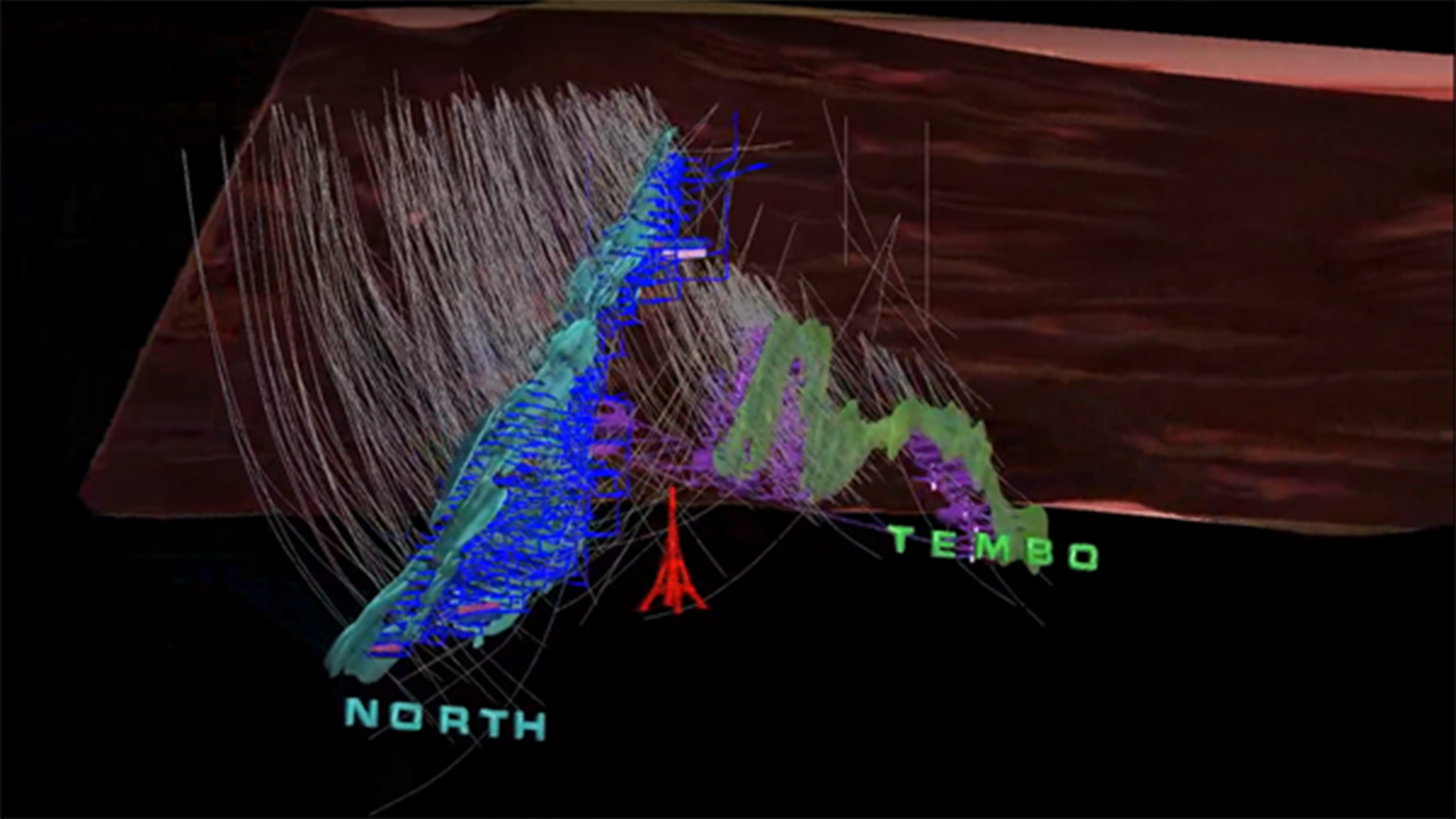 Kabanga's clean nickel technology eliminates the need for energy-intensive smelting
Hydrometallurgical processing is the most advanced, clean technology available to produce refined metals from flotation and other concentrates. An aqueous processing technology selectively targets the valuable metals in a concentrate for extraction at ~200°C. Metals are initially leached out of concentrate feed material through pressure oxidation, an emissions-free process. The technology has a much smaller environmental footprint and capital costs than traditional smelting.
Base metal cathodes, briquettes, powders or battery precursor feeds are sequentially produced through selective SX-EW processing. Following subsequent leaching, precious metals are further refined.
Smelting and refining are typically responsible for over two-thirds of the nickel supply chain emissions. Using hydrometallurgy will drastically reduce the overall footprint carbon of nickel and reduce the energy required to produce metals from Kabanga.
It is estimated that hydrometallurgy could reduce the energy required and carbon dioxide equivalent emissions by around 70%. Not only that, hydrometallurgical processing eliminates sulphur dioxide emissions completely, which is a known contributor to acid rain in other parts of the world where nickel is smelted.
Overall, the processing and refining time is much less than smelting – meaning faster payback. The method also affords more efficient, selective processing, requiring fewer reagents and therefore less waste and consumables – further reducing the environmental impact.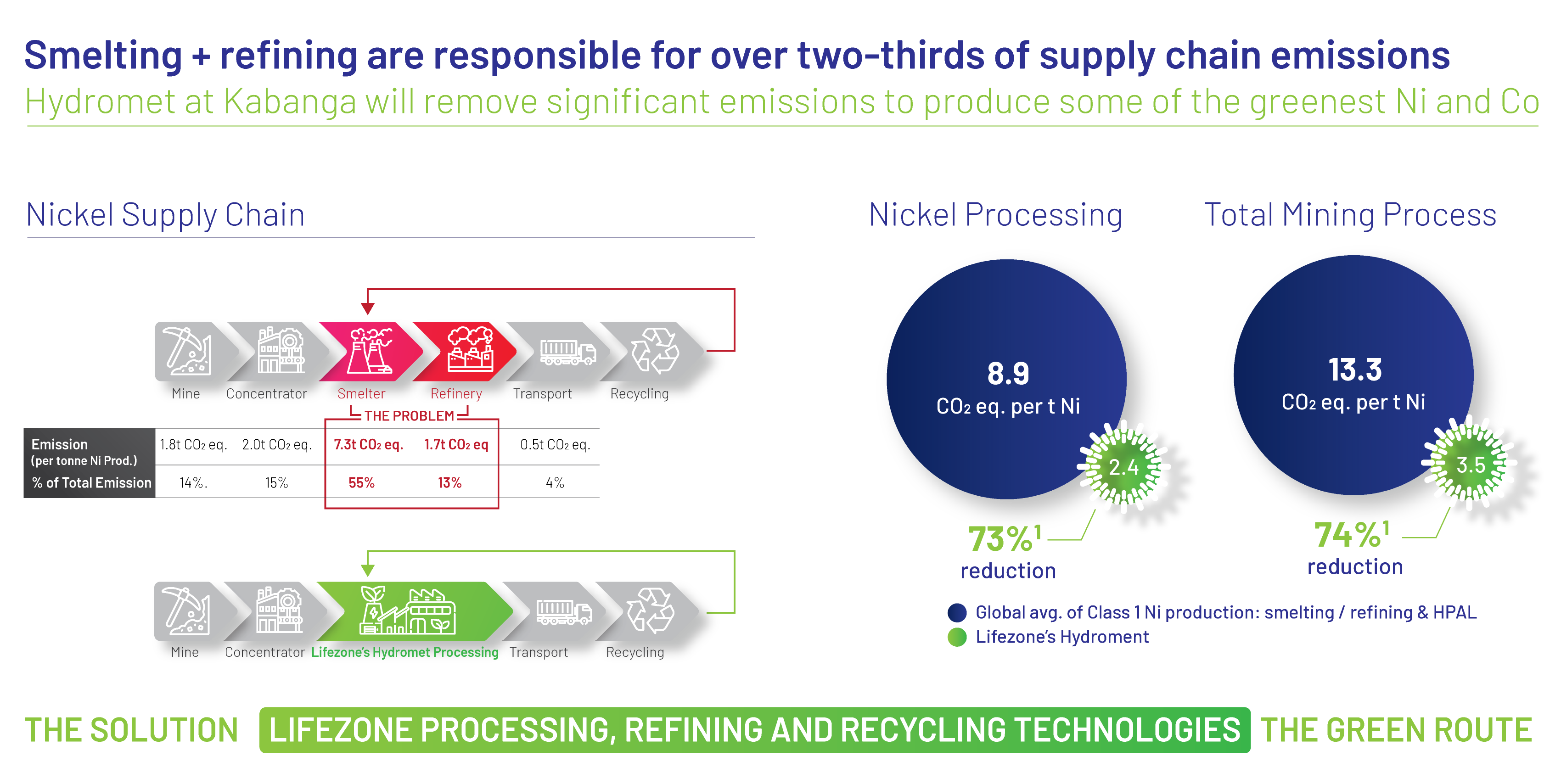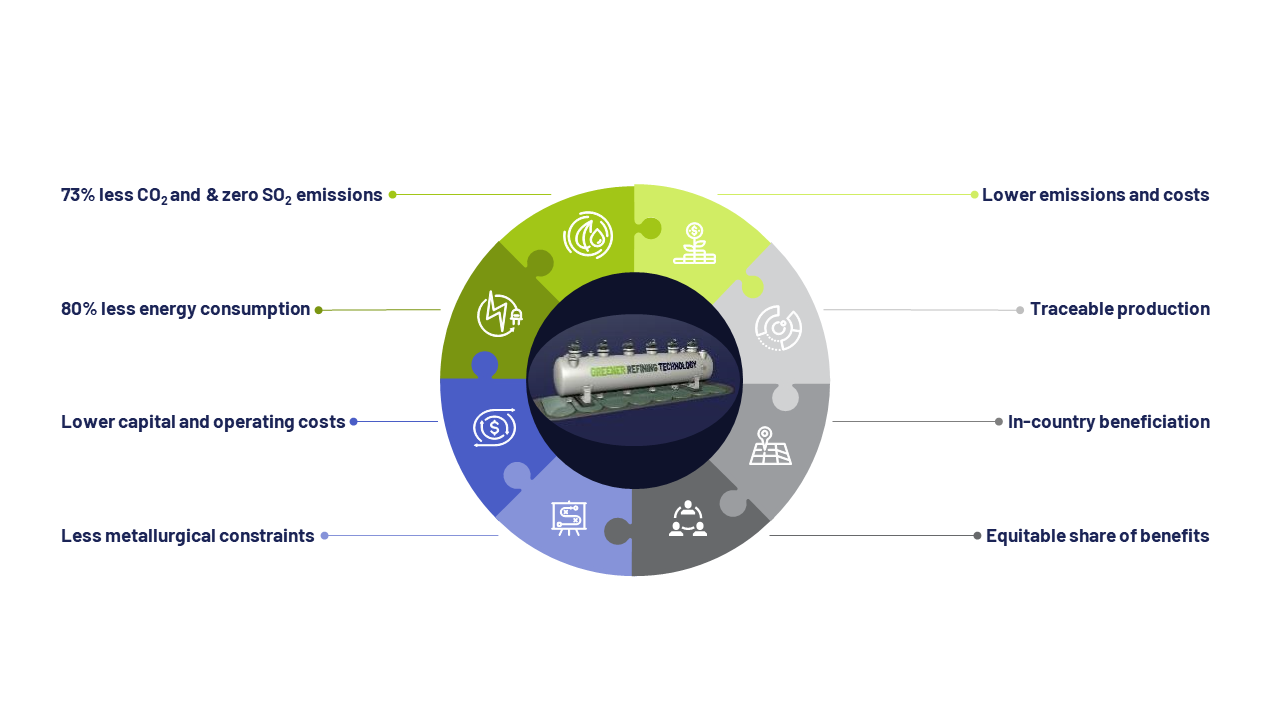 Why ESG matters for Kabanga's clean nickel
Kabanga Nickel strives to be the cleanest, most sustainable and transparent Class 1 nickel, copper and cobalt producer globally.
Kabanga will be a complete cradle-to-gate nickel operation that will be 'cleaner' than industry averages because the refined metals will be produced in-country without smelting or the transportation of large volumes of concentrate over long, intercontinental distances.
Kabanga is unlocked through hydromet and underpinned by solid ESG credentials throughout the nickel value chain. Kabanga Nickel's commitment to producing metal in-country means the project has the full support of the Government of Tanzania, which shares both partners' desires to create as much shared value as possible.
The technology that unlocks the Kabanga resource and allows end-use metals to be produced in-country means that ESG benefits that were previously not obtainable via outdated smelting and refining will be afforded.
Kabanga's mine to metal production will have high environmental standards elevated by hydromet technology and sustainable operational design. For example, tailings and waste have a smaller footprint and can be reused to fill the underground operations.
Value retention in-country enables impactful socio-economic development and a transparent, responsible supply chain. This is important for all stakeholders. Kabanga Nickel plans to align to global ESG standards, including the UN Sustainability Development goals and mining-specific frameworks.
About Lifezone Limited
Developed and patented over the last 25+ years by its industry-leading experts in hydrometallurgy, Lifezone is replacing GHG-emitting and energy-intensive smelters with a more sustainable, efficient and economic aqueous processing technology. This transformational technology brings a cleaner, sustainable supply solution to the strong demand for green energy metals. Lifezone's mission is to provide commercial access to patented technology and battery metals through a platform that is scalable. Importantly, Lifezone's social commitment of localised processing and refining empowers governments and local communities to fully benefit from their critical sovereign resources. Lifezone is the owner of the hydrometallurgy technology that will be used to build and operate a refinery in Tanzania.
Please note, this article will also appear in the ninth edition of our quarterly publication.