Last year, the space sector restarted an arms race for technology dominance in mobile phones.
A convergence of new technology, regulatory changes, global partnerships, and new standards means that standard mobile phones will be able to communicate with satellites, improving satellite connectivity everywhere.
Keen hikers have used satellite-to-cell technology for well over a decade: Globalstar's Spot emergency beacon, for example, can be used to call in a rescue from anywhere. But the high cost of satellite connectivity data and phones means that satellite-to-cell has, until now, remained a niche market.
In recent years, however, several innovative startups, including AST Mobile and Lynk, have been working to revolutionise the satellite-to-cell industry. Their ambitious goal is to deliver broadband to mobile phones. This will take quite some time to deliver. Meanwhile, large swathes of relatively well-connected countries, such as the UK, still lack basic messaging coverage. But that seems likely to change very rapidly in 2023.
How has mobile technology evolved over the years?
The foundation for the development of universal messaging via satellite connectivity was laid with the ratification of the Third Generation Partnership Project – known as '3GPP Release 17' – in March 2022. This seemingly mundane document forms the backbone of most mobile phone operations. 3GPP standards were introduced to enhance interoperability when 3G was first launched, allowing mobile phones to operate across various networks.
As technology has evolved (we are now on 5G!), the name has remained the same. Stakeholders ranging from chip and phone manufacturers to mobile network operators have collaborated on each release of these standards to implement new technology. The latest focus has been on allowing satellites to integrate into terrestrial networks, essentially functioning as cell towers in space. Mobile phone chips are built to this standard. This means that the next generation of smartphones released in 2023 and 2024 will be able to message anywhere across the globe, no matter the terrain, thanks to the use of satellites.
The race to develop satellite connectivity technology
Therefore, over the last year, the race has been on to see who would leverage satellite connectivity technology the fastest. As is often the case, Elon Musk jumped first. His company, SpaceX, acquired satellite IoT provider Swarm in 2021 to help build its capabilities. Then in August 2022, SpaceX announced their partnership with T-Mobile, promising an end to coverage blackspots for T-Mobile customers using Starlink's Gen 2 satellites. Messaging would come first, with higher data rates allowing voice and more coming later. SpaceX is also rolling this out internationally, with messaging promised on the Swiss network Salt by 2024.
In March of this year, SpaceX took the next steps towards deployment. The US Federal Communications Commission (FCC) announced that mobile phone operators, such as T-Mobile, could allow satellite operators, like SpaceX, to use their spectrum. Spectrum is the means by which satellites talk to devices on Earth and represents the key enabler for the satellite industry. Radiofrequency spectrum is the range of electromagnetic waves used to transmit data, and the amount of data that can be transmitted is directly related to the amount of spectrum you can use. Simply put, if a satellite connectivity operator does not have a spectrum allocation, it cannot communicate with Earth or any devices on it. Spectrum is limited, and, in the case of the mobile services spectrum used to talk to mobile devices, most of the spectrum was often allocated in the 1990s.
Therefore, it would be extremely difficult, if not impossible, to be allocated a meaningful amount of spectrum now. In addition to spectrum, satellite operators also need landing rights, i.e. permissions from each country to allow service and connection in that country. That is why Starlink, for example, is not available yet in every country. Partnering with someone that has both spectrum and landing rights, as SpaceX did with T-Mobile, could be the fastest route to deployment.
Apple also took the partnering route, this time working with a satellite connectivity operator that has spectrum and international landing rights. Apple announced their partnership with Globalstar in September 2022. Arguably, they are ahead of SpaceX after quickly deploying iPhone's emergency beacon capability in November. This is the first time such a feature has been available via satellite without a specialised device, like Globalstar's Spot. Messaging will come next as Globalstar launches more satellites.
Rapid rollouts highlight the potential of the satellite technology industry
The rapid rollouts are the result of years of work and prescient predictions about the potential of the sector. For example, Globalstar filed to launch 3,000 satellite constellations in December 2020. Clearly, the race is on, with announcements of satellite-to-cell capability already coming thick and fast in 2023.
First, in January, we had Qualcomm, promising that its new Snapdragon Satellite chips would connect with Iridium, one of the original LEO constellations. News of these chips being used in Chinese phones such as Honor, Oppo, and Xiomi came in February. Mediatek, another chip manufacturer, announced its partnership with Skylo in the same month. Skylo allows its customers to connect to existing GEO satellites using the 3GPP standards, again leveraging their spectrum, landing rights, and existing satellites.
These developments, which are becoming more and more rapid, are incredibly exciting for consumers and investors alike. It's clear with all these developments that phone manufacturers, chip manufacturers and telcos that don't offer satellite connectivity are going to be increasingly left out. Phone manufacturers are terrified of being the next Nokia, the classic example of what happens when your competitors start to pull ahead.
Apple, T-Mobile, and Qualcomm are mobile phone industry players that have thrown down the gauntlet. What will the likes of Android, Samsung, and Telefonica do to respond? There are two schools of thought. Industry experts suggest that matching performance won't be enough: they will have to leapfrog Apple's emergency beacon. But incremental improvements sooner have their benefits – they prevent your device from appearing totally obsolete. Ultimately, I believe we'll see at least one company announce messaging rollout in 2023 or early 2024 as the first phones with 3GPP Release 17 chips roll out.
The flurry of announcements we saw this year is the culmination of years of work from Apple and SpaceX. Is there any hope for companies that have not been making similar investments? Yes, and this is where the opportunities for investors start to emerge.
How can companies adapt to these growing changes?
To respond quickly, companies don't have time to deploy their own constellations – for most, that would take two to three years at least, even if they had the spectrum. Technology that leverages existing satellite connectivity technology will be increasingly attractive, and startups like Skylo and ESat Global are working to do just that. Phone manufacturers and network operators are likely to find willing partners too. Heritage GEO operators, like Intelsat, Viasat, and SES, have seen their business models squeezed by SpaceX and OneWeb.
Providing connectivity to mobile phones is a whole new market with a different way of doing business. It will be interesting to see who innovates in this space.
Ultimately, the last few months have presented a masterclass in the competitive arms race for new satellite connectivity technologies. Everyone outside the industry ignores the announcement of a new technology or standard. A competitor pre-empts another's announcement. Suddenly, in the space of a few short months, the pressure is clearly on for every single player in the market to innovate or fall by the wayside. Some of these companies could ultimately be fighting for their survival in this market, and the innovation that drives their survival will be exciting to watch.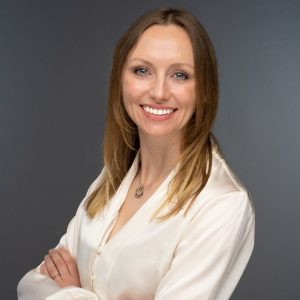 Dr Maureen Haverty
Vice President
Seraphim Space