Copper development company Highland Copper Company Inc is making significant progress at its key projects as it works to strengthen the US copper supply chain.
 It is well documented that the US needs copper supply. Quite simply, demand for copper is far outstripping projected supply. This is particularly the case in the US, where demand is projected at three times supply by 2035.
Traditional sources of demand, like construction and transportation, remain strong. Importantly, new sources of demand, like electric vehicles (EV) batteries, wind, and solar, have heavily emerged.
Copper is at the forefront of metals needed for use in green technologies. As the most efficient and affordable electrical conductor, it is the perfect material for electric car infrastructure and charging stations. While conventional vehicles contain some copper, hybrid electric and other battery-powered cars require three times more than internal combustion engine vehicles.
Key economies worldwide, including the US, are adopting clean energy initiatives, continuing to drive demand. Increased environmental legislation around the world, combined with ambitious targets set by car producers and consumers alike, is seeing demand for copper soar. The ongoing focus on environmental, social and governance (ESG), as well as zero emissions, should see the demand continue.
There is a fundamental imbalance between supply and demand, leading to a squeeze on global copper inventories. It is only by developing the next generation of copper mines that the industry can meet the demand of today, let alone the future.
Strategic advantages for Highland Copper
There are many roadblocks for mining projects. Investors need to consider whether or not a company can demonstrate that their projects meet certain hurdles to progress to development and production. Highland Copper has many strategic advantages that put it in a strong position to make this progression.
Tier 1 US location with focus on domestic copper supply
Highland has two projects, Copperwood and White Pine North, located in Michigan, US. There is key support for domestic copper production from both federal and state levels.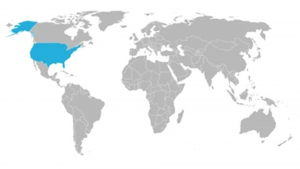 The federal government is prioritising mining of critical metals that will support electrification. With an additional focus on resource independence and the notes supply, the US needs to focus on domestic supply.
Critical local support
At a state level, Michigan recently created the Strategic Outreach and Attraction Reserve, as well as the Critical Industries Initiative and Michigan Strategic Fund. The aim is to provide economic assistance for certain manufacturing or commercial sites to attract and promote investment in the state. They are deploying funds that will invigorate local economies and promote the development of electric vehicles and green energy.
Importantly, the Upper Peninsula of Michigan is a historic mining district. There is support from local municipalities and communities to bring mining back to the Upper Peninsula.
The development of Highland's two projects is a fit for Michigan and the US.
Large and scalable resource
The scale of resources is critical to support economic payback. Highland's multi-billion pound resource base at both Copperwood and White Pine North is well-defined and remains open in multiple directions. Highland is currently drilling at White Pine North to further improve resource classification.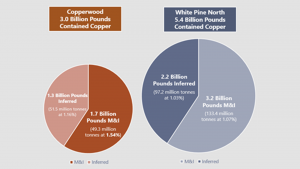 The resource base gives potential for long-term operations in the US. This provides support for both public and private funding, as well as sustainable economic benefits for the region. Again, this provides support for progression to development and operations.
Advanced permitting
Highland operates on private land in Michigan. This is a key distinction compared to projects that reside on federal land. The permitting process is administered at the state level.
Copperwood received all required state permits within one year of application. This is a strong endorsement by the state in terms of support.
White Pine North, as a past producer, already has a range of key state permits in place. Highland has initiated the process for permitting the balance of the required permits with the team that assisted in permitting Copperwood.
Highland has a viable path to two fully permitted projects within the next two years.
Near-term production growth
Copperwood has a 2018 feasibility study (posted to SEDAR on July 31, 2018) that indicates the potential to produce approximately 30,000 tonnes of copper per year for 11 years, with further opportunity from the Inferred tonnage. Highland plans to update the Feasibility Study by the end of calendar Q1 2023 and consider development in the near term.
White Pine North has a preliminary economic assessment (posted to SEDAR on November 7, 2019). White Pine North has the potential to produce approximately 45,000 tonnes of copper per year for more than 20 years. Infill drilling is currently underway and has the goal of upgrading a portion of the Inferred resources into the Measured and Indicated category.
On a combined basis, there is the potential for approximately 75,000 tonnes of copper per year. This is a significant scale that can contribute to US domestic copper supply.
Closing
To successfully advance a copper development project, there needs to be critical levels of support from the local communities and government agencies. Highland's projects have a range of strategic advantages that draw this support.
The long-term nature of the projects will provide meaningful economic benefits. Moreover, domestic supply of copper will support resource independence in the US.
These strategic advantages bolster Highland's chance to move its assets to development and production.
Please note, this article will also appear in the thirteenth edition of our quarterly publication.

Go to this partner's profile page to learn more about them