Maurizio Cunningham Brown, Founder and CEO of Ultimate Battery Company, discusses how the company is working to overhaul the battery and energy storage markets with its innovative Duophasic technology.
Spearheaded by Founder and CEO Maurizio Cunningham Brown, Ultimate Battery Company (UBC) is on a mission to transform the vehicle battery and energy storage markets with its wide range of products designed to significantly reduce CO2 emissions.
The company's patented Duophasic technologies enable modular battery designs which reduce cost and weight and double energy density, compared to traditional products. After a successful period of prototyping and proof-of-concept trials, UBC has now commenced initial manufacturing of its first-generation modular batteries, Duophasic COR. Based in the UK, UBC has invested £28m in a state-of-the-art manufacturing plant, which will create 500 jobs.
To find out more about UBC's journey from launch to full-scale production, as well as its plans for the future, The Innovation Platform spoke to Maurizio Cunningham Brown.
Can you explain the background behind the company and how it has progressed?
Over the past three decades, I have created and sold successful businesses – you could call me a serial entrepreneur. When I sold my last business, I started to look around for the next opportunity. Very quickly, I identified the energy storage market as one that was ripe for innovation to take advantage of the drive to net-zero carbon.
In 2017, I founded Ultimate Battery Company to develop green, safe, energy-dense batteries for transportation, energy storage and many other applications. Over the next few years, I recruited a team of leading industry players and we started to develop and test our first-generation product – a drop-in replacement starting, lighting, and ignition (SLI) battery. By 2020, we were ready to enter into a collaboration with the University of Sheffield's Advanced Manufacturing Research Centre (AMRC) to develop mass production techniques and at the same time file our patents.
Along the way, thanks in part to support from the Department for International Trade (DIT), people were beginning to hear about us and take notice. We were chosen by the History of Parliament Trust as one of only 200 companies to be featured in the official History of Parliament commemorative History Album to celebrate 300 years of Leadership and Innovation. We attended the Global Investment Summit and reception hosted by Her Majesty The Queen at Windsor Castle.
In 2021, we secured funding support from the South Yorkshire Mayoral Combined Authority. This key investment gave us the opportunity to secure premises, purchase key equipment, and build our team.
Now in 2023, we are ready to make the step change into full-scale manufacturing and start research and development into the next innovations to make electric vehicles (EVs) truly desirable and accessible.
What are your key aims and objectives?
Our mission is to transform the vehicle battery and energy storage markets with products that significantly reduce CO2.
UBC is dedicated to creating affordable, innovative, and sustainable solutions that revolutionise performance in lightweight battery power for transport, defence, and energy storage. We help our customers reduce cost, improve performance, and significantly reduce CO2 emissions.
Our patented, breakthrough Duophasic technologies enable modular battery designs which reduce cost and weight and double energy density, compared to traditional products.
These technologies deliver lower cost batteries with significant and sustainable environmental and economic benefits.
We care about our planet, and we care about our people. We treat our customers and supply partners fairly. In partnership with other like-minded organisations, we create solutions that reduce carbon emissions and offer future generations a more sustainable world.
We adopt initiatives that create work opportunities open to everyone, and help people back into work. Through our socially responsible division, UBC BrightSpark, we pledge a proportion of our production, working with partners to broaden energy access in emerging economies.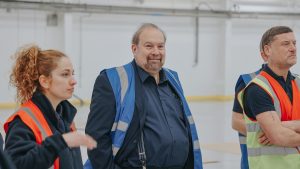 Can you detail the technology and its benefits? What makes it different to lithium and hydrogen?
UBC has a great deal of experience and well understands how to make energy dense, small, lightweight batteries. UBC is already producing its Gen1 DuophasicCOR® SLI batteries for cars and trucks. These are approximately half the weight and save between 10-15Kg on a like-for-like basis in comparison to traditional battery technology. UBC's DuophasicCOR battery is based on well understood principles first developed in 1923. UBC has uniquely brought the technology into the 21st century using modern materials and processes.
Similarly, the underlying concepts behind MOTOFLO® were first put into production in 1984, and UBC's Gen2 MOTOFLO is an evolution of these well understood methods coupled with UBC's Duophasic technology. Simply, MOTOFLO charges the electrolyte outside the battery and then pumps it through as needed, separating the charging process from the battery.
Our batteries, unlike lithium batteries will be easier to recycle and less environmentally damaging in building our manufacturing plants and will require significantly less investment. Our batteries will not require complex battery maintenance systems and are chip free. UBC batteries are manufactured from easily sourced materials that do not require mining and can easily be recycled.
Hydrogen is only part of the solution and is unlikely to be suitable for mass transport systems. It is energy hungry, taking three times more energy to produce than it releases. Hydrogen also needs to be stored at supercool temperatures and at high pressure.
How are you working with other organisations to enhance the technology for battery power and energy storage applications?
Working with both industry and academia, UBC has developed and patented many innovative new technologies that will revolutionise the global market for battery power and energy storage applications.
Our suppliers have worked with us to use existing and new materials in innovative ways and processes to develop our products.
Academia helps us move to mass production. Our collaboration with the AMRC gave us a development cell in which to not only develop products but also to validate the technology and performance of the battery. More recently, we have joined forces with the University of Bradford to investigate and evaluate new materials and manufacturing methods.
We will be continuing our relationships with both the AMRC and Bradford, as well as additional academic partners, to develop our next technological innovations.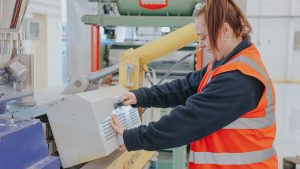 How can the technology benefit the energy storage market?
It will mean no more loss of renewable energy. It is estimated that, in the UK alone, some 3.6TW of power is lost each year due to capacity being full and wind turbines, wave generators, and solar panels being turned off. Our solutions, when implemented, will create energy reservoirs that can provide energy whenever needed, not just when the wind blows, or sun shines.
The UBC Duophasic STOR solution is flexible and available at considerably lower costs than conventional solutions.
Internationally too and the developing world can utilise our technology for energy storage, opening opportunities across many sectors, including health and education.
At home solar panels convert sunlight into energy used to heat or power the home. Due to limited storage options, this energy is generated for immediate use. Excess energy is either supplied back to the power grid, often at a non-economic return or is wasted. By adopting Duophasic STOR, it becomes possible to generate energy during daylight hours and safely store it for use at night. The smaller, lighter, less expensive, energy-dense storage units provide the perfect solution.
What are your plans for further innovation in the future?
As technology pioneers, we plan to be at the heart of green energy solutions to drive down to net carbon zero.
We have commenced working with industry to help them solve their future energy storage challenges and expect this to grow quickly.
A key part of our innovation hub in South Yorkshire is our rapid prototype centre which reduces product development time from years to weeks.
And just as importantly, our innovation hub is working on the development of the next generation of power trains for electric vehicles.
Please note, this article will also appear in the fourteenth edition of our quarterly publication.

Go to this partner's profile page to learn more about them