VTT is transforming the future of food production with novel cellular agriculture solutions that are more local, ethical, and sustainable.
What if coffee could be produced in Finland? This is not science fiction but already a reality in VTT's laboratory. It's time to upgrade our food system to be able to produce food ethically and in a sustainable way.
It has been estimated that 60% more food will be needed in 2050 than today, while only 2% more agricultural land will be available. Conventional agriculture is not able to solve this problem by increasing efficiency alone. In addition to smarter primary production and maximal use of raw-materials, this means production of food ingredients by microbial and plant cells.
Cellular agriculture is a sustainable option for food production and has the potential to disrupt the current food system and to provide an alternative to unsustainable and unethical production methods. Cellular agriculture has already begun to generate new business opportunities.
What is cellular agriculture?
The term cellular agriculture refers to production of agricultural commodities using cells – microbes, animal, or plant cells – cultivated in fermenters instead of relying on fields and farmed animals. It is possible to establish cell cultures from any plant species. This way plants can be grown anywhere: In cities, deserts or even in space.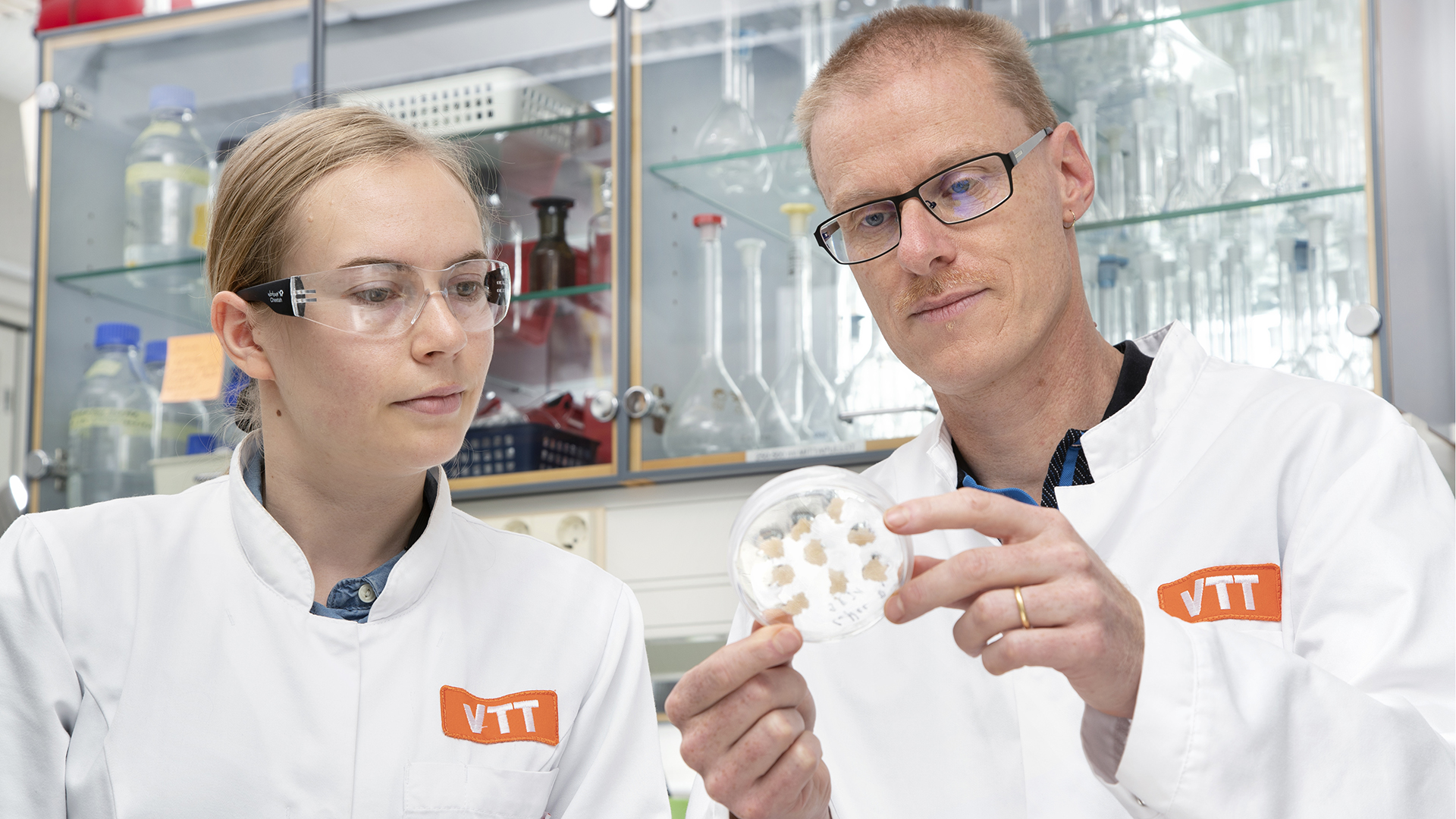 A radical transformation of the food system is needed
We need food to survive but we also need food that is safe, healthy, and nutritious instead of food that is just calorie-dense and cheap. According to an article published in Lancet in 2019, more than 820 million people have insufficient food and many more consume low-quality diets. A global shift towards healthy diets will require substantial dietary changes, as well as significant increases in the consumption of plant-based foods.
We also need to consider ethical concerns. Many everyday food items, such as avocado, cocoa and coffee, are fuelling deforestation as well as causing water shortage and human right issues. Pollution, erosion, insect extinction are a few examples of the effects of our current way of producing food.
To achieve the Sustainable Development Goals (SDGs), such as zero hunger, good health and climate action, new business models and technological innovations are urgently needed for food production.
Next big leap in food production
There are many companies that have already set up operations to produce cultured meat or other alternative protein products. Did you know that the success story of Quorn started in the 1960's? Today millions of people are eating Quorn meals.
Big steps towards a new era are already happening in Finland. Solar Foods Ltd has invented a revolutionary new way to produce natural protein called Solein from carbon dioxide with electricity. The technological development started a few years ago at VTT and LUT University. Solar Foods aims to start the commercial production of the protein by the end of 2022.
In 2020, the California-based food start-up Eat Just introduced to the market the world's first chicken nugget created in a lab. The product is made from real meat grown from cells derived from chicken. Eat Just's chicken bites are now available for consumers in a restaurant in Singapore.
Coffee production with the help of plant cells
Currently, we consider coffee as an unsustainably and unethically produced agricultural product. While its demand is constantly rising, suitable areas for coffee plantations are shrinking due to climate change.
The idea that coffee cells could be used to make coffee was first introduced by P.M. Townsley in 1974. In 2020, VTT's scientists decided to develop coffee in bioreactors with the help of plant cells. The research work has already produced first coffee batches at VTT. The whole procedure required input from several disciplines and experts in the fields of plant biotechnology, chemistry, and food science.
According to VTT's trained sensory panel and analytical examination the first coffee samples were found to bear similarity to ordinary coffee in terms of smell and taste.
Growing plant cells requires specific expertise when scaling and optimising the process. Downstream processing and product formulation together with regulatory approval and market introduction are additional steps on the way to a commercial product.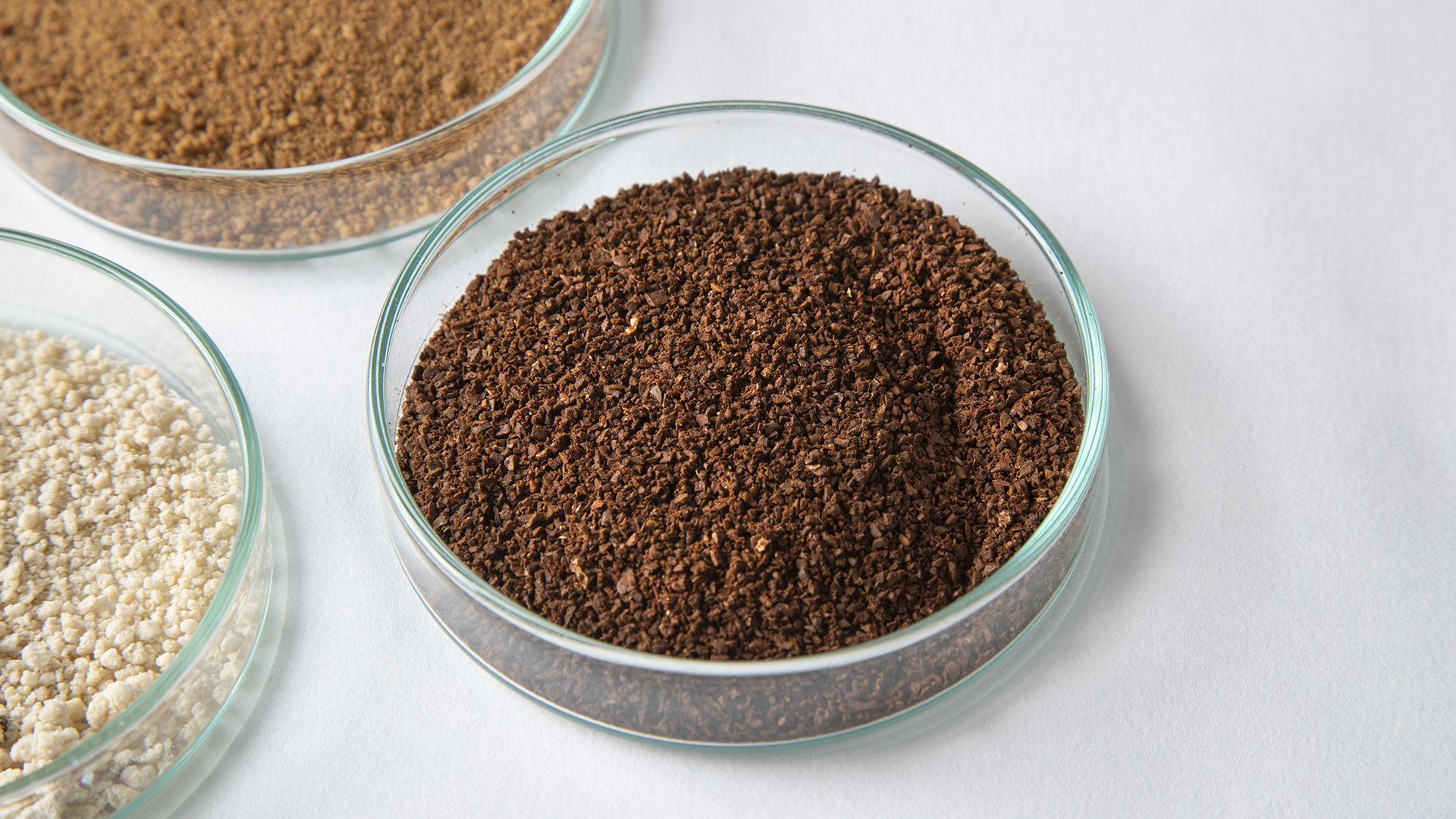 Egg white without chicken
VTT has developed a safe, environmentally sustainable, and cost-effective method to mass-produce high value proteins, such as egg white, without using animals.
The ingredients used are water, glucose, various minerals, and Trichoderma reesei fungus, which produces proteins from them. This biotechnical method can be compared to beer production, in which yeast produces alcohol with the help of sugar.
The bioprocess is based on harnessing the Trichoderma reesei fungus, and it offers a safe way to produce food proteins without farming of livestock. The technology would eliminate the risk of salmonella and exposure to antibiotics, which are relevant to livestock and contribute to food chain sustainability by reducing the dependency on farming of animals.
The first calculations done by the University of Helsinki showed that producing egg-white protein in a cell factory generates around 75% less greenhouse gases and uses 90% less land than rearing chicken.
The production cost of the egg white protein produced by this method is estimated to be less than €10 per kilo and is suitable for large scale (more than 300,000 litres) industrial production.
VTT is currently developing the microbial production technology with several leading start-up companies, and with long-term research and licensing agreements. So far, globally the expected financial and commercial demand for cellular agriculture is extremely high.
VTT's egg white without chicken technology won the first prize in the Impact Expected category of the EARTO Innovation Awards 2020. It is commercially scalable and will soon be available for consumers.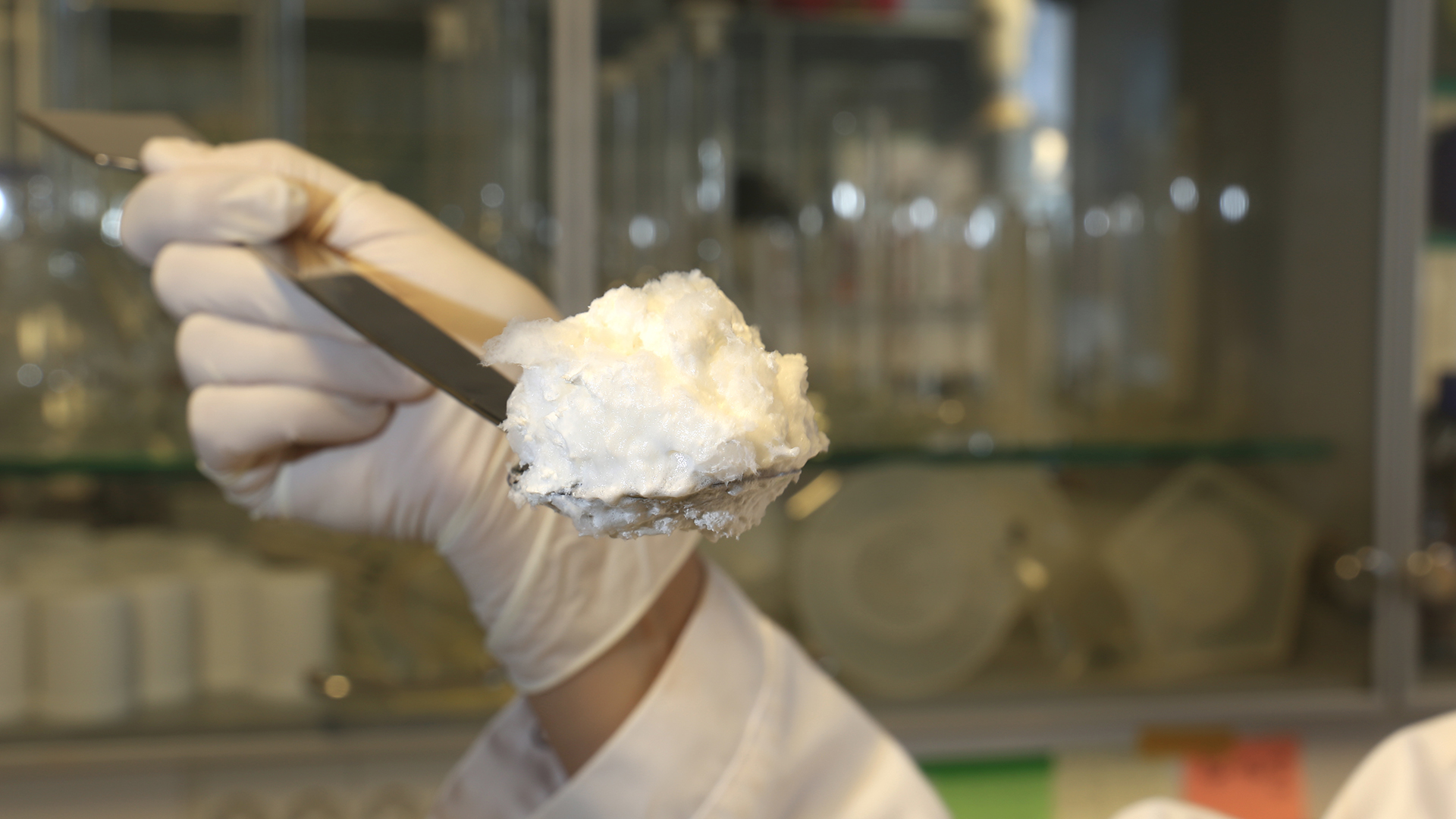 Key advantages of cellular agriculture
Plant cell cultures will be the next big thing to open the door to the next 'farming' revolution. The cultures can be grown anywhere, anytime which gives farmers complete seasonal and geographical independence. There is no need for pesticides or other harmful chemicals as the cultures are grown in fully controlled, sterile conditions.
Strict adherence to safety testing is required from all lab-grown products. This ensures that all food products entering the market meet the regulatory requirements and that their quality is assured.
Growing plant cells in bioreactors instead of cultivating plants in fields reduces land use and greenhouse gases. Growing food locally also requires less transportation, thus reducing air pollution. Furthermore, with cellular agriculture seeds and peels are simply not produced.
Cell-based plant ingredients can be added to existing products and also completely new food products can be created. The biomass produced can be nutritious and contain a high protein content with a balanced amino acid profile, dietary fibres and beneficial lipids and other health-promoting components. On top of that, the material is flexible and can be moulded in any shape.
How to get started with plant cell cultures?
Once you have an idea of a product or ingredient and its features you must get access to the right technology and experienced specialists with in-depth knowledge of different plants and species, then it is time to establish a cell culture. You can outsource all that in order to speed up the innovation process, reduce development costs and increase the speed of go-to-market. The fast way to access a plant cell culture is to make use of already existing culture collections. To grow the cells most efficiently, the conditions in the bioreactors must be optimal in terms of parameters such as mixing speed, aeration, pH, and nutrients. According to the required features, you will want to further process the plant cells, for example dry or shape them. You must also conduct safety and quality assessments, sensory evaluation, and chemical analysis to ensure your product's success.
Note, that the Nagoya Protocol on Access and Benefits Sharing set regulations on the utilisation of any genetic resources.
Ramp up your cellular agriculture strategy with VTT
VTT is a visionary forerunner in the field of cellular agriculture with decades of track record in form of publications, awards, industry references and spinouts that pioneer the future. VTT CellularFood is a step-by-step programme that helps you develop your novel food products. The process is designed to help you assess risks, navigate costs, and make informed decisions based on pilot findings. VTT scientists can help you to identify the potential that agriculture offers your business and assist you in developing your own product – from analysis to piloting.
Cellular agriculture is one of the routes towards a more sustainable food production. True impact will happen through companies who are willing to re-think food ingredient production and start driving commercial applications.
VTT collaborates and supports large enterprises and small companies in adopting opportunities in their product development. VTT offers a unique combination of cross-disciplinary expertise, unique infrastructure, and facilities. Ultimately, all efforts should result in more sustainable and healthy food for the benefit of the consumer.
Further information:
Heidi Salminen
Customer Account Lead, Food Solutions
heidi.salminen@vtt.fi
Heiko Rischer
Research Team Leader, Plant Biotechnology
heiko.rischer@vtt.fi
Anneli Ritala
Principal Scientist, Plant Biotechnology
anneli.ritala@vtt.fi

Special Report Contact Details