Dan Clarke, Strategy & Partnerships Manager for Smart Cambridge, discusses the Smart Cambridge programme, and how to improve the quality of life, sustainability, and economic strength of the city with smart mobility solutions
Cambridge, UK, has been known as a centre of studying and learning since the 13th century. Some of the world's most innovative engineers and data scientists are living, working, and studying in the city and its surrounding areas, and local technology companies are leading the way in the development of the 'Internet of Things' and smart city innovations.
The definition of a 'smart city' varies between cities and from country to country. Although there is no single agreed definition, the most common theme is the use of technology and data to create better places for people to live and work.
The Smart Cambridge programme
Smart Cambridge is exploring how data, emerging technology, and digital connectivity can be used to transform the way people live, work, and travel in Greater Cambridge and beyond by searching for solutions to the challenges a city in the 21st century faces.
This pioneering programme was set up in 2015 to harness the latest technologies in an effort to improve the quality of life, sustainability, and economic strength of the city and its surrounding areas. Working in collaboration with local councils, technology businesses, university researchers, and other partner organisations to find smart ways to tackle city challenges, such as transport and air quality.
Investment for Smart Cambridge comes primarily from the Greater Cambridge Partnership (GCP) and the programme has been successful in securing government funding to support innovative projects in collaboration with business, community, and academic sectors. Smart Cambridge has also secured funding from the Cambridgeshire & Peterborough Combined Authority (CPCA) to begin work in the market towns and the wider Cambridgeshire area to extend the programme. The term 'smart city' then becomes 'smart places' as the learning and opportunities are applied to rural areas.
The Smart Cambridge programme therefore aims to ensure that Greater Cambridge sits within a 'Smart City Region' by providing the infrastructure needed to collect and analyse data that can be used to develop innovative solutions for some of the area's challenges. The work supports the wider ambition of the GCP – including getting one-in-four people out of their cars – which is investing in transport, housing, and skills to facilitate sustainable economic growth in the region and create communities people want to live and work in.
Cambridge already has a city infrastructure that is connected and producing data, such as traffic signals, pay and display machines, real time bus displays, and apps for public transport. The Smart Cambridge programme builds on this work, developing the supporting infrastructure and working with a diverse range of partners to join these networks up, using technology and data as tools that benefit the whole community.
When it comes to transport and smart mobility, Smart Cambridge is delivering a wide range of initiatives including those in the key areas of:
Better travel and transport information for journeys, along with easier payment options;
Understanding and managing the road network better;
Transport trials including driverless vehicles; and
Creating a baseline of city data including air quality measurements and traffic counts.
Having the ability to gather a wide range of data builds a comprehensive picture of what is happening within the city boundaries. Analysis of this data offers new opportunities for Cambridge to improve the quality of life for its citizens by helping to address challenges such as congestion and poor air quality, as well as supporting economic growth and suggesting where investments can have the most positive impact.
The programme is exploring these opportunities by looking at new infrastructure and the applications it can support. Applications that could be built are hugely varied and include everything from journey planners to autonomous vehicles.
Using this knowledge, Smart Cambridge is improving city management through collaboration with technology partners and the sharing of data – by, for example, trialling new sensors to monitor the impact of infrastructure projects on traffic and air quality. It is also investigating how emerging technology can support the city's goals to reduce congestion and improve mobility by helping to deliver a digital twin prototype and trialling autonomous shuttles as part of the public transport offering.
The city as a platform
Working with the University of Cambridge, Smart Cambridge has developed an advanced digital platform that supports a myriad of smart solutions. Launched in 2017, the Intelligent City Platform (iCP) collates and processes real-time data from sensors around the city for a host of applications. It is a comprehensive research and testing tool, supporting the programme's ambitions to remain at the forefront of city data analysis by building University researchers' insights into solutions to benefit communities.
The first phase of the iCP platform development involved setting up a data network to support 'Internet of Things' technology – allowing products to 'talk' to each other – and a data hub to collate and process the data.
A city-wide sensor network gathers data to feed into the iCP from systems including traffic signals, bus movements, and car parks, together with traffic-monitoring cameras and air quality sensors. These can be used to monitor a range of measures including traffic, cycle, and pedestrian movements and the platform allows citizens, third-party developers, and commercial partners to use the data to design and build innovative applications. All the data behind the digital platform is shared and the programme has secured funding from the Department for Transport to unlock more data from traffic signal counters, Bluetooth sensors, and parking data to feed into the platform and further help Smart Cambridge plan smart solutions for the challenges caused and faced by the transport network.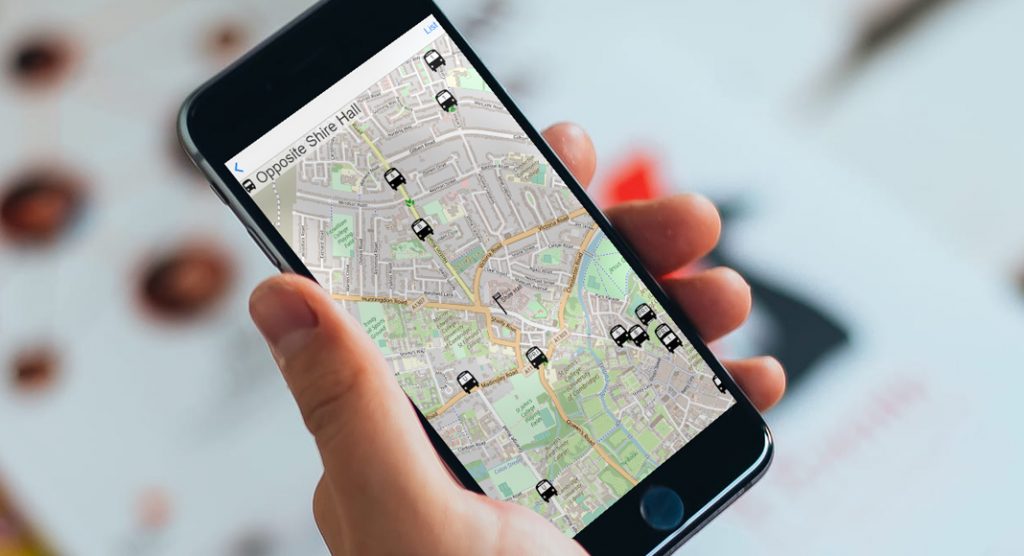 Smart mobility
In March 2019, Smart Cambridge entered a partnership with GeoSpock. This Cambridge-based company has developed a unique location intelligence platform enabling Smart Cambridge to access real-time data visualisation to provide analytics and build insight about the traffic network. Visualising the data in this way allowed the project team to make predictions and gain a greater understanding of traffic flow to bring tangible benefits by enabling better decision making for future planning of the city.
To further understand and manage the road network better, smart sensors from Vivacity have been placed on certain roads in Cambridge to capture data over an 18 month period. The programme did this to take advantage of a scheduled, eight-week, city-centre bridge closure to monitor how roadworks affected travel behaviour. The length of time the sensors would be in place was extended to 18 months to allow the team to gather data for the same time frame the following year so that officers could make direct comparisons to when the bridge was closed to when it is open. The analysis of patterns between traffic volumes and air quality, along with other factors such as accidents and weather conditions, immediately made an impact including the re-phasing of traffic signals at a busy intersection to ease traffic flow which would not previously have been picked up on. Smart Cambridge plans to extend the sensor trial to use data generated by the sensors to trial optimising traffic timings for various user groups in real time.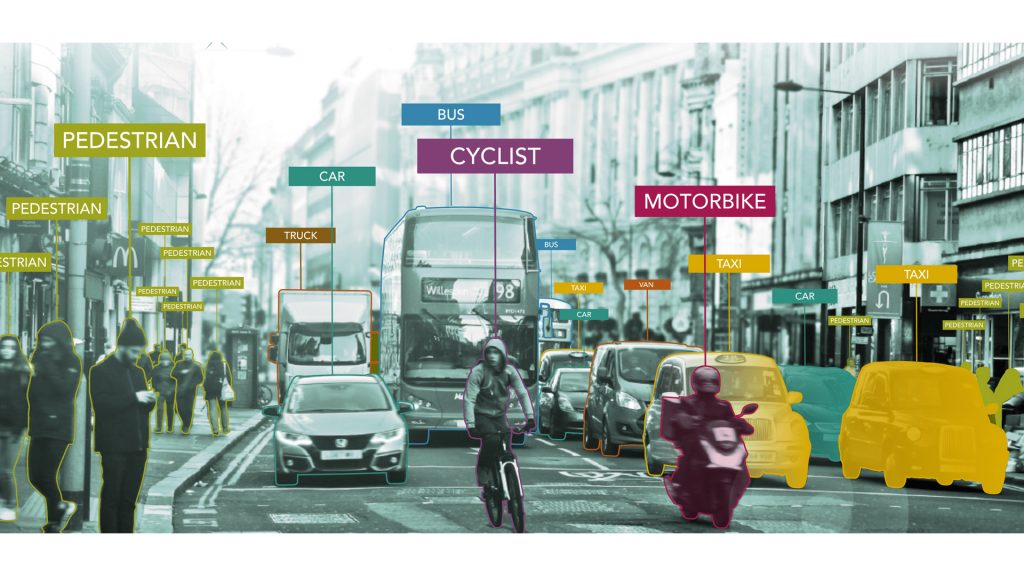 The Smart Cambridge programme has also been looking at how they can utilise real-time transit data. They worked with ITO World to clean and structure real-time data and the contextual static data to give travellers in and around Cambridge better information and more confidence in public transport. It is hoped that this will help support the GCPs efforts to shift and encourage travellers to use more sustainable modes of transport. The work with ITO is feeding real-time data into Google Transit and Apple Maps to ensure travellers using the apps in Cambridge benefit from the best possible experience. This is only the first step as the programme is beginning to explore how
the region can better integrate mobility information with payments and move towards Mobility as a Service (MaaS).
In another effort to give travellers better information and certainty about transport options, in 2018 Smart Cambridge launched smart wayfinding screens and a mobile travel app to help residents, commuters, and visitors plan journeys in and around Cambridge by making greater use of public transport instead of relying on private cars. Using real-time travel and static data collated through the iCP, each tool provides accurate travel time predictions to make journeys easier and inspire people to travel more sustainably.
The SmartPanel screens, installed in the foyers of public buildings and large employers around the city, provide up-to-date information including live bus and train times, road traffic maps, and Twitter travel updates. Wayfinding screens showing the latest travel updates and useful visitor information and have been placed at key transport interchanges to make it easier for people to find their way around the city. A wayfinding map showing routes into the city from the railway station and to local hospitals has just been launched to assist those unfamiliar with the city find their way around by walking. MotionMap, which is free to download, brings together real-time and local timetable information to more accurately predict travel times and suggest the best routes in and around Cambridge. It also displays the position of buses in real-time so travellers can see when a bus is approaching a stop, and suggests journeys using a mix of buses, trains, walking, and cycling.
The next phase of this Smart Journey Planning project will continue to drive innovation in the way data is used and displayed. It will, for example, support the further deployment of more SmartPanel screens and the Pocket SmartPanel app – which will both offer travellers the opportunity to make more sustainable journey choices by providing reliable real-time travel and city information.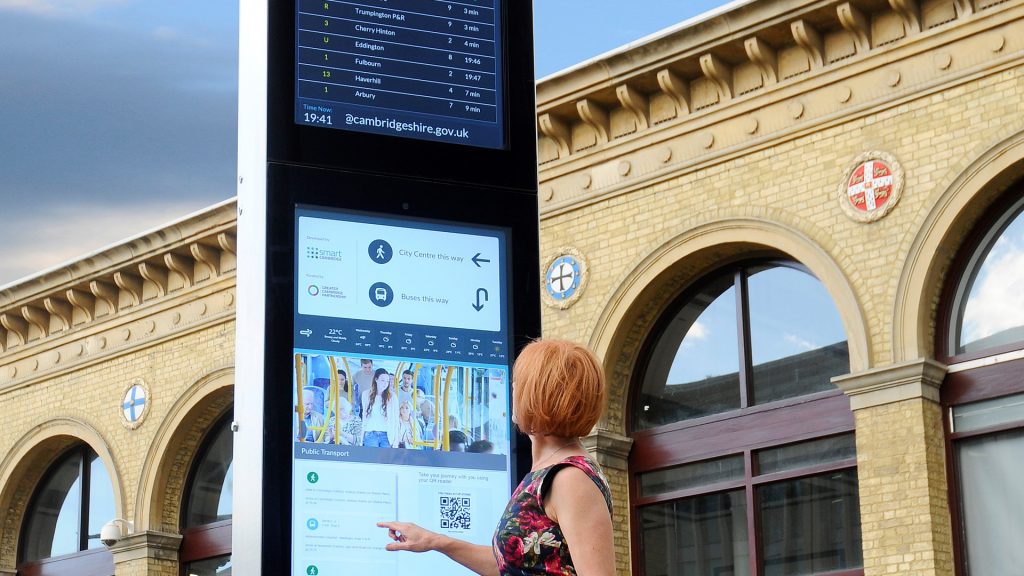 Autonomous vehicles
Three years ago, Smart Cambridge successfully partnered with Coventry-based engineering firm Aurrigo (a division of RDM) in a bid to the government's Centre for Connected and Autonomous Vehicles (CCAV) to develop and trial autonomous vehicles. Autonomous vehicles are an exciting technology with the potential to transform how people travel by offering a safe and reliable way for people to travel to the city centre and employment sites out of regular service hours in the future. Cambridge is among the first smart cities in the UK to trial autonomous vehicles to investigate the feasibility of the technology being used as part of a public transport service in the future.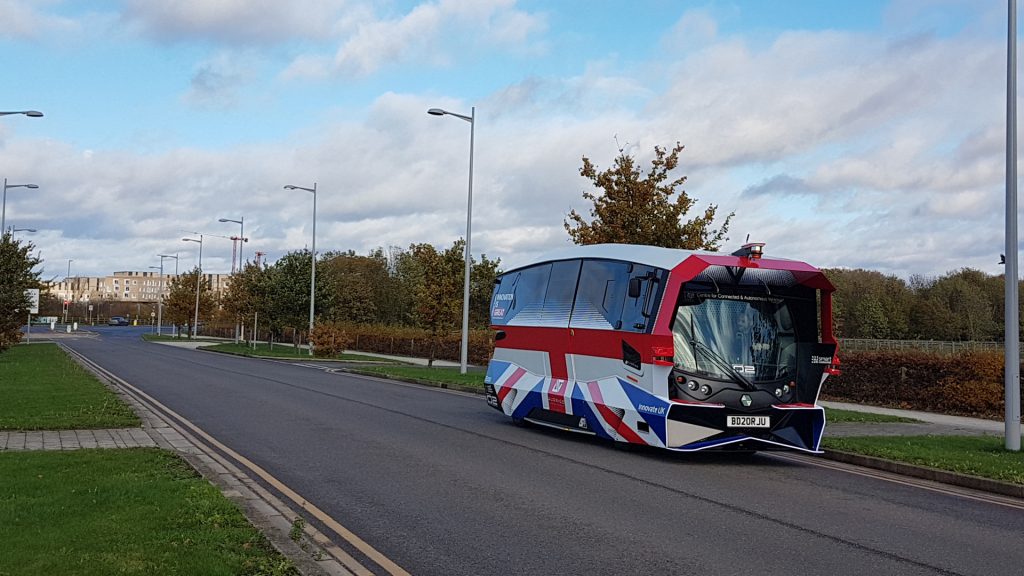 Originally due to start late summer 2020, COVID disruptions have meant that the initial engineering trial will now start after the most recent lockdown restrictions are lifted. The Aurrigo Shuttle will map a route from a Park & Ride site around the University of Cambridge's West Cambridge campus, before project passengers are invited to step aboard to take part in the next part of the trial.
The trials will allow the project team to understand from a city perspective the logistics of incorporating autonomous vehicles into transport systems. If successful, the GCP will have evidence to consider when planning future transport schemes – which may mean self-driving vehicles could be rolled out around Greater Cambridge in the future.
A 'digital twin'
Smart Cambridge is also working with the Centre for Digital Built Britain and the Centre for Smart Infrastructure and Construction, based at the University of Cambridge, as they explore the future of commuting into Cambridge, including again how congestion can be reduced and air quality improved. The collaboration will plan how digital technology and data can be used to support traffic management planning decisions to make improvements and will focus on delivering a 'digital twin' prototype, combining traditional urban modelling techniques, new data sources, and advanced data analytics.
The term 'digital twin' is used to describe a virtual model of something physical (the city in this case), supplemented with data collected from sensors and systems in the surrounding environment. Visualising data in this way means digital twins have the potential to help cities develop more holistic policies covering multiple departments such as energy, traffic, and waste management. Collaborating in this way offers a greater flexibility to assist in addressing some of the very real challenges urban areas face such as congestion, pollution, and the need to become more sustainable.
The prototype included journey-to-work trends in Cambridge, including how people of different ages and employment status travel to work, and how different factors affect their travel. It also explored possible future journeys to work based on transport investment and new housing developments, as well as how flexible working and emerging technology may impact commuting.
Cities have always evolved and grown as new infrastructure is introduced to seed innovation, whether that is the development of roads which allow cities to be better connected, or an electricity infrastructure which underpinned a sustained period of economic development. It is no different with connectivity and data infrastructure, which will continue to drive change in our cities.
The next phase of the Smart Cambridge programme will see the development of more strategic sensing networks and the communications networks needed to support the collection of data including NarrowBand-Internet of Things (NB-IoT) and 5G. To support this, a next generation operational data platform will be implemented, integrating tools that allow visualisation and analysis of data, supporting digital twins and agent-based transport models, as well as supporting better operation of the mobility network in real time – enabling the team to find solutions to city challenges in the 21st century and beyond.
Smart Cambridge
The work of Smart Cambridge is supported by the Connecting Cambridgeshire programme, led by Cambridgeshire County Council, with investment from the Greater Cambridge Partnership and the Cambridgeshire and Peterborough Combined Authority.
Smart Cambridge is exploring how data, emerging technology, and digital connectivity can be used to transform the way people live, work, and travel in the Greater Cambridge area and beyond. This rapidly-evolving programme is looking at how the latest technologies can improve quality of life, sustainability, and the economic strength of the area. Local councils, technology businesses, university researchers, and partner organisations are working together to find smart ways to tackle city challenges, such as transport and air quality.
Dan Clarke
Strategy & Partnerships Manager
Smart Cambridge
smart.cambridge@cambridgeshire.gov.uk
Tweet @smartcamb
www.connectingcambridgeshire.co.uk/smart-cambridge
Please note, this article will also appear in the fourth edition of our new quarterly publication.