The Critical Minerals Association's 'Blueprint for Responsible Sourcing of Critical Minerals' outlines how the UK needs to secure critical minerals to enable the UK's Green Industrial Revolution.
The IPCC's Climate Change 2021 report outlines pathways to limit global warming to 1.5°C, but this is predicated on the assumption of mature wind and solar technologies. A single 3MW wind turbine alone requires 2,000kg of rare earth elements. Without a steady supply of critical minerals for renewable energies, mitigating climate change will not be possible.
Critical minerals are the building blocks of renewable energy technologies and are essential in enabling the UK's Green Industrial Revolution. We need these materials for technologies such as wind turbines, solar panels, electric vehicles (EVs), battery storage, and the underpinning net zero infrastructure.
We know that we need to extract more critical minerals than ever before if we genuinely want to have a chance at slowing down climate change. So how do we do this responsibly? In 2021, the Critical Minerals Association (CMA) published 'A Blueprint for Responsible Sourcing of Critical Minerals' to help industry and governments navigate the complex field of environment, social, and governance (ESG) in mineral extraction. We must make sure that green technologies are made from metals and minerals that have been extracted responsibly.
The 'Minerals for Climate Action: The Mineral Intensity of the Clean Energy Transition' World Bank Group report found that the production of minerals, such as graphite, lithium, and cobalt, could increase by nearly 500% by 2050 to meet the growing demand for clean energy technologies. It estimates that over three billion tonnes of minerals and metals will be needed to deploy wind, solar, and geothermal power, as well as energy storage, required for achieving a below 2°C future.
There are multiple lists of critical minerals – for example, the EU 2020 list, British Geological Survey 2015 risk list, Canada's Critical Minerals 2021 list, US Geological Survey 2018 list, Australia's Critical Minerals 2020 prospectus. While each list differs based on the methodology and nations' needs, some common critical minerals include cobalt, graphite, lithium, rare earth elements, and tungsten.
The Critical Minerals Association
The CMA was established in 2020 as a platform for industry and academia to come together and share collective messages with the government. Based in the UK, the association actively collaborates with other nations, including Canada and Australia. The CMA also provides the Secretariat to the UK's All Party Parliamentary Group for Critical Minerals and hosted its launch event in Parliament in March 2020.
In 2021, the CMA organised 15 virtual events and three in-person events, ending the year with a conference at Burlington House, The Geological Society of London on Critical Minerals, and the Green Industrial Revolution.
The association's five working groups take an active part in driving the agenda and thought leadership. These working groups are: International Mining, UK Domestic Mining, Perception of Mining, Circular Economy, and Environment, Social & Governance (ESG).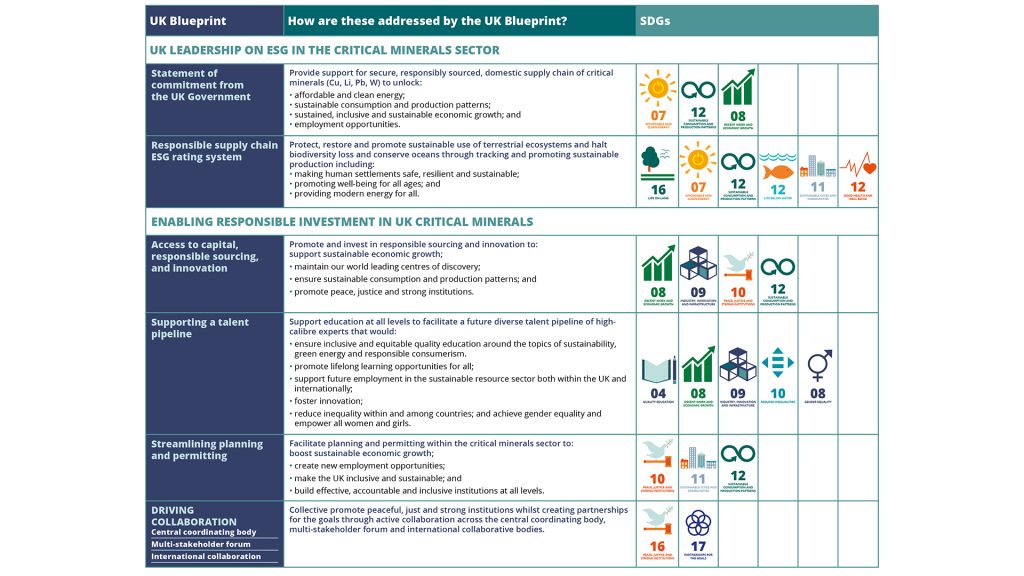 A blueprint for responsible sourcing
In 2021, the ESG working group, comprising ten industry members, worked together to produce the CMA's flagship paper 'A Blueprint for Responsible Sourcing of Critical Minerals.' The paper provides an overview of ESG, specifically for critical minerals, whilst exploring the challenges and opportunities in creating alternative supply chains.
The purpose of the paper is to outline the challenges and opportunities for the UK to be a world leader in mining and sourcing critical minerals responsibly. Critical minerals are essential to enable the UK's Green Industrial Revolution and the paper aims to help the UK Government navigate the complex landscape of ESG in mining. The paper takes a pragmatic approach and proposes a number of achievable recommendations for the UK Government to ensure that critical minerals are sourced in a responsible way.
The CMA recommends that urgent action must be taken by the UK Government:
1)  There needs to be UK leadership on ESG in the critical minerals sector:
a)  The UK Government should make a statement of commitment regarding domestic production of critical minerals; and
b) Implement a responsible value chain ESG rating system.
2)  The government should enable responsible investment in critical minerals by:
a)  Ensuring access to capital, responsible sourcing, setting expectations, and promoting innovation;
b) Supporting a talent pipeline; and
c)  Streamlining planning and permitting.
3)  The government should drive collaboration through:
a)  Establishing a central co-ordinating body;
b) Creating a multi-stakeholder forum; and
c)  Encouraging international collaboration.
Influencing action
It was encouraging to see that the UK Government Department for Business, Energy & Industrial Strategy's Net Zero Strategy, published in November 2021 echoed many of the recommendations proposed in the CMA's ESG paper. For example, the UK Government has committed to:
Work with industry and with international partners to safeguard these supply chains and our future economic resilience;
• Establish an expert committee on critical minerals;
•    Establish an enabling environment for the sector in the UK;
•    Work with UK industry (including SMEs) to consider how private and public sectors can
better share risks to promote investment and drive innovation at all levels; and
•    Participate in the development of global standards through the British Standards Institution.
The UK Critical Minerals Strategy is due to be published this year, and the CMA is excited to see its contents. A few years ago, the UK Government's 2017 Industrial Strategy made no mention of the critical minerals needed to meet its Clean Growth Agenda. The awakening we are seeing now is very much welcome by industry. We hope the strategy will build on the UK Government's commitments made in the Net Zero Strategy and provide further detail on how these will be developed through engagement with industry, academia, and relevant stakeholders.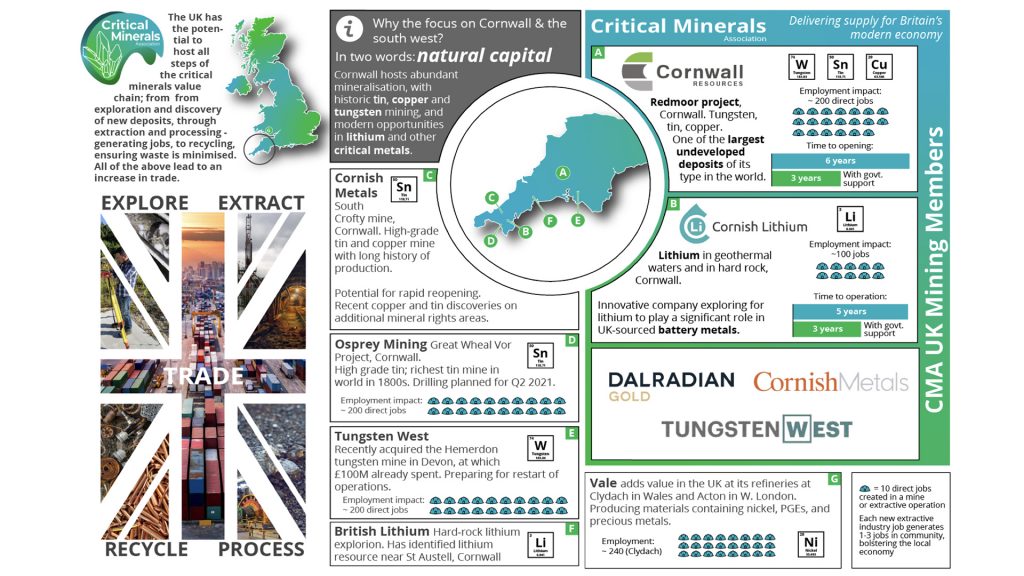 The UK's domestic potential
The UK Government should support and develop its homegrown critical minerals supply chain, enabling these sectors to provide science, technology, engineering, and mathematics (STEM) careers and green jobs for the UK, particularly in levelling up areas, where responsible mining can drive economic growth and provide better opportunities for local communities.
The UK has several critical mineral projects, including CMA members: Cornish Metals, Cornish Lithium, Cornwall Resources, Tungsten West, British Lithium, Aberdeen Minerals and, Dalradian. All of these present a great opportunity for sourcing materials domestically.
Encouraging the development of critical mineral projects in the UK is crucial to support the UK's ability to secure supply of these important materials.
The ESG paper's 'Ecocosm' demonstrates the entire value chain from exploration, through mining, to processing, smelting, manufacturing, and recycling or re-use, and highlights where the UK interacts with stakeholders globally.
The recent UK Government £100m investment in Britishvolt is welcomed for its support of developing the upstream component of EV supply chains. Many of the world's gigafactories are concentrated in just a few nations; hence diversification beyond existing supply chains is key. The UK Government needs to support the creation of a midstream sector to minimise the need for shipping overseas for processing, where there is little transparency and an increased carbon footprint from shipping.
Given the huge transition to green technologies and pledges such as the UK's commitment for all vehicles to be "zero-emissions capable" by 2035, there will always be a need to source critical minerals from overseas. Critical minerals are not just essential for the energy transition; these materials are also necessary for our everyday items such as mobile phones and laptops. Developing partnerships with ally nations and embedding ESG compliance from source to product will be essential in future-proofing critical mineral supply chains.
Expectations of modern mining
By using modern mining practices, critical mineral companies can operate in a responsible manner in well-regulated jurisdictions. Mining companies, in addition to their own internal expectations of good practice, are incentivised by external stakeholders as outlined in the ESG paper – such as investors, insurers, original equipment manufacturers (OEMs), government and, society – to meet externally imposed ESG expectations.
When done responsibly, the development of minerals projects can contribute positively to the local area: creating both direct and indirect jobs, upskilling the local workforce, and boosting the local economy through the creation of infrastructure and amenities. Once the mine life has come to an end, remediation of sites can provide revitalised environments for recreation and be repurposed to continue generating revenue for the area. A great example of this is the much-loved Eden Project in Cornwall.
A vast number of ESG standards, regulations, and monitoring initiatives have been developed over the last two decades to provide guidance on expected performance levels or to give a framework for the disclosure of performance. These cover various geographic areas and focus on different themes, including key performance indicators, biodiversity, environmental protection, human rights, conflict, finance, greenhouse gases (GHGs) etc.
There is no single overarching standard that addresses all aspects of what constitutes good ESG performance. Therefore, it can be challenging for diversified mining companies with geographically dispersed projects to comply with all relevant standards. Likewise, OEMs, consumers, governments, and investors find it difficult to know which standards should be applied and what areas they cover. Disclosure on ESG topics can be cumbersome, and without appropriate monitoring and assurance, any claims of adherence to outlined standards may not be fully verified.
To see the multitude of ESG Standards and Regulations in this space, have a look at our 'ESG Standards' table in the appendix on page 58-74.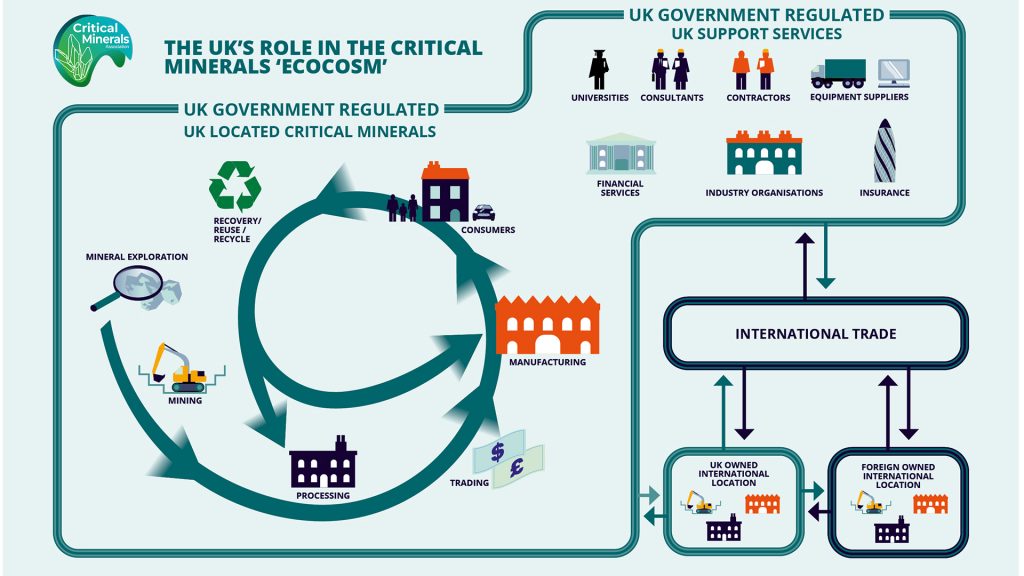 A future of innovation
Innovations and the development of new technologies play a key role in the responsible sourcing of critical minerals. The paper highlights several UK companies who are innovating to reduce waste, track supply chains, and monitor environmental impacts, such as:
Blockchain supply chain traceability – Circulor;
• Life cycle assessments – Minviro;
•    Provenance verification of raw materials – Source Certain;
•    Waste reduction & repurposing of by-products – Tungsten West;
•    Proposed net zero mining – Dalradian;
•    Innovative lithium extraction technology – Cornish Lithium;
•    Biodiversity monitoring using eDNA – Naturemetrics;
•    ESG disclosure – Digbee; and
•    Minimising waste – Tiraputi Graphite.
These are exciting, science-led developments driven by the private sector, underpinning responsible critical mineral extraction, minimising waste and greenhouse gas emissions.
To meet demands for EV battery production, the UK must support the development of mineral extraction and midstream processes domestically, develop international partnerships for critical mineral supply chains, and streamline circular economy practices.
The energy transition should be a just transition, and critical minerals should be responsibly sourced.
For more in-depth information, please read our 'Blueprint for Responsible Sourcing of Critical Minerals'.
Kirsty Benham
Co-founder
Critical Minerals Association
www.criticalmineral.org
https://www.linkedin.com/in/kirsty-benham
Please note, this article will also appear in the ninth edition of our quarterly publication