Spey Resources is using the unique lithium extraction method, Ekosolve™ Technology, to contribute to the evolution of high-performance lithium-powered vehicles.
Raw materials such as lithium, nickel, and cobalt are used to produce battery metals. These select resources create high-performance batteries. Lithium's high electrical potential in the cathode and electrolyte allows for the transition to clean energy with the lightest of metals. There is no known cost-effective replacement element on the market to achieve unrivalled performance for electric vehicles (EVs).
The surge in demand for these metals to power personal electronics and electric vehicles will drive the need for battery metals to over a $20bn value by 2027.1
Spey Resources is a Canadian exploration company, incorporated in 2017, and is headquartered in Vancouver, BC, Canada. They are committed to addressing the demand for lithium chloride as a natural resource to fuel the electric battery revolution. The company seeks to do so through environmentally-friendly lithium extraction processes, with careful consideration for the communities they work in and the salt lakes they manage.
With a highly-skilled technical team, who are experts in lithium brine chemistry, the company utilises unique lithium extraction methods in order to minimise capital expenditures and provide environmental benefits by virtually no usage of water.
Spey currently owns 80% of the Candela II Project, located on the Incahuasi Salar in the prolific Lithium Triangle area, Salta Province, Argentina, with an option to acquire the remaining 20%. It owns the Pocitos I and II projects on Pocitos salar and has optioned Pocitos I to Recharge Resources. The option expires on 30 June 2023. Furthermore, the company holds four spodumene pegmatite properties in the James Bay area in Quebec, an option to acquire a 100% undivided interest in the Silver Basin project, located in the Revelstoke Mining Division of British Columbia, along with the Kaslo Silver property, situated in southern British Columbia. Pocitos I is currently being drilled.
Meeting the increasing demand for lithium
Sales of new petrol and diesel vehicles are set to plummet, as more countries look to phase them out in order to address climate neutrality pledges. At last year's COP26 talk, 30 governments said they would stop sales of new petrol and diesel models by 2040. This poses the question of whether the world has enough lithium for battery manufacture to meet these demands.
In order to become fully net zero, the world needs to produce two billion EVs by 2050. According to figures from the Argonne National Laboratory, a lithium-ion battery pack for a single EV contains around eight kilograms of lithium.2 Enough lithium carbonate was mined last year to produce around 11.4 million lithium batteries, with global reserves sufficient enough to produce around 2.5 billion batteries.
However, as this critical mineral is necessary to produce a number of products, including laptops, smartphones, watches, glass, ceramics, pharmaceuticals etc., the current production rate may fall short of meeting the amount needed for EVs. Moreover, with increasing demand comes increasing prices. According to S&P Global Market Intelligence data, total cash costs of lithium concentrate operations increased 17.4% year-on-year to $2,529/t lithium carbonate equivalent (LCE). Total cash costs of lithium chemicals – lithium carbonate and lithium hydroxide products – increased from $4,684/t LCE in 2020 to $5,048/t LCE in 2021.3
In order to overcome these issues, Spey Resources has committed to two lithium brine projects across Argentina. The completion of these projects will enable the company to hit multiple lithium brine aquifers in each location across the region.
The Incahuasi Salar and Candella II project
Incahuasi Salar is located in the Province of Salta, approximately 45km from the township of Tolar Grande, Argentina. This basin has the two major players Ganfeng and Allkem exploring adjacent to Spey's property and, from the five drill holes completed in 2021, is known to have quality lithium brines at depth. The lithium is derived from the Cerro Aracar and Pular volcanos, contributing lithium to the salt lake through aquifers. Easily accessible by road, with no Indigenous communities nearby, this region has been substantially explored and shows the lithium brines are at approximately 200m, which is relatively easy to pump.
Key features of the project include:
Exploration success in 2021 hit aquifers;
Planned five-to-eight-hole production drilling coming in the next few months;
Substantially explored by Ganfeng, Allkem, Ekeko, and others in Salta Province;
Covers 9.9km2 area of land, as well as salar;
VES geophysics shows low (<0.02ohm/m) resistivity identifying electrical signals which delineate potential aquifers with K, Mg, Li brines (not saltwater which is >0.026);
Drill hole data shows the lithium brine aquifers are from 50-200m;
Sample analysis shows Li values from 125-175ppm; and
45km from Tolar Grande (pop. 120) close to Pocitos and Arizaro salars.
After meeting these milestones at Incahuasi Salar, Spey is further investigating the region. In 2023, the company will drill up to a total of eight production wells to enable a total of 25,000 megalitres of lithium brine production.
Led by CEO and lithium brine Geologist Phil Thomas, Spey has acquired 80% ownership of the Candela mine and has successfully completed $500,000 worth of exploration expenditure.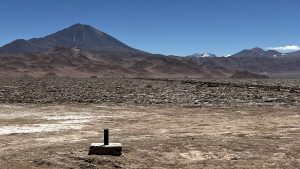 The lithium chloride produced in this region will be battery-grade that is suitable for use in batteries in EVs, with 99.5% purity. This region is rich in resources, with the potential to produce 10,000 tonnes of lithium on a yearly basis. The company has the right to acquire the remaining 20% interest, for $6m if the indicated resource is greater than 45,000 tonnes of lithium metal equivalent.
The Pocitos Salar project
The exploration area is located in the Department of Los Andes, Salta Province. It is accessed starting from the city of Salta by national route No. 51, passing through the town of San Antonio de Los Cobres, then continuing along route No. 27 – past Cauchari and Rincon salars.
Spey has acquired two lithium extraction projects in the Pocitos region, with the first already drilled by AIS in 2018. The company retains 20% ownership of Pocitos I mine, and owns 100% of Pocitos II.
The area is made up of elevated blocks separated by elongated endorheic (closed) basins, which are occupied by evaporite deposits (salt flats). The mountain ranges have a meridian orientation and their shape responds to uplift in blocks through reverse and normal faults.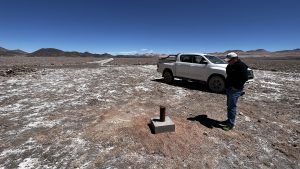 In this area, the Pocitos, Rincon and Pozuelos salt flats stand out. Generally, the main component of the evaporites is halite; however, some salt flats have ulexite (boron) deposits, such as wells. The Pocitos salt flat in its southern part contains accumulations of sodium sulfate. In its middle part, sodium chloride predominates, and towards the north, it presents manifestations of ulexite.
Current clastic deposits – which contain minerals such as lithium – correspond to sediments of different origin, according to their location, with respect to positive reliefs and endorheic basins.
At over 3,650m above sea level, there is evidence of the last glaciation, which is why moraine deposits are found. At lower altitudes, thermoclastism and cryoclastism have generated a large amount of colluvial material that covers the areas of positive relief.
On the slopes surrounding the salt flats, the rivers in the area have formed cones and alluvial fans, most of which are non-functional today. Towards the lower areas, fine sediments predominate, forming the beach environments of the edges of saline bodies.
The Kaslo Silver Property project
The Kaslo Silver Property is located along Keen Creek, 12km west of Kaslo, in the Slocan Mining Division of southern British Columbia, Canada. The region underwent extensive exploration during the mineral rush of the late 1800s and early 1900s.
The most substantial of these operations was at the Cork-Province mine, where a total of 210,990 tonnes of material was mined, with a reported average grade of 70.3g per tonne of silver, 3.05% lead, and 4.72% zinc.
Recent work included surface rock sampling and a two-hole diamond lithium extraction programme. Previous owners, Tay Resources Inc., undertook a two-hole drill programme to further explore one of the areas of interest as outlined by Cream Minerals' 1997-1998 programmes. These programmes showed that drilling returned very significant values (>10% combined lead-zinc, >100 grams per tonne silver) over significant intercept widths (>2 metres) in the Cork-Province mine area.
By obtaining the right to drill, Spey Resources is able to capitalise on the rich mineral resources in this region.
Ekosolve™ Technology: The next generation of lithium extraction intelligence
As part of all their projects, Spey Resources is committed to the process of timely, cost-competitive, environmentally sensitive lithium extraction processes. Ekosolve™ Technology is a revolutionary process, based on well-known solvent exchange principles. It reduces capital and operations costs and accelerates project start-up, avoiding 12-18 months of pond construction and evaporation.
Ekosolve involves four simple stages over four minutes to produce lithium chloride, which, when sodium carbonate is added, produces battery-grade lithium carbonate. It also prevents issues of brine contaminants being expensive and difficult to remove – particularly magnesium – and has many other benefits, including:
No ponds required – saving $100m in CapEx;
• Four-minute residence time – 144 cycles every 24 hours to produce 99.5% purity Li2CO3;
•    High battery-grade lithium chloride produced, resulting in no further processing;
•    95% recovery of solvent extraction chemicals, which leads to a reduction in OpEx;
•    Process developed by University of Melbourne and Ekos Research – low royalty cost as a percentage of revenue;
•    Fast construction time using modular construction leads to a small carbon footprint;
•    Minimal water use – 130L per 1,000 tonnes of lithium carbonate – brines sent back to salar with
lithium extracted, no pollution, no solvent in waste brines;
•    First phase set up of mini 1,000-tonne plant, laboratory for processing and brine management – $50m, revenue should be about $70m shared equally; and
•    Inventors are involved in the project from inception.
Ekosolve Technology will be used on all of Spey's projects and the company sent 200L of lithium brine to the University of Melbourne for pilot plant testing and 96% of the lithium was extracted. To find out more about Ekosolve Technology, visit: www.ekosolve.com.au.
References
1.  https://www.speyresources.ca/
2.  https://www.nature.com/articles/d41586-021-02222-1
3.  https://www.spglobal.com/marketintelligence/en/news-insightsresearch/lithium-costs-up-in-2021-continuing-to-surge-in-2022 
Please note, this article will also appear in the twelfth edition of our quarterly publication.