United Lithium is an exploration company focused on lithium that has assembled an interesting portfolio of lithium assets. Targeting projects in eastern Canada and Europe, it aims to support the European Battery Gigafactories built for electric vehicles.
United Lithium is a new junior exploration company with a prime position to supply lithium to the rapidly-expanding battery markets in Europe through the recently acquired Bergby lithium project in Sweden, and the Kietyönmäki lithium project in Finland, where a letter of intent was signed in early May. Both European projects have excellent infrastructure and have already outlined some high-grade lithium results. Exploration work continues towards outlining a resource with drilling planned for late May in Sweden. These more advanced projects compliment the grassroots Barbara Lake lithium project in Canada which is adjacent to Rock Tech lithium's advanced stage Georgia Lake lithium project.
Lithium is critical to the decarbonisation of global energy supply necessary to meet the world's future climate change goals. It plays an ever-increasing role in battery technology and battery demand is being driven by a rapid expansion in the development and production of electric vehicles (EVs).
Markets for electric vehicles are currently at an inflexion point and analysts are projecting strong growth for electric vehicles over the coming decade. Automakers are currently investing some US$90bn in developing 200 new electric models over the next few years. IHS Markit expects a CAGR of 35% in global electric vehicle production from 2020 to 2025.
As a result, global demand for lithium-ion batteries is growing at a CAGR of 25% with over US$110bn in investment planned for over 100 battery gigafactories planned out to 2028. At the same time, McKinsey highlights that supply chains of battery and car makers are becoming more regional, orientating away from Asia. In Europe, Benchmark Mineral Intelligence forecasts battery demand to increase at an annualised rate of 40% between 2020 and 2025.
The demand for lithium is now forecast to rise strongly over the next decade to around 1.0 Mt of lithium carbonate equivalent (LCE) in 2025. This is equivalent to an overall CAGR of 31%, but a 47% CAGR for battery grade lithium for electric vehicles.
While new lithium production is planned to come on stream, future refined lithium supply will remain tight, with a period of sustained supply deficit expected in the mid-2020s, according to Roskill.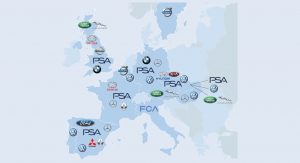 The Bergby lithium exploration project
United Lithium has raised capital and strengthened its management team and most recently acquired the exciting Bergby lithium exploration project in Sweden. The project has excellent infrastructure as well as being close to a deep-water port and the new Northvolt lithium battery gigafactory in Sweden.
Surface sampling, a ground magnetic survey, and two drill programmes have identified a lithium deposit at Bergby with some high-grade lithium concentrations. Exploration work continues towards outlining a resource with drilling planned planned to begin this year.
United Lithium is well positioned to provide exposure to the booming EV and battery markets, the expected tightness in lithium markets, and is in a prime position to supply the European markets as they build out capacity.
The Kietyönmäki lithium exploration project
The Kietyönmäki lithium project, located an hour's drive north of Helsinki, Finland, was discovered by the Finnish Geological Survey (GTK) in the mid-1980s. GTK drilled 17 shallow diamond drill holes to test down to 70m below surface across three traverses, including one traverse of very shallow holes to locate bedrock. In 2016, six holes drilled by the property vendors intersected lithium mineralisation hosted as a spodumene-bearing pegmatite dyke swarm.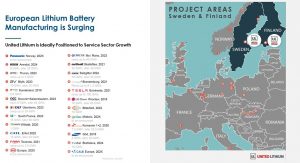 Historical drilling results from GTK include:
24.25m @ 1.31% Li2O (lithium oxide) in drillhole R310 from 58.75m depth;
13m @ 1.66% Li2O in drillhole R316 from 86.00m depth; and
23m @ 1.53% Li2O in drillhole R307 from 14.10m depth.
Historical results completed by the property vendors include:
42m @ 1.10% Li2O in drillhole KMDD001 from 17.88m depth;
6m @ 0.90% Li2O in drillhole KMDD002 from 115.14m depth; and
9m @ 0.80% Li2O in drillhole KMDD006 from 167.00m depth.
Why you should invest in lithium
Lithium is essential to the future; it is a key component of batteries today. Lithium-ion batteries are the preferred technology for most hand-held applications (mobile phones etc.) and are being used for almost all electric vehicles on the market today and for the foreseeable future. Lithium-ion batteries enable higher energy density and higher specific power than competing battery technologies. Lithium is critical to achieving a sustainable energy transition.
The increased demand of lithium-ion batteries for electric vehicles and the continued increase in production volumes has allowed battery prices to decrease significantly in the past decade, falling some 73% from 2010-2018. Lithium typically accounts for about 90% of the material value and about 25% of the total weight in a lithium-ion battery.
Demand
BloombergNEF forecasts global lithium-ion battery demand to grow at a CAGR of 25% from 2020 to 2030. Battery cell manufacturing has attracted significant capital with over US$110bn in investment planned globally for over 100 battery gigafactories planned out to 2028. McKinsey believes that auto manufacturers, policy makers, and potential battery suppliers have strong economic and strategic incentives to ensure local battery production.
Benchmark Mineral Intelligence forecasts battery demand in Europe to increase at an annualised rate of 40% between 2020 and 2025 and expects that by 2030 there will be at least 16 battery gigafactories operating across the continent with a total annual production capacity of 446 GWh.
The demand for lithium-ion batteries will be strongly influenced by the rate of growth of electric vehicle fleet sizes. This rate of growth is difficult to forecast and there are a range of estimates made by government agencies, economists, research analysts, and industry. Historically, the market has been overly optimistic in its projection for electric vehicles. This now appears to be changing with electric vehicles at an inflexion point and most people now projecting strong growth for them over the coming decade.
Signs of future growth
IHS Market expects a CAGR of 35% in global electric vehicle production from 2020 to 2025. This was emphasised most recently in February 2021, when Jaguar Land Rover announced that all Jaguar and Land Rover models will be offered with an electric powertrain by the end of the decade, with Jaguar becoming an electric-only luxury brand from 2025 onwards.
Jaguar Land Rover, owned by India's Tata Motors, will invest about US$3.5bn a year into electrification and related technologies.
This announcement was closely followed by Ford, which announced that every passenger car model in the UK and Europe will have an electric or plug-in hybrid option by 2026, and the company will go 100% electric by 2030. Ford alone is investing US$22bn in electric technology by 2025 globally.
These announcements follow on from those made by other auto companies moving to electric powertrains. Volvo Cars also expects to be fully electric globally by 2030. General Motors (which pulled out of Europe in 2017) aims to have all its passenger cars emission-free by 2035. Luxury car brand Bentley Motors, owned by Germany's Volkswagen, said in November that its range will be fully electric by 2030, with Volkswagen expecting electric cars to account for 20% of its total sales by 2025.
Key elements
The Bergby Lithium property and the Kietyönmäki lithium project capitalise on three key elements:
Cost effective surface and near surface extraction;
Well established mining and transportation infrastructure; and
Rapid fulfilment of tariff free sales to potential EU lithium customers.
Our international technical team, based in Canada, the USA, Australia, and Sweden has more than 100 years' experience in exploration and the development of projects around the world. With a world class finance and marketing team added to the mix, we have high expectations for the project's successful advancement, and thus successful returns for our investors.
United Lithium targets regional deposits and mining operations and this, along with advanced infrastructure and proximity to customers, allows for rapid and cost–effective exploration, development, and production opportunities.
Bergby site mapping
Historic mapping and sampling of the Bergby site located an extensive lithium-mineralised surface boulder field. Assay results from 41 boulders shows Li2O averaged 1.06% and ranged from 0.03% to 4.56%; and Ta2O5 (tantalum pentoxide) averaged 168ppm and ranged from 1ppm to 499ppm.
Further mapping located lithium mineralisation in outcrops, as reported during December 2016. 15 samples from three outcrop areas returned Li2O averaging 1.71% and ranging from 0.01% to 4.65%; and Ta2O5 averaging 133ppm and ranging from 16ppm to 803ppm.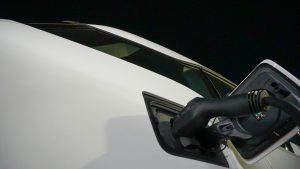 The security of supply
It is worth noting that lithium supply security has become a top priority for technology companies in the US, Europe, and Asia. In Europe, the EU Battery Alliance was formed in October 2017 to identify a strategic plan to accelerate the installation of large-scale battery cell production capabilities in Europe and focus on creating competitiveness throughout the entire European battery value chain, including where possible local sourcing. Bergby is optimally positioned to benefit from access to the EU market, with proximity to the next generation lithium-Ion battery manufacturing plants.
United Lithium's CEO Michael Dehn stated: "It is our strong belief that the demands for lithium in Europe will outpace global supply in the coming years. By identifying potentially higher grade, more advanced lithium projects in Eastern Canada and Europe, United Lithium is positioning to be a key player in supporting the European markets anticipated demand for lithium minerals."
United Lithium recently closed a CAN$9.2m financing to support project activities at Bergby. Investors in this recent financing were from Europe, Asia, and North America.
Please note, this article will also appear in the sixth edition of our quarterly publication.