Building a resilient 'mine-to-magnet' and 'mine-to-battery' vertically-integrated clean-green domestic supply chain for critical minerals.
Rare earth elements are essential building blocks in the technologies driving the 21st century, ranging from electric vehicles and other renewable energy applications to communications and consumer products, advanced medical devices, and the major weapons platforms required for defence and deterrence.
USA Rare Earth is building a resilient, 100% 'friendly nation', vertically-integrated, mine-to-magnet US supply chain for sintered rare earth magnets, anchored by primary production at Round Top Mountain in West Texas.
The company is uniquely positioned to address weaknesses in the US critical mineral supply chain, owning the only sintered neo permanent magnet capability in North America, and is is completing its acquisition of an 80% operating joint venture interest in the Round Top Mountain Project.
Rare earths are an essential element in the modern economy, used in a very wide range of manufactured products – it has been estimated that more than half of all manufactured products imported into the US contain rare earths in one form or another.
Rare earth (neo) permanent magnets form by far the largest value component of the current rare earth market, with applications including:
Electric vehicles and wind turbines;
Consumer electronics such as smart phones and laptops;
Medical devices such as respirators and ventilators; and
Defence applications ranging from F-35 combat aircraft and the Tomahawk Cruise Missile, to Arleigh Burke-class destroyers, Virginia-class submarines and Special Op Forces combat systems.
Rare earths elements comprise the 15 lanthanide elements and generally yttrium and scandium are also called 'rare earths'. Most deposits of rare earths comprise mainly so-called 'light rare earths', cerium and lanthanum, used in mischmetal in low-growth markets such as flints for cigarette lighters and similar devices, as a deoxidiser in various alloys and to remove oxygen in vacuum tubes.
Not all rare earths are created equal – while cerium and lanthanum are in oversupply, the magnet rare earths are in acute short supply. Not only are the US, EU, and Japan currently dependent on China for supplies of the magnet rare earths, China is increasingly consuming the magnet rare earths it produces internally as part of its Made in China 2025 policy.
As a result, terbium (one of the magnet rare earths) sells for more than 1,000 times the price of cerium or lanthanum.
Fortunately, USA Rare Earth's Round Top project is rich in the so-called heavy rare earths, including terbium.
Neo magnet demand
Neo magnet demand is being driven by electric vehicles and wind turbines, with predictions of consumption doubling by 2027 and neo magnet rare earth prices projected to increase by 50% or more over the same period.
One of the challenges for the US, Europe, Japan, South Korea, and other countries is that China dominates the rare earth industry, from mine production to processing and magnet manufacturing and, under Made in China 2025, is increasingly using rare earths and other critical minerals in finished and semi-finished products. The US has unfulfilled requirements to increase rare earths, magnet rare earths, and neo magnets in strategic stockpiles.
In September 2018, the US Department of Defense issued a report entitled 'Assessing and Strengthening the Manufacturing and Defense Industrial Base and Supply Chain Resiliency of the United States', which stated: 'Strategic and critical to US national security. In addition to China dominating many material sectors at the upstream source of supply (e.g., mining), it is increasingly dominating downstream value-added materials processing and associated manufacturing supply chains, both in China and in other countries. Areas of concern to America's manufacturing and defence industrial base include a growing number of both widely used and specialised metals, alloys and other materials, including rare earths and permanent magnets."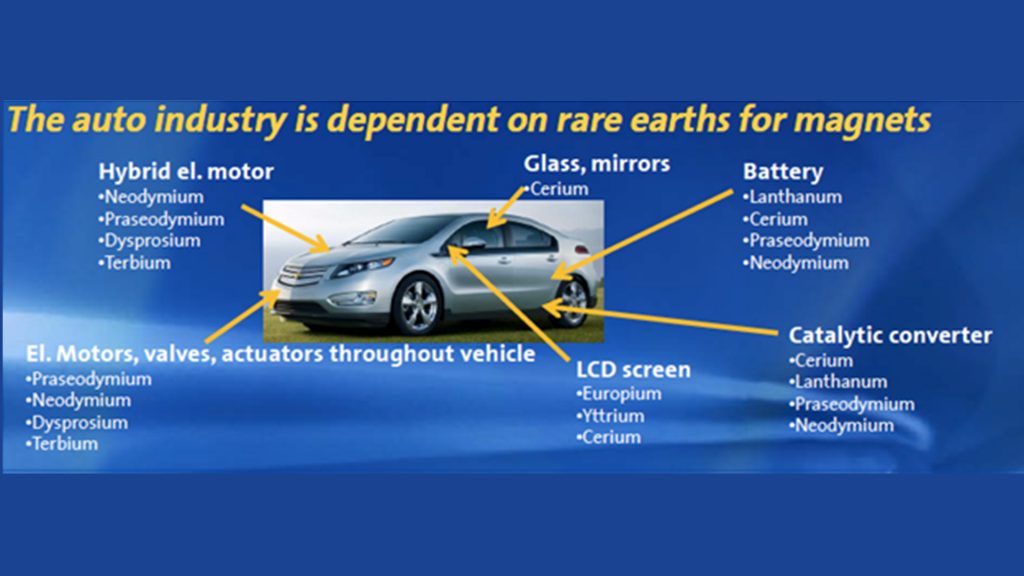 Automotive
Permanent magnets used in automotive applications are increasingly focused on neo magnet as performance and weight become more important in electric and hybrid vehicles. An all-electric vehicle requires approximately 10kg of neo magnets, primarily for the electric motor/recharging system (5kg), batteries (4.5kg) and other items such as steering, entertainment system and so forth that are similar to a non-electric vehicle.
The slide above, courtesy of GM, demonstrates the range of neo magnet used in electric and hybrid-electric vehicles.
For perspective, global production of neo magnets is estimated to be approximately 200,000 tonnes, which would support production of approximately 20 million electric vehicles a year, compared with global vehicle production of 87 million cars and light trucks in 2019.1
Wind generators
Given the importance of both weight and size, neo magnets are favoured in wind generators. However, owing to supply chain concerns, Europe and the US have been less ready to adopt neo magnet technology and, as a consequence, have fallen behind China in leading-edge wind generators. According to Grand View Research, neo magnets were used in 40% of Chinese installed wind capacity compared with only 1% in the US and Europe.
Strategic context
A significant body of work has been developed over the last decade regarding U.S. dependence on "critical minerals", as defined by the US Geological Survey (Department of the Interior, 2018). By 2015, industries that consumed processed mineral products contributed $2.5 trillion to the US Gross Domestic product; however, during that year, the US imported $131bn worth of processed mineral materials (USGS, 2017). In addition to an adverse balance of trade impact on the domestic economy, there are also significant national security implications to persistent critical mineral dependencies.
Lithium, used in electric vehicles and energy storage systems, and neo magnet rare earths, used in electric motors, generators, and many electronic goods, are two of the cornerstones of the modern economy. Directly and indirectly, China has come to dominate both industries – in the case of lithium, through substantial ownership of key global producers and, in the case of rare earths, by becoming the monopolistic processor of concentrates as well as being the dominant primary producer.
In the two decades since China joined the World Trade Organization, its objectives have evolved. In 2015, Premier Li Keqiang announced that China was moving away from being the 'world's factory', producing cheap, low-quality goods facilitated by low labour costs, towards production of high value products and services.
For rare earths, this meant the establishment of a Chinese priority – formally expressed in the national strategic plan known as Made in China 2025 – for making the electric vehicles, wind turbines, electronic equipment, medical devices, and scanning systems, display screens, and fibre optic networks that use neo magnets. For lithium, this means producing electric vehicles and energy storage systems that use lithium-ion batteries.
China is increasingly consuming domestically produced and imported raw materials and exporting finished or semi-finished products. Under Made in China 2025, China has become a net importer of rare earths. The need for reliable domestic supply chains that are not dependent on China for any phase of production extends beyond the ebb and flow of trade disputes.
China is also dominating the lithium battery market with strategic investments in foreign lithium mines and downstream battery production.
The Financial Times recently quoted Benchmark Mineral Intelligence: '[China] has not just built an entire suite of supersized battery megafactories, but the supply chain to feed them. China produces only 23% of key battery raw materials combined. Yet it produces 80% of the next step in the chain – battery chemicals – and 66% of cathodes, 82% of anodes and 72% of battery cells.'
Supply chain vulnerability
COVID-19 has demonstrated how the US and other countries have become dependent on China, as a wide range of manufacturing supply chains – taken off-line without warning in the early phase of the pandemic – underscored to the US and its industrial democratic allies how much the global manufacturing systems now originates in or runs through China. This realisation elevates concern about sudden and unanticipated supply chain disruptions that is added to concerns about supply chain dependencies that can be leveraged intentionally during times of conflict.
Such concerns are not simply hypothetical. China has demonstrated its willingness to weaponise its control of rare earth production and processing when it curtailed exports to Japan following a territorial dispute in 2010. In 2019, during the US-China trade talks, Chinese President Xi toured a Chinese rare-earth production facility accompanied by China's lead trade negotiator, as Chinese controlled media speculated that China could cut off rare earth exports – a threat repeated several times since then to underscore China's displeasure at US policy toward Taiwan.
The potential risk from supply chain vulnerabilities continues to grow. Consider new and equally critical applications for rare earths that form the backbone of 5G network infrastructure: As the US and key allies are blocking adoption of Huawei's 5G network on national security grounds, reliance on China to provide the essential Heavy Rare Earths required for 5G fibre optics will delay if not derail building a 5G alternative.
Why would China sell raw materials needed for the US and Europe to compete, commercially or militarily, with China's 5G technology?
USA rare earth's supply chain strategy
USA Rare Earth meets the essential requirements of a resilient domestic supply chain:
Long-life, low cost primary resource supported by robust infrastructure; ✓
Diverse production base that cannot be easily threatened by 'disruptive marketing'; ✓
Commitment to environmental, social, and governance policies; and ✓
A full supply chain re-established within the US and 'friendly' nations. ✓
In particular:
USA Rare Earth is building new supply chains without the legacy constraints of its competitors' production processes and practices or historic ownership issues, supported by excellent infrastructure and in a prime location for renewable solar energy;
Utilising the competitive advantage of its versatile CIX processing method, USA Rare Earth is partnering with complementary feedstock suppliers to broaden and strengthen its supply chain; and
More than 80% of USARE's revenues are projected to come from neo magnets – magnet blocks and sales of neo magnet rare earth oxides (dysprosium and terbium) – and lithium.
Demand for both neo magnets and lithium is widely projected to increase two-fold or more over the next decade fuelled by electric vehicles (EVs), wind turbines, and energy storage systems. Both markets are expected to face widening supply deficits starting by the mid-2020s.
Round Top Mountain, West Texas
Round Top Mountain, located in Hudspeth County in West Texas, contains 13 of the 35 Critical Minerals listed by the US Department of the Interior, including 15 of the 16 rare earth elements (DoI classification), lithium, scandium, and 10 others. Once in production, Round Top will supply neodymium, praseodymium, dysprosium, and terbium (the magnet rare earths) to the neo magnet plant.
Round Top will be a long life, low cost, diversified producer of critical minerals. The project is supported by excellent existing infrastructure (road, rail, power, water). USA Rare Earth plans to produce separated, high purity rare earth oxides and battery-grade lithium compounds using established processing technologies in a novel fashion.
Round Top includes all the rare earths required for high-performance neo magnets and will be the only major source of heavy rare earths outside of China.
USA Rare Earth's supply chain strategy does not depend on Chinese-sourced or separated REE, and has no Chinese ownership; and
Round Top is entirely on private or Texas General Land Office (GLO) land in a semi-arid area.
USA rare earth's mine-to-magnet strategy
USARE's sintered neo magnet equipment differentiates it from all other rare earth companies outside China.
The Company estimates that it will cost approximately $21m to re-site and recommission the equipment and reestablish commercial production of neo magnet blocks that can be used directly in larger applications such as electric motors and generators, or machined for smaller applications. At initial capacity, the facility is expected to produce approximately 2,160 tonnes of neo magnets a year at $74/kg, generating annual gross revenues of approximately $160m.
While USARE's supply chain strategy envisions Round Top Mountain production feeding into the company's rare earth separation facility, with its metallisation and alloying partners preparing the material for the Neo Magnet Production Plant.
Initial feedstock will be e-scrap and other non-Chinese supplies of neodymium and praseodymium, including third-party, friendly-nation suppliers.
As Round Top commences commercial production, USARE plans to build a second neo magnet line and focus on dysprosium and terbium rich, high temperature magnets supported by Round Top's heavy rare earths.
Round Top is uniquely positioned to support neo magnet manufacturing. The rhyolite host-rock is amenable to low-cost heap leaching using processes well established in the copper industry. USARE plans to use continuous ion exchange – continuous ion chromatography (CIX-CIC) to extract the rare earths from the leach solution and separate the elements.
These commercially-established processes are being used in a novel combination that is being optimised through a pilot programme currently underway and a planned larger-scale demonstration plant at Round Top prior to scale-up to commercial operation.
Previous work demonstrates the ability to produce 99.999% (5N) purity separated rare earth oxides, compared with most commercial requirements of 99.5% (2N5) purity, opening the possibility of treating third-party concentrates and bespoke production of high purity oxides.
Beyond rare earths: round top lithium, gallium and other critical minerals
Round Top includes 16 of the 17 elements generally characterised as rare earths (the lanthanides plus yttrium and scandium) as well as lithium and 10 other Critical Minerals as defined by the U.S. Government.
USA Rare Earth's mine-to-battery strategy
Lithium
While the 2019 PEA contemplates production of battery-grade lithium carbonate, the LiREC process will be able to produce other compounds such as lithium hydroxide or other compounds which sells at a premium to lithium carbonate on an equivalent basis.
The company projects that Round Top will produce more than 25,000 tonnes of lithium carbonate equivalent a year, placing USARE in the top three lithium carbonate equivalent producers in the US in the mid-2020s.
The major growth in demand for lithium is for electric vehicles and energy storage systems required with high levels of renewable energy. 2019 and 2020 have been difficult years for lithium producers, resulting from structural changes in the EV markets in China and the US and the impact of COVID-19. However, auto manufacturers are now committed to EVs and demand for lithium is widely predicted to increase at +10% CAGR for the next decade or more.
Round Top will be in the bottom quartile of the global cost curve, with costs well below the 'incentive price' needed to support the expansion required to meet demand growth.
Other critical minerals that the Company plans to produce at Round Top include the non-neo magnet REOs, aluminum, uranium, beryllium, gallium, hafnium, and zirconium.
Gallium and critical semiconductor materials
President Biden's Executive Order (EO) on Supply Chains (24 February, 2021) identified four key US supply chains across the healthcare, technology, and transportation sectors, including for semiconductor materials, critical minerals, rare earth elements, and electric vehicle batteries. Round Top touches three of the four supply chains, including the semiconductor sector, where US Government-listed critical minerals zirconium, hafnium, and gallium are essential semiconductor materials.
As in the case of rare earths, the US is presently 100% import-dependent for gallium, with China the world's leading producer. On 11 March 2021, the US Geological Survey published a gallium update to its Mineral Database, stating that: 'The largest gallium deposit in the US is the Round Top deposit in Texas, which contains a reported resource of 36,500 metric tons of gallium. There are no current U.S. producers of gallium.'
References
Please note, this article will also appear in the sixth edition of our quarterly publication.