Kenneth Ruyts, CEO & Co-founder of Westray, explains how the Galene, a 'Virtual Watchkeeper', can dramatically reduce maritime dangers.
Every week, two ships are boarded by pirates and the crew taken hostage. Every week, a seaman dies after a collision. Just months ago, more than 4,000 metric tonnes of oil leaked into Mauritius' turquoise water. The main cause is human error. Officers on board notice the threats too late because they are tired, misinterpret equipment, lack accurate overview during manoeuvring, or rely too heavily on radar.
Westray introduces the Virtual Watchkeeper – Galene, named after the goddess of calm seas – an always-on AI-powered threat detection system that enhances the officer's ability and forms the backbone towards autonomous and semi-autonomous shipping (Smart Ships). 'She' is not simply a computer screen, but an assistant for the officer – an artificial intelligence that helps process the myriad of inputs and gives the officer an image that he or she can instantly understand and effortlessly use.
The virtual watchkeeper helps:
Remove unnecessary stress or misinterpretation of the situation;
Detect targets not detected by the radar, such as small vessels, humans, or floating containers;
Keeps a constant 360° watch against small approaching boats in port and at sea and helps avoid illegal substances being placed on the hull or pirates boarding; and
Provides extremely accurate distance measurements to quayside infrastructure.
Westray uses an array of sensors to gather and extract data from the vessel's surroundings. Their proprietary machine learning algorithm fuses and compares camera images, short- and long-range radars, and AIS data. The processed output is smartly displayed to the officer, creating an easy to use and immediate situational awareness. Any threat is clearly and immediately signalled to the officer, who can then take quick and decisive action.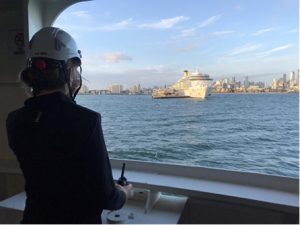 The Virtual Watchkeeper also pushes fuel and time efficiency up to a whole new level when it comes to manoeuvring – be it for docking, ship-to-ship operations, or passing through locks. Providing extremely accurate distance measurements to port infrastructure and any object of interest, as well as a 'smart' situational overview and advice, offers the officers tools that have become almost normal in the car industry (such as Tesla, for instance) but non-existent in the maritime industry. For fleets with regular or high amounts of port of calls, the reduced time needed for manoeuvres quickly amounts to a significant cost and time reduction.
In 2020, Westray completed a feasibility study and a Proof of Concept with the European Space Agency (ESA) and signed its first paid pilot with an innovative Dutch shipowner who envisions one-man bridge operations (Smart Ships). Over the past few months, they have also established solid co-operation and partnerships with companies such as IMEC Istart, IMEC, Verhaert, the NVIDIA inception programme, SIMWAVE, and a renowned satellite communications provider, to name just a few.
The strength of Westray's team lies in the combination of on-field maritime expertise, and cross-industry AI and radar experts. This unlikely combination of minds and a passion for their fields is what enables this team to break into the relatively conservative maritime industry and provide true ground-breaking solutions.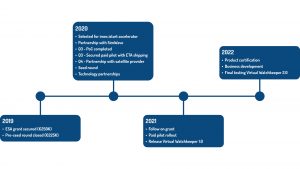 Westray caters to owners and charters of the merchant fleet, aiming to reach 5% of the market in their first three years. They charge a one-time hardware cost combined with a competitive monthly subscription fee.
With their solution, this futureproof maritime start-up aims to eliminate the following challenges:
Sinking/collision incidents, which account for $1.6bn in yearly insurance claims;
The human errors which account for 80% of ship collision incidents;
Ability to reduce CO2 by 420 tonnes per vessel per year;
162 cases of piracy or armed robbery against ships in 2019 together with a rise in kidnappings (IMB PRC) (IMO);
The significant level of stress being placed on crew members by the COVID-19 pandemic, including increasing fatigue and lapses; and
€150,000 annual cost savings per vessel from improved efficiency in bridge operations.
Virtual Watchkeeper Galene will propel the maritime industry forwards, enabling it to prepare for a more cost and energy efficient future and laying the groundwork for semi- and potentially, fully-autonomous shipping.
A new era in shipping
Albert Einstein's famous quote captures the essence of today's issues within the shipping industry: "If you always do what you always did, you will always get what you always got."
The shipping industry has a goal to reduce its carbon dioxide (CO2) emissions by at least 40% by 2030 (IMO). Many efforts continue to be made to reduce CO2 emissions. One of the most effective ways to do this has proven to be to simply lower the navigation 2speed. In 2017, CE Delft conducted a study that demonstrated that while a 20% reduction in commercial ship speeds would reduce CO2 emissions by 19%, it would also increase the amount of ships needed to transport the same volume of goods. Hence, the apparently significant reduction in CO2 emissions is lost when tackling the time to value. Increasing the world fleet size to compensate for such a slow speed culture comes with additional CO2 emissions from the required steelworks and equipment manufacturing and does not ultimately solve our emissions problems.
Westray's use of intelligent awareness to tackle the existing way of working, reduces emissions without the need of an increased fleet. The maritime industry needs to rethink its modus operandi and step out of the status quo mentality by acknowledging the complete chain of operations and not only focusing on engine efficiency and slow speed navigation.
Westray's vision is to make every ship 'smart' by 2026. By applying AI-supported awareness to navigation it creates unseen opportunities to raise the level of safety and the efficiency in maritime operations, supporting sustainable transport and enhancing the officers' abilities at sea.
Westray is currently looking for additional funding, which will be matched one-on-one with government grants.  Any interested parties are invited to get in touch using the contact details below.
Kenneth Ruyts
CEO & Co-founder
Hans Seeuws
Chairman and Co-founder
Westray B.V
www.westray.eu
www.virtualwatchkeeper.com
www.linkedin.com/company/westray
Please note, this article will also appear in the fourth edition of our new quarterly publication.