Researchers have devised a groundbreaking electric vehicle battery recycling technique that utilises ultrasonic waves to recover valuable materials from old batteries.
The new method, developed by researchers from the Universities of Birmingham and Leicester, who are collaborating on the Faraday Institution project on the recycling of lithium-ion batteries (ReLiB), employs ultrasonic waves to isolate precious materials from the electrodes, achieving efficient electric vehicle battery recycling.
The novel method not only provides a vital solution for electric vehicle battery recycling but also does it 100 times quicker, as well as being greener, and accomplishing a higher purity of recovered materials in comparison to traditionally used techniques, delivering what will be a critical strategy in implementing an economic and ecological life cycle for future electric vehicle batteries.
Their research has been published in Green Chemistry.
Perfecting electric vehicle battery recycling
The Faraday Institution team has been investigating batteries' life cycles, designing innovative methods to optimise their economic and environmental potential, from their initial production phase to their inevitable recycling at the end of their life cycle. A considerable obstacle in fully realising their potential has been materials segregation – the process of separating and removing materials in batteries – in an efficient, cost-effective, and environmentally friendly way. Materials contained in electric vehicle batteries such as nickel, lithium, cobalt, and manganese could all be utilised again, creating a green electric vehicle battery chain.
The novel technique is called ultrasonic delamination, a process in which ultrasonic waves remove materials from the electrodes, leaving copper or aluminium in their wake, which demonstrated to be extremely efficient at removing lithium nickel manganese cobalt oxides (NMC) in addition to graphite. The subsequent materials recovered displayed  a considerably higher purity than those recovered using conventional electric vehicle battery recycling methods, making them more valuable and possibly suitable for use in new electrodes. Their neoteric strategy is an adaptation of technology commonly used in the food separation industry.
"For the full value of battery technologies to be captured for the UK, we must focus on the entire life cycle – from the mining of critical materials to battery manufacture to recycling – to create a circular economy that is both sustainable for the planet and profitable for industry," commented Professor Pam Thomas, CEO, The Faraday Institution.
"This effort to deliver commercial, societal and environmental impact for the UK is showing great promise. It is imperative that academia, industry, and government redouble their efforts to develop the technological, economic, and legal infrastructure that would allow a UK EV battery recycling industry to become established to realise the full benefits of a decarbonised transport sector."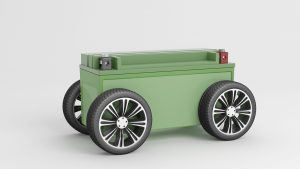 "This novel technique works in the same way as a dentist's ultrasonic descaler, breaking the adhesive bonds between the coating layer and the substrate," comments Professor Andrew Abbott at the University of Leicester, who leads the research. "It is likely that the initial use of the technology will use production scrap from battery manufacturing facilities as the feedstock and feed recycled material straight back into the battery production line, possibly at the same site. This could be a real step-change in battery recycling."
Enhancing delamination recycling
A batch immersion process that employs concentrated acids is the traditional method that most delamination recycling techniques use; contrastingly, this novel ultrasonic system is a continuous feed process that utilises dilute acids or water as the solvent, making the process more economical to operate and more beneficial for the environment. Furthermore, it significantly outperforms previous techniques, as it can delaminate 100 times more electrode material.
The team is now collaborating with multiple battery manufacturers and recycling companies as they aim to place a technology demonstrator within an industrial site in 2021, eventually intending to license their technology, which has demonstrated the same efficiency when tested against the four most common battery types in production.