European Commissioner for the Environment, Oceans and Fisheries, Virginijus Sinkevičius, speaks to The Innovation Platform about EU efforts to achieve a sustainable blue economy.
The European Commission is continuing its work to boost the sustainable blue economy whilst simultaneously protecting the marine environment. This is evident not only in the new Circular Economy Action Plan for a Cleaner and More Competitive Europe or even the Green Deal more broadly, but also in policy developments such as the adoption of the first ever Europe-wide strategy on plastics, designed to help transform the way plastic products in Europe are design, produced, used and disposed of.
Speaking to The Innovation Platform, European Commissioner for the Environment, Oceans and Fisheries, Virginijus Sinkevičius, outlines some of the new ways that the Commission is driving progress towards being able to deliver sustainability in EU waters.
In President Dr Ursula von der Leyen's mission letter, she asked you to 'develop a new approach for a sustainable blue economy'. What will this involve?
A sustainable blue economy is at the heart of the European Green Deal. Oceans are an essential source of food, energy, and materials. We must avoid that this leads to over-exploitation or biodiversity-related problems. We must engage into a real sustainable blue economy, integrating and enhancing our knowledge on marine ecosystems and on ecosystem services, and fully considering it in maritime spatial planning.
To do this, we need to continue implementing the Marine Strategy Framework Directive, which regulates a holistic policy aiming to protect the marine environment of the seas around Europe while enabling the sustainable use of marine goods and services. It applies the ecosystem-based approach, ensuring that the cumulative impacts of human activities affecting the marine environment are not compromising the achievement of the good environmental status.
Aquaculture and emerging sources of food from the ocean, notably algae, can contribute to global food and nutrition security and also have a lower carbon footprint than other animal proteins. In the context of the Farm to Fork Strategy and of the Horizon Europe Research and Innovation Programme, we will work on developing solutions to produce safer, healthier, and better quality food; we will also work on exploiting new sustainable food sources from the seas and oceans in order to alleviate pressure on land and fresh water resources and to boost profitability in the sector. In some cases, sustainable aquaculture offers environmental services which counteract eutrophication (e.g. seaweed and molluscs).
Offshore wind energy is part of the solution to reach a zero-carbon EU energy system by 2050. We are talking here about a change of magnitude, with an installed capacity growing from 20 to 450GW in 30 years in a small portion of EU seas. We need to understand and properly quantify what this will mean in terms of environmental impacts on marine hydrodynamic process and on ecosystems (seabed, marine mammals, seabirds, etc.); we need to work together with the industry to mitigate these impacts, notably during the building of the infrastructure. We should further work on win-win solutions, notably creating sanctuaries for the fauna and space for compatible activities such as aquaculture.
Regarding air emissions from shipping, the EU promotes low sulphur standards in EU waters, globally, and in Emission Control Areas. This year, we will see the entry into force of the global sulphur cap. In 2019, the EU proposed to the International Maritime Organisation to explore stricter global obligations, including prohibiting Exhaust Gas Cleaning Systems (scrubbers) discharges to ports and sensitive sea areas. We have very successful examples to reduce air pollution from ships in Emission Control Areas in the North Sea and Baltic Sea, and ongoing work on a new area in the Mediterranean Sea.
What role can sustainable seafood as a low-carbon source play in the 'Farm to Fork' strategy on sustainable food? How can the EU ensure that the majority of seafood is sustainable?
Healthy seas and oceans can play an important role in providing nutritious and sustainable food to humans. I am talking not only about fish and other sea animals but also about innovative food sources such as algae. The oceans therefore are a very efficient source of food. Wild food from the seas does not require any chemical inputs, and nor does it produce emissions. It is therefore a low carbon source of food which has an important role to play in a sustainable food system.
Of course, it is not a limitless supply, and poorly managed fisheries can damage the ecosystems that sustain them. The Common Fisheries Policy aims to ensure that no EU fisheries are operating beyond maximum sustainable yield of fishable species, and tremendous progress has been made over the past years, especially in the Atlantic and North Sea, but work is still needed to ensure its full implementation, particularly in the Mediterranean. Work is also needed to limit the use of harmful practices such as bottom trawling, which is currently the most extensively damaging activity to the seabed ocean biodiversity including, for example, the destruction of seagrass beds that sequester carbon and serve as nurseries for fish. Support for fishers' transition to the more selective and less damaging fishing techniques should be provided. Furthermore, for seafood to be considered sustainable, it is also important to address its impact after it has been landed.
One important aspect of moving towards a sustainable food system is to reduce food waste. Good fishing techniques (to reduce the capture of unsaleable species and damaged fish) as well as appropriate means of processing and transporting seafood products can reduce waste, together with measures to reduce waste at the consumer end of the chain.  Good technique is also key to preventing ecosystem damage or bycatch of protected species.
Fishers require knowledge and support from advisory services to help them in transitioning to sustainable sea food systems. Food companies also have an important role to play in supporting suppliers by rewarding sustainable produce. Transparency in supply chains is also key to giving consumers the information needed to make sustainable choices.
The Farm to Fork (F2F) strategy will also consider how aquaculture production can be made sustainable through developing increased synergies with natural systems and a reduction of artificial inputs.
Finally, the potential of the seas and oceans to provide a sustainable source of food is dependent on reducing the input of pollution from land-based sources. In addition to the F2F Strategy, various other components of the European Green Deal, including the Biodiversity Strategy and the Zero Pollution initiative, will include measures to support this objective.
How can Europe ensure that all its oceans are plastic-free? How do you plan on addressing the issue of microplastics?
Marine litter is a global problem of enormous dimensions; a great variety of actors are involved in both generating it and finding a solution thereto. No stakeholder, no country, no international organisation can tackle it alone.
EU legislation and policies on protection of the marine and coastal environment, waste and wastewater management, and delivery of waste in ports already constitute a solid basis in the fight against plastic pollution of the seas. Through our Strategy for Plastics and in the context of the zero-pollution ambition of the European Green Deal, we implement a comprehensive approach addressing all microplastics, irrespective of source.
We are working on limiting emissions of microplastics from tyres, textiles, and their presence in consumer products such as paints or detergents. We also aim at better measurements and the removal of microplastics from water – both drinking and wastewater.
Direct consequences are already visible: our legislation against single-use plastic products and microplastics consolidate EU leadership in the global fight against plastic litter. All this ties up with an unfailing international commitment: in the seas around us, where we actively support Action Plans within the Regional Sea Conventions, and globally, by leading on the topic at all relevant international fora, such as the UN, G7, and G20.
Bold and comprehensive legislation and policies, made credible by determined implementation, are necessary foundations; at the same time, we need behavioural change and the mobilisation of all stakeholders.
Together, we can win this battle to the benefit of a much more resource-efficient and sustainable economy, profitable to all and of a decent marine and coastal environment, for the benefit of ourselves and of the generations to come.
Can you tell us about the reformed Common Fisheries Policy, including the landing obligation and multiannual management plans?
The common fisheries policy (CFP) has led to undeniable progress in the sustainability of European fisheries. Thanks to the CFP, fish stocks in the North East Atlantic are doing much better than a decade ago. Biomass is 36% higher now that it was in 2003. More than 70% of stocks are managed sustainably. At the same time, with €1.3bn of profit in 2017, the EU fleet is reaping the benefits. What is more, the fleets exploiting stocks sustainably tend to be more profitable than others. The CFP is a real-life example that sustainability pays off – literally!
However, sustainability is not a final state, but an ongoing process, and we still have a long way to go. Full implementation of MSY, meaning fishing at levels that maintain healthy fish stocks in the long term, will remain one of our top priorities. Some of the CFP tools, such as the landing obligation, have only recently come into force, and the ambitious revamp of our control legislation is waiting for approval by Parliament and the Member States. Moreover, the achievements in the North East Atlantic are not yet matched in other sea basins, such as the Mediterranean and the Black Sea.
So, while we are going in the right direction, we need to keep up the pace and make sure we deliver sustainability in EU waters.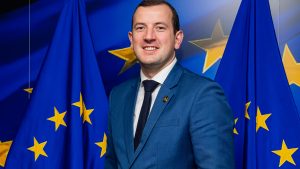 Virginijus Sinkevičius
European Commissioner for the Environment, Oceans and Fisheries
Tweet @VSinkevicius
https://ec.europa.eu/commission/commissioners/2019-2024/sinkevicius_en
Please note, this article will also appear in the second edition of our new quarterly publication.