Volt is implementing an integrated mine and graphite supply chain to meet stakeholder requirements for the crucial battery anode material. Trevor Matthews, Managing Director, explains more.
Transport contributes approximately one-quarter of all energy-related carbon dioxide emissions to the atmosphere, which is set to reach one-third, growing faster than any other sector. The global passenger car fleet is projected to double by 2050, with the majority of growth taking place in developing markets, where an estimated three out of four cars will be found.
Through a comprehensive set of fiscal and non-fiscal measures, one out of four cars sold in Norway today is electric; while in China, a national two and three-wheelers strategy that started ten years ago has now resulted in electric two and three-wheelers having all but replaced petrol motorbikes in its major cities – with 230 million electric bikes in use to date. Such practices need to be scaled up and replicated worldwide to achieve the desired impact from the electrification of transport.
With Europe and the United States comprising two of the top three EV markets globally and predicted to stay in this position through 2030 and beyond as part of the transition to clean energy, the development of lithium-ion battery (LIB) cell manufacturing and the battery material supply chains to feed LIB production for EV production have guided Volt Resources' strategy for its graphite business.
With the anode in the LIB made from synthetic and natural flake graphite and the forecast increase in EV demand, market forecasts predict a seven-fold increase in demand for natural flake graphite by 2030.
Volt has a controlling 70% interest in the Zavalievsky Graphite (ZG) Group located in Ukraine. The acquisition immediately transformed Volt into one of the few natural flake graphite producers in Europe. Combined with its development-ready Bunyu Graphite Project in South-East Tanzania, Volt's strategy to become a globally significant graphite producer is expanding to include battery anode material and other value-added downstream graphite processing facilities in Europe and the United States.
Zavalievsky graphite – European production
The graphite mine and associated processing facilities owned by the ZG Group are located adjacent to the town of Zavallya, approximately 280km south of the Ukraine capital Kyiv and 230km north of the main port of Odessa.
ZG commenced operations in 1934, mining ore from the Zavalievsky deposit that is one of the largest deposits of graphite in Europe. Project production capacity is up to 30,000 tonnes of graphite concentrate/product per year. In 2014, ZG was the eighth largest producer of natural flake graphite in the world.
ZG produces more than 30 grades of graphite and, apart from domestic sales, has exported for decades to the following countries: Austria, Germany, Czech Republic, Slovakia, Poland, Spain, Italy, Japan, Taiwan, Belarus and Azerbaijan. The business supplies graphite products to manufacturers of high-quality lubricants, refractory products, friction materials, steel and iron foundry companies, oil and gas producing companies.
Following the previous owners' lack of investment in the business, recent periods of graphite oversupply and reduced product sales in Europe in 2020 due to COVID-19 restrictions, the ZG business is operating well below nameplate capacity. Volt plans to improve the performance of the business with close attention to improved environmental management and sustainable operations, including programmes to minimise the operation's carbon footprint, development of stakeholder relationships and social investment combined with improved governance throughout ZG.
Volt has identified considerable benefits from the acquisition of a controlling 70% interest in the ZG operating business, which include:
The business is located in Eastern Europe, close to key markets with significant developments in LIB facilities planned to service the European-based car makers and renewable energy sector;
An existing customer base existing customer base and graphite product supply chains;
Excellent transport infrastructure covering road, rail, river and sea freight combined with reliable grid power, ample potable groundwater supply and good communications;
An experienced workforce can assist with training, commissioning and ramp-up for Volt's Tanzanian graphite project development. This is a key risk for financiers and could materially assist the ability to finance the company's Bunyu graphite project;
Potential to generate material cash flow (after CAPEX investment);
It makes graphite products across the range and has the potential to significantly increase its production of higher-priced large flake; and
Has a long-life multi-decade mine at the 30,000 tpa nameplate production rate with exploration upside. The current mining licence extends to 2035.
In addition, the plant has a graphite purification process which produces 99.5%/99.6% Total Graphitic Carbon (TGC). The graphite supply chain at this purified grade attract a premium price, and there is the possibility to upgrade the purification circuit to meet spheronised purified graphite (SPG) purity levels.
The acquisition also includes a 55% interest in 636 hectares of freehold land upon which the mine, processing plant, other buildings and facilities are located. There are plans to install a processing plant to commence small-scale production of SPG or battery anode material for the European LIB market within the next 12 months, increasing to 20,000 tpa of SPG production by 2024. ZG's strategic location for supply of SPG to the European markets has attracted interest from LIB cell manufacturers and major car makers.
As Volt is now a producer of graphite products in Europe, there is an excellent opportunity to build relationships and obtain access to capital to support the expansion and product development plans for the graphite business.
EU support through strategic partnerships and alliances
The EU and Ukraine have launched a strategic partnership on raw materials to integrate raw materials and batteries value chains. In July 2021, EU Vice-President Maroš Šefˇcoviˇc and Prime Minister of Ukraine Denys Shmyhal signed a Memorandum of Understanding, underpinning the partnership.
The strategic partnership with Ukraine will include activities along the entire value chain of both primary and secondary critical raw materials and batteries. In line with the objectives of the EU's Critical Raw Materials Action Plan, it will help diversify, strengthen and secure both sides' supply of critical raw materials, essential for achieving the green and digital transitions.
The European Battery Alliance (EBA) network includes the European Commission, EU member states, the European Investment Bank and more than 600 industrial, innovation and academia stakeholders. The EBA objective is to build a robust pan-European battery industry that can help Europe capture a growing market expected to be worth €250bn per year from 2025. Industry participants across the battery value supply chain include Volkswagen, Tesla, Volvo, LG Chem, CATL and Albemarle.
The EBA250 includes a Business Investment Platform (BIP) with financial institutions – public and private – and several core industrial partners. The objective of the BIP is to:
Shorten the time to investment;
Reduce business risk for the investee; and
Reduce investment risk for the investor.
The European Raw Materials Alliance (ERMA) aims to make Europe economically more resilient by diversifying its supply chains, creating jobs, attracting investments to the raw materials value chain, fostering innovation, training young talents and contributing to the best enabling framework for raw materials and the circular economy worldwide.
The alliance addresses the challenge of securing access to sustainable raw materials, advanced materials, and industrial processing know-how. By 2030, ERMA's activities will increase the production of raw and advanced materials and address the circular economy by boosting the recovery and recycling of critical raw materials.
ERMA will identify barriers, opportunities and investment cases to build capacity at all stages of the raw materials value chain, from mining to waste recovery. It complies with EU competition rules and EU international trade commitments. Volt looks forward to being an active member of the EBA and the ERMA with the support and facilitation opportunities that both alliances provide.
Bunyu Project – development ready and scaleable
Volt's subsidiary, Volt Graphite Tanzania (VGT), is a graphite development company based in Dar es Salaam, Tanzania. VGT's strategy is to develop its graphite supply chain with a graphite mining and processing plant to produce flake graphite from the Bunyu graphite project's extensive resources. Based on a two-stage development strategy, the aim is for VGT to become one of the globally significant and sustainable natural flake graphite producers in the world.
The Bunyu Project has the largest graphite resource in Tanzania and one of the largest in the world. This has been achieved with exploration conducted over only 6% of the total tenement area of approximately 1,100km2. The project size and the expected significant increase in global demand for flake graphite support the strategy to develop the Bunyu Project into one of the largest graphite mines in the world.
The Bunyu Project has its key development approvals in place for the Stage 1 and, importantly, Stage 2 project footprint. Volt received the Environmental Impact Assessment Certificate from the National Environment Management Council of Tanzania for the Bunyu project development and received two mining licences from the Mining Commission of the Ministry of Minerals of Tanzania.
The Bunyu graphite deposits are suited to conventional drill and blast and load and haul open pit mining methods. For Stage 1, ore will be fed to the processing plant at a rate of 400,000 tpa to produce a nominal 20-24,000 tpa graphite product averaging 92-96% TGC at a 93% recovery.
The processing plant will incorporate the following unit process operations:
ROM ore will be stage-crushed in primary and secondary crushers, with associated screening to recirculate the oversize back to the crushers and to produce a top-sized product ahead of grinding;
Ore will be wet ground by rod mill for concentration by flotation;
Flotation will recover graphite by rougher flotation followed by five cleaning stages, with regrind milling between stages, to target coarse graphite recovery;
Graphite product will be thickened, filtered, dried, screened and packaged in 1-tonne bags; and
Flotation tailings will be thickened to maximise water recovery and discharged into a constructed Tailings Storage Facility.
The graphite products are subsequently transported via sealed road to port for export to overseas customers and provide feedstock for Volt's downstream processing facilities planned for Europe and the United States.
The principal production objective of the plant design is a marketable high-grade graphite product sized in ranges to target appropriate market segments and maximise the value of the graphite products produced. Maximising the yield of high-value coarse flake is a key part of this objective.
Battery anode material
SPG is manufactured from flake graphite concentrates produced by graphite mines and is the battery anode material (BAM) used in LIBs. The first part of the process consists of micronising, rounding and purifying flake graphite to produce uncoated SPG (USPG).
In a traditional flowsheet, graphite concentrates are milled or micronised and then shaped into a sphere. The particles that have been spherodised are usually purified by an environmentally damaging acid leaching process. In addition, only 35%-40% of the graphite is spherodised and converted into battery-grade material. The non-spherical particles, amounting to 65%-70% of the feed in the traditional circuit, are collected and sold into lower-margin markets such as re-carburisers, pencils, aftermarket brake pads, and others.
With the flowsheet developed by Volt's technical adviser, AETC, to produce SPG, purification is completed first, with all of the subsequent sizing and shaping undertaken with purified material. The purification process was undertaken exclusively using high-temperature furnaces, and no acid leaching or caustic bakes were employed.
The main benefits Volt enjoys from this inverted flowsheet are:
Reduced wear and tear on shaping mill parts (due to processing being accomplished with high purity graphite, which is a natural lubricant); and
The ability to divert non-spherical portions of the purified graphite to higher-margin markets such as conductivity enhancement applications in LIB cathodes.
The recent test work undertaken on Bunyu natural flake graphite has demonstrated successful spheronisation and purification results with the inverted flow sheet that Volt is adopting for its downstream SPG operations. The introduction of this flowsheet will allow Volt to not only convert a significant portion of its graphite into battery-ready anode material for LIBs, but will also generate a range of ultra-high purity by-products for use in battery cathodes and in a variety of valuable non-battery applications.
Volt continues to develop its pathway to becoming a producer of BAM in its selected markets and will be using technology partnerships to accelerate its progression.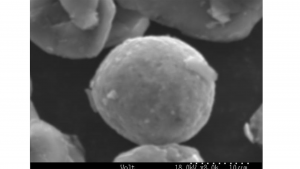 With two world-class graphite resources incorporated in a strategically located operating mine and processing plant in Ukraine and a development-ready project in Tanzania, Volt is well-positioned to become a globally significant graphite producer. Volt plans to become a battery anode material producer in Europe and the United States based on an integrated graphite supply chain using graphite produced from its operations. This provides security and continuity of supply for the business and the ability to manage product quality and ESG through the graphite supply chain to the LIB and other graphite products.
Please note, this article will also appear in the eighth edition of our quarterly publication.