How industries have evolved and production has shifted during the pandemic to help fight the virus and find new market opportunities for the protection against COVID-19.
Just a few months ago, the world was still 'normal'. Or, at least, what we considered 'normal' to be. Now, we have been blasted into a new normal with an unknown outcome. Lives have been shaken up, markets have collapsed, and companies are struggling to find their place. But with every change, there are also opportunities. While searching to find our place within the mega trends centred around homeland, health, and environment in the midst of this crisis, we at DrM, Dr Mueller AG are observing increased activities in a number of markets which we have been serving in the past. These new circumstances are now redefining our short-term businesses to a certain extent, and are thus offering us new possibilities.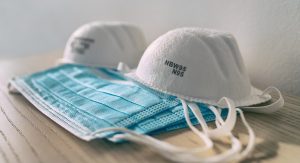 Production of N95 masks
The increased worldwide demand for masks has created investments within the supply chain of many raw materials around this mass product. A prominent material is viscose. While early viscose production plants did not focus on quality, newer facilities see opportunities in better grade products. The FUNDABAC® Filter is a workhorse in this tough industry where exposure to high temperatures and aggressive chemicals complicates the life of equipment. Most masks are currently fabricated in Asia, and hence our market for this application is in this region. Delivery time is a main driver, and with our local production capacities in Asia we can leverage on this fact.
The N95 mask, the most common type found on the market, stands for 95% filterability of particles larger than 0.3 microns. To achieve such separation levels, finely non-woven fibres are applied in loose layers to make it breathable. Some producers apply polypropylene, but many of them use Rayon fibres. This material has high mechanical strength, is stable in water and humidity, and is very comfortable to the touch. Normally, it is mainly used in textiles for clothing, but during the pandemic a significant quantity has been diverted for the production of surgical masks.
Rayon, also called viscose, is produced from wood pulp by a chemical digestion process where this viscous liquid is formed and spun into fibres. Strong and hot acids are applied to flush away impurities. To clean away the acids, filtration equipment is required. The FUNDABAC® filter has a long tradition in this industry as its strong plastic internals can cope with the tough environment.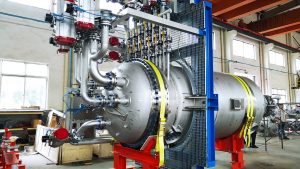 Drinking water
The need for cleanliness is another driver for the increased supply of various sanitisation and disinfection products all around the world. Higher standards in drinking water supplies demands new capacities in chlorination products. In Europe, where past plants used older mercury technologies to produce chlorine, there was a rush in investments into membrane electrolysis as new legislation was put into force. However, difficulties in transporting this dangerous product created further opportunities for smaller facilities to supply local markets centred around the drinking water industry. With both FUNDABAC® and CONTIBAC®, we are proud to have a predominant position in this industry. Our robust technology is responsible for a large part of the supply of this disinfectant, with hundreds of our filters spread around the globe.
However, sanitisation products based on alcohol and detergents have seen the highest growth. Surfactants play an important role in these product categories. Due to the need to increase capacity at short notice, we decided to offer our large fleet of pilot units for this purpose. They are used to de-bottleneck production facilities for products such as surfactant additives and the deodorisation of ethanol, thereby enabling our clients to satisfy local market demand.
Patrick Mueller
President
DrM, Dr. Mueller AG
+41 44 921 21 21
mailbox@drm.ch
www.drm.ch
Please note, this article will also appear in the third edition of our new quarterly publication.