SeaNest's Trond Marøy and Espen Øvreeide discuss how they have optimised the habitat of cleaner fish to enhance their health and wellbeing
The number of cleaner fish used within the aquaculture industry is staggering. Their welfare is crucial for the wellbeing of the salmonids (salmon and sea trout) being farmed within the aquaculture sector and, of course, the better their own health, the better they are able to fulfil their main role in the cages: eating lice. As such, their welfare is now beginning to receive increasing attention, and rightly so.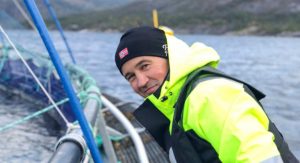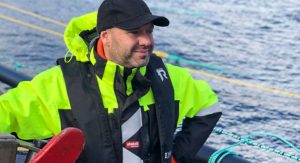 The SeaNest concept emerged when we realised that cleaner fish habitats could be made both better and more efficient. Indeed, we saw that we would be able to develop a solution that imitates the natural habitat of the lumpfish. Furthermore, through the proper design and better choice of materials, we have even been able to develop a product that is easier to handle, is substantially easier to clean, and is better for the environment as a compact, reusable product. Crucially, our solution enhances the wellbeing of the cleaner fish, in particular the lumpfish.
By holding in-depth discussions and by looking at current hides, the following main design criteria were identified:
The solutions need to simulate a natural lumpfish habitat (thus including shelter and plenty of smooth surfaces to attach to);
They must be easily deployed and removed;
There must be no loose plastic parts (what is deployed is what is removed;)
They must be quick and easy to clean using tools typically available on a standard site;
They must be able to withstand – and not deform in – strong currents; and
They must be constructed from a lightweight but sturdy material that does not emit microparticles into the sea and which can not only be used for several seasons, but also recycled at the end of the lifecycle
Meeting business needs
As a new startup Estro, was drawn towards the fish farming industry early on as we were told that there were several business needs that could be better served, and we believed we could provide the solutions. Indeed, problem solving is our area of expertise and, although we had no real experience within the fish farming industry, we started looking into the challenge of 'housing' the cleaner fish.
While cleaner fish represent a significant value for the industry, mortality and efficiency challenges have persisted. Furthermore, many in the industry were becoming increasingly aware about impending stricter regulations concerning the welfare of these hard-working fish, and we wanted to help them to meet those challenges.
We began by looking at the products that the industry was already using, and it soon became clear that we could provide both the cleaner fish and those people working at fish farms with better conditions. Once we had developed the first SeaNest prototype (the name of which demonstrates our focus on fish welfare and, indeed, their homes), we saw that we were also able to offer additional environmental benefits.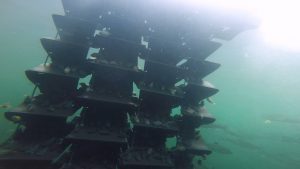 A new material
To create this prototype, we began by using a plastic material which had already been authorised for use in water supply systems, meaning that it would meet our requirements. We also quickly came to learn that cleaner fish are likely to thrive in a habitat made out of this material.
Early in the design process, we decided that the plastic sheet should be cut and folded almost like in the Japanese art of origami. The folded sheet would imitate the fish's natural habitat, including small 'caves' and hiding places. It is extremely satisfying to see videos of SeaNest in use, where lumpfish use their home in even more and better ways than we imagined.
It took a process of trial and error to reach the finished product, and we are very thankful to our industry partners who have helped us along the way by testing SeaNest and providing us with valuable feedback. Indeed, the product's success would not have been possible without them. To take the swivel function, which lets SeaNest move with the currents in the water, as an example: this is just one very important result to stem from our collaboration with industry and their testing of the solution.
Fish farm employees
In addition to enhancing fish welfare, we have also developed a product which gives fish farm employees far better working conditions. This is because SeaNest is easy to handle, takes up little space when stored away and – according to customers – can stay in the sea for a longer period without maintenance. This, coupled with the fact that washing is much easier than with traditional habitats, means that those working on the fish farms have more time to spend on other important tasks.
The product has been a success, but the job is far from done. Can it be made even better? What are logical add-on products? Where is the cleaner fish industry headed? We do not have all the answers, but we think we can safely promise exciting new products.
Trond Marøy
CEO & Founder
Espen Øvreeide
Co-Founder
SeaNest
+47 977 18 505
www.seanest.no/home.html
www.linkedin.com/company/seanest-as
Please note, this article will also appear in the fourth edition of our new quarterly publication.