AgreenCulture discuss their work developing agricultural robotics solutions to promote the adoption of modern precision farming in Europe.
In the last 60 years, the worlds urban population has grown from 750 million to over four billion people. Facing the increasing need for food production with a decreasing farmers population is becoming a true challenge. The latter is increasingly becoming harder with the saturation of genetic production capacity, a desire to reduce chemical use and the major changes in our food consumption behaviours. Adding to that, carbon footprints and ecological problems are becoming more and more important.
Today, agriculture is moving towards more ecological practices such as precision farming and agricultural robots. A few years ago, autonomous machines started to emerge as a part of the solution. Even though today hundreds of robots are working in fields, the robot is still not democratised as a plug and play solution for farmers.
GNSS RTK for high precision positioning and safe guidance
Liability and safety are two essential key points for autonomous agricultural robots. AgreenCulture has developed its own centimetric precision GNSS positioning solution using RTK corrections. The latter are communicated to the robot whether from a local ground station or from a station network via 4G and open ISM bands.
The AgreenCulture positioning system monitors the integrity of the delivered position and therefore ensures that a robot is physically at the exact right place. When it comes to autonomous machines wondering fields, safety is vital. Through geofencing technology, a farmer can be sure that his robot will not go outside the predefined working zone.
Precision can also be a key element when it comes to guidance. In the case of fertilising open field crops, fertiliser/plant proximity is crucial. This requires a centimetric precision, otherwise it will not have the desired effect on the crops. AgreenCulture along with its partner KUHN has conducted all operations required to grow a 50Ha corn crop in 2018. A crop starter was buried 2cm below the sowing line.
In the case of perennial crops such as vineyards, centimetric precision is crucial for efficient weeding without damaging vine stocks. Many other applications could be imagined by combining optical or Artificial Intelligence (AI) algorithms with a centimetric precision. For all these reasons, robots will participate in reducing the environmental impact, therefore creating a more sustainable and eco-friendly agriculture.
Agricultural robot fleet management and route planning
On average, mechanisation can account for up to 40% of a farm's total expenses. Choosing farm equipment is important for a good quality work. However, knowing how to use and manage the farm equipment is a key element for cultural itinerary optimisation and cost reduction.
High productivity regardless the size of the farm can only be achieved through organised farm work and route planning. Whether the farmer works with one robot or a fleet of robots, route planning is crucial to avoid unnecessary fuel consumption, labour cost and soil compaction. Studies have demonstrated a reduction in the total infield travelled distances using optimised infield route planner. Combining route planning algorithms with fleet management will extend the positive impact on hundreds or thousands of robots working in fields.
Whether running several robots on the same field or the same farm, fleet management algorithms and route planning simultaneously or separately, will help the farmer optimise high energy requiring operations such as tillage. Labour costs related to robot fleet management will also be considerably reduced thanks to returning home, refuelling and other practical functions closely related to logistics and maintenance.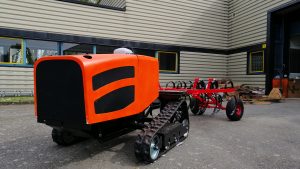 A true ecosystem-farm management solution
A major blocking point for manufacturers today and final users tomorrow is the lack of standardisation in Farm Management Information Systems, agricultural robots architectures, communication protocols and human-machine interfaces (HMI). This can range from basic functionalities such as controlling and monitoring a robot, to highly sophisticated options such as fleet management and season planning.
Since these interactions are essential for any system performance, AgreenCulture focuses its efforts on developing an interactive ecosystem which considers the needs and characteristics of the operator. Usability testing with a big sample of testers takes a big part of AgreenCulture's development processes. Including the user in all product development phases starting from design to final validation tests AgreenCulture guarantees a user-centered design with a continuous improvement process based on feedback. AgreenCulture gives the farmer the choice between different solution packages according to their own profile and taste for technology.
AgreenCulture
AgreenCulture is an innovative French start-up gathering 32 people from different backgrounds (electrical, mechanical, embedded systems, agricultural, software engineers and UX designer). The startup develops and adapts new technologies for all kinds of crops. The startup works on several products either internally or with industrial partners in the agri-equipment sector.
AgreenCulture offers a smart positioning and guidance solution for industrial partners. The start-up also develops its own robotic solutions such as the robot CEOL dedicated for perennial crops such as vineyards, fruit trees and vegetables. Since 2017, AgreenCulture founded an optics and AI department to develop solutions for embedded and static applications in the agricultural field. AgreenCulture is also an active member in different workgroups for the standardisation and creating robotic hubs on a national level within the group RobAgri and on the EU level in the project AgROBOfood funded by EU.
AgreenCulture's work concentrates on giving the farmer access to a more agroecological solution, reducing chemical inputs and fuel consumption. In addition to its positive effect on the farm's budget and the environment, the farmer will also benefit from more free time and the knowledge that the work will be properly done.
Arriving slowly but surely, robots will make a positive paradigm shift on farming, and hopefully on the entire farm management system.
Agreenculture
contact@agreenculture.fr
+33 534 320 360
Please note, this article will also appear in the second edition of our new quarterly publication.