Dr Andreas Eigenheer from the Bern University of Applied Sciences outlines how wood – an exceptionally versatile renewable raw material – can be utilised to achieve our planet's carbon-neutral ambitions, reducing the impacts of climate change.
Sport and wood share a common goal: a better life through the responsible use of renewable resources. An event held at the headquarters of the International Olympic Committee (IOC) demonstrated a series of alternatives to petroleum that the forests offer us.
Wood is a raw material that has accompanied mankind since its first steps on earth. It has enabled countless generations to shelter in nature.
With the advent of oil and concrete, the forest in settlement areas was cleared and pushed back to remote countryside and mountains.
Today, thanks to innovation and in the face of climate change, wood is making a comeback in the city and in people's consciousness. What was seen as a problem or a backward technology just a few decades ago, is now seen as a solution and a modern, innovative material.
The most effective carbon capture and storage technology
Thanks to its CO2 storage capacity, wood as a raw material is rapidly gaining recognition. A new bioeconomy is emerging that uses renewable raw materials instead of petrol-based materials. The advantages over the currently discussed Carbon Capture and Storage (CCS) are obvious. With CCS, one pays a high amount per tonne of CO2 for the pure storage function, whereas, with the use of wood, this is included in the price.
One innovation presented in Lausanne was the flame of the 2020 Youth Olympics, which produced no particulate emissions. The fire feeds on beech wood fibres that could just as easily be used to make polo shirts. As demonstrated at the event in Lausanne, the same wood could also provide the resin to make car bodies, boat hulls and much more, which today is still often made from non-renewable petroleum.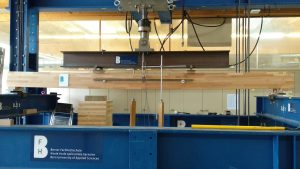 Wood at the forefront of innovation
As Frédéric Pichelin, Professor at the Bern University of Applied Sciences (BFH), stated on the innovation day at the Rencontres Romandes du Boi, "Wood is the oil of the 21st century.
"There is no reason why we cannot do all the things with wood that we do today largely from oil. Oil was created thousands of years ago precisely from the conversion of organic substances."
Pichelin believes that wood does not need to shy away from the comparison with petrol.
There are many innovations, not only surrounding heating and building construction – for which a lot of wood is already used today.
In the last 15 years, Pichelin has been able to accompany many Swiss start-ups, some of which are also active in very unconventional fields.
"So wood is not only found in chalets and skis, because wood is not only a macroscopic material," he continued.
Wood is also a green or sustainable chemistry. It is used, for example, to make natural fibres that are found in textiles or car bodies. From tree bark, we get molecules that are used to make natural adhesives.
Compacted wood instead of problematic carbon fibres and metal alloys will make ultra-light bicycle frames possible. Cellulose molecules are also found in some toothpastes and in foods, such as ice cream, to improve texture. Current research even shows that some of the molecules in wood can have an antibiotic effect.
An inexhaustible reservoir of chemistry
Wood is an inexhaustible reservoir of chemistry. The event is intended to be a journey through the technological applications of wood in sport and other fields, "even if not all of them are a reality yet", as Pichelin states.
"In a time of global warming, the use of wood, a sustainable material, is a contribution to a renewable economy. We will address its use in various round tables and get the discussion going.
"The potential for progress seems enormous and knows no bounds. We are also investigating an application in 3D printers," Pichelin added.
All of these uses have another advantage: they all use the raw material available to us, such as low-grade wood or leftover parts, and not just high-grade wood, which can be used for furniture and construction.
Finally, it is a local raw material. It is produced by trees with sunlight, carbon dioxide from the air and water and nutrients from the soil. As natural vegetation on a large part of the planet, the forest itself thrives without petroleum-based fertilisers or other additives such as pesticides. The event at the IOC headquarters in Lausanne also provided an opportunity to see finished products. In an exhibition area, various companies were able to present their production: complicated parts used in an industrial process, but also chic textiles such as velvet or chintz, where no one would think that there could be wood fibres in them.
Innovation prize
An audience prize and an expert prize were awarded to particularly outstanding projects. Visitors to the event were asked to rate the presentations, the exhibition, and their personal impression. This opportunity was used so extensively that, by the end of the day, over 90% of visitors had voted using a QR code. Fagus Switzerland Ltd. convinced the public with its presentation and a large exhibition that clearly showed its climate-friendly Swiss Wood products.
A jury of three women and four men, all opinion leaders or experts in the wood industry, evaluated the projects.
Material science company NaturLoop convinced the jury with the surprising simplicity of their products, local value creation, and their commitment to self-determination in the global south.
We congratulate all participants on their inventive spirit and look forward to the next edition.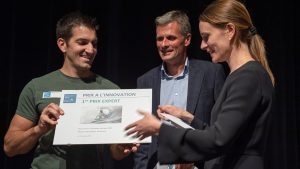 Bern University of Applied Science
The Institute for Materials and Wood Technology offers creative solutions for businesses in the wood and construction industry. We research, develop, and optimise innovative and sustainable materials for the timber and construction industries, supporting partners from the initial idea through to the finished marketable product.
The Timber Startup Incubator strengthens the innovative capacity of the Swiss wood industry by recruiting and analysing innovative start-ups in the forest and wood sector and promoting them from idea to first growth.
Please note, this article will also appear in the eighth edition of our quarterly publication.