Zentek's ZenGUARD™ graphene-based nanotechnology filters and deactivates pathogens to reduce the risk of transmission, making higher risk work environments and social interactions safer.
The team at Zentek Ltd is working hard to create and deliver graphene-based nanotechnologies that improve people's health and safety.
Greg Fenton, CEO of Zentek Ltd, said: "We firmly believe that nanotechnology and graphene have almost limitless potential to improve people's lives.
"We are uniquely positioned to create significant value through our next-generation healthcare solutions and beyond."
In response to the COVID-19 pandemic that started in 2020, Zentek challenged its research team to develop a solution to reduce transmission of the virus. The researchers, led by Dr Seyyedarash (Arash) Haddadi, Mitacs Elevate Fellow at The University of British Columbia-Research and Research Fellow at Zentek, helped develop a novel graphene oxide/silver compound that demonstrated extraordinary antiviral and antibacterial properties.
The graphene-based nanotechnology, eventually named ZenGUARD™ by the company, resulted in Dr Haddadi receiving the 2021 Mitacs Award for Commercialization in Canada. Mitacs is a national innovation organisation that fosters growth by solving business challenges with research solutions from academic institutions. They award for outstanding innovation, including one for the commercialisation of a novel idea. Mitacs awarded Dr Haddadi in late 2021.
Dr Colin van der Kuur, Vice President of Science and Research at Zentek, said: "We are especially proud of this new and advanced technology.
"Our antimicrobial coating safely deactivates pathogens, enhances bacterial and viral filtration efficiency of surgical masks, and has proven itself against viruses and other pathogens. ZenGUARD has tremendous potential to transform simple but important items, like surgical masks, into more advanced protective tools in high-risk settings."
The pathway to commercialisation of this new technology required Zentek to undergo rigorous testing. In 2021, ZenGUARD was officially authorised for safe use by Health Canada on surgical masks and other Class 1 medical devices. The company is incredibly proud of this innovation. Zentek is working with strategic partners globally to bring this much needed, antimicrobial innovation forward to better protect healthcare workers and the public.
How does ZenGUARD work?
To better explain the unique ZenGUARD technology, it is important to take a step back and explain graphene. Graphene is a single layer of graphite or carbon atoms arranged in a honeycomb lattice. Touted as one of the most promising nanomaterials ever to be discovered, graphene is the world's thinnest, strongest, and most electrical and thermal conductive material.
While graphene has many amazing properties, Zentek is actively exploring application of one of its particular characteristics – an extremely high surface area-to-mass ratio. In fact, a one-layer gram of graphene has a theoretical surface area of more than 2,600 square metres. Two one-layer grams of graphene has nearly the same surface area as a regulation American NFL football field. As Zentek harnesses this feature for its ZenGUARD technology, it is important to note that not all graphene is created equal. There is no single type of graphene, but instead a large family of unique variations that are all a little bit different and designed to do different things. To clearly differentiate between variations, the International Organization for Standardization (ISO) defines the different forms of graphene in terms of its amount of layers. In general, fewer layers means more powerful attributes and broader usage possibilities, but also makes it more difficult to produce and significantly more expensive.
Coming back to ZenGUARD and the unique properties associated with Zentek's unique coating, the research team at the company created a specialised graphene oxide-silver compound that is hydrophilic, which means that it attracts water, and absorbs aerosols that can contain bacteria and virus pathogens. The molecule then deactivates the bacteria, essentially reducing the risk of transmission of pathogens, like COVID-19 for instance.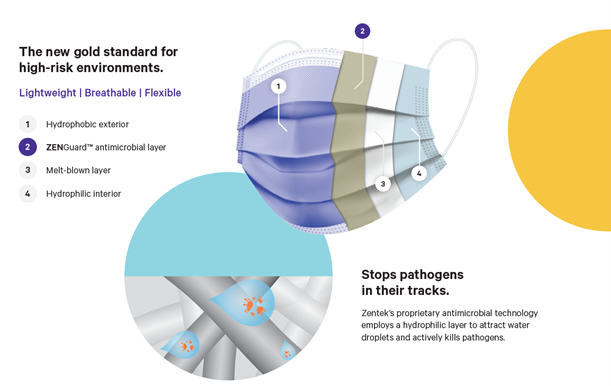 What is next for Zentek?
As Zentek gears up to launch its next-generation surgical masks globally, targeting healthcare and high-risk facilities, it is setting its sights on additional applications of its ZenGUARD graphene-based nanotechnology. University Health Network/Mount Sinai Hospital Department of Microbiology in Toronto indicated last year that Zentek's virucidal graphene compound may also be beneficial in the treatment of numerous human contracted pathogens, including upper and lower respiratory tract infections, where COVID-19 is a major contributor, as well as drug-resistant organisms.
Dr van der Kuur said: "The same ZenGUARD technology that enhances the effectiveness of surgical masks has other potentially beneficial applications, not just for items like nitrile gloves, gowns, footwear coverings, and surgical caps.
"Not only is our graphene-based technology extremely safe and effective for use on PPE, but we are also excited about the prospects in therapeutics. We've recently retained Vimta Labs Limited, a leading clinical research organisation in India, to begin studies of ZenGUARD active ingredient as a potential treatment of infectious skin disease. Vimta's commitment to high-quality standards and building sustainable relationships will help Zentek to continue creating high-technology solutions that improve people's lives."
Zentek's Guelph production facility is now fully licensed and permitted for ZenGUARD production, and the company is ramping up to industrial-scale capacity with construction and installation underway. Once this industrial process is in operation, the company's production capacity of ZenGUARD is expected to increase significantly to help support the potential for growing application opportunities currently being explored. Building out opportunities and capacity for a new technology takes time, but because the compound has the ability to help people through better protection and potentially as a treatment, Zentek is committed to ensuring it is ready for growing demand as it develops.
Please note, this article will also appear in the tenth edition of our quarterly publication.

Go to this partner's profile page to learn more about them