Zentek's goal is to use its expertise in nanotechnology to improve lives, and the company is doing just that, after successfully commercialising its advanced antimicrobial coating, ZenGUARD™.
ZenGUARD™ is a proprietary enhanced technology coating that can transform simple but critical items, like surgical masks and HVAC filters, into advanced protective tools.
Currently used and sold as a coating on surgical masks, Zentek is actively exploring other opportunities to extend the use of its proprietary compound in high-risk environments through the use of the coating on other forms of personal protective equipment (PPE), as well as in heating, ventilation, and air-conditioning (HVAC) units to improve indoor air quality – an extremely important and growing market.
"Our antimicrobial coating is a gamechanger. As global governments look for solutions to support energy-efficient indoor air quality in schools, buildings, transit and others, ZenGUARD will be a strong technological addition to these initiatives," said Greg Fenton, CEO of Zentek.
ZenGUARD's advanced coating consists of a proprietary compound of graphene oxide and silver. The hydrophilic (i.e., water-attracting) graphene oxide attracts pathogen-laden aerosols. Silver, a well-known antimicrobial, works in combination with the graphene oxide, creating a highly synergistic antimicrobial effect. It is so effective, in fact, that ZenGUARD has proven to filter 98.9% more bacteria and 97.8% more virus particles compared to a typical ASTM Level 3, three-ply uncoated mask.
Advanced testing of the antimicrobial coating
In late 2021, Zentek was awarded a research and development test contract through Innovation Solutions Canada (ISC) to test the effectiveness of ZenGUARD on filters that could be used with common HVAC systems. Phase 1 testing of a two-phased project was successfully conducted by CremCo Laboratories with the assistance of the Aerospace Research Centre, a department of the National Research Council of Canada.
Phase 1 testing of ZenGUARD consisted of setting up a rig inside an aerobiology chamber to push air through HVAC filter material with test organisms to study how these live airborne organisms could be reduced as a result of the ZenGUARD coating. Testing involved multiple samples with repeated tests so that each filter's performance could be compared. It was determined that all Phase 1 targets were met including sufficient reduction in live airborne test organisms, with no significant shedding of the ZenGUARD coating. ZenGUARD-coated HVAC filters demonstrated a maximum improvement of 99% compared to equivalent MERV-rated uncoated filters using a bacteriophage (a SARS-COV-2 surrogate). Also importantly, there was no impact to air flow rates. Zentek moved into Phase 2 – a real-world classroom environment to generate additional safety and efficacy data.
"We were pleased to confirm that Phase 1 testing of our ZenGUARD coating was successful in reducing airborne organisms from passing through coated filter material while not inhibiting air flow," Fenton continued.
"Moving into Phase 2 testing of our patent-pending, antimicrobial coating in a real-world classroom environment is aimed to generate additional safety and efficacy data. The importance of energy-efficient indoor air quality and improving health is a top priority for numerous organisations globally – including the Canadian and US governments – and we're looking forward to seeing the results from Phase 2 and taking this to market."
Why simplicity matters
Improving filtration and reducing airborne pathogens on the most common air filters used today can have a significant global impact on safety, energy, and livelihood.
"In response to guidance from the White House, the Environmental Protection Agency is largely focused on improving indoor air quality in public and private buildings, including schools, while being energy efficient. We believe that ZenGUARD can help support these important initiatives," added Fenton.
Hospital associated infections (HAIs) are a huge cost to hospitals and healthcare organisations around the world, both in direct medical treatment costs and the cost to society from early deaths and lost productivity. To help address the problems associated with HAIs, Zentek's focus on ZenGUARD for surgical masks is taking priority while the company develops the unique nanotechnology for other areas in personal protective equipment (PPE), including caps, gloves, etc. Application in air filtration and indoor air quality improvement will be a big next step for Zentek.
Advancing applications in nanotechnology
Zentek opened up a new manufacturing facility in Guelph, Ontario, in June 2022. Their industrial facility has estimated capacity to coat the equivalent of 720 million masks per month, and is one of the world's largest graphene-based production facilities. The ZenGUARD facility gives the company the scale it needs to meet obligations as it grows future demand.
Zentek works with over 100 researchers at universities and technology partners around the world. It firmly believes that nanotechnology, using graphene, has the limitless potential to improve (and save) lives. Zentek is securely financed, and uniquely positioned to create significant value through its next-generation healthcare solutions, and beyond.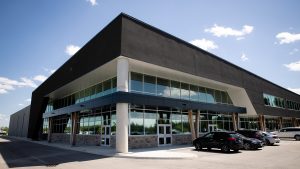 Please note, this article will also appear in the twelfth edition of our quarterly publication.

Go to this partner's profile page to learn more about them