Terrance Barkan, Executive Director of The Graphene Council, discusses the evolution of graphene, from a scientific discovery to a 'wonder material'.
Ever since the 2004 discovery of graphene and the subsequent Nobel Prize in Physics that was awarded in 2010, there have been extremely high expectations for graphene, often touted as a 'wonder material'.
Today, graphene as a commercial material includes many forms – from a single atomic layer of carbon in a crystal sheet, to ten layers of carbon in the form of black nano-platelet powders.
Historically, new materials take many decades of discovery and experimentation before they are widely adopted commercially. Obvious examples include aluminium, Bakelite (plastics) and silicon, which each took multiple decades just to develop commercial production methods, let alone large-scale commercial markets.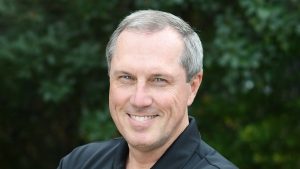 Less than 20 years after first being isolated by scientists at the University of Manchester in the UK, there are now more than a dozen different methods with which to produce graphene materials. These production methods can work with a broad range of raw material inputs that include graphite, methane, ethanol, acetylene, biochar, CO2, and additional forms of carbon-bearing materials.
This rapid pace of development has resulted in more than 300 companies worldwide that claim to produce one or more forms of graphene in capacities that, in some cases, exceed 1,000 MT per annum with a combined global capacity totalling over 15,000 MT.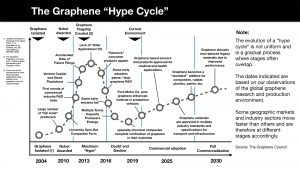 Development of standards and the Graphene Classification Framework
In response to this rapid growth of the industry and an explosion of different forms and types of graphene materials, The Graphene Council recently developed and published the Graphene Classification Framework (GCF).
A taskforce of more than 100 volunteer experts helped to identify the 19 commercially relevant material characteristics, how to test and measure the material, a standardised syntax, and supported the development of a standardised Technical Data Sheet.
All of this work was then organised into a well-structured document and licensed to the International Organization for Standardization (ISO) in order to convert the content into a formal international standard. This, in turn, will bring greater consistency, transparency and trust to the emerging graphene commercial sector.
In addition to the Graphene Classification Framework, The Graphene Council administers the Verified Graphene Producer Program. This in-person inspection program is the most robust and rigorous validation available anywhere in the world of a graphene producer's ability to create bona fide graphene materials.
The in-person inspection protocol evaluates the entire production process from raw material intake through to the final graphene product being ready to ship. The inspection team also evaluates the graphene producer's annual production capacity, health and safety procedures, and their quality control guidelines. Finally, a physical sample of material is taken from the production stream and then fully characterised by independent third-party laboratories on a blind basis to determine if the material matches the claimed technical specifications.
Recently, the Verified Graphene Producer designation was awarded to three companies: Versarien Ltd. based in the UK, Ceylon Graphene Technologies based in Sri Lanka, and to Hydrograph Clean Power in the US. These companies each produce a different form and type of graphene, but each have demonstrated that they have commercial-scale systems in place to produce genuine graphene nanomaterials that have been independently, third-party verified.
Graphene applications
One of the most interesting aspects of graphene is how this novel nanomaterial can impart multiple impressive improvements to legacy materials. As graphene is highly electrically conductive, thermally conductive, strong, has a high surface area and other attributes, it has been found to be useful in more than 45 different applications.
Although it is made from pure carbon, graphene is an important tool to reduce emitted and embedded carbon in the environment. Whether converting captured carbon emissions, diverting waste gases or reducing embedded carbon in finished products, graphene is the ultimate sustainable carbon.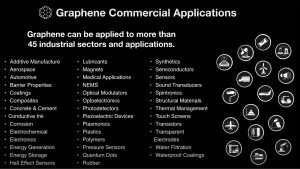 Market production capacity and expected demand
As mentioned earlier, the current global production capacity for graphene materials is approximately 15,000 MT per annum. However, capacity is being added rapidly, especially because graphene production facilities require only modest capitalisation amounts when compared to other industrial production processes. In addition, because graphene is a pure form of carbon, there are no significant raw material supply constraints.
If we look at some of the high-volume applications for graphene materials (concrete, plastics, coatings, batteries, elastomers and composites), The Graphene Council is forecasting global demand at between 300,000 and 600,000 MT in the next three to five years. This is even more impressive when you consider graphene is often used in very small percentages (less than 1-5% at most) when added to another material.
At this stage, there has been sufficient and significant testing data that proves graphene works as an effective nano-additive that makes host materials lighter, stronger and better. The primary constraint currently is a lack of awareness and understanding by industrial customers (and their engineering teams) on how to actually make use of graphene.
An additional obstacle is an outdated perception that graphene is too expensive, that it does not really work or that it is not produced at industrial scale for adoption by mainstream industries.
These perceptions simply no longer apply as the material is now widely available at competitive pricing and a body of expertise has been developed based on successful application development.
To help companies better understand how to leverage the many benefits of graphene and other 2D advanced materials, The Graphene Council and the MXene Association have formed the 2D Advanced Materials Application Development Center. (MXenes are a new form of 2D advanced materials that are derived from the transition metal family of elements).
The 2D Advanced Materials Application Development Center
The concept of the 2D Advanced Materials Application Development Center is to leverage a global network of experts, as well as testing and research facilities, to reduce the time needed for corporate R&D teams to bring advanced-materials-enabled products to market.
As The Graphene Council and the MXene Association are independent and neutral trade bodies, we are agnostic when it comes to selecting research and supply chain partners.
We are free to identify and work with those experts in a particular application field that are best suited to your particular industry sector, without any conflict-of-interest issues. By working with experienced experts and qualified supply chain partners, we can reduce your corporate R&D risk and help to manage costs.
It is important to understand that much of the work that is being done with these advanced 2D materials is not in the public realm – the work is often not published or patented and instead is treated as a trade secret.
We further avoid potential conflicts of interest because we pass through any intellectual property that is developed under our application development projects. The IP ownership is entirely up to the project partners to determine how to manage their IP ownership participation.
By working with the 2D Advanced Materials Application Development Center, companies increase their chances of successfully developing innovative products that also provide freedom to operate by identifying patented or proprietary technologies.
About The Graphene Council
The Graphene Council was founded in 2013 with a mission to serve the global community of graphene professionals. Today, The Graphene Council is the largest community in the world for graphene researchers, academics, producers, developers, investors, nanotechnologists, regulatory agencies, research institutes, material science specialists, and even the general public. We reach more than 30,000 people with an interest in this amazing material.
The Graphene Council is also the author of The Graphene Report – the most comprehensive resource available today that covers:
•    Production methods and processes;
•    Characterisation and measurements;
•    Commercial forms of graphene;
•    Graphene market pricing data;
•    Standards and classification;
•    Graphene patent analysis;
•    Applications and commercial markets;
•    Profile of commercially mature graphene-producing companies; and
•    Glossary of graphene terms.
Terrance Barkan
Executive Director
The Graphene Council
+1 202 294 5563 
www.thegraphenecouncil.org
Please note, this article will also appear in the eleventh edition of our quarterly publication.