Ionic Rare Earths are making strides in securing a sustainable magnet and heavy rare earths supply chain for Western customers.
Australian-listed company, Ionic Rare Earths Limited (ASX: IXR or IonicRE), continues to set itself apart from other rare earth hopefuls, with mining, refining, and recycling forming key components of IonicRE's strategy to develop a circular economy for magnets and heavy rare earths.
The strategy of circularity begins with the primary sourcing of magnet and heavy rare earth elements (REE) from the Makuutu Rare Earth Project in Uganda, through to the recycling of end-of-life neodymium permanent magnets (NdFeB) via subsidiary Ionic Technologies (IonicTech), based in the UK. This positions IonicRE at the forefront of near-term new supply chains.
Makuutu Rare Earths Project, Uganda
On 20 March 2023, IonicRE released to the Australian Stock Exchange (ASX) the Makuutu Rare Earths Project Stage 1 Definitive Feasibility Study (DFS) over the Makuutu central tenement RL 1693 to support the first stage of development at Makuutu. The DFS and environmental approval received in October 2022 form the major inputs to the initial Mining License Application (MLA) for the Project (application TN03834).
To date, IonicRE has funded exploration and project development activities at Makuutu since August 2019. Makuutu is being developed by Rwenzori Rare Metals Limited (RRM), a Ugandan private company which owns 100% of the Makuutu Rare Earths Project. IonicRE is a 51% owner of RRM, and will now move to 60% with the completion of the DFS. IonicRE also maintains a first right over the remaining 40% of the Project.
Defining an initial Stage 1 DFS with a projected life of 35 years, this initial MLA provides the first phase in the Company's ambition to expand Makuutu in step with an expected dramatic increase in demand for these newly termed strategic raw materials to support key applications in energy transition and defence applications.
Whilst the economic figures within the release were touted as 'conservative' estimates, the information detailed within the DFS provides impressive technical detail and robust financial viability results – affirming IonicRE as the mining junior who will soon exceed expectations and deliver upon its ambition to solve the complex global problems of demand outstripping sustainable supply chains, geopolitical tensions, and closing the circularity to magnets and heavy rare earth oxides (REO) through mining, refining, and recycling.
Makuutu has the eyes of an anxious western world firmly focused upon it. The Project is touted as one of the largest ionic adsorption clay (IAC) deposits in the world, providing a viable, low-cost, large-scale, alternative, and sustainable supply chain outside of China, and, of more important to note is the uniquely balanced basket with 71% magnet and heavy REOs, which is free of environmentally challenging radionuclides.
Specifically, the four elements which make up the magnet rare earths classification – Neodymium (Nd), Praseodymium (Pr), Dysprosium (Dy) and Terbium (Tb) –will be the four elements that literally drive electric vehicles, offshore wind turbines, digital technology advances, healthcare, and defence, which are growing exponentially over the decades to come.
The Makuutu central tenement RL1693 accounts for only ~44km2 of the Company's six total tenement areas of ~300km2, and importantly is the first of IonicRE's tenements to progress to the MLA stage. The 35-year life Stage 1 development will deliver to IonicRE a Net Revenue totalling ~US$3.98bn, an EBITDA of $1.60bn, and a Net Present Value (NPV) (Pre-tax) of $406m. The DFS outlines pre-production CAPEX (including 10% contingency) of ~$120.8m, including the mining fleet.
Concerning infrastructure, Makuutu is located 120km east of Kampala in Uganda. The deposit stretching 37km long, end to end, is larger than the island of Manhattan. Additionally, the Project is situated near high-quality tier-one infrastructure, including hydroelectric power providing Makuutu with a lower carbon footprint for the development.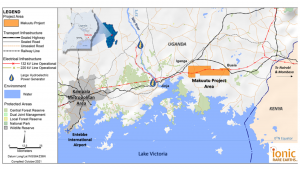 The Project development includes carbon mitigation strategies, including power sourced from low-cost, net-zero carbon footprint hydroelectric power, accessible from a 132kV power transmission corridor running immediately through the Project tenements. Other forms of carbon reduction are also being evaluated, such as bio-diesel options for trucking.
This announcement signifies an epoch-making step for the Project and IonicRE. Not only does it set out a clear path to production, with a significant potential financial windfall to the Company, and investors, the Project offers significant and unprecedented economic empowerment to the Government and people of Uganda. As a sign of support in Uganda, Makuutu received Flagship Project status in October 2022 due to its significance to Uganda's development.
As shown in Fig. 2, IonicRE has worked through an accelerated work plan at Makuutu since acquiring its initial interest in the Project in August 2019, with a practical and considered approach to unlocking value through exploration and development. In three and half years, IonicRE has defined the mammoth 532 million tonne Mineral Resource Estimate, a maiden 172 million tonne maiden Ore Reserve Estimate and now the Stage 1 DFS. Additionally, the Company expects the potential to grow significantly with the additional five tenements, which will progress over the next decade at Makuutu.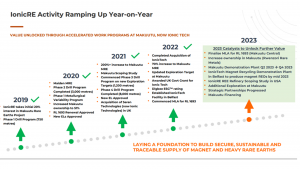 The timing of the DFS, impending construction of the Demonstration Plant at Makuutu, and details outlining further staged development and expansion options to consider the total mineral resource – arrives at a time when forecasts illustrate that demand, once again, for these strategic raw materials (SRM) will drive long-term supply pressures and geopolitical tensions. IonicRE will be able to feed this hungry market that is projected to grow exponentially.
With the release of the DFS, the Makuutu Rare Earths Project moves a step closer to becoming Uganda's flagship mine and will provide GDP growth and opportunities to the Ugandan Government aligned with the National Development Plan (NDP-III). The social development programmes and environmental benefits have already positively impacted local communities at the Project level.
When asked to comment on the significance of Project DFS, which crystalises a path to production, financial viability and net-zero carbon thinking, IonicRE Managing Director Tim Harrison stated:
"The outcome of this study, which focuses solely on the central Makuutu zone, provides the required inputs for the Company to finalise the Mining Licence Application for RL 1693. These Stage 1 results support what we think is a unique, geopolitically strategic asset to supply magnet and heavy rare earths into western supply chains. Evidence currently shows that countries are motivated to secure sustainable, traceable supplies of these critical raw materials to support their domestic manufacturing ambitions and to support both the energy transition and military and defence requirements to provide sovereign capability and global security.
"Furthermore, this Stage 1 study provides a path to production at Makuutu, which has the potential for significant growth into the future through the conversion of the other tenements at Makuutu towards additional MLAs over the coming decade. The intent is to significantly increase production from the Stage 1 initial focus at Makuutu and expand into the forecast increase in demand that will far exceed supply for the most readily sought-after rare earths, Dysprosium and Terbium, which are critical for the production of the magnets required to drive EV's, offshore wind turbines and support several specialised defence applications."
"Makuutu is now advancing towards a Final Investment Decision with the capability to provide more heavy rare earths per annum from our initial Stage 1 Project than existing western light rare earth hard rock mines in production today."
The next commercialisation phase for IonicRE is the mining and recycling assets which are now heavily focused on validating and scaling up with the construction of two demonstration plants. One is located in Uganda at the Makuutu Project, and the other at the Company's 100% owned subsidiary, IonicTech, which is developing a magnet rare earths recycling facility in Belfast, UK, via a patented hydrometallurgical process.
IonicTech is establishing a circular economy of magnet and heavy rare earths
IonicTech has developed rare earth element separation and refining technology and applied this to the recycling and refining of individual magnet rare earths from spent permanent magnets and swarf (waste products).
The Company has established a new facility in the Titanic Quarter in Belfast, equipped with analytical and hydrometallurgical laboratories, plus piloting and demonstration plant bays to progress the scale-up verification of the technology.
To date, IonicTech has further validated the improvements incorporated in the technology and process since the acquisition in April 2022, demonstrating hydrometallurgical extraction from Neodymium-Iron-Boron (NdFeB) swarf (see Fig. 3, left), supplied by a UK metal and alloy manufacturer, treating a sample rich in magnet rare earths Nd and Dy. The pilot campaign successfully processed the swarf into a number of intermediary REE products (refer Fig. 3, right) prior to the separation and production of approximately 5kg of refined high-purity rare earth oxides, Nd2O3 and Dy2O3 (see Fig. 4). Internal and external analysis of the products confirms they are consistent with separated REO products produced and sourced from existing Chinese producers.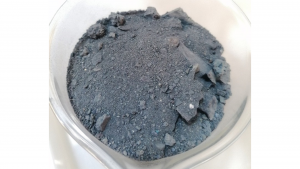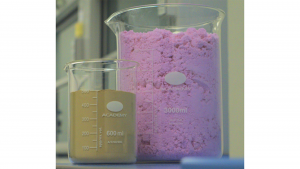 The demonstration-scale plant will hydrometallurgically extract individual high-purity magnet rare earth oxides from recycling, processing 30 tonnes per annum of waste magnets and swarf to produce over ten tonnes of separated and refined magnet REOs – Nd, Pr, Dy and Tb.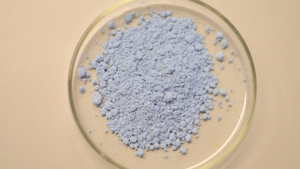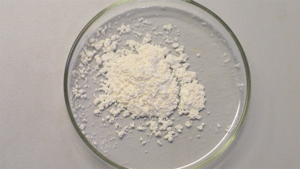 Refinery Study – adding value through the downstream supply chain
Since mid-2021, IonicRE has completed extensive metallurgical test work and process modelling to define a process flowsheet capable of separating the Makuutu basket into the full spectrum of rare earth oxides, plus scandium. Engineering activity is now in its final stages.
The Company is also heavily engaged with potential partners, with the progression of the downstream refinery study expected to be finalised in Q2 2023. For the purpose of the study, a US site has been selected to separate the mixed rare earth carbonate (MREC) product from Makuutu into separated and refined REOs. Western governments are all interested in accessing sustainable and traceable supply of magnet and heavy rare earths into new emerging supply chains to address concerns around sovereign capability and global security.
Global demand for the Makuutu basket of magnet and heavy rare earths
We now have the two biggest and most advanced economies in the world moving in the same direction – the EU with the European Green Deal and recently announced Critical Raw Materials Act, and the US with the Inflation Reduction Act.
The Project is strategically important for western end users, with no current sources of heavy rare earths in production at present and all supplies emanating from China or Myanmar. This is unpalatable for several western governments, with numerous key military applications dependent upon the technologies derived from heavy rare earths – the fact that this material is also sourced from China further escalates anxiety in the supply chains.

Go to this partner's profile page to learn more about them