CEO of EIT Digital, Willem Jonker, spoke to Innovation News Network's Georgina Ryan about the European Commission's proposal for a Digital Compass that will translate the EU's digital ambitions for 2030 into concrete terms.
The European Digital Compass has been developed around four targets that will build on the Commission's digital strategy of February 2020. This sets the course towards digitally empowering Europe by 2030.
The first is focuses on digital skills, setting the target that by 2030, at least 80% of adults should have basic digital skills and that the EU should have 20 million people employed as ICT specialists.
The second target is aimed at building sustainable digital infrastructures. It states that within the next decade, all EU households should have gigabit connectivity and all populated areas should be covered by 5G; Europe should produce 20% of sustainable semiconductors; 10,000 climate neutral highly secure edge nodes should be deployed in the EU; and Europe should have its first quantum computer.
The third is directed towards the digital transformation of businesses; it covers the increased use of cloud computing services, big data, and Artificial Intelligence. As well as this, more than 90% SMEs should reach at least basic level of digital intensity; and the number of EU unicorns should double.
The final target of the European Digital Compass covers the digitalisation of public services. It sets the target that, within the next decade, all key public services should be available online, all citizens should have access to their e-medical records, and an eID solution should be used by 80% of citizens.
The targets will be enshrined in a Policy Programme to be agreed with the European Parliament and the Council.
Willem Jonker, CEO of EIT Digital, and the Innovation News Network's Georgina Ryan, discuss the Digital Compass, its core points how to achieve the targets for the digital transformation of Europe by 2030.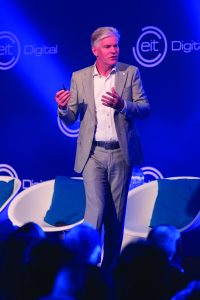 How is this digital strategy different to the strategy on shaping Europe's digital future that was announced in February 2020? Do you think it is an improved strategy? And does it build on the shifting digital landscape that we have seen in the last year?
The targets have been stepped up and made more concrete for the next period, but for example, focusing on skills has constantly been on the agenda, we are not there. Of course, the demand is also growing because the digital transformation is continuing. So that is not new.
If you look at network coverage, and access has always been on the agenda of the Commission, but now the difference is, focus is now on 5G and to gigabit access to the home. So, you see more incremental changes.
As well, focus on AI has really been much more emphasised this time. Although cybersecurity is not that explicit at the first level, I think it is also an important recognition, as is the realisation of the importance of semiconductors.
The Digital Compass also looks at building more European Unicorns, and I think what is missing, is not only building the unicorns, but looking at the bigger picture. If you look at the certain areas in which Europe is a big player, I think we should be more than doubling in the next decade. Now, European companies are around 10% of the of the world's leading players. In network technology, I am talking about Nokia and Ericsson; in semiconductors, there is ASML.
Quantum is now on the on the on the radar, as high-performance computing, and it is recognised that there is catching up to do there, and this is well embedded in the Digital Compass targets.
In terms of the first objective, which covers digital skills and ICT specialists in Europe, what does EIT Digital offer in terms of entrepreneurial education? And how can the skills gap in Europe be closed?
For quite a while, we have been offering the EIT Digital Master School, which is a two-year programme, combining technical and practical skills in innovation and entrepreneurship. The Masters School is composed of 75%, technical courses and 25% innovation and entrepreneurship related courses.
Linked to that we have the two-week EIT Digital Summer School programme, open to students and young professionals who want to deep-dive in emerging digital technologies, learn how to turn technology into business and eventually launch deep-tech start-ups.
Currently, Europe is less than half way to the target of 20 million people employed as ICT specialists which is a huge gap. Are we able to fill that gap? Of course, we can contribute; we have over 300,000 learners on our online platforms, but of course the Master School is far less scalable. We have around 400 to 500 students in that master school, and we cannot reach that scale, but you can get the solid foundation.
The other element is the need for core digital skills. At the same time, there is also the need for the application of digital technologies in specific domains, which, if you have a technical background, then you can already contribute without being an IT expert, which is another way of filling part of the gap.
Moving on to the second objective, which covers 5G, semiconductor production and a European quantum computer. In terms of achieving these objectives, how can institutions and policymakers work together with industry to see that these goals are achieved?
If you look to the semiconductor industry and to network technology, we do have European players. What helps, of course, is working together with those players when it comes to creating, at least in Europe, a single market, because it helps makes deployment of technology easier, and it is clear that having a strong home market helps you become a global player.
In terms of companies, Imec in Belgium is a creator of next generation semiconductor technology. As I mentioned before, ASML, is a world leader when it comes to machinery to produce chips. So that requires continuous investment. Another area emerging in Europe is photonics, and what you will see is that the semiconductors industry will deliver quite extensively in sensor technology, which is all over the place. This technology is found in cars and mobile phones for example, so sensor technology will draw significantly on the semiconductor industry.
Moving on to the third objective, part of this target is doubling the number of EU unicorn companies. From an EIT Digital perspective, what do you offer to support, SMEs and the emergence of more unicorn companies?
This gets to the heart of what EIT Digital are doing; we are combining innovation and education and, at core of our strategy, we are building. We have there are three phases of development: the first phase, the stand-up phase, where we bring the community together, where we bring the students in. Then we have a phase where we bring it around a specific technology with specific investors and with a specific team to get the seed growing.  Finally, we have the scale-up phase where our accelerator steps in and leads to further attraction of both customers and investors. We have developed a strategic collaboration with the European Innovation Council (EIC), which is also an instrument to further help scaling-up that has given us an enormous network with the European investor community.
Through our accelerator, we have been able to attract over a billion of investments in the portfolio of ventures that went through our accelerator, most of which is private money. And of course, with private investment, traction is important when it comes to investors. And most importantly, while investors are there to make sure that the company grows, creating value is done through serving customers, and they are in the heart of what we are doing.
We have access to the technology, the teams, the investor networks, the accelerators, the incubators, and our university networks, so we are extremely well positioned. And we are strategically well embedded with other instruments through investors, the European Investment Fund (EIF), the EIC, and so on.
We do not scale companies up to unicorns, we will scale them up to centaurs. And then of course, the, the big investment tickets should go in. We are operating up to an investment level of 10 to 15 million. And afterwards, investment must be taken up by the large private investment firms to really get to the level from a centaur into a unicorn.
I think we have some good prospects; I want to mention one very explicitly, a German company called Cognex. It does intelligent IoT, so connecting data interpretation from IoT sensor networks with a very specific application focus, on railway track monitoring, advanced analysis, and being able to do predictive maintenance, to reduce the delays in the railway tracks. Recently, they got an investment of €65 million, and they were a winner of the EIT Digital challenge in 2014. With this, we were able to help them to get on the radar, and then other investors step in. It is a business-to-business company, so it is less known by the public, which is the case with a lot of European companies, but business-to-business is an enormous market and extremely important for the economy.
Moving on then to the fourth objective, which focuses on the digitalisation of public services. Is this compatible with data protection and privacy of EU citizens? Will it entail a shift in data privacy models?
When looking at the proposals, this was the area where I was a bit surprised. First of all, it is extremely important to work in this area, but I was surprised that it gives the impression that we are almost there when it comes to 100% online provisioning of key public services. That is not what I recognise in all honesty. Looking at my own country, the Netherlands, I see significant room for improvement. In my experience at EIT Digital, where we are present in many countries in Europe, when we must establish, for example, legal entities or business deals, we see quite a variation of level of automation and digital transformation of government services. So, I think it is giving quite an optimistic view on is the digital status of government services.
This target is not just about tax payment, or registration of a company, or driver's licence renewal. It is also education and healthcare, and in these areas, there is a lot to do towards achieving automation and digitisation.
At the European level, we have the whole discussion about your digital identity. There are federated approaches towards digital identity. However, there are still many services that require physical signatures and presenting yourself in person in front of a notary public, for example, renewal of your driver's licence, or buying a house. So, I think there is still a lot of services in that area that can be improved.
Are you hopeful that this Digital Compass will help the EU reach its digital ambitions for 2030? Is there anything else you would like to see included in these targets and objectives or anything that you are cautious of?
Strategy is important, and a compass is important because it gives direction. However, it will all come down to implementation. There, I do have some concerns because implementation will mainly take place through the member states, and the level of digital knowledge in the member states starts at a political level. Do member states have a minister of digital affairs? Not always. Do member states have the right level of digital expertise in their governments? This is often limited.
I would make a plea, especially to the national governments, to put digital technology much higher on the agenda. I would propose having, as in Brussels, a clear Ministry of digital affairs. Italy has made a great move recently, under the new Draghi government, and people from the field have been attracted; there is the former CEO of Vodafone, if I am not mistaken, that was recruited into the government. I think countries should really follow this because currently, especially at the national level, in Europe, the strategies are not very well developed.
The unicorns will not grow out of Brussels, the unicorns will grow out of the innovation clusters in Munich, Paris, Berlin, Amsterdam, Eindhoven Helsinki, and Stockholm; this is where those unicorns will be built. Sometimes, at the regional level, I see more digital expertise than at the national level; I think the national level is really lagging in Europe, whereas, at the European level, it is clearly there. Currently, digital expertise at the national level needs to be stepped up, it the missing link. But of course, it is very important to make the Digital Compass goals a reality.