The world's first large-scale, self-driving bus is one of the latest projects being funded by the UK Government.
Combined Government and industry funding – totalling £81m – is being made available for commercial self-driving passenger and freight services. This could revolutionise public transport and passenger travel, especially for those who don't drive, better connect rural communities, and reduce road collisions caused by human error.
Passengers will be boarding the world's first full-sized, self-driving bus service in Edinburgh in Spring after it was awarded a share of joint UK government and industry support for self-driving transport technology.
Business Secretary, Grant Shapps, said: "In just a few years, the business of self-driving vehicles could add tens of billions to our economy and create tens of thousands of jobs across the UK. This is a massive opportunity to drive forward our priority to grow the economy, which we are determined to seize.
"The support we provide today will help our transport and technology pioneers steal a march on the global competition by turning their bright ideas into market-ready products sooner than anyone else."
New opportunities for British companies
The self-driving bus project is one of seven that has been successful around the UK and forms the most advanced set of commercial, self-driving passenger and freight operations anywhere in the world.
The grants, part of the Centre for Connected and Autonomous Vehicles Connected and Automated Mobility programme, will help British companies seize early opportunities to develop experimental projects into offerings ready for the market.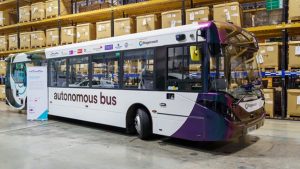 Other projects that have been awarded joint funding include:
Project Harlander – Belfast Harbour: £11m to deploy a self-driving shuttle service around Belfast Harbour;
Multi-Area Connected Automated Mobility – Conigital: £15.2m to establish a remote driving control hub to oversee self-driving vehicles operating in Solihull and Coventry with the NEC and local councils; and
Project Cambridge Connector – Greater Cambridge Partnership: £17.4m to trial on-demand, self-driving taxis to complement existing transport services in parts of Cambridge.
£42m in government funding is being matched by industry.
Mike Biddle, Innovate UK Executive Director for Net Zero, stated: "The Connected and Automated Mobility (CAM) sector is of crucial importance to the UK, with the potential to deliver safer, cleaner, and more efficient transport systems across a wide range of settings.
"This latest, multi-year round of government's Commercialising CAM funds builds on the success of previous collaborative R&D programme, stimulating innovation to ensure the UK is at the forefront of the transition towards the commercialisation of self-driving services."
Improving public transport services across the UK
An additional £600,000 is also being awarded for feasibility studies, looking into how self-driving technology could improve public transport in four parts of the UK. These projects will look into potential routes where automated vehicles could operate exclusively from other traffic to relieve congestion on the A414 through Hertfordshire and Essex, parts of Eastern Cambridge, Birmingham and Solihull, and Milton Keynes.
Transport Secretary, Mark Harper, explained: "Self-driving vehicles, including buses, will positively transform people's everyday lives – making it easier to get around, access vital services, and improve regional connectivity.
"We're supporting and investing in the safe rollout of this incredible technology to help maximise its full potential while also creating skilled jobs and boosting growth in this important sector."
Self-driving vehicles could revolutionise public transport and passenger travel, especially for those who don't drive, better connect rural communities, and reduce road collisions caused by human error. Forecasts predict that by 2035, 40% of new UK car sales will have self-driving capabilities, with a total market value for connected and automated mobility worth £41.7 billion to the UK. This could create nearly 40,000 skilled jobs in connected and automated vehicle (CAV) technology.
The government is also committed to introducing legislation enabling the safe and timely rollout of self-driving vehicles on UK roads. Under a proposed 'safety ambition' for self-driving vehicles to be equivalent to a competent and careful human driver, vehicles will need to meet specific standards to be allowed to 'self-drive' on the roads throughout the vehicle's lifetime. Organisations overseeing self-driving vehicles could face sanctions if measures are not maintained.