Mural paintings have existed since the pre-historical age, but they are now vulnerable heritage that require conservation innovation.
Mural paintings and their architectural heritage are among cultural treasures that define regions' and countries' identities and also contribute to the social, cultural, and economic development of the regions where these works of art were created and with which they maintain a strong connection. The study of pictorial coatings on stony monuments is varied due to the heterogeneity of artistic methods and techniques present and due to the fact that any analysis should be adequately complemented by contributions from both historical and scientific studies.
While much of the systematic study of mural paintings in Portugal is yet to be completed (particularly from the analytical and scientific side), it should be noted that mural paintings in the country thrived during the 15th and 16th centuries. By applying scientific analysis to this element of our cultural heritage, we are able to identify the materials used and so also provide essential information for conservation and restoration. However, it is important to mention that the variety of materials present, the chemical/physical alterations that the paintings have suffered over time, and the preventive conservation standard of humidity and temperature control that is not applicable in these cases can make conservation difficult. In addition, the wide range of microbiological and biological organisms that thrive on their surface also serve to increase the complexity of conservation treatments and preventive measures.
Developing non-invasive nanomaterials
Mural paintings, especially those in churches, along with outdoor archaeological findings are among the most vulnerable cultural objects. Subjected to extreme atmospheric variations, the conservation of these objects are typically problematic. Furthermore, a pigmentation problem detected in a large number of mural paintings in the north of Portugal was previously never fully understood. However, despite this, the development of sustainable solutions might help reduce the negative impact of the application of commonly used conservation products since they can be effective, selective, biodegradable, and less toxic to both the environment and conservator.
The BIO4MURAL (Innovative BIOtechnology solutions FOR black stains removal and preventive conservation of historical and culturally important MURAL paintings) project therefore focuses on the development of anti-microbial solutions. Attention will also be focused on the development of a novel coating for the protection of surfaces against biodegradation with anti-microbial agents made from valorised industrial wastes. New innovative removal or discoloration methods will also be researched and eventually incorporated into one of the solutions developed. These will be tested as to their effectiveness but also for the different requirements for applications in this area, including interaction with object materials from the physical, chemical, and aesthetic point of view, as well as the reversibility, durability, and applicability to different types of materials.
The materials will be developed and tested in prototypes and the most promising (potentially, if authorisation is given) in small areas of mural paintings. Based on the solutions developed, the research team will formulate a fully integrated preventive conservation plan for these case studies that include the novel solutions developed and the specific characteristics of the cultural objects studied in the project.
The BIO4MURAL project will develop innovative, sustainable, and high-performance non-invasive nanomaterials for the cleaning and preventive conservation of mural paintings. Products and protocols can be adopted by municipalities, cultural heritage stakeholders, conservation and restoration institutions, and companies. The project includes a comprehensive dissemination, awareness, and exploitation strategy with the aim of achieving the widest impact possible. The project will have a general impact on conservation, science, and society, as well as having an environmental impact in order to contribute to solving any preventive conservative questions related to mural paintings.
Dr Patrícia Moreira da Costa holds a PhD in biotechnology with specialisation in biochemical engineering from the Universidade Católica Portuguesa (UCP). She is a professor at UCP and an integrated member of the Center for Research in Science and Technology of the Arts (CITAR) and collaborator of the Center for Biotechnology and Fine Chemistry (CBQF) (both at UCP).
Her main research area is innovation in biotechnology and nanotechnology for cultural heritage with emphasis on bio-deterioration, sustainability, circular economy and green conservation. She also represents the Green Conservation movement in Portugal and currently co-ordinates two research projects: BIONANOSCULP (Development of BIONANOmaterials for anti-microbial coating of metal and stone-based outdoor SCULPtures) and BIO4MURAL (Innovative biotechnology solutions for black stains removal and preventive conservation of historical and culturally important MURAL paintings), both financed with national funds.
Funding
BIO4MURAL – Innovative BIOtechnology solutions FOR black stains removal and preventive conservation of historical and culturally important MURAL paintings
Fundação para a Ciência e a Tecnologia (PTDC/HAR- ARQ/29157/2017)
Partners
Universidade Católica Portuguesa
University of Aveiro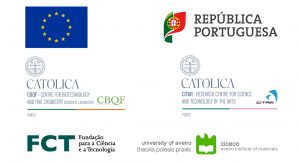 References
Dr Patrícia Moreira da Costa
Principal Investigator
School of Arts
Universidade Católica Portuguesa
+351226196200
prmoreira@porto.ucp.pt
www.porto.ucp.pt
Please note, this article will also appear in the second edition of our new quarterly publication.