Evolve Hydrogen has innovated groundbreaking water electrolysis technology that produces green hydrogen directly from seawater.
In 2010, Brian Gilman, a Creative Director in New York, decided to explore water electrolysis. "I was born with a serious case of asthma that over the years had scarred a great deal of my lung capacity due to air quality," he explained. At the time, Gilman was interested in the oxygen-producing part of water electrolysis.
Spencer Teplin, Gilman's long-time friend, developed a fleet of biodiesel cars fuelled with waste vegetable oil sourced from local restaurants. Together, they discussed the benefits of clean energy and oxygen output produced by water electrolysis. Gilman and Teplin formed Gilman Industries LLC in 2011, after a colleague in the electrolyser industry thought their ideas warranted merit.
In October 2011, after generating many iterations, Gilman and Teplin created their first polymer electrolyte membrane (PEM) electrolyser based on traditional design. They quickly realised this water electrolysis technology was expensive, hard to get working, and hard to maintain, needing perfect pressures and deionised water.
Their friend, Dr Katsuhiko Hirose, said: "The common electrolyser is built more like a house and less like an appliance."
Gilman and Teplin returned to the drawing board and designed a new electrolyser based on three principles.
The first step was to use common waters, such as tap, wastewater, and most importantly, seawater, which has exponentially more micro-siemens than deionised water.
Next, instead of using exotic metals like platinum and iridium, Gilman and Teplin used electro-conductive polymers to reduce fouling and oxidation. Their research led them to a unique polymer with longevity, that replaced platinum electrodes and outlived them by 13 times. They had their polymer manufacturer tailor a version for their electrolyser.
Gilman recalled: "Rudimentary tests impressed us by its ability to electrolyse multiple water sources without fouling. We used a similar polymer for our separation technology. We found it was reclaimable and recyclable. Because polymer can be altered, any innovations can use the same injection moulds."
The final principle is that most of Evolve™ is injection mouldable; producing a unit from molding to assembly, in only two hours. In contrast to CNC-produced metallic PEM electrolysers, the cost to produce Evolve decreases with every generation and doesn't appear to have a floor to how economically it can be produced.
Gilman explained: "We are producing a lightweight inexpensive rust-less electrolyser that can be manufactured quickly, placed in environments common electrolysers dare not tread, prefers hard water, and that you can turn on, walk away, and forget about for months, like any respectable appliance. Naturally, we trademarked this electrolyser Evolve."
This unique approach culminated in patenting Evolve (Patent # US 9476133) in 2014 with 81 noble claims and full patents granted in nine countries during May 2016 – 2020. Evolve is protected in 44 countries.
Get to know the Evolve electrolyser
The active parts of Evolve are:
The Anode Spikes: a hexagonal bar at the centre of each cell;
The Collector Tubes, which surround the Anode Spikes concentrically; and
A single cathode – the Cathode Matrix – with multiple bores resembling a giant honeycomb, into which the anode-collector tube assemblies fit.
All parts can be grouped so a plurality can be cast as one part.
The Evolve 1.0 model containing 37 cells is made with seven parts, making a unit 300mm high by 200mm diameter. This can be assembled in 45 minutes, with some parts manufactured in less than a minute.
In 2020, board members of Gilman Industries decided the LLC was limited. Since interest was global, it made more sense to form a Delaware C-corp. Therefore, on 12 December 2020, Gilman Industries' founders created Evolve Hydrogen Inc. (EHI), dedicated to commercialising Evolve.
Gilman said: "Our mission statement is in our name. We intend to give the green hydrogen industry a fighting chance to revolutionise affordable clean energy and bulk hydrogen for the many industries already using it."
EHI has two subsidiary companies, Evolve Hydrogen Ltd., in Glasgow, Scotland, and Evolve Hydrogen Canada, in Calgary.
EHI has established connections with groups hoping to create more reliable and faster-manufactured electrolysers. They also have connections in the ammonia industry (50% of all hydrogen consumed is for ammonia synthesis), oil and gas, steel, plastics, glass, methanol, mining, lithium, offshore wind, fuel cells, power grids, biomass, shipping, and mass transit groups. All are eager to see Evolve commercially available, with some considering preorders.
Evolve ESG
Several groups on Long Island in New York see Evolve as a solution to societal issues, especially equitable job growth in the renewable energy industry. One such group is the Building and Construction Trades Council of Nassau and Suffolk County, led by Matty Aracich. Local production can fill the need for bulk hydrogen equipment, creating thousands of union jobs in manufacturing and installation of the Evolve product line.
Although Evolve can be mass manufactured by automation, it can be manually assembled with just a torque wrench, making it a good candidate for production by workers of diverse skill levels (such as the disabled, underserved communities, and veterans). EHI has established connections with several Indigenous nations in North America interested in the manufacture, assembly, and sales of Evolve.
For each kilogram of hydrogen Evolve produces, it also produces 8kg of oxygen (O2). This can be used in municipal applications, such as the breakdown of solids at waste treatment plants in a third of the time with less odour. Environmental groups are interested because the O2 can be dispersed in rivers to give marine biota an advantage against surface runoff contaminants.
In developing Evolve, the principals insisted on creating an environmentally-friendly sustainable device. End of life recyclability is a major consideration. Their current polymer can be reclaimed and recycled up to three times before they must add new polymer to the mix.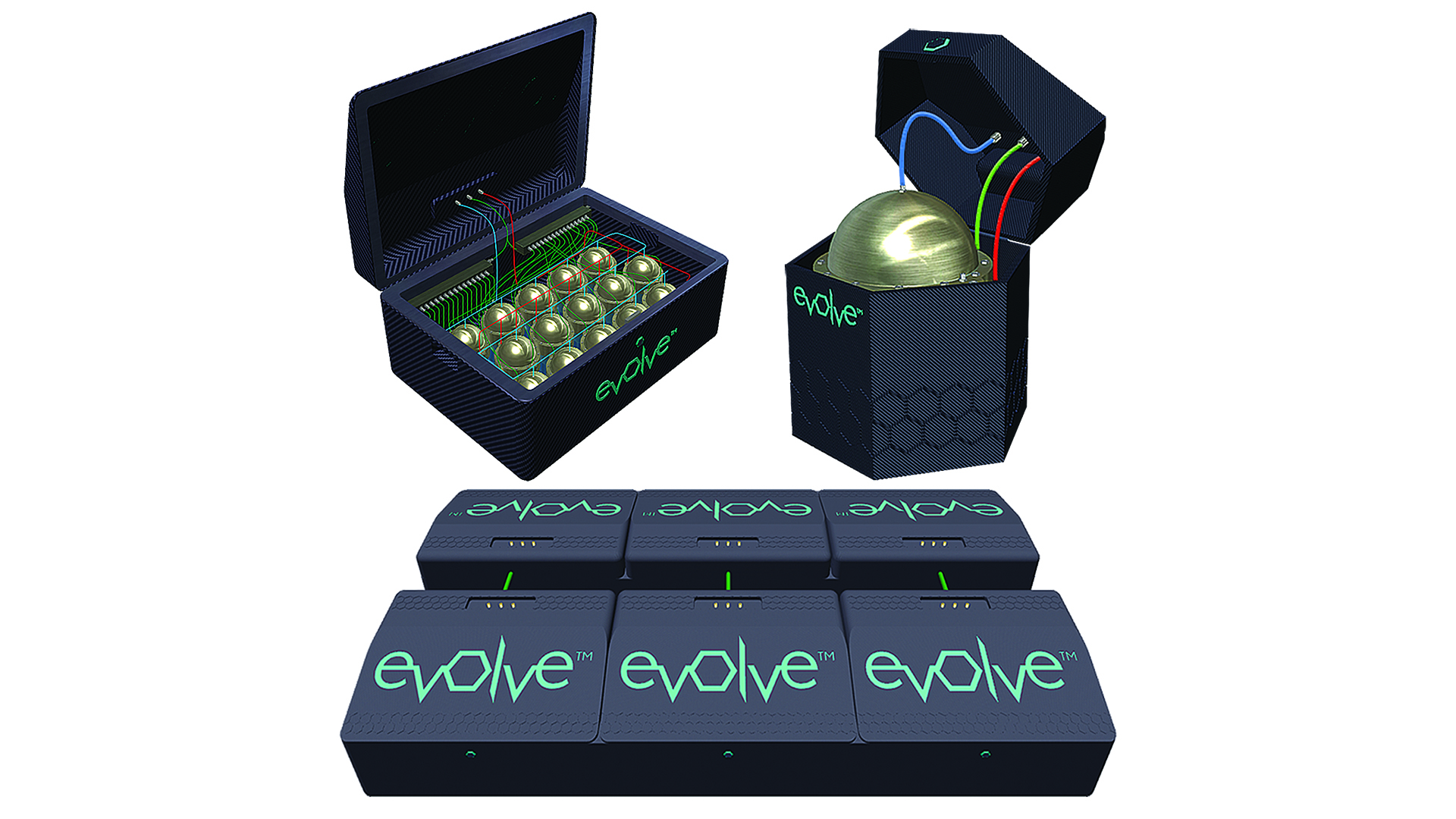 War in Ukraine forced Europe and much of the world to reduce consumption of unstable foreign energy. Many governments are seeking solutions with offshore wind, but existing grid limitations require long-term storage which batteries cannot provide. Green hydrogen is the long-term storage solution the offshore wind industry seeks and is developing. Even in the US, hydrogen is on everyone's radar.
Evolve is on the watchlist of prominent individuals after being selected as a winner of the DOE's Hydrogen Shot Incubator Prize in 2022. EHI's public support includes a statement from Senator Charles Schumer to US Secretary of Energy Jennifer Granholm mentioning EHI as a candidate for the New York Hydrogen Gigafactories. EHI is encouraged by the current administration's support of green hydrogen.
Turnkey
EHI is securing joint ventures to provide entire hydrogen generation, storage, and transport solutions. Exciting news is expected in the first quarter of 2023.
For more information, contact Evolve Hydrogen Inc.
Brian Gilman: Brian@evolvehydrogen.com
Spencer Teplin: Spencer@evolvehydrogen.com
Participate

As a new group, Evolve seeks funding to develop a market-ready product in 18-24 months.
Please note, this article will also appear in the thirteenth edition of our quarterly publication.