New research suggests that wood burning stove emissions in the UK could be increasing due to the government making some stove models exempt from regulations.
The investigation, which was spearheaded by Dr James Heydon, an environmental regulation expert from the School of Sociology and Social Policy at the University of Nottingham, found that the number of wood burning stove models officially exempt from UK smoke control regulations has increased ten-fold since 2010.
This is a particularly worrying statistic as burning wood releases pollutants such as ultra-fine particulate matter (PM2.5), which is widely regarded as the air pollutant with the most significant adverse effects on human health.
The study, 'Between Ordinary Harm and Deviance: Evaluating the UK's Regulatory Regime For Controlling Air Pollution From Wood Burning Stoves,' is published in The British Journal of Criminology.
Why are wood burning stove emissions dangerous?
Results from the UK Government's 'Emissions of air pollutants in the UK – Particulate matter (PM10 and PM2.5)' study showed that in 2020, domestic wood burning accounted for 25% of PM2.5 emissions.
PM2.5 emissions from domestic wood burning have also increased by 35% between 2010 and 2020, becoming the single leading source of small particle air pollution in the UK – even more than road traffic.
This significant increase in emissions from wood burning poses a significant threat to human health. For example, short and long-term exposure to PM2.5 can lead to premature deaths from cardiovascular disease and respiratory conditions.
Moreover, children exposed to these emissions are at an increased risk of poor lung function and asthma. This means that sitting by a wood burning stove could put your health in considerable danger.
The Deregulation Act 2015 opened the floodgates to harmful emissions
The study analysed more than 18,000 government records of heating and cooking appliances that became exempt from smoke control rules under the Deregulation Act 2015.
The researchers also interviewed air pollution officers from local councils throughout the country, with results highlighting that the legislation opened the door to a range of wood burning stove models exempt from urban air pollution controls.
Dr James Heydon explained: "The UK Government's own data shows that solid fuel burning in homes is the single biggest source of PM2.5 pollution in the country. This research shows how the government has helped to create this situation by encouraging a whole market of stoves exempt from regulatory control."
The investigation revealed that the Deregulation Act 2015 enabled wood burning stove manufacturers to certify their appliances as 'exempt' from smoke control area rules.
This change was introduced to remove business delays and improve consumer choice, with no consideration given to the impacts on human health.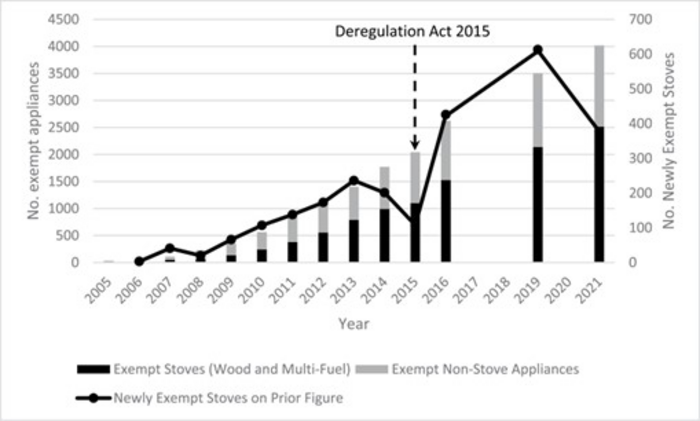 "The UK Government must reconsider"
Dr Heydon believes that the UK Government needs to amend its decision to mitigate harmful emissions and safeguard the public.
He concluded: "The UK Government must reconsider its open-door approach to excluding stoves from smoke control rules. This policy has encouraged market expansion for almost a decade, contributing to the nationwide air pollution problems we're now seeing.
"Given the number of stoves, it has already exempt from smoke controls, the government must now give serious consideration to also regulating their sale, installation and use across urban areas."
What actions is the UK Government taking to curb household emissions?
In January 2022, The UK Government implemented EcoDesign Standards for all new wood burning stoves. EcoDesign legislates that all future solid fuel-burning appliances in the EU comply with minimal seasonal efficiency and maximum emission performance limits before they are legally sold and installed on the EU market. Despite its recent departure from the EU, the UK is still committed to this legislation.
All new appliances will be tested for the following:
Seasonal efficiency;
Particulate matter;
Organic gaseous compounds;
Carbon monoxide; and
Nitrogen dioxide.
Whereas older stoves produced 3,700 times more toxic air pollution than gas central heating, the new Ecodesign wood burning stoves only produce 450 times more, a significant improvement. However, with many stoves slipping through net of the Deregulation Act 2015, more needs to be done by the government to tackle these harmful emissions.