As continued tensions in Ukraine do not appear to be de-escalating, a new possibility for Africa to fill the gaps left by Russia's absence from the global battery metals supply chain is rising.
With global carbon emissions set to remain at record levels, world leaders need to ensure that climate action is a top priority. Huge efforts are needed to source a secure supply of battery metals required for electric vehicles (EVs) and renewables. Without this, transitioning to clean energy is going to be a major challenge worldwide.
Guaranteeing a secure supply of critical raw materials has become more of a challenge in recent months due to Russia's invasion of Ukraine. Currently, Russia holds a sizeable market share of the global metal production industry, and although the US and European Union (EU) have not yet imposed sanctions on Russian metal, there is a chance that this may change in the near future as there are no signs of the war in Ukraine de-escalating. Because of this, global leaders must look to other potential sources of battery metals.
Africa has some of the world's largest reserves of battery metals, including lithium, tin, and cobalt, and is therefore positioned to fill the gaps left by Russia's absence from the global mineral supply chain. However, the critical minerals that Africa mines are currently shipped to Europe and China, where value is added to the product. For Africa to truly capitalise on the global energy transition and the subsequent demand for critical raw materials, the continent should not only position itself as a key supplier of raw materials but also ensure that infrastructure is built to bring a fully integrated African EV value chain into reality.
The Innovation Platform takes a look at Africa's potential role in the global energy transition and explores whether the continent can overcome some of the barriers that are preventing its ability to seize the opportunities presented by the clean energy shift.
Geopolitical tensions causing supply chain uncertainty
The war in Ukraine has caused severe disruptions to global critical minerals markets and subsequently exposed vulnerabilities to the security of the supply of battery metals needed for the energy transition. Currently, Russia's supply of aluminium, nickel, palladium, and vanadium is crucial to the supply chains of modern manufacturing production. Russia accounts for 43% of global palladium production, which is essential to the global production of catalytic converters, with many countries, such as the US and the UK, depending on Russia for their palladium imports. The country also accounts for 11% of global nickel production and 15% of world nickel exports, which is a metal used in EVs.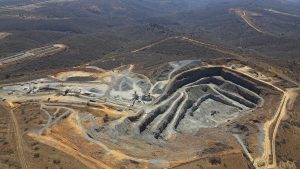 Although, for now, Russia is continuing to supply the world with some of its critical mineral needs, the EU and US Governments are looking to further sanction Russia for its ongoing invasion of Ukraine. Announcements have not yet been made regarding what these sanctions will be focused upon, but there is a possibility that the Russian metal industry will be affected, even if it is not directly sanctioned.
With critical supply chains at risk, and the future of the global energy transition hanging in the balance, the world needs to turn to other nations in order to fill the potential gaps left by Russia's critical mineral industry.
Africa's battery metal resources
Africa is rich in battery metals, including those that Russia supplies to the rest of the world. South Africa, Zimbabwe, and Madagascar can supply iron ore, nickel, and the platinum group metals, and Zambia and the Democratic Republic of the Congo (DRC) can provide copper. The continent also has substantial reserves of lithium, which has a supply that is also threatened by the war in Ukraine.
Lithium, in particular, has significant importance for the energy transition, with the commodity set to see the sharpest increase in demand. Because of the increasing demand, lithium production must also escalate. Before Russia's invasion, Ukraine was tipped to be a potential source of lithium for the rest of the world, as its natural reserves of lithium are thought to be one of the world's largest, with 500,000 tons of untapped material. The country had attracted interest from Chinese and Australian investors that were looking to tap its resources to accelerate the clean energy transition.
However, as Ukraine's lithium resources cannot currently be utilised for the energy transition due to Russia's invasion, Africa is a potential source of lithium, having significant reserves and developing projects. For instance, Kodal Minerals' Bougouni Lithium Project in Southern Mali aims to secure a long-term supply of the commodity, and Tantalex Lithium Resources Corporation's Manono Tailings Project in the DRC is set to become a major lithium producer in the coming years.
With battery metals projects well underway in the continent, Africa appears to have the resources necessary to take advantage of the opportunity presented by the clean energy transition.
Does Africa need more investment to truly capitalise on the global energy transition?
Currently, African mines produce a variety of battery metals and will be able to increase production of these metals to take advantage of the global energy transition. However, these raw materials are exported to Europe and China, where value is added to them.
For example, processes such as beneficiation, smelting, and refining cannot occur in Africa because there is no infrastructure for them. Countries in Africa should take full advantage of the opportunities presented by the energy transition and build the required infrastructure by properly capitalising on their mineral resources.
Although Africa appears to be well-positioned to fill in the potential gaps left by the Russian metals industry, there is still a long way to go to ensure the continent's success in this endeavour. Collaboration between governments, policy agreements, and tax incentives will be required, and infrastructure must be improved to create a fully African EV value chain.
Please note, this article will also appear in the twelfth edition of our quarterly publication.