Dr Sandra Biedron, Research Professor at the University of New Mexico and former Argonne physicist, spoke to The Innovation Platform's Georgie Whitworth to discuss her long and exciting career in particle accelerators research.
Dr Biedron, recognised for her achievements in physics and career in particle accelerators first worked at Argonne National Laboratory (ANL) in 1993, and by 2005 was an Associate Director of the Argonne Accelerator Institute and a Senior Physicist and Director of the Department of Defense Project Office. After leaving ANL in 2011 her current role sees her working as a Research Professor in Electrical and Computer Engineering and Mechanical Engineering at the University of New Mexico. She is also a managerial member of the technology company Element Aero.
The Innovation Platform's Georgie Whitworth spoke to Dr Biedron to find out more about her career, as well as her thoughts on such topics as access to science and being a woman in the male-dominated area of physics.
How would you summarise your career path and your work in and with the laboratory system and building particle accelerators?
Location was a key factor in determining my career path. I grew up near Chicago, in close proximity to the Fermi National Accelerator Laboratory, Argonne National Laboratory, and the historic site of the second and third sustained nuclear reactors that led to the formation of what is now the U.S. Department of Energy (DOE). This presented many opportunities to take notice of these sites of present and past international research infrastructures. I was also inspired by my father, who had worked and collaborated with similar entities like the Air Force Research Laboratory, and my mother who has a strong affinity for science.
Upon graduating high school, I attended Moraine Valley Community College and then went on to study Chemistry, Biology and Math at Trinity Christian College. Trinity offered many opportunities and I made great use of the abundance of resources in and around Chicago, including the Great Lakes, many wetlands, forest preserves, and even brownfield sites such as old industrial areas and present/former government sites, in addition to the neighbouring Department of Energy laboratories.
Trinity employed an ethical and collaborative approach and there was a surprising balance of women and men studying science and math, which made getting into the science, technology, engineering and mathematics (STEM) research field as a woman seem achievable. The professors were engaged in research and development at Trinity, in industry, at other universities, and at the local national laboratories. Several of the faculty at Trinity with whom I interacted, including the adjunct professors, conducted research at Argonne.
Each step of my journey, from performing experiments at Argonne to being a co-op student and rapidly becoming scientific staff, can be attributed to the local connections I made at Trinity. My professors were focused on training and learning through research and development. These methods still drive me today and I strive to train colleagues in this same manner.
This educational experience taught me another invaluable lesson – you do not need to personally have the most up-to-date or state-of-the-art equipment on your own campus/business to train colleagues on a variety of scientific equipment or perform research. This is why collaborations with national laboratories, and other industries with research tools and infrastructures, are so vital.
Coming back to location, it helps to be physically close to these laboratories for inspiration and opportunity. However, exact proximity is not absolutely necessary. With the number of DOE labs and the availability of cheap and quick travel, most people can easily reach these resources.
With this launch point into the laboratory, I was able to gain valuable research and development experience as a scientist and rose through the ranks, holding several leadership and managerial positions. I worked at Argonne for almost 20 years, during the last six of which I ran the Department of Defense (DOD) Project Office, linking the resources and activities between Argonne and its cousin laboratories with DOD and other collaborating entities.
Since leaving Argonne in 2011, I work mostly through my business while mentoring colleagues through several university affiliations. In everything I do, the national and international laboratory systems are crucial touchstones for my research. I want to stress that I am not an anomaly here. I asked my contemporary, John Sarrao, Deputy Director for Science, Technology, and Engineering, at Los Alamos National Laboratory.
Sarrao said: "I too am a product of the national laboratory system. My PhD training was spent at Los Alamos National Laboratory, my post-doctoral training was at the National High Magnetic Field Laboratory, and my career has been spent at Los Alamos National Laboratory using local research infrastructures but also the facilities of other DOE and international laboratories.
"I also have been able to collaborate with colleagues through resources that are simply unavailable elsewhere. Partnering with others to not only use but also specify, design, and build these resources drives and produces discovery and innovation, as well as ensuring the pipeline for the labs, including our own mission-critical activities."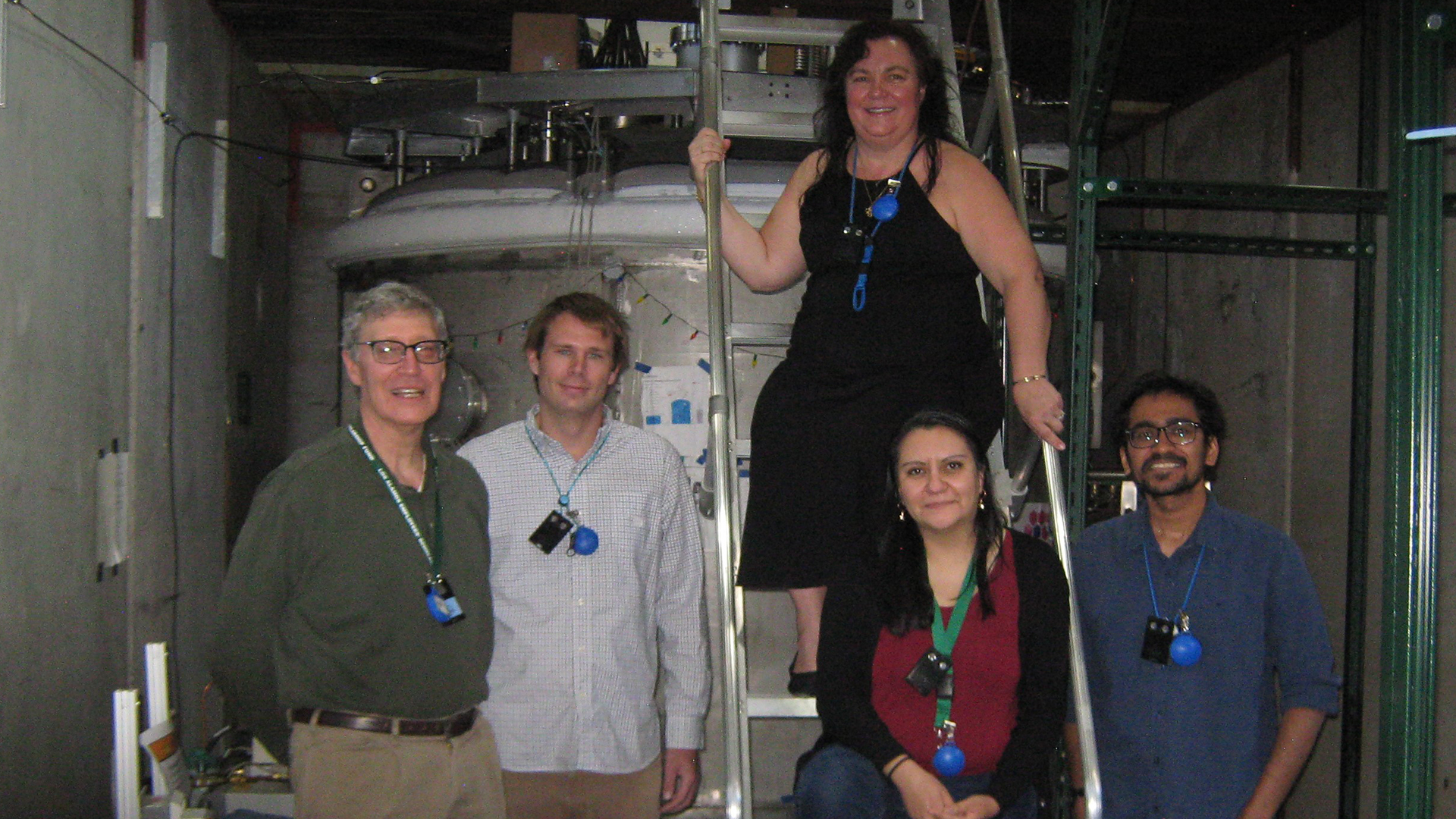 What does it mean to you to be a woman in the field of physics? How has this impacted your experience and what would your advice be to other women and underrepresented groups considering a similar career in particle accelerators research and wider STEM subjects?
I will be very matter of fact here. Some may interpret my thoughts as abrasive, but I believe these are the realities of underrepresented groups, including women, in STEM.
If I look at the number of women in the American Physical Society's Division of the Physics of Beams (DPB), which caters to those in particle accelerators, it is only 12% women.1 This number is pervasive even across APS in many units of physics interest. We struggle to fully understand why this is the case.
I do feel that being a woman in STEM affords me some advantages in terms of recruitment. As I am within a minority institution and a woman in STEM, I believe that others who are different have an affinity with me over the other potential mentors. This is illustrated in my own team's demographics (roughly half women and several from other underrepresented groups).
I think those in the majority need to take notice of the data pointing to a lack of diversity, equity, and inclusion (DE&I). Furthermore, they must realise that it takes bold, strong, fearless, and supportive people in the majority to help us turn the tide. I have to admit, personally, when I have a bold, strong, fearless and supportive male colleague standing behind me, it is easier for me to succeed.
What efforts are being made to recruit new and diverse talent?
In April 2022, I attended SEMI's Industry Strategy Symposium. The organisation and its members made a conscious effort to recruit new and diverse talent to this meeting and integrate people like me into the organisation and community. They are really seeking out collaborators in overlapping technology sectors. They are also looking for talent with DE&I in mind. This was a bold move and took time and effort on the part of men in the community to do outreach. But they achieved it and said it was the first time they ever reached over 20% women at this annual event.
Whilst work must still be done to sustain this, it is impressive that they hit this mark. Ajit Manocha, President and CEO of SEMI, led the charge and I personally appreciated being included. This is how talented teams are built.
At this same event, the Brennon Marcano Chief Executive Officer at The National GEM Consortium, pointed to two things that I want to communicate here: DE&I takes money and sets aside funds to make this a reality; and the best DE&I results come from rewarding DE&I efforts and making people accountable.
My message to those in the majority is to please listen to the DE&I experts on these points.
My message to women and other underrepresented groups coming into STEM is to hone your talents in STEM, but also in leadership and management. I know that I have been successful not only due to a myriad of STEM talents but also because of other skillsets.
My advice is to strive to be a polymath with talents in STEM and many things. Oh and, of course, live and work passionately.
What is your message to those currently working with or considering a career in particle accelerators?
I have a couple of concluding points here: one on the scientific side and one more on the human side.
My first piece of advice is to not focus on re-inventing the wheel. You should partner and collaborate in making the first-in-class research infrastructures as a team to use. There is power in numbers when using the more sophisticated tools. I think the message of particle accelerators as research infrastructures is fairly clear if only from one dataset – one-third of the Nobel Prizes in physics since 1938 involved a particle accelerator. Many other Nobel and other key prizes in myriad fields involve particle accelerators. The same can be said for a variety of research infrastructures including those for computing, materials, nuclear engineering, etc.
The second point is that science, and my career in particle accelerators, in particular, have given me great joy. I have an interesting field of research that is, in itself, filled with impactful discoveries and developments. Not only can I contribute to this field, but building a research infrastructure based on particle accelerators is almost more rewarding as it helps colleagues in a variety of fields with their own research and applications. For instance, one of the machines to which I contributed was integral in developing COVID-19 vaccines. Finally, I am part of the biggest science club in the world, as these complex devices and their applications require input from a wide range of scientists and engineers, so globally we come together much like a family.
In summary, continuing to design, build and use research facilities and infrastructures is rewarding and helps build intellectual bonds the world over. If you want to get involved with the labs and collaborations, just reach out and ask to join, a hand will for certain reach back and grab yours – and pull!
References
Sandra Biedron
Research Professor
University of New Mexico
biedron@unm.edu
www.unm.edu
Please note, that this is an excerpt of an article that will also appear in the tenth edition of our quarterly publication.