Christina Bu, Secretary General of the Norwegian Electric Vehicle Association (NEVA), discusses the journey behind the electric vehicle revolution in Norway.
When the petrol-powered car was first introduced and made available for the greater masses over a century ago, a mobility revolution was created. What we are now experiencing with electromobility (within which Norway is considered to be a major player), is so much more than a repetition of industrial history. The new electric vehicle (EV) era is making a much bigger impact.
The more electromobility is embraced by consumers and industries, the more innovation is propelled. Not only will this result in a dramatic reduction of emissions, but a metamorphosis of the entire global automotive and energy industries.
From 11-15 June this year, NEVA will gather people for the world's largest electromobility conference and symposium, EVS35. Delegates from all corners of the globe will travel to Norway to experience first hand how electric road, sea, and air transport is not just a futuristic dream, but a present-day reality.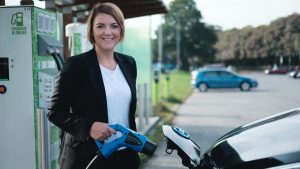 This year to date, the share percentage of battery electric vehicles (BEVs) in new car sales in Norway has totaled almost 81% overall and makes up an astonishing 93.4% of private purchases. Yes, this is not a typo, you read it correctly – almost 100% of all new cars sold in Norway are zero emission vehicles.
EVs are amongst the top ten most popular cars in Norway in 2022 after the electric vehicle revolution – that is fully electric cars (excluding plug-in-hybrids). In fact, 17% of the entire car fleet in Norway are EVs and up to one-third in many of the major Norwegian cities. But how did Norway make this happen?
Norway: A progressive player in the EV market
At the beginning of the 1990s, Norwegian politicians made the most progressive EV policy in the world by introducing purchasing incentives for EVs – long before there was a mass EV market. Norwegian politicians have held a steady course ever since, consistently finding new policy measures, regulations, and support schemes.
Norway's EV history is considered to be one of the greatest climate successes on record, thanks to consumers embracing the electric transition and purchasing zero emission vehicles.
With the electric vehicle revolution in Norway in full force, traditional combustion engine vehicles are fading out. In fact, this year (2022), only one new diesel car was sold in February in the Norwegian capital of Oslo. Selling polluting cars in Norway is not only bad for the environment but is an almost extinct market for the auto industry.
Norway: A hotspot for innovation
What I find so truly inspiring, and what I am so excited to show all our international conference delegates coming to EVS35, is how the electrification of mobility has propelled innovation at such a pace that no one would have foreseen only a decade ago. The electric vehicle revolution in Norway is creating new jobs in all segments of the employment market throughout the entire country. Norway is a thriving hotspot for new businesses, technology hubs, and innovation.
Freyr Batteries, which listed on the New York Stock Exchange last summer, will be producing some of the most environmentally-friendly batteries for EVs in Norway. The power used in production – not only for Freyr's batteries but also from other Norwegian battery cell manufacturers, such as Morrow Batteries and Beyonder – will come from renewable energy sources. These companies are doing everything in their power, through research and innovation, to reduce the ecological and environmental footprint.
The battery battle has begun. Our members (EV drivers from all over the country) consistently increase their demands on the car manufacturers to provide batteries produced in the most environmentally-friendly way. This is the future.
Transforming the commercial sector to reduce emissions
On the Southwest coast of Norway, more than one-third of the entire car fleet is now zero emission. This has reduced pollution dramatically in the city, providing long-lasting health benefits for not only the inhabitants but also the wildlife. Reducing emissions from air transport is also a high priority for Vestland county. The county is now collaborating with the Norwegian flight operator Widerø and the Norwegian Aviation Authority AVINOR, amongst others working towards zero emission flights in the region by 2030. This will be a gamechanger in regional travel.
We are also witnessing almost half of all local and regional ferries becoming battery-electric today, making it possible to transport thousands of people, cars, and goods with zero emissions.
The spectacular Norwegian fjords are home to numerous animal species. It is a volatile ecosystem that is highly susceptible to pollution and climate change. This will now be greater protected through technology, business, and politics working towards zero emission sea travel.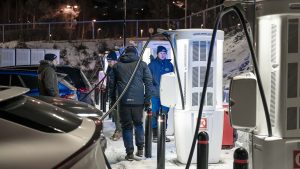 In the nation's capital region of Oslo, e-mobility in many areas is now dominating the city, infrastructure, energy planning, and investments. ASKO, the biggest retail logistics company in the country, is now moving vast amounts of goods with zero emission heavy goods vehicles on the road and battery electric ferries across the Oslo fjord.
The Norwegian postal services, Posten Norge, is in the process of changing its entire fleet to zero emission vehicles, providing services from the Arctic island of Svalbard to the bustling streets of Oslo driving Norwegian-produced electric Paxster last-mile electric delivery vehicles. Oslo is also electrifying public transportation by introducing such solutions as electric ferries for commuters, electric buses, and even autonomous electric transportation for the elderly.
Taxi firm Oslo Taxi is also using wireless inductive charging, following on from a successful collaboration between the City of Oslo, Jaguar, Oslo Taxi, and American Momentum Dynamics.
Ensuring a circular economy
Whilst the massive rollout of electromobility is a very positive step forwards, industry and the scientific community must now do all they can to ensure that the whole production process behind EVs is as environmentally friendly as possible. We know that Swedish Polestar, as well as some of Europe's major car manufacturers, are working on a circular economy in their production lines, in addition to ensuring that tougher energy efficiency targets are met and sustained.
We already know that a combination of tighter EU regulations on battery production, as well as innovation and research in the battery cell industry, is paving the way for more environmentally-friendly battery production. However, looking to the future, we as consumers must not accept battery components made in such a way that it directly harms the environment or ecosystem. We must not tolerate battery components made from unacceptable working conditions for mining workers. Equally, regulation must be put in place across the globe for EV batteries to be recycled in the correct way.
Electromobility is revolutionising not only the way we move but also our consumer habits and our industries. I am therefore very excited, on behalf of the world's largest EV consumer organisation, to discuss and debate all the themes mentioned in this article at EVS35 in Norway this June. I look forward to seeing you there!
Christina Bu
Secretary General
Norwegian Electric Vehicles Association
https://elbil.no/english
https://www.linkedin.com/company/norsk-elbilforening/
https://www.facebook.com/Elbilforeningen
https://twitter.com/Elbilforeningen
https://www.instagram.com/elbilforeningen/?hl=nb
Please note, this article will also appear in the tenth edition of our quarterly publication