INBRAIN Neuroelectronics, a Graphene Flagship spin-off, has developed an intelligent graphene-based neural implant for personalised neurological therapy in brain disorders.
INBRAIN Neuroelectronics' work lies at the intersection between MedTech, DeepTech and Digital Health. The company's objective is to decode brain signals in order to develop medical solutions for patients with epilepsy, Parkinson's disease and other neurological disorders.
The company has recently announced a €14.35M Series A investment, which will allow INBRAIN to bring its technology to people for the first time, built around an innovative nanoscale graphene electrode, and to consolidate the safety of the material as the potential new standard of care in neurotechnology.
According to a 2010 study commissioned by the European Brain Council, brain disorders cost €800bn per year in Europe alone, and affect around one-third of the population. Roughly 30% of patients with a neuronal disease are resistant to pharmacological treatment and therefore go without effective therapy.
As a result, there is a necessity for investments into basic research in the field of brain-related diseases, with the aim of developing new and more efficient therapeutic and diagnostic tools.
Currently, brain interfaces are based on metals such as platinum and iridium and can cause significant side effects. Due to this, there is a 50% rejection rate in candidate patients.
INBRAIN Neuroelectronics uses a disruptive technology based on graphene which has the ability to overcome the challenges posed by metal-based neural interfaces.
The company is embarking on a technological transformation of the treatment of neurological diseases. Its brain implantable intelligent systems are based on graphene electrodes, which allow miniaturisation to nanoscale fabrication, with the potential to reach single-neuron resolution.
The extraordinary properties of graphene, which is a light biocompatible, flexible, and extremely conductive material, are harnessed in much smaller devices that are safer to implant and can be programmed, upgraded and recharged wirelessly.
The implant, driven by artificial intelligence, is capable of learning from the brain of each individual patient, and can then deliver personalised neurological therapy. As well as this, using big data management allows remote monitoring of the device and data processing.
The technology has already been studied on large animals, and the new investment will bring the technology to human patients, in collaboration with key neurosurgical and neurological groups in Europe.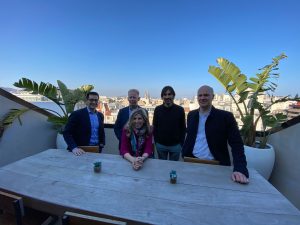 Cinzia Spinato, Graphene Flagship Business Developer for Biomedical Applications, said: "Graphene Flagship spin-off INBRAIN is leading the way in the field of graphene-based implantable brain devices, and I hope that this success will raise the interest of new stakeholders and corporates towards the opportunities graphene offers in the healthcare domain. I remember when INBRAIN was born, and it is impressive how they have grown so fast: transforming a laboratory technology into a product – an outstanding milestone. This investment will be fundamental to speed up the development of graphene-based medical devices, which will be tested on patients much earlier than everyone expected."
Kari Hjelt, Graphene Flagship Head of Innovation, added: "This substantial investment exemplifies the growing interest and ever-expanding opportunities to exploit graphene and layered materials in the biomedical domain. Due to its unique properties, graphene has the potential to transform this application area. The Graphene Flagship has chosen biomedical applications as a focus area for commercialisation and continues to support efforts to foster new innovations – from research to the factory floor, now and into future."