GeoEnergy Consult examines the need for radioecological monitoring of Naturally Occurring Radioactive Material (NORM) affected mining and processing projects.
Through field and laboratory determination of relevant radiological and non-radiological parameters – directly measured or by analysis of taken samples – radioecological monitoring enables the assessment of the state and condition of environmental media: surface water, groundwater, soil/soil water and – if indicated – air, as these could be affected by according mining or processing.
Moreover, present plants and wildlife can serve as indicators, taking up and accumulating (concentrating) potential radionuclides and further contaminants. Numerical modelling can support actual monitoring, for example, of non-accessible areas or of potential future migration of contaminants, to assess possible risks.
One of several reasons for radioecological monitoring is that regulatory authorities might require this as a precondition for permitting operations, for allowing the continuation of operations, or even for accepting specific closure plans. Thus, regular monitoring programmes accompany the whole lifecycle of Naturally Occurring Radioactive Material (NORM) affected mining or processing projects.
Pre-operational phase
Radioecological monitoring determines the environmental baseline (natural background) of planned operations and is thus essential for being able to detect potential subsequent impacts and to counter any future liability claim.
As a precondition to get operations permitted, radioecological monitoring should begin well in advance. In terms of frequency, one single monitoring survey may be sufficient in this phase. If significant seasonal variation or any other change is expected, continuation can be indicated.
Moreover, resulting radioecological assessments are part of Environmental Impact Assessments (EIA). EIA need to consider the possible operational states (normal/accidental etc.) and estimate according operational data and performance. Thus, they could lead to project-specific modification of planned operational processes, if indicated, to prevent or minimise potential environmental impacts. Therefore, EIA are particular forms of safety assessments.
Operational phase
Regular radioecological monitoring verifies compliance with valid regulations and specifically issued permits (e.g., emission/immission limits for certain contaminants). Moreover, monitoring complements operational process control and can enhance the detection of potential failure.
The frequency of accompanying monitoring ultimately depends on the overall risk of an operation. If the risk of accidental contamination is low, a monitoring survey, once a year for example, may be sufficient. However, if process control is complemented, regular monitoring should accompany operation at least on a monthly basis. It can be even indicated to determine selected indicative parameters continually with the help of automated/passive monitoring systems.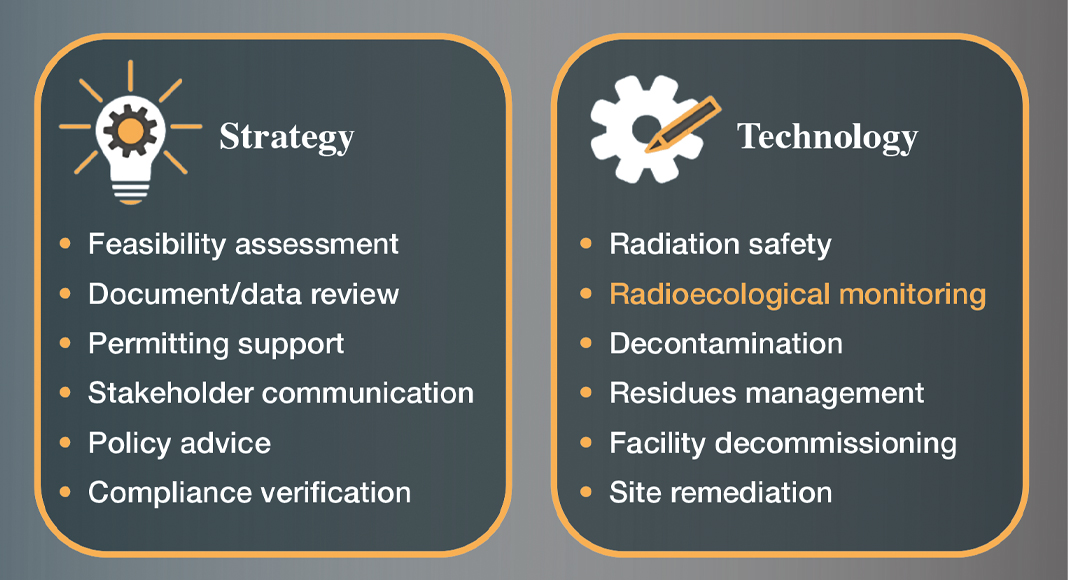 Post-operational/closure phase
Monitoring a site and its surroundings after operations have ceased/before closure confirms that no adverse processes take place. Conducting a monitoring survey once in this phase may be sufficient, though for safety reasons increasing closure effort could require continued accompanying monitoring.
However, should site remediation become necessary – due to accidental contamination during preceding operation, for example, that could require invasive measures like excavation of contaminated areas bearing the risk of radionuclide spreading – frequent monitoring is indispensable. Thus, pre-remediation, remediation accompanying, and post-remediation monitoring verify the safe conductance, the success of remediation measures, and can prevent relevant liability risks.
Once their final release is possible, sites are handed over to institutional control and – on base of potentially remaining risk – responsible authorities decide if radioecological monitoring will end.
Please note, this article will also appear in the tenth edition of our quarterly publication.

Go to this partner's profile page to learn more about them