Volkswagen has chosen Canada for its first battery plant outside of Europe, taking advantage of the country's vast plethora of raw materials.
By building the battery plant in Canada, Volkswagen will be able to take advantage of the country's abundance of battery metals as well as North American subsidies as it localises cell production in the region.
After signing a memorandum of understanding with Canada in August to gain access to battery metals, the company confirmed in December that it was looking for Canadian sites for a battery plant.
The battery plant will be established in St Thomas, Ontario, in a bid to take advantage of the growing market for battery electric vehicles. It will be Volkswagen's first overseas gigafactory for cell manufacturing, which is set to produce sustainable unified cells. The start of production is planned for 2027.
The decision to expand production from Europe to Canada is proof of European companies' aims to expand their presence in North America.
Utilising Canada's advantages to establish the battery plant
Canada has a wealth of natural resources and is already a vital producer of aluminium, cobalt, copper, nickel, and graphite. The country also has significant reserves and resources of lithium and rare earth elements, and several exploration projects are underway for these vital metals.
As well as natural resources, Canada has rich mining experiences with a strong and experienced workforce, well-established environmental, social, and governance principles, and wide access to clean electricity.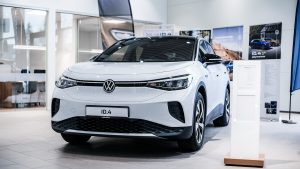 Establishing the next battery plant in Canada will equip Volkswagen's BEVs in the region with cutting-edge battery cells. The move is also part of the memorandum of understanding signed with Minister Justin Trudeau's government last year, which focuses on battery value creation and raw material security to promote e-mobility in the country.
The Honourable François-Philippe Champagne, Canada's Minister of Innovation, Science and Industry, said: "VW's decision to establish its first overseas gigafactory in Canada speaks to our country's competitiveness when it comes to attracting major investments. It is also a vote of confidence in Canada as the green supplier of choice to the world."
More details on the battery plant will be revealed in the near future.
Expanding into North America
The Volkswagen Group is introducing the broadest portfolio of full-electric vehicles in the US and plans to introduce more than 25 new BEV models through 2030.
The Group's move to the US will allow it to capitalise on the Inflation Reduction Act (IRA) launched last year by President Joe Biden. Cars with batteries from the planned battery plant will qualify for IRA subsidies. Because of this, the Group has prioritised North American investments, but plans for battery plants in Europe are still in place.
Arno Antlitz, CFO & COO of Volkswagen Group, said: "We now have the unique opportunity to grow profitably in North America and play a key role in driving the transition to electric mobility there.
"Volkswagen has the right strategy, products, and scale to take a strong position in the North American market."
Pablo Di Si, President and CEO of Volkswagen Group of America, Inc., said: "Electric mobility is our opportunity for growth in the North American Region, and we're pushing ahead with an ambitious strategy to take a leading position. Over the next few years, we will bring many more all-electric models to customers and communities. Strengthening our industrial base and supply chains in North America is key to making this happen."