As a leader in uranium discovery in Argentina, Blue Sky Uranium seeks to deliver exceptional returns to shareholders by rapidly advancing a portfolio of uranium-vanadium projects to the prefeasibility study stage.
Blue Sky Uranium Corp. (TSX.V: BSK; FSE: MAL2.F; OTC: BKUCF) is one of Argentina's best-positioned uranium and vanadium exploration companies with more than 4,000km2 (400,000ha) of prospective tenements. The company's mission is to deliver exceptional returns to shareholders by acquiring, exploring, and advancing towards a portfolio of uranium-vanadium projects. These projects will focus on near-surface deposits with the potential for near-term low-cost vanadium and uranium production. The company follows international best practices in exploration, respecting the environment, communities, and cultures in all the areas in which we work.
Argentina is the largest generator of electricity from nuclear energy in South America. The country is working to further expand its nuclear energy sector with additional power plants but currently lacks domestic uranium production. Argentina's desire for security of supply could provide a 'guaranteed' first customer for a new domestic supplier. Large-scale production could make Argentina a strategic exporter of uranium to the international nuclear energy sector.
Blue Sky's exploration work between 2007 and 2012 led to the discovery of a new uranium district in Rio Negro Province. The company's Amarillo Grande Project covers the district with three major properties, including the Ivana near-surface uranium deposit, which hosts the largest NI 43-101 compliant uranium resource in the country; Ivana also has potentially significant vanadium credits. Other exploration targets for blind uranium and vanadium mineralisation are also present within the project area. The proximity of the properties and targets provide the potential for an integrated, low-cost uranium-vanadium-producing operation, making Amarillo Grande an excellent candidate to be the first near-term uranium producer in Argentina.
The company is a member of the Grosso Group, a resource-focused management group that pioneered the mineral exploration industry in Argentina and has operated there since 1993. The group is credited with four exceptional mineral deposit discoveries and has a highly regarded track record for fostering strong relationships with the communities and governments where it works. The Grosso Group leverages its vast network of local, regional, and international industry contacts to support the exploration team as they search for quality resource opportunities.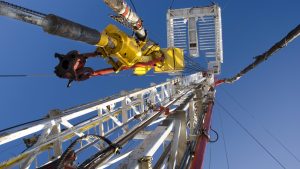 Management
Joseph Grosso, Director and Chairman of the Board
Mr Grosso is the President and Founder of Grosso Group Management Ltd. and President and CEO of Golden Arrow Resources Corporation. He became one of the early pioneers of the mining sector in Argentina in 1993 when mining was opened to foreign investment and was named Argentina's Mining Man of the Year in 2005. His knowledge of Argentina was instrumental in attracting a premier team which led to the acquisition of key properties in Blue Sky Uranium Corp. He has successfully formed strategic alliances and negotiated with mining industry majors such as Barrick, Teck, Newmont, Viceroy (now Yamana Gold) and Valeand SSR Mining Inc., and government officials at all levels.
Mr Grosso's speciality is financing, negotiations, and corporate and marketing strategies. He is an early, passionate, and committed adopter of best practices in environmental protection and socio-economic development through mineral exploration. Of Italian descent and fluent in Italian, English and Spanish, Grosso has lived in Argentina and Peru where he acquired a very deep appreciation for Latin culture and successfully developed a vast network of contacts which have been very beneficial for the associated companies of the Grosso Group.
Nikolaos Cacos, M.I.M., President and CEO
Mr Cacos brings over 25 years of management and advisory expertise in the mineral exploration industry. He has worked with Grosso Group since its inception and serves as a senior-level executive for all the member companies. Mr Cacos' career includes administration and strategic planning for public companies. He currently serves as an officer and director of a number of TSX Venture Exchange listed companies. He holds a Master of International Management degree from Heidelberg, Germany, and a Bachelor of Science degree from the University of British Columbia.
David A. Terry, PhD, P.Geo., Director
Dr Terry is a professional economic geologist, senior executive and corporate director with more than 30 years of international experience in the mineral resources sector. He has played key roles in the successful acquisition, exploration, and development of a number of precious and base metal deposits, primarily in North and South America, and has expertise in advanced project evaluation, M&A, corporate finance, and the design and execution of effective exploration programmes.
In the course of his career, Dr Terry has held executive positions and directorships with a number of publicly-listed and private mineral resource companies; he currently serves as a director of Blue Sky Uranium Corp., Golden Arrow Resources Corporation, Aftermath Silver Ltd. and Genesis Metals Corp. and until recently was an independent director of Great Bear Resources Ltd. He has also worked with a number of senior mining companies including Boliden Limited, Westmin Resources Limited, Hemlo Gold Mines Inc., Cominco Limited and Gold Fields Mining Corporation.
Dr Terry holds a B.Sc. and PhD in geology from Western University in Ontario and is a member of the Association of Professional Engineers and Geoscientists of British Columbia.
Guillermo Pensado, Vice President, Exploration & Development
Mr Pensado is a professional economic geologist with more than 25 years of expertise in the mineral exploration industry – with particular emphasis on uranium. He holds extensive experience in exploration and economic project assessment in Argentina, Brazil, Chile, Peru, the US and Canada, mainly focused on uranium, precious metals and copper deposits. In the last decade, Mr Pensado has worked on the start-up of new projects and companies and has held positions from advisor to V.P. Exploration.
Mr Pensado is a certified professional geologist in the US, a qualified person for NI-43-101 in Canada, and a professional geologist from the Argentine Professional Geological Council. Mr Pensado holds a B.Sc. in geology from the University of La Plata, Argentina, and an M.Sc. in Mineral Exploration from Queen's University, Canada. He has been a member of the Society of Economic Geologists since 2000.
In 2001, he was recognised with the David Money Medal Award from Queen's University for the Top MinEx Student in the International Program. In 2016 and 2018, Mr Pensado was recognised by the Argentina Mining International Conference for his professional career in the exploration industry.
Property of Focus
Amarillo Grande Project
145km uranium trend discovered by Blue Sky hosts near-surface uranium and vanadium mineralisation;
Potential for the discovery of additional deposits;
Ivana deposit hosts Inferred resource of 22.7 million pounds of U308 and 11.5 million pounds of V2O5 (28.0 million tonnes averaging 0.037% U308 and 0.019% V2O5 at a 100ppm uranium cut-off);
Preliminary economic assessment (PEA) completed in 2019;
The Ivana deposit remains open for expansion; exploration continues to identify new mineralisation; and
Excellent candidate to be the first low-cost, near-term uranium producer in Argentina, with additional potential vanadium credits.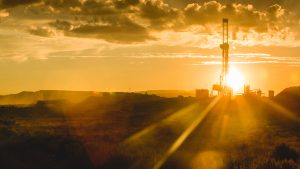 Location
The Amarillo Grande Project is located in central Rio Negro Province, in the Patagonia region of southern Argentina. The properties are all accessible by road from major centres, such as Viedma or Neuquén provincial capitals. The Ivana deposit is located about 25km north of Valcheta City, where Blue Sky has a permanent exploration camp/office. The city is located at the junction of Provincial Road 4 and National Road 23, where the latter connects to the deep ocean port of San Antonio Oeste, 120km to the east. A railway runs parallel to National Road 23, and two high-power lines crosscut the project from east to west.
Exploration to discovery
Surface exploration, ground geophysics, pit sampling and more than 9,000m of drilling were completed since the beginning of the revitalised work programme in 2016. On March 5, 2018, the company announced its first mineral resource estimate for the Amarillo Grande Project. The company continued exploration efforts while also completing mineralogical, metallurgical and process test work. On 27 February 2019, Blue Sky announced the first PEA for Ivana, as well as an updated resource estimate. The resource estimate included a 19% increase in contained U3O8 and a 13% increase in contained V205, at similar grades. The PEA describes the potential viability of the mineral resources to support a surficial mining operation at the Ivana deposit, with 13 years of vanadium and uranium production.
Uranium mineralisation with more primary-style characteristics is found in the lower section of the Ivana deposit and makes up a considerable portion of the current resource. Mineralisation includes predominantly ß-coffinite, plus carnotite, tyuyamunite, liebigite and pyrite. Mineralisation is mainly hosted within carbonaceous grey-coloured poorly consolidated sedimentary rocks. This mineralisation has considerable similarities to sandstone-hosted uranium deposits in other locations of the world, particularly basal-channel sandstone-hosted uranium deposits, and appears to be related to a redox boundary of possible regional extent. Examples of this style of mineralisation can be found in the Powder River Basin of Wyoming, US; the Coastal Plain of Texas, US; and Chu-Sarysu and Syrdarya Basins of Kazakhstan; where mappable redox boundaries have been followed for hundreds of kilometres and contain many deposits of this type. Uranium deposits of this type formed along regional redox boundaries can reach large sizes, as at Inkai, Kazakhstan; where the proven and probable reserves are about 244 Mlbs of U3O8 (352kt at a grade of 0.03% U3O8; www.cameco.com).
Investors are cautioned that there is no assurance that deposits similar in size or grade to these will be found on the Blue Sky properties. The qualified person has not verified the information, that is believed to be reliable, concerning these third-party deposits.
Since announcing its first resource estimate on March 5, 2018, the company has continued intensive exploration efforts while also completing mineralogical, metallurgical and process test work. This work was incorporated into an updated resource estimate and the first PEA for Ivana, as announced on February 27, 2019. Moving toward a prefeasibility study.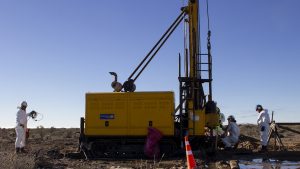 Highlights
Blue Sky holds a portfolio of four uranium assets in Argentina;
There is a need for domestic uranium producers as Argentina imports 100% of its uranium consumption. Argentina has three operating nuclear reactors (plus one in construction, and two additional planned), but no domestic uranium production;
BSK has the largest NI 43-101 compliant uranium resource in Argentina;
A PEA on the flagship Amarillo Grande project has an AT-NPV of 8% of $135m, and a high AT-IRR of 29%, at $50/lb U3O8. It has the potential to be a low-cost mine as the cash cost is estimated to be just $16/lb;
The project hosts a medium-sized with 22.7 Mlbs of U3O8, and 11.5 Mlbs of V2O5 (vanadium) in inferred resources. Uranium accounts for approximately 85% of the project's value; and
We believe a major advantage of the deposit is that it is near surface (within depths of 25m).
Disclaimer: This article contains forward-looking statements, including but not limited to comments regarding predictions and projections. Forward-looking statements address future events and conditions and therefore involve inherent risks and uncertainties.
Actual results may differ materially from those currently anticipated in such statements.
Cautionary Note: The PEA is preliminary in nature and is based solely on Inferred Mineral Resources that are considered too speculative geologically to have economic considerations applied to them that would enable them to be categorised as Mineral Reserves. Mineral Resources that are not Mineral Reserves do not have demonstrated economic viability and there is no certainty that the PEA will be realised.
Please note, this article will also appear in the twelfth edition of our quarterly publication.

Go to this partner's profile page to learn more about them