While challenges remain in incorporating the wide use of drone technology, RSS-Hydro is leading several innovative projects for the use of drones in water-based risk applications.
Many remote sensing technologies are present in both industry and academia – ranging from ground-based sensors to airborne and space-based platforms – measuring a very large amount of important environmental parameters for sustaining ecosystem services, environmental management, transportation, and weather, just to name some of the major fields of application.
Market opportunities of drones
One of the leading sectors where remote sensing, particularly ground-based and airborne, has seen major advances in the last few decades is agriculture. More recently, it has become one of the leading application sectors in the drone market. Drone technology was introduced into the sector more than two decades ago.1 Nowadays, the second and sixth biggest addressable markets for drone-based solutions are, respectively, agriculture (for crop monitoring), with an estimated potential value of $32.4bn, and the insurance industry (for risk monitoring and assessment), with an addressable market value of $6.8bn.2
Another application sector for drone-based solutions is emergency management, especially in the case of natural disasters such as floods. On the one hand, drones can be useful before a flood occurs by collecting lots of data on important infrastructure, and for supporting flood risk assessment efforts. On the other hand, drones can be useful after a flood occurs, for flood extent and damage assessment.3
Industry challenges
It is clear that drones are extremely useful and have great market growth potential; however, the use of drone technology comes with several challenges. These challenges are mainly faced in Europe, where the new regulations limit the use of drones, especially for drones that remain uncertified. The objective is to create a controlled environment and to increase safety while drones start to be used in a wide range of sectors due to a 'thriving market'.4 As a consequence, flying drones, be it as an individual for private use or in a commercial setting, requires a range of precautionary measures in order to comply with regulations. Unfortunately, this can turn out to be much more complex than expected in some cases, particularly when looking at risk assessments or the specific category.
Therefore, national drone federations exist in many European countries and elsewhere, which aim to support companies during these procedures. The newest addition to this international federation network, is the Luxembourg Drone Federation (LDF), of which RSS-Hydro is a founding member. A major commitment of LDF is to help members develop a simplified flight authorisation procedure for operators. Therefore, LDF also acts as an intermediary between companies and the Luxembourg Department of Civil Aviation (DAC), by authorising flights in order to facilitate exchange and compliance. LDF also collaborates with the administrations of bordering countries.
R&D opportunities
Due to the high flexibility and the easy acquisition of drone technology, they have become an asset in a wide range of innovative R&D projects. RSS-Hydro is leading several innovative R&D projects, combining computer modelling with the latest advances in remote sensing technologies, including satellite and drone images.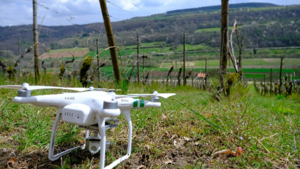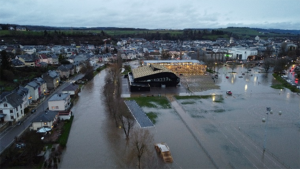 In one of its projects, RSS-Hydro is looking at drone technology to survey the condition of plants and crops impacted by droughts. Since the impact of agricultural droughts depends on several local factors, such as soil, crop, and growing stages of crops, information with very high spatial resolution is needed to assess their localised impact. For this, an objective of the project is to develop and set up a drone-based drought monitoring service which can be activated when drought events are forecasted to take place in a certain area.
More generally speaking, it is well known that drones can be used to monitor crop conditions from the very beginning of the growing season, all the way through to planning and harvest. Advanced analytics allow for monitoring soil moisture and deriving fertilising requirements. To meet growing food demand and improve current water usage, new technologies such as the Internet of Things (IoT), Big Data, and Artificial Intelligence (AI) are now being considered in this field of application by many. It has been estimated5 that 80% of all drones will be used in Precision Agriculture Technologies (PAT) in the future, also to detect damages from droughts, floods, hailstorms, or wild animals, and for smarter irrigation management and proper crop protection.
The fact that drones can overcome several limitations encountered with satellites in terms of spatial resolution and tasking flexibility makes them a considerable asset in many applications. Therefore, drones can be used to support vulnerable communities that are severely affected by climate change, for example in Africa and Asia. Finally, the insurance sector can also benefit from such technologies for index-based solutions, and develop their insurance products accordingly.
RSS-Hydro is also employing drones to monitor flooding and related processes. That information is used to evaluate their flood risk models, and to validate satellite-derived products in some of their R&D projects supported by the European Space Agency (ESA).
Humanitarian and aid development opportunities
Drones are widely used in emergency management situations, particularly in a humanitarian context. Mapping disaster extents and damage after the event are crucial for a fast humanitarian response. The rapid deployment of drones makes them a major asset, especially in remote areas that cannot be accessed easily.
In the context of flood disaster response, The United Nations World Food Programme (UN WFP), and partners, have been collaborating with the National Institute for Disaster Management of Mozambique (INGC) to improve flood alerting and preparedness, using drone technology. By taking thousands of aerial photos from a drone and running them through a big computer, a high-precision flood hazard model has been created to help predict and identify people at risk more rapidly. This was tested for a flood-prone area of interest around Mocuba (Mozambique, Africa). The bigger goal is to scale up this effort to other flood-prone areas where WFP operates, which will help communities be better prepared and become more resilient.
Aid development projects are also looking to introduce drone technology as a complementary tool to acquire important local data. Together with regional and local public and private partners, in Niger and Europe, RSS-Hydro's development aid project SEMOR addresses the current data challenge in the Niger River Basin, by proposing a low-cost and sustainable space-based ICT solution to develop a flood prediction and alerting model for the region. The system combines flood modelling with industry-proven, affordable, small water-level sensors, open-access satellite Earth observation data, and drone imagery. The project also focuses on capacity building and training workshops around topics of Earth observation, drones, and model use for water risks (floods and droughts) under the impacts of climate change.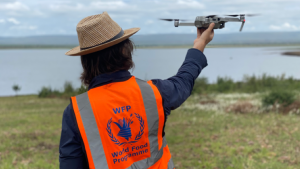 The future of drone technology
The benefits of drones are numerous. Drone technology can provide high-quality products or services, and offer cost-effective and tailor-made high-end solutions. Drones are especially attractive as a low-cost non-contact alternative to small aircrafts, for acquiring high-precision data over areas that are typically too small for satellites to detect any detail. Moreover, they help to keep manned aircrafts cost-effective.
Despite operating regulations for drones becoming more stringent, the commercial and R&D opportunities for drones are extremely promising and fast growing. The market projections for the usage of drone technology are looking very promising, with technological innovations in drone manufacturing and sensor development opening up many new opportunities for growth.
References
J J Cancela, X P González, M Vilanova, J M Mirás-Avalos, 'Water Management Using Drones and Satellites in Agriculture', Water, MDPI, Switzerland, 2019
B Silver, M Mazur, A Wisniewski, and A Babicz, 'Welcome to the era of drone-powered solutions: a valuable source of new revenue streams for telecoms operators', Communications Review, PwC, 2017
A Crosby, 'How are drones used in flooding management?', Geonadir, 2022 : https://geonadir.com/using-drones-flooding-management
L Tytgat, 'Drone regulation in the European Union amid a thriving market', https://room.eu.com/article/Drone_regulation_in_the_European_Union_amid_a_thriving_market
K Moskvitch, 'Take off: are drones the future of farming?', IET Digital Library, Volume 10, Issue 7, pp. 62-66, 2015
Please note, this article will also appear in the twelfth edition of our quarterly publication.

Go to this partner's profile page to learn more about them