Blue Power Synergy is working towards the creation of stand-alone renewable energy systems to produce not only electricity but also clean water.
Climate change demands zero-polluting technologies, and renewable energy is the way forwards. Combining several natural resources, such as wind and solar, with a water purification system to meet basic human needs could be the solution we have been looking for.
In remote locations, as well as in developing regions and islands, the overall energy production comes from fossil resources, which is both expensive and polluting. Fuel supply is a huge logistical challenge, and resupply often comes too late. As these same regions also deal with challenges around clean water – and water supply shortages –  new systems are necessary to deliver the needed energy and purified water.
The Belgian company Blue Power Synergy began its research and development towards the creation of stand-alone renewable energy systems to produce not only electricity but also clean water in 2016. The founders identified a lack in synergetic products on the market and an absence of total solutions. Indeed, they found that several different suppliers offered the same individual solution, meaning that clients still needed to overcome their other energy and water-related issues. To solve this, the company was founded in order to act as a one-stop-shop, offering innovative combined modules and whole packages, which can also be customised depending on the condition of the area and client's needs. Some of these modular systems consist of container modules that can easily be expanded and transported. In 2020, the company started commercialisation.
Meet the synergetic team
The core team consists of three industrial engineers, each an expert in their own discipline. These are:
A chemist and former project manager for the development of large powerplants with over 40 years of experience;
An engineer with almost 10 years of experience in applied bio-sciences for agricultural and food processing and in engaging with the clean water system for human, industrial, and agricultural supply; and
A naval architect/shipbuilding engineer who is also a materials specialist with more than 10 years of experience in the maritime and renewable industry.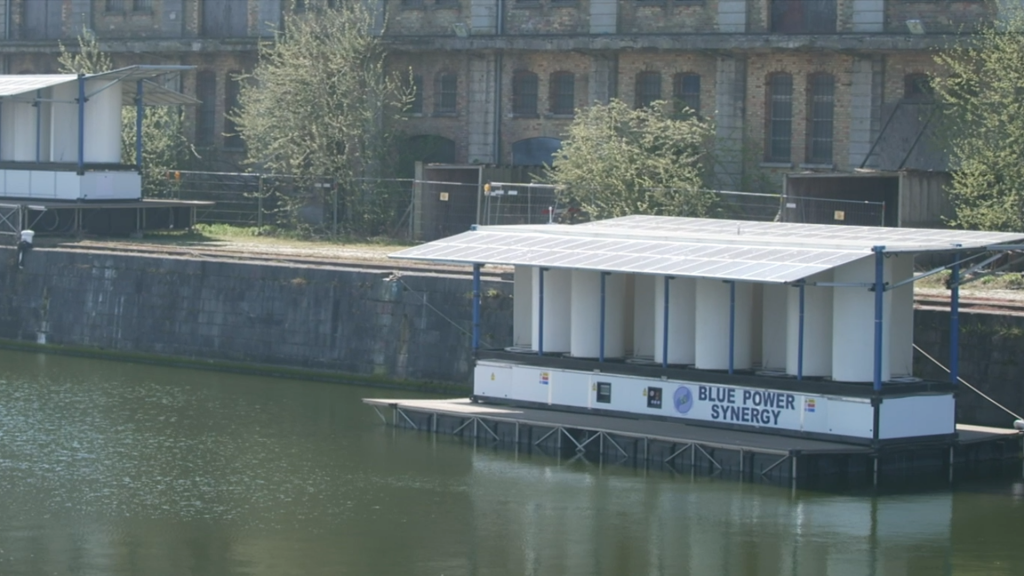 What is the company's flagship product?
Enreau is the company's flagship product. It combines several renewable energy sources with energy storage and clean water production. The station consists of a 40 foot long HC energy production container and a 40 foot long, one metre high technical container. Six vertical wind turbines, in a synchronised wall formation, together with 96m² of solar panels, deliver its energy with a combined 36 Kwh power capacity. For 24/7 operations and power balancing, a battery capacity is installed between 48 and 250 Kwh. Water purification systems of diverse qualities are proposed, depending on the user's needs and the local water supply. A desalination Enreau to produce drinking water delivers on average 30,000 litres a day, while desalination for agricultural water brings up to 150,000 litres a day. A pontoon option makes it possible to place the setup in a bay, on a river, harbour, or lake as a floating asset.
At what stage is this innovative system?
At the moment, several Enreau systems are being prepared for installation in the Pacific and there are a few demonstration units in Belgium that can be visited. One of these projects is for a humanitarian aid programme in the Solomon Islands, where the population is in desperate need of a clean water supply. The local hospital will not only be connected directly for drinking water but will also have the Enreau as back-up system in case of a black-out.
What are the other opportunities?
The company also proposes a multitude of classic and innovative systems that can be combined to best fit the client's needs. Next to renewable energy production systems, a wide range of energy storage systems are presented for power balancing and uninterrupted energy supply. Clean water systems can range from pumping stations to desalination plants.
Who benefits from the systems?
Our clients are mostly remote communities, business owners, and humanitarian programmes. However, industrial companies, hotels, and utility companies in developing regions and islands have the same need for these systems. NGOs and emergency response teams for disasters would greatly benefit from such assets in the near future.
What do you see for BPS in the near Future?
The company will continue to innovate with scaling up to larger units (Mw) for offshore purposes as well as in wave and tidal energy production systems. Currently, BPS is raising funds to further boost its international expansion with the opening of departments on several continents and to create a BPS holding. Potential investors are welcome to join the blue wave.
Please note, this article will also appear in the seventh edition of our quarterly publication.

Go to this partner's profile page to learn more about them