Trond Vegger, CEO of Noras Watertech, outlines his company's innovations in recirculating aquaculture systems, its water quality management system, its improved aquaponic solution, and the benefits they bring
Noras Watertech was established in 2007 and is 100% owned by Noras Group. It specialises in the design and installation of recirculating aquaculture system (RAS) and water treatment management systems. RAS designs and pilot study trials are carried out at the headquarters in Norway. Noras co-operates with local partners to establish recirculating aquaculture systems (RAS) farms locally and, recently, Noras Watertech and Noras LT formed a partnership to establish a RAS farm in Lithuania with an annual fish production capacity of 1,500 tonnes of Arctic charr. The project is ongoing with phase two having recently been completed with a capacity of 300 tonnes achieved. Phase three for grow-out is expected to begin soon.
This fish farm is designed to be energy efficient and uses a concept where no mechanical water pump is used for the main RAS operations. This RAS uses a custom-made Noras vacuum degassing unit that is used for degassing, protein skimming, and creating water flow.
The degassing performance of Noras's vacuum degassing unit is very efficient compared to other conventional options that are currently available. The combination of the three aforementioned features results in a much higher energy saving compared to other RAS suppliers. It can also be dimensioned to the size of the fish tank. Together with our solid removal technology, head losses are eliminated for sufficient flow without the need of a pump. Noras's vacuum degassing unit can be used alone or together with other RAS designs with and without pumps. Oxygenation is also optimised with the use of our nano bubble generator, where oxygen losses are reduced. Our nano bubble generator ensures that there is enough oxygen available for the fish.
The company has also designed and produced its own products which are mainly used for the design of RAS. These products include honeycomb biomedia, one of Noras Watertech's products for designing a moving bed bioreactor (MBBR) for biofiltration in RAS. Drawing on 40 years of horticultural lighting experience, underwater fish lights with a unique light spectrum have been designed to reduce fish stress, reduce fish maturation, and improve fish growth.
Noras has also designed highly intelligent unique system control software that assists in decision making on the RAS farm. Water inlets, dead fish traps, and particle settling systems are also designed for easy and efficient operation on RAS farms.
Currently, three different pilot systems are under R&D operations in Lithuania with the aim of optimising our RAS design to be efficient and to reduce production cost of salmonids.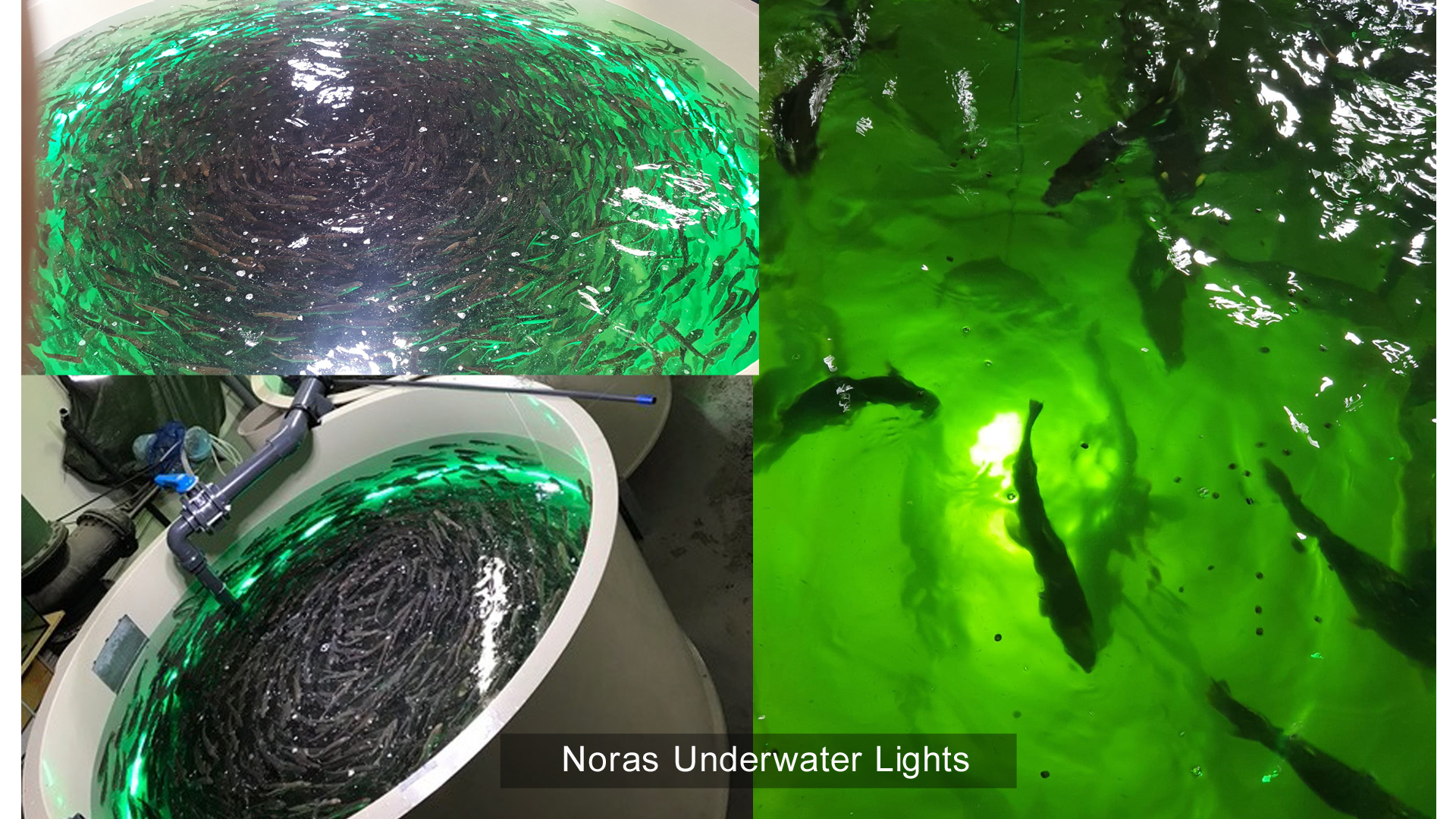 Water quality management system
RAS farms' success depends on providing the optimum aquatic environment for rapid growth at the minimum cost of resources and capital. One of RAS's significant advantages in managing the aquatic environment and critical water quality parameters to optimise fish health and growth rates. Each water quality parameter is essential, but all parameters aggregate and their interrelationship influences fish health and growth rate. Each water quality parameter interacts with and influences other parameters, sometimes in complex ways. Concentrations of any one parameter that would be harmless in one situation can be toxic in another(M B Timmons and J M Ebeling, Recirculating Aquaculture, Third Edition).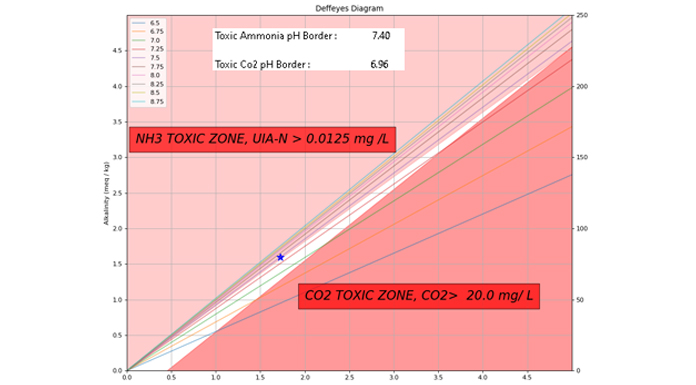 Fish raised in the RAS facility has different needs in different sizes, and RAS operators know that there is a level at which total ammonia nitrogen (TAN), carbon dioxide (CO2), and hydrogen sulfide (H2S) become toxic, and that this changes dependent on the type and size of fish in question.
Our programme draws the safest pH range dynamically for aquaculture conditions. In this way, we manage more than one system at the same time. Furthermore, it allows us to eliminate errors caused by miscalculations.
The programme was developed based on the scientifically published deffeyes diagram. Red fields show example user-set limits. The white area in between indicates the safe zone. The blue star indicates real-time water quality. Each line on the graph indicates each marked pH value shown above left. For example, in this case the user has a toxic ammonia problem. Temperature = 16°C, Salinity = 2 ppt , TAN: 2mg/l, and pH 7.5. As a result, the toxic ammonia pH border is 7.40, and the toxic CO2 pH border is 6.96. It is clear, then, that pH 7.5 is not the correct level all of the time, as many people might think.
The person using the programme can instantly see the situation and the calculated amount of chemicals needed to adjust the water quality to correct it, as well as the status of any over- or under-working equipment. The programme receives data manually from the user or through sensors. It can serve any (freshwater or saltwater) RAS (commercial systems, aquarium, biofloc systems) online.
Noras's water Quality Management system has been built to help fish farm managers to make the right decisions quickly. This is important when it is understood that water quality must be properly managed in order to be sustainable, and also that concrete reactions are crucial in an emergency situation. And, of course, fish require different water quality at different sizes.
The software helps managers to:
Understand all water quality parameters in relation to each other;
Arrange a safe zone for different sizes of fish;
Understand water quality through visualisations (to know, for example, if water quality has reached the toxic carbon dioxide zone); and
React quickly in an emergency, and fish are saved before any huge losses
Moving forwards, Noras aims to develop the system in the following ways:
Enable the monitoring of water quality and possible physical factors affecting fish growth;
The inclusion of machine learning algorithms to eradicate the need to guess things like water quality and growth status; and
The software will monitor the performance of other equipment within the system.
The software will also save data (both as numeric data and as a recorded video), which it will learn from, potentially being able to predict future accidents and so optimise sustainability.
Honeycomb biomedia
Noras honeycomb biomedia is used to provide a compact design which is a fraction of the size of conventional suspended activated sludge systems due to its high surface area. It is easy to upgrade to increase treatment capacity by simply increasing the filling fraction of the biofilm carriers. It is mostly designed for single pass processes without any return as this is the requirement in activated sludge system. The attached biofilm on the media is very load responsive and more reliable under load fluctuations. Honeycomb bio-media has a surface area of 1,200m2/m3 and has been designed to avoid clogging.
The media ensures an increased operational efficiency by using smaller footprint. These media are designed for use in both municipal and industrial applications. Maintenance downtime and power consumptions are reduced due to its design for dynamic movement in the wastewater. The media offers flexible and economical designs with significantly reduced CAPEX and OPEX. Noras also offers solutions which make the advanced separation of solids more effective regarding BOD and nitrogen removal. The company's continuous research programmes help to position it as an important player in offering green solutions in the world.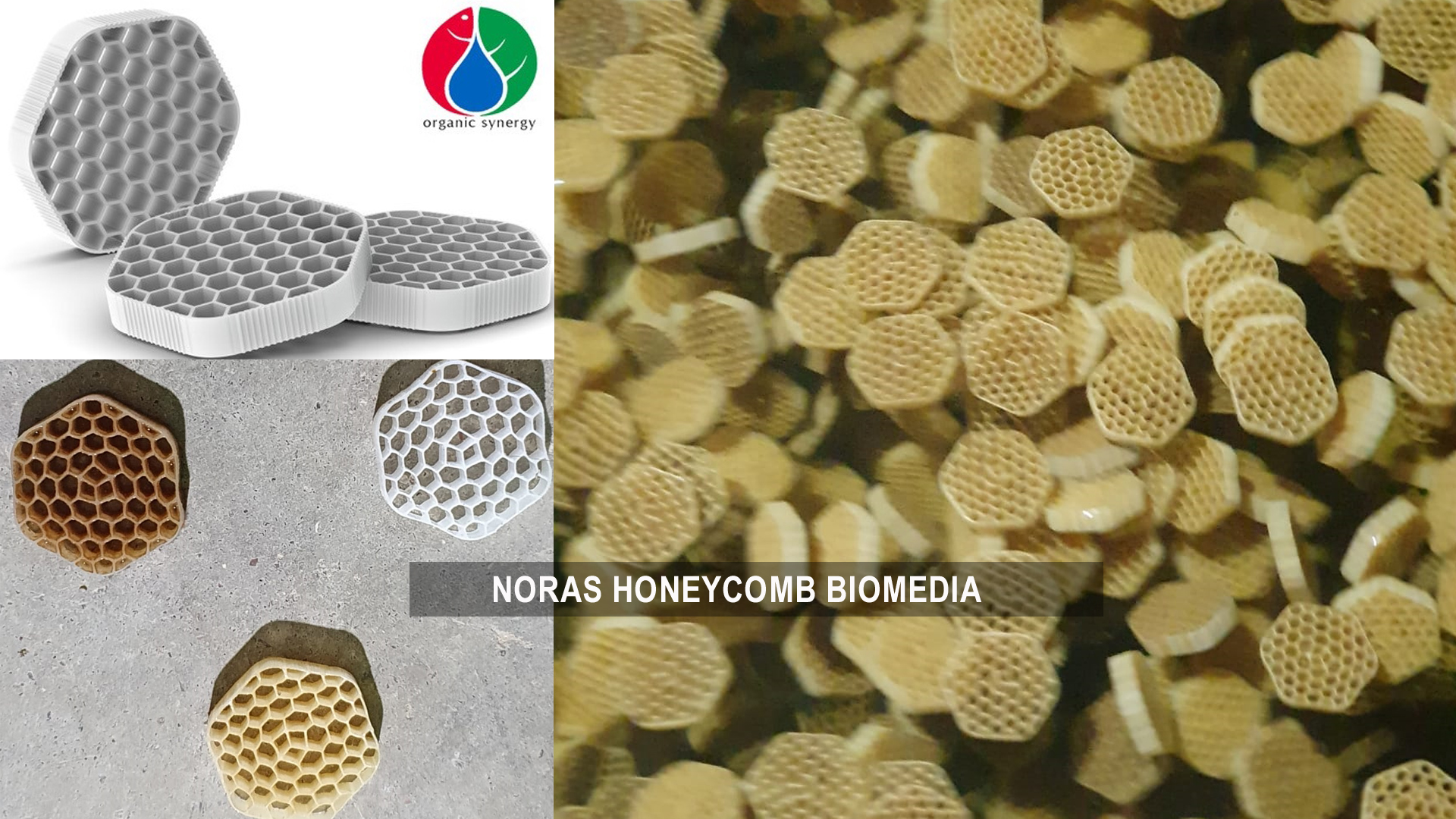 Noras Complemented Aquaponic Solution (NCAP)
Alternative improved aquaponic solution
Noras's complemented aquaponic solution (NCAP) is an alternative improved aquaponic solution designed to ensure optimal production for both fish and plants in large-scale production designs.
The NCAP system, however, provides the possibility to optimise the production on both fish and plants. Fish production can utilise efficient RAS where optimised conditions are ensured, and hydroponic plant production can be done in an efficient greenhouse facility where parameters can be controlled for optimum plant production. This combination ensures maximum production of both fish and plants compared to a stand-alone system.
NCAP seeks to address most of the challenges associated with traditional aquaponics. A traditional aquaponic system is a production system that combines recirculating aquaculture with hydroponics to use nutrient waste from aquaculture as an input to plant growth. In aquaponic systems, the bacteria are grown either in a designated biofilter (similar to a RAS) or in the hydroponic tanks, on a tank substrate, and on the roots of plants. Aquaponic operations can achieve high fish production densities like those in RAS. Nutrient removal and water-reuse rates in aquaponic systems vary widely, depending on the medium used to grow plants, the flow rate, the type of plant, and the ratio of plants to fish. Nitrate and phosphorus removal rates, for example, range from 9-93% and 0-53%, respectively. Typical aquaponic systems produce about 7kg of vegetables for every 1kg of fish.
Though fish wastewater is described as nutrient rich water for plant growing, its concentration levels for some macro- and micronutrients are below optimum plant requirements. In some cases, these minerals are supplemented for the plant and may reach levels that may not be optimal for the fish.
Furthermore, aquaponics requires substantial amounts of land. This is because an average of 1m2 of plant growth area is required to treat the water for each 60-100g of fish feed used. This makes it very difficult to have a large commercial aquaponic system for fish production capacity above 1,000 tonnes.
Another obstacle concerns food safety and consumer acceptance. There is increased risk of cross contamination, including spread of Salmonella and Escherichia coli, when growing fish and other animals near each other. Consumers may therefore be worried about consuming vegetables grown in this system and may not pay a premium for these products.
Finally, traditional aquaponics is described as being a high-risk production model as any malfunction, disease outbreak, mistake, or accident can cause the catastrophic collapse of the system and result in high financial losses for investors. With NCAP, both RAS and greenhouse systems can be isolated for independent operation in the case of a problem being identified on any one side.
NCAP is a modernised aquaponic system which consists of growing fish in a previously-developed RAS system, collecting the fish sludge and supplementing it with lacking plant nutrients before directing it for use in a hydroponic system in a modernised greenhouse facility.
Delaide et al have reported that lettuce growth performance in a complemented aquaponic solution (CAP) outperformed hydroponics and aquaponics by an average of 39%. Results from the Ecofutura project, where 50 tonne tilapia farm was coupled with 2.5-3 hectares of tomatoes showed that a combination like this would save 5-10% on fish production and 1-2% on tomato production. There were also savings on heating and CO2 costs.
The NCAP system provides the possibility to collect fish wastewater, treat and supplement with remaining nutrients to optimum levels before use for plant production. Additional physical disinfection barriers (membranes) may be used since only RAS discharge wastewater is treated to avoid food safety issues, thereby improving customer acceptance for plant production. As this system does not only require hydroponic tanks for fish waste nutrient removal, only a small area of plant production is required in relation to RAS water discharge.
RAS production stripped carbon dioxide can be channelled to the greenhouse for plant use. Furthermore, the RAS and greenhouse can be separated in event of disease outbreak on one side. This helps to minimise risks related to production losses. Additionally, a complemented aquaponic solution (CAP) offers the possibility of growing both cold and warm water fish in aquaponic settings. Both farming activities will benefit from any excess heat and chilling from any sides in NCAP. An aquaponics economic benefits analysis made in Eindrapport for a large scale fish farm (>1,000 tonnes of aquaculture) is listed below:
100% savings in water costs for vegetable production;
A large amount of the money being spent on fertiliser can be saved;
Savings are also made on the CO2 required for plants as it is provided by RAS from the fish's respiration;
Value is added to the fish farming waste to produce crops in a sustainable setting;
Less extensive filtration systems are required as compared with stand-alone aquaculture systems to meet discharge requirements, thereby reducing waste2 treatment cost; and
There is less, or even no, discharge to sewage channels, therefore saving on disposal cost.
The NCAP system provides some of the required solutions needed by traditional aquaponic farming. Our research team in Noras Watertech is working hard to establish the first NCAP farm with various scenarios to ensure optimised NCAP is achieved while maximising its benefits.
Trond Vegger
CEO
Noras Watertech AS
+4791177787
http://Noras-wt.com
www.linkedin.com/company/noras-watertech
Please note, this article will also appear in the fourth edition of our new quarterly publication.