Environmental proofing and comprehensive cloud services are the secret to reliable, fast and long-lasting electric vehicle chargers with low life cycle costs.
Kempower builds electric vehicle chargers that last. For companies investing in charging infrastructure, this means low life cycle costs and more predictable maintenance. How does Kempower do this? By putting their chargers and their components through the Finnish treatment, and by offering software tools to ensure a long and trouble-free life.
Petri Korhonen, Kempower's Chief Engineer, with over 20 years of experience in designing electric appliances, and Digital Experience expert Juhana Enqvist tell why Kempower's way of thinking about charging infrastructure is the way of the future.
Durable chargers need to withstand conditions and environments harsher than required by international standards
"Durable chargers save time and money for our customers, which is exactly why we have made them our priority. EV chargers often face tough conditions, but with Kemppi Group's 70 years of experience in the product design of welding equipment and demanding power sources, we have figured out some clever solutions to battle them," Petri Korhonen starts.
There are three things to consider when building chargers that last: adhering to the international standards for electric appliances and electric vehicle chargers, such as IEC-61851, designing a dust-proof and leak-proof case, and protecting the electronics inside the case.
"The international norms dictate the protection class of the case, but we don't settle for that baseline. Our environmental proofing does not rely solely on the enclosure. Instead, we focus on two things: protecting the electronics, and designing the layout of the charger so that it repels dust and condensation," explains Petri Korhonen.
"Here at Kempower we have designed a specially made thick varnishing, which is applied by a robot, for protecting the electronics inside the charger. The composition of our varnishing material makes it possible to have a thicker and more durable layer than with other methods," Korhonen continues.
Plug fits but the charger does not charge – both hardware and software are needed
Every new electric car is a risk for e-mobility service providers. Although there are charging standards such as CCS2 or CHAdeMO, many car manufacturers and vehicle models have their own variations of the communication protocols set in the standard. If a charger cannot interpret the vehicle's communication, charging does not occur.
This is a difficult situation for service providers offering EV charging services — charging stations are expensive investments so they cannot stop working when a new car model comes along or if the car software is updated. This is extremely annoying for the EV drivers as well, as if your battery is running flat and you pull up to a charging station that cannot charge your car even though the plug fits, there is nothing you can do.
Kempower's Digital Experience expert Juhana Enqvist explains the charging process: "Charging an electric car is not just transferring electricity from the grid to the car's batteries. Charging an electric vehicle is communication between the charger and the car."
Kempower's cloud-connected chargers update to support new car makes and models
Unlike many fast charger manufacturers, Kempower's own engineers create, test, and update the charger software and how it handles the protocols.
"When new electric car models hit the market, our engineers test the communication between the charger and the car, interpret the car-specific variations, and update our charger software accordingly. Since our chargers are cloud-connected, we can update Kempower chargers globally within a few days from the launch of a new car make or model," Enqvist explains with pride.
This is a huge advantage for charging service providers and a relief for EV drivers. When investing in Kempower charging infrastructure, service providers can rely on an investment that works now and will do so in the future with all electric vehicle makes and models. EV drivers can trust that charging will work when they plug their car into a Kempower charger.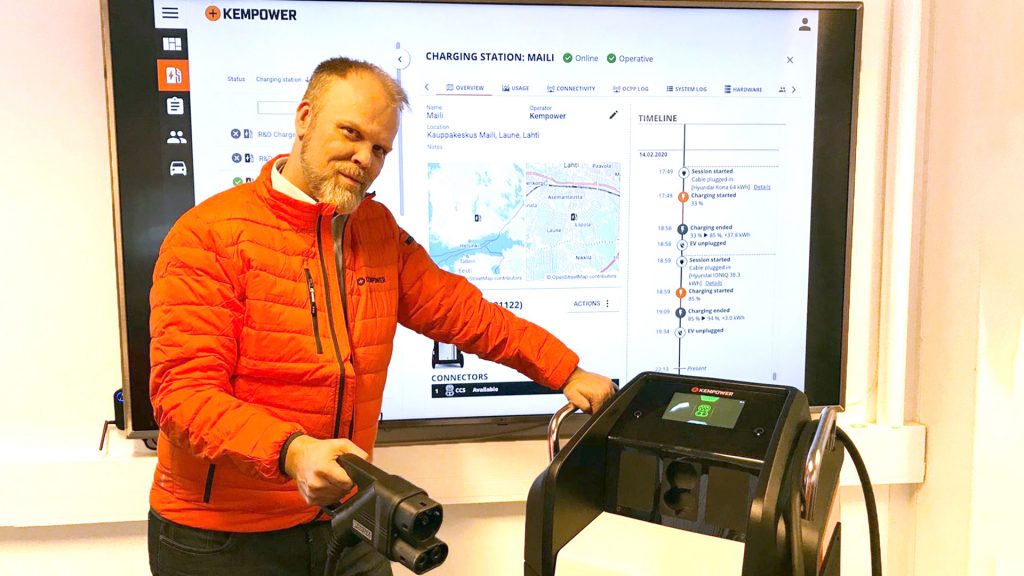 Almost all EV chargers are installed outdoors – environmental proofing protects against condensation and corrosion
"Clever solutions for environmental proofing are crucial, since almost all EV chargers are installed outdoors. Ideally, they would have shelters like the ones built for gas pumps, but instead are often left out in the open to endure changing weather conditions. And if the charger is located, say, in a seaside city where the air is salty or in a city where there are more pollutants in the air, there will be corrosion to deal with in addition to humidity," says Korhonen.
It is when corrosive compounds are added that you risk malfunction or premature failure of components. Corrosive compounds can drastically shorten the lives of unprotected materials and components. Dust can also create similar problems when it gets into a machine's insides.
Being a Finnish company, Kempower has some country advantages for testing in harsh weather conditions. Finland has steep changes in temperature and air humidity throughout the year, but according to Korhonen, those are easy to account for.
"Furthermore, the dust you have in car workshops for example can be conductive. If it gets into your insufficiently protected appliance, it will cause big issues. Saltwater is conductive, and often the dust in mines is too – and all these are places where electric vehicles are becoming more common and they need charging no matter what the environment conditions are," explains Korhonen.
Testing components and chargers weeds out weaknesses
Important steps in ensuring longevity for our chargers are taken with testing the components used in the assemblies. We run short-term and long-term tests on all critical components before accepting them for use. We test for issues such as excess current and voltage.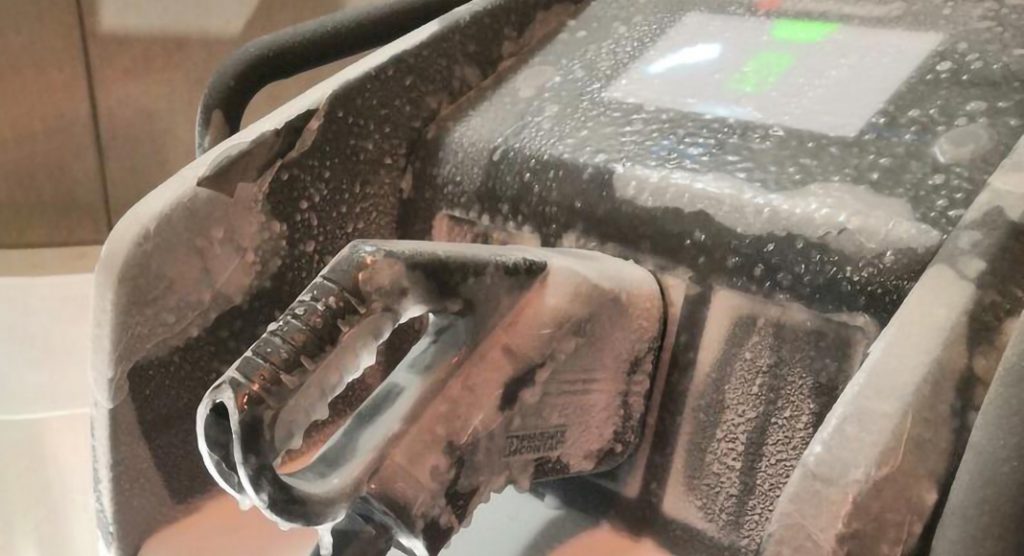 "We test all core components that could be a risk for reliability. These include power semiconductors, for instance. For evaluation, we have created our own Kempower design rules. They are based on the component manufacturer data sheets, but we have created our own baselines for what we know the component should be able to endure according to our tests," explains Korhonen.
In addition to testing the components, we also do heavy type-testing on the whole charger. We do endurance tests with 12,000 charging cycles, where every dial on the charger is turned to full power.
"The most stressful situation for the charger is letting it cool down for a short period between these full power cycles. The tests are designed to be far worse than anything the charger will have to endure during normal use," says Korhonen.
The most expensive type of maintenance is unexpected maintenance
"Our chargers are fitted with sensors that monitor parameters such as temperature. This way we can monitor the charger and, if a rise in any measured parameter value is detected, we are able to alert the maintenance crew. This way, maintenance can be planned ahead, and unexpected shutdowns avoided," says Korhonen.
Experience with Kemppi gives Kempower an edge in the growing electric vehicle charger market
Kemppi Group's knowledge in designing and manufacturing – for example welding machinery for tough conditions, such as shipyards, offshore and metal workshops – has proven to be an important advantage for Kempower. Welding machines are also often used in challenging conditions like outdoors in changing weather and even underwater, so solutions that work reliably in harsh environments have been tested and tried.
"Others may struggle with solutions that are in our DNA, and sometimes we do not even realise the uniqueness of certain solutions – they are so obvious to us," Korhonen explains.
"Environmental proofing and durability are becoming more and more important in chargers, as attention turns increasingly to life cycle costs with growing companies and fleet sizes," says Korhonen.
Charging infrastructure is under construction in many countries. Kempower range covers chargers from a 40kW movable T-Series up to megawatt-scale charging infrastructure systems.
"Kempower has mastered the art of electric power. The power modules used in our chargers are decades-proven technology and are the best on the market. However, I believe that cloud services are the fastest-growing technology," Enqvist says looking to the future.
"Companies with larger fleets and growing experience in managing them are paying more and more attention to what it all costs: how much maintenance is, and what percentage the initial investment of the purchase amounts to. This type of fleet management thinking draws closer attention to life cycle costs and the ways of lowering them. And this is where Kempower shines," Korhonen and Enqvist conclude.
Cloud service only works when it is communicating – what about communication breakdowns?
Cloud services and the chargers connected to them experience communication and electricity outages as well as other failures. Here is where Kemppi Group's legacy steps in. Kemppi welding machines have been connected to cloud services for years. It is common that welding machines are used in remote locations with poor communication networks, or they are offline.
"We have developed a cloud service infrastructure that is extremely resistant to all kinds of failures, and communication or electricity outages. The architecture and buffering are designed with these in mind, and we have used it successfully for years. Kempower chargers and cloud services can independently recover from any failures and breaks. It really does work and data keeps flowing," Enqvist says explaining the background of the Kempower cloud service named ChargEye.
Having your own cloud service in the fast charger market is not very common, especially not a cloud service architecture capable of handling all kinds of failures and outages.
Reliability is not just recovering from failures: it is securing your privacy
Who, when, and where is charging happening? Which vehicle is being charged? What is the serial number? Who is paying? Which payment method is used? A lot of privacy information is related to charging an electric vehicle. This sensitive information when combined with other data, opens a lot of opportunities — and yes, privacy threats. Therefore, privacy and data security are crucial features for an electric vehicle charger and cloud services connected to it.
"We of course use serverless computing with the best security mechanisms on the market to ensure that our cloud service is safe and unbreakable. We chose Amazon as a partner since their serverless computing services are the most advanced on the market," Enqvist explains.
"However, it is not just the technology — we have designed the entire cloud in a way that it does not store personal information. Some e-mobility service providers transmit a customer ID, but it is not linked to any personal information either. We can use an unidentifiable one-time charging ID to prevent any personal information from being transmitted," Enqvist adds as he discusses data and privacy security.
Fleet management, reporting, and integration
Public transport operators and companies with large fleets have powerful fleet management systems, where they track vehicles, drivers, fuel — or in our case electricity — consumption, vehicle maintenance records and much more. Kempower cloud supports integration with these systems and information flows in both directions.
"A simple and useful example of ways to use the cloud is for a price list: instead of physically sticking pricing stickers on the chargers, which need to be replaced to update them, the operators can update the price lists via the cloud, as all our chargers have 7" touch screens. Think of the cost savings for price list updates compared to replacing stickers," observes Enqvist.
"A more important feature is the vehicle and charging system preventative information. We can communicate to the fleet management system if a vehicle, its battery, charging system, or our charger behaves in an unusual manner. This way, the fleet management can fix the problem before a vehicle breaks en route or in a mine tunnel, for example," Enqvist says about the Kempower cloud and fleet management system integration.
Enqvist and his team want to build a charging infrastructure they themselves too enjoy using
When reading feedback from EV drivers about fast charging stations, the complaints are plentiful. User interfaces are difficult to use, payment is complicated, charging speeds vary, and rates are unclear.
"One part of the problem is that many manufacturers outsource their software and cloud services, which leads to long development cycles and poor user experience. We at Kempower handle our software, hardware, and cloud services ourselves, which is a clear advantage in creating easy-to-use chargers with a pleasant user experience," Enqvist concludes.
"With years of EV driving and charging experience, and hundreds of thousands of kilometres behind us, my team and I want to make easy and reliable chargers that we and everybody else enjoy using," he states.
Cloud services open a new set of possibilities. Charging stations could create a channel for communication, marketing, and additional services.
"For instance, I see an app that informs you when the chargers are available when you drive by or if the charger is being used by another customer. Or that you can connect with the car service and support during charging. Retail stores with cloud-connected chargers at the parking lot can offer additional services for customers," Enqvist envisions.
Kempower's view for 2021
There is already an obvious demand for Kempower's forward-thinking approach to charging electric vehicles: larger charging systems with several charging points to satisfy customers' growing needs. One could almost say the time of single isolated chargers is already over. It is time to match the forthcoming market with a stronger, broader network of convenient charging solutions.
At Kempower, we aim to stay at the top of the market in terms of usability and to continue product development, while staying closely in touch with actual users' needs. Our customer-oriented approach comes from straightforward, hands-on, everyday experience as drivers of electric cars ourselves.

Special Report Contact Details