KMX Technologies is leading the market with its sustainable and economical lithium concentration technology.
KMX Technologies is using its powerful, cross-cutting technology to enhance lithium production while protecting water resources. The company was founded in 2020 and built on over 15 years of deep technology research and leadership in vacuum membrane distillation. Today, KMX is well-positioned to capitalise on the rise in lithium production and the need for sustainable lithium concentration technologies that maximise project economics and improve water stewardship.
KMX is undergoing a period of rapid commercial momentum led by its core lithium concentration market focus. The company is working with leading lithium producers to replace the costly and energy-intensive conventional two-step lithium concentration process of evaporating lithium-rich brine with a dual mechanical evaporator and mechanical crystalliser.
Three-step process for bringing lithium to the market
Lithium is produced in two ways: from hard-rock mining (spodumene) and by extracting it from low concentrations in brines, geothermal waters, or other unconventional water sources. Bringing lithium from brine to battery-grade lithium is a three-step process which includes extraction, concentration, and conversion, as illustrated in the figure below.
As the illustration shows, lithium must be extracted from the other minerals and then concentrated to a level where it is ready to be converted from its natural state (lithium chloride) to battery-grade lithium (lithium hydroxide or lithium carbonate).
While most of the market focus today is on the first step (extraction), which includes Direct Lithium Extraction (DLE) or evaporative ponds, the second step (concentration) plays a significant role in water stewardship and project economics. Importantly, KMX is a technology agnostic lithium concentrator that is complementary to all DLE technologies.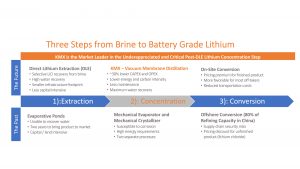 KMX's value proposition in this area has been recognised by some of the leading brine-based lithium project developers, including Cornish Lithium and CleanTech Lithium. Both companies have executed Letters of Intent (LOIs) with KMX for sustainable lithium concentration demonstrations. KMX is working with other leading lithium project developers as well, positioning the company with one of the largest lithium concentration pipelines in the industry.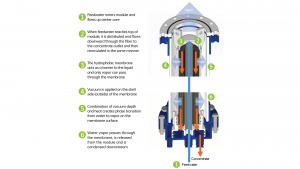 Unique technology driving KMX's economic advantage
The economic value proposition KMX creates is driven by its unique technology, as illustrated above. KMX's ability to separate water through its proprietary process, utilising hydrophobic membranes, allows for the separation of lithium and the highest quality water with less energy, carbon, and operating costs.
By operating under a vacuum and low-temperature and low-pressure conditions, KMX achieves an estimated 30% lower operating costs versus the competing solution, due to the competition's higher energy inputs as part of the evaporation process. Lower material costs stemming from KMX's poly-based system materials results in around 30% lower capital costs versus dual evaporator crystalliser systems as well, which are largely made from stainless steel and titanium. Lower maintenance costs and superior uptime due to non-corrosive materials is an important key advantage.
KMX benefits from the manufacturing expertise and scale of its strategic partner of core elements, Sumitomo Electric. KMX's Generation III technology leverages Sumitomo Electric's best-in-class manufacturing expertise and its proprietary PTFE POREFLONTM hollow fibre materials, "which has exceptionally high hydrophobic characteristics and thermal resistance", optimal for KMX's proprietary membrane design.
Maximising water recovery
As widely highlighted by market reports, one of the major drawbacks of DLE is the large freshwater requirement for the washing process. In arid environments, such as the lithium-rich Atacama Desert or American West, large freshwater requirements could create a significant local project roadblock and raise questions of the sustainability of the extraction process over the multi-decade life of the mine.
In addition to KMX's cost benefits over the competing two-step solution, the company's unique technology also creates distilled quality water as part of the lithium concentration process. This additional distilled quality water can then be used by lithium project developers as part of their DLE washing process, in lieu of drawing from precious and often sparse local freshwater resources.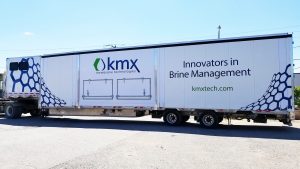 KMX believes its ability to create excess water as part of the sustainable lithium concentration process will be particularly important for project developers in South America, as roughly 65% of the water in the Atacama Desert has been evaporated by lithium mining and other mining practices. In Chile, where KMX's partner CleanTech Lithium is developing two large salars, the government is taking considerable steps to ensure best practices for water stewardship are instilled. KMX expects customer interest to continue to rise as government scrutiny of water management grows.
Building a leading lithium concentration project pipeline
KMX is developing a regionally diversified pipeline of lithium concentration projects. The company offers a long-term lease service model, eliminating CapEx requirements from customers. Continual technology improvement and replacement provides project developers the leading generation of best-in-class water and lithium concentration technology, irrespective of project commencement.
In addition to working with project developers in Chile and the UK, KMX is primarily pursuing additional opportunities in the US, Canada, and elsewhere in South America. KMX intends to continue to diversify its project pipeline and leverage its best-in-class manufacturing partnerships and local partners to execute on its growing commercial opportunity set, particularly as the lithium development cycle unfolds.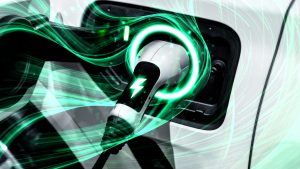 A land grab for best available lithium resources is underway. Recent automaker direct supply agreements should accelerate this trend. However, the electric vehicle buildout will depend on lithium technology and development practices that maximise production, realise attractive returns, and protect local stakeholders, especially as it relates to water and ecology. KMX's unique lithium concentration technology is delivering all of these attributes and is well-positioned for the coming multi-decade lithium buildout.
About KMX Technologies
KMX Technologies is solving the most critical environmental and energy challenges of the 21st century. Through its proprietary membrane distillation technology, the company is accelerating energy storage with its direct lithium recovery enhancement processes; sustainably sources critical minerals necessary for next-generation supply chains and infrastructure; and is advancing wastewater treatment.
Please note, this article will also appear in the eleventh edition of our quarterly publication.