Li-Cycle's patented and sustainable lithium-ion battery recycling process offers a step towards a clean energy future.
Building a clean energy future may depend on a potentially problematic technology: lithium-ion batteries (LIBs). Li-Cycle, however, believes its patented and sustainable lithium-ion battery recycling process will mitigate any harm associated with these essential storage devices.
Engineers and product designers favour LIBs, which store more energy and last much longer than conventional batteries; life today would be hard to imagine without them. LIBs are found in computers, smartphones, and household and industrial electronics of all kinds. As the power source for electric vehicles (EVs), they have become even more central to our daily lives.
In 2019 and 2020, just over 110,000 EVs were sold in Canada, equalling as many as in the previous eight years combined.1 Whilst that is still less than 5% of total vehicle registrations nationwide, Canada has set a target for all new light body cars and passenger trucks to be zero emission by 2035.2
Other3 nations4, along with their car5 industries6, have set similar targets. American president Joe Biden has called for half of all US vehicle sales to be EVs by 2030.7 General Motors has said it will sell only zero-emissions vehicles by 2035. According to a report from Roots Analysis8, the global market for automotive LIBs will climb from $17.4bn in 2019 to $95.3bn in 2030.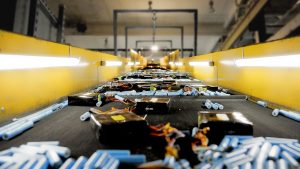 However, manufacturing LIBs requires a variety of limited resources and obtaining them is often environmentally destructive. Extracting cobalt and other LIB component materials can cause pollution, greenhouse gas emissions, and water contamination. These battery raw materials – such as cobalt, lithium, and nickel – are often found in unstable parts of the world where heavy industry is associated with child labour and other human rights abuses.
Despite their remarkable properties, LIBs do not last forever, and consumers tend to want the newest gadgets, which means people are discarding technology that still houses perfectly good batteries. If these batteries are not recycled, LIBs will typically end up in landfills. What many do not realise is that recycled LIBs can produce higher quality material, compared to virgin material.
A sustainable, economically viable process
Li-Cycle uses a two-stage process to recycle all types of LIBs, including the much larger EV batteries. The company can recover up to 95% of the materials inside. Its Spoke and Hub TechnologiesTM, use a wet-chemistry process, as opposed to extreme heat, and produce minimal wastewater and low emissions.
Li-Cycle processes LIB material (both manufacturing scrap generated during battery production and end-of-life lithium-ion batteries) at its Spoke facilities through a proprietary shredding process. At Li-Cycle's Spokes, the LIB material is converted into three main product streams: plastics, copper/aluminium, and a substance called 'black mass' which contains highly valuable metals including lithium, nickel, and cobalt.
The black mass is then taken to Li-Cycle's Hub facilities where the company will produce these battery grade materials (lithium, nickel, cobalt) to be used in new batteries. Li-Cycle's patented Hub technology uses a hydrometallurgical – or wet chemistry process – an approach that is unique to the industry and environmentally advantageous compared to traditional recycling processes that utilise high temperatures and typically lose half of the battery grade materials in the recycling process.
Compared to many recycling methods for other materials, the material Li-Cycle recovers is of the same quality of materials mined from the ground – that is because the material contained within a battery has already been refined.
No known mine contains all the materials needed to manufacture LIBs. However, with Li-Cycle's sustainable lithium-ion battery recycling processes, the necessary materials can all be extracted from the discarded batteries all from within the same battery. This is one of many important drivers of Li-Cycle's environmentally friendly and economically sustainable recycling processes.
Li-Cycle's process also has environmental and economic benefits over traditional recycling methods. At present, other LIB manufacturers use a high temperature, 'smelting' method to recover these critical, valuable resources. Li-Cycle technology uses an energy-efficient, wet-chemistry approach that does not require heat.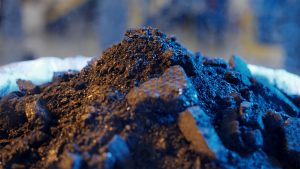 North American lithium-ion battery recycling
Li-Cycle has already established itself as one of the leading North American sustainable lithium-ion battery recyclers. The company continues to scale its patented and proven Spoke & Hub Technologies, which are both environmentally friendly and economically viable. Li-Cycle also continues to gain commercial traction by launching key collaborations with major players in the industry as it executes on its global growth strategy.
With material from approximately 85 battery supply customer sources, Li-Cycle produced approximately 1,900 tonnes of black mass at its Kingston and Rochester Spokes during fiscal 2021. Of that, more than 800 tonnes of black mass was produced during the fourth quarter alone. The company's first commercial Rochester Hub facility is expected to be commissioning in 2023 and will have a black mass recycling capacity of 35,000 tonnes per annum, equivalent to the LIBs used in approximately 225,000 electric vehicles. This facility has received key environmental permits and is the first facility of its kind to be approved in North America.
Even though mass EV adoption has not yet arrived in North America, the continent is emerging as an important region for LIB manufacturing. As factories produce more batteries and automotive OEMs expand their operations, they discard more and more battery scrap, which needs to be recycled. By the end of this decade, it is projected there will be an increased volume of spent LIBs with the batteries in today's EVs reaching end-of-life. However, before that happens, there will be a critical need to recycle all battery manufacturing scrap that is generated in the short term.
It is estimated that the existing North American mega-factories' capacity to manufacture LIBs will grow from approximately 45 GWh in 2021 to more than 500 GWh by 2025.9 Li-Cycle collaborates with global LIB manufacturers and industry leaders such as LG Chem, LG Energy Solution, Ultium Cells LLC, Morrow Batteries, Eco Stor, and more, to ensure these batteries are managed sustainably at every stage of their lifecycle.
To address growing demand, the company has planned to open two new Spoke facilities in Arizona and Alabama in 2022. Li-Cycle also plans to open another US Spoke facility co-located at Ultium Cells LLC's battery cell manufacturing mega-factory in Ohio by early 2023. By the end of that year, Li-Cycle is expected to have a LIB material input processing capacity of 45,000 tonnes per year in North America.
Expansion into Europe
In the near to medium term, Li-Cycle is taking important steps to execute on its global growth strategy and expand its international footprint into Europe. In Europe, EVs can account for more than 20% of continental sales in a month.10
With support from continental governments, European lithium-ion battery production is skyrocketing alongside demand for EVs. Analysts forecast that, by 2027, EVs will be less expensive than internal combustion vehicles in all European countries.11 This should enable EVs to achieve total market penetration of roughly 25% by 2030.12
The expansion of EV LIB mega-factories' capacity in Europe is also expected to expand significantly. Li-Cycle is presently developing a European Spoke through a joint venture with Morrow Batteries and ECO STOR in Norway, which is anticipated to begin operations in early 2023. The company has also announced plans for another Spoke facility in Europe to be located in Germany. By the end of 2023, Li-Cycle has forecasted its total global processing capacity for LIB material input to equate to 65,000 tonnes per year.
The company is growing its European operations under the leadership of Elewout Depicker, VP of Commercial and Corporate Development at EMEA, and Manfred Schmidt, VP of Battery Supply at EMEA. Before joining Li-Cycle, Depicker was the Business Head of Lithium, Manganese, Additives and Supply Chain Management at Umicore's rechargeable materials division. Schmidt was previously the VP of Sales at a German system provider for electromobility and industrial applications with LIB solutions in Europe and North America.
Asia's mature market
In East Asia, the market varies widely by country. Southeast Asia is on the brink of a surge in two-, three-, and four-wheeled electric vehicles. China is currently the world's largest EV market. As such, it will be the first market to have significant demand for automotive LIB recycling. However, the European market has surpassed China in sales growth13 and North America is expected to do so14 in the coming years. It is anticipated that growth rates in Europe and the US will surpass China by 2025.
China has not opened its recycling industry to foreign companies. Several companies, based in the country's East, lead China's recycling efforts. However, they primarily use pyrometallurgy (extreme heat) in their recycling processes. These processes are both less efficient (because they recover less material) and come with increased pollution concerns, when compared to Li-Cycle.
LIB recycling is an essential tool for building a clean energy future and, for Li-Cycle, it also represents an exciting business at a global scale.
References
1 www.thestar.com/business/2021/12/10/by-the-numbers-a-look-at-electric-vehicle-sales-in-canada.html
2 insideevs.com/news/517202/canada-cars-zero-emission-2035/
3 https://www.theguardian.com/environment/2021/nov/09/what-is-the-morrison-governments-electric-vehicles-policy-and-will-it-actually-drive-take-up
4 www.independent.co.uk/climate-change/news/johnson-cars-net-zero-strategy-emissions-b1941063.html
5 www.nytimes.com/2021/01/28/business/gm-zero-emission-vehicles.html#:~:text=General%20Motors%20said%20Thursday%20that,trucks%20and%20sport%20utility%20vehicles
6 www.industryweek.com/leadership/growth-strategies/article/21183711/toyota-boosts-electric-vehicle-sales-target
7 www.whitehouse.gov/briefing-room/statements-releases/2021/08/05/fact-sheet-president-biden-announces-steps-to-drive-american-leadership-forward-on-clean-cars-and-trucks/
8 www.rootsanalysis.com/reports/view_document/automotive-li-ion-batteries-market/273.html
9 Li-Cycle Investor Presentation (page 9)
10 insideevs.com/news/576496/europe-plugin-car-sales-february2022/
11 www.transportenvironment.org/discover/evs-will-be-cheaper-than-petrol-cars-in-all-segments-by-2027-bnef-analysis-finds/
12 www.consultancy.eu/news/5766/europes-electric-vehicles-fleet-to-reach-40-million-by-2030
13 www.spglobal.com/commodityinsights/en/market-insights/latest-news/coal/012021-europe-overtakes-china-in-ev-sales-growth-in-2020
14 www.pewresearch.org/fact-tank/2021/06/07/todays-electric-vehicle-market-slow-growth-in-u-s-faster-in-china-europe/
Please note, this article will also appear in the tenth edition of our quarterly publication