Sokoman Minerals Corp has a wide range of gold projects within its Newfoundland portfolio, and has made exciting lithium discoveries during its exploration.
Sokoman Minerals Corp. (TSXV: SIC) (OTCQB: SICNF) is a discovery-oriented company with gold projects in Newfoundland and Labrador, Canada. These include the 100%-owned Moosehead, with Fosterville-style mineralisation and the district-scale Fleur de Lys project that is targeting Dalradian-type orogenic gold (Au) mineralisation like the Curraghinalt and Cavanacaw deposits in Northern Ireland. The company also continues to deliver high-grade assay results with two drill rigs currently operating at the Moosehead Project, and drilling is planned to continue throughout 2023.
Extensive experience in gold projects
Back in the 1980s, Tim Froude, Sokoman's President and CEO, made a discovery at what is now the Leprechaun Deposit at the Valentine Lake Project. Marathon Gold continues advancing the five-million-ounce, 100%-owned Valentine Gold Project, located in Central Newfoundland, into production in 2024. It is expected to become Atlantic Canada's largest operating gold mine once operations commence. This experience gave Tim deep insight into where to find significant gold deposits in Newfoundland. He has put that to work, methodically assembling the impressive land position Sokoman holds today, often at low cost, by staking the claims.
Moosehead Gold project
Sokoman's flagship gold property is the 100%-owned Moosehead Gold project on the Central Newfoundland Gold Trend. This is 150km to the northeast and along the same trend as Marathon Gold's Valentine Lake project. The geology, structure, and style of the Moosehead mineralisation compare favourably to the Bendigo-Fosterville-type gold projects in Australia.
The town of Grand Falls-Windsor lies 20km west of the property, and the town of Gander is located 75km to the east. The TransCanada Highway cuts across the northern portion of the property, while secondary roads and drill trails offer excellent access to virtually the entire property. There is a power line with a substation a few kilometres from the edge of the property. An assay lab and drilling companies are located within 130km.
Sokoman commenced the first phase of drilling on the property in 2018 to test an area of shallow drilling done years earlier on a part of the property called the Western Trend. Drillhole MH-18-01, the 'Discovery Hole', cut two separate zones of gold mineralisation, highlighted by a 1.35m quartz vein (core length) that contained a minimum of 50 specks of visible gold (VG), in a zone grading 11.90m @ 44.96 g/t Au. A second zone, 40m further down the hole, returned assays of 8.95m grading 4.20 g/t Au, including 1.33m grading 19.72 g/t Au.
The following selected Eastern Zone intersections have been reported from five drilling phases completed, with mineralisation defined over a 500m strike length and a 200m vertical height, remaining open along strike and to depth:
Phase 1 MH-18-01 11.90m @ 44.96 g/t Au, incl. 5.65m @ 93.56 g/t Au
Phase 2 MH-18-39 5.10m @ 124.20 g/t Au, incl. 1.10m @ 550.30 g/t Au
Phase 3 MH-19-62 7.20m @ 22.35 g/t Au, incl. 4.80m @ 33.59 g/t Au
Phase 4 MH-19-81 6.40m @17.34 g/t Au, incl. 1.45m @ 75.50 g/t Au
Phase 5 MH-20-86 5.20m @16.85 g/t Au, incl. 1.35m @ 61.11 g/t Au
Drilling is now well into Phase 6, which commenced in September 2020 and was planned to be up to 100,000m. A total of 82,000m has been completed to date, and two drill rigs are operating at present. The Phase 6 drilling programme is ongoing and will continue throughout 2023, well exceeding the 100,000m plan.
Drilling in the Main Eastern Trend has increased confidence in the interpreted plunge of the high-grade gold shoots. MH-21-323 was completed in the 75 Zone and continues to demonstrate high-grade, near-surface gold potential and has been extended to the north towards the Main Eastern Trend, suggesting that the two zones will merge. Additional drilling is planned to close the approximately 50m gap between the two zones of the gold project.
A barge-mounted drilling programme has intersected excellent infill and step-out Au values in holes in the Upper Eastern Trend/Footwall Splay. These holes confirm a strong, high-grade Au zone that remains open, up-plunge to surface, and down-plunge below 200m.
Modelling is clearly supporting the interpretation that the 75 Zone is a splay off the Main Eastern Trend with a similar relationship to the one that the Footwall Splay has with the Main Eastern Trend immediately to the north. The South Pond Zone is believed to be yet another splay off the Main Eastern Trend and current drilling is expected to connect them. The expanding 75 Zone has now been traced within 50m of the main Eastern Trend/Footwall Splay mineralisation. In addition, drillhole MH-22-418 has intersected the deepest occurrence of visible gold to date on the property at a downhole depth of 352m in a step-out below the current limit of mineralisation in the Eastern Trend.
The recently identified 463 Zone represents a significant departure in vein style/geometry from earlier drill intersections in the vicinity. The 463 intercept is thicker than any other to date and includes the 'typical' high-grade vuggy-type veins with abundant VG with 5-7% accessory boulangerite as well as brecciated veining with occasional specks of VG with minor boulangerite and sphalerite. Preliminary conclusions are that the 463 Zone is the hinge zone of a folded footwall splay vein off the lower Eastern Trend with the geometry inferred to be a flat structure with a north-south trend. Initial assay results from the 463 Zone included a 39.6m intercept (core length) at 12.50 g/t Au (from 295.30 m downhole), including a higher-grade interval of 10.25m at 41.97 g/t Au (from 312.35m downhole).
The new 511 Zone has been intersected in two holes testing an Induced Polarization (IP) response under South Pond. The intersections are 250m south of the South Pond Zone. The gold mineralisation style found is similar to that seen at most gold zones at Moosehead and is often associated with higher-grade, VG-bearing, quartz veins. It is still not known if the intersections in holes 510 and 511 are one continuous zone or two separate, subparallel zones.
While the multiple gold-bearing zones may not merge into a single unit, they do appear to form a cluster with the potential to be mineable together.
Fleur de Lys Gold Project
At the 100%-owned Fleur de Lys Gold Project on the Baie Verte Peninsula, in north-central Newfoundland, final results for all 1,260 C-Horizon till survey determined that an anomalous sample contains at least two times background or 20 gold grains.
Of the 1,260 samples, 328, or just over 25%, have at least 20 gold grains (to a maximum of 230 grains) and are considered anomalous. 55 samples contain at least 60 grains (six-times background) and a number with more than 50% pristine gold grains. Gold grains described as pristine are considered to be from a local bedrock source (less than 200m transport).
34 bedrock and float samples returned values >100 ppb Au (0.1 g/t Au); 18 returned values >500 ppb Au (0.5 g/t Au); and ten returned values >1000 ppb Au (>1.0 g/t Au), with a maximum value of 4.60 g/t Au. Follow-up prospecting, trenching and continued infill till sampling will commence as soon as possible.
Sokoman/Benton Alliance
Also, very important among the variety of Newfoundland property interests held by Sokoman, is the 50/50 JV Alliance formed in May 2021 on three regional-scale gold projects. The operator of these projects is Benton Resources Inc. (TSXV:BEX, OTC Pink: BNTRF), a mineral exploration company listed on the TSX Venture Exchange. Following a project generation business model, Benton holds a diversified, highly prospective property portfolio in gold, silver, nickel, copper, and platinum group elements and currently holds large equity positions in other mining companies that are advancing high-quality assets.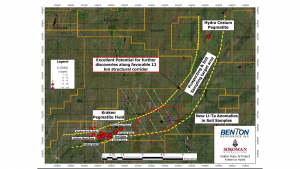 The three main Alliance gold projects include:
The Grey River project in southern Newfoundland, which is more than 8,100 hectares. Surface exploration located visible gold in a portion of the mineralised zone in the vicinity of a historical 225 g/t Au sample site. Drilling in late 2021 returned multiple intersections in drill holes covering 5km of strike length and is open in all directions. Drillhole GR-21-01, the easternmost hole drilled, intersected three distinct gold zones including a high-grade interval of 10.58 g/t Au over 1.8m, including 50.13 g/t Au over 0.35m. The 14-hole, 3,350m, 2022 Phase 2 drilling, has returned multiple intersections of gold mineralisation in drill holes covering 6.9km of strike length with the mineralisation remaining open in all directions. The 2022 drill programme has demonstrated both lateral and vertical continuity of gold mineralisation and has intersected anomalous gold values up to 1.7km east of the 2021 drilling with holes GR-22-06, GR-22-09, and GR-22-19 all intersecting anomalous gold values.
The Golden Hope gold project is in southwestern Newfoundland, on 79,400 hectares of property, and is one of the largest gold properties on the island. Survey efforts have been completed to provide an overall structural picture of the property and identify extensions of known gold-bearing structures. An initial reconnaissance mission at Golden Hope was completed to get a first-hand look at the ground and to obtain samples in as many areas as possible. Mineralisation observed included multiple occurrences of structurally controlled quartz veins with variable amounts of pyrite, as well as a previously unknown zone of locally significant arsenopyrite and pyrite that was noted to be several dozens of metres in thickness and of open strike length. Ground reconnaissance on the Golden Hope project also discovered a swarm of lithium-caesium-tantalum (LCT) pegmatites.
The 15,625-hectare Kepenkeck gold project features high-grade gold and quartz veining targets, in east-central Newfoundland. A Heliborne High-Resolution Aeromagnetic & Matrix Digital VLF-EM Survey, totalling 1,984 line kilometres, was completed in July 2021. Assay results from 24 samples obtained from localised float and outcrops returned gold grading from >5 ppb to 5,340 ppb.
In September 2021, the Sokoman/Benton gold projects Alliance confirmed the first lithium occurrence in Newfoundland at the Kraken Pegmatite Field on the Golden Hope project and continues to expand a new field of lithium-caesium-tantalum dyke swarms.
Multiple spodumene-bearing dikes were intersected in all drill holes, in the initial programme, with results from GH-22-01 ranging from less than 1m to approximately 8m in drilled thickness from surface to approximately 50m vertically below surface. Assay values ranged from 0.08% to 1.76% Li2O, averaging 0.95% Li2O, over 8.40m from 47.8-56.2m.
The Newfoundland lithium occurrences exhibit all the characteristics of a known major lithium-rich corridor observed from Ireland to the Carolinas. There are key indicators, lithium-caesium-tantalum (LCT) geochemical signatures, and elevated lithium, beryllium, caesium, rubidium, and tantalum values that were located to the west of the initial discovery, and to the east and northeast that point to target areas with a high probability for the discovery of additional LCT-rich pegmatites.
The dominant lithium-bearing mineral has been identified as spodumene, which occurs as clusters of elongated prismatic crystals up to 5cm long in a grey-white matrix of glassy quartz and feldspar. Initial samples from the aplite dykes give highly anomalous caesium (17 ppm to 508 ppm Cs), rubidium (226 ppm to 1310 ppm Rb), and tantalum (5 ppm to 179 ppm Ta), typical of evolved pegmatite swarms.
The gold projects Alliance has also discovered several new spodumene-bearing pegmatites 200-300m to the west-northwest and to the east and northeast of the main Kraken Pegmatite Field discovery area. The dyke swarm has now been sampled over a strike length of 2,200m and an apparent width of 1,200m.
The Alliance has completed further mapping, prospecting, trenching, and a 3,073m, 18-hole, Phase 2 Drill Program. The new drilling has targeted the East Dyke swarm, which is 600-650m to the east of the Kraken Discovery Dyke, intersecting multiple spodumene-bearing pegmatite dykes, over core lengths of up to 27m while also gaining a better understanding of the geological setting of the dykes for future targeting.
The Alliance reported the following from the 2022 exploration:
Intersection of several new spodumene-rich pegmatite dykes, including the East Dyke with intersections, including a 25m thick, spodumene-rich dyke, that carry significant grades (5.50m at 1.16% Li2O) within a wider intersection of 20.82m averaging 0.60% Li2O from 46m downhole in drill hole GH-22-15; and
•   Multiple spodumene-bearing dykes trenched in bedrock in the follow-up of prospecting discoveries showing lithium mineralisation over a strike extent of over 2km. Lithium soil geochemistry over areas of spodumene-bearing dykes outlines the mineralisation. A newly discovered cluster of spodumene-rich dykes, 200m south of the East Dyke, was trenched with samples assaying up to 1.12% Li2O. This area is still untested by drilling. Field prospecting data includes more than 30 float and bedrock sample occurrences with >1.00% Li2O over a > 2.20km strike length, which requires follow-up evaluation. Most have not been drill tested to date.
Kraken Discovery Dyke and the East Dyke
The Kraken Discovery Dyke and the East Dyke are approximately 600m apart and are wide open for expansion, with multiple untested surface dyke occurrences between them – the recently identified East Dyke South Area, Central Dyke Area, and Northeast Dyke Area.
Subsequent soil sampling along the trend and to the north of the known zones has identified multiple, strong 'lithium in soil' anomalies now prioritised for prospecting, including a new discovery of a Lepidolite dyke, 12km northeast of Kraken, with tremendous potential between and along the granite-sediment contact. Given the effectiveness of geochemistry, the Alliance has launched an extensive and systematic lithium soil survey over the 60km-long favourable structural trend, on the ~800 square kilometres Golden Hope project.
A significant recent discovery is a high-grade caesium-rich dyke, located approximately 12km northeast of the Kraken lithium discovery, with surface grab samples assaying up to 1.56% Cs2O (cesium oxide), 0.4% Li2O (lithium oxide), 0.022% Ta2O5 (Tantalum oxide), and 0.30% Rb2O (rubidium oxide). Follow-up channel cuts have averaged up to 8.75% Cs2O, 0.41% Li2O, 0.025% Ta2O5, and 0.33% Rb2O over a 1.2m sample length. Caesium is rare globally. The US and Canada have included caesium, lithium, and tantalum (among others) in their lists of critical minerals. This is the first high-grade caesium mineralisation recorded in Newfoundland. The new dyke is approximately 5-6m wide and has so far been traced for approximately 100m along strike. The dyke is yet to be drill tested.
Three holes drilled in December 2022 at the Killick Zone, which remains open in all directions, gave the best lithium intersections on the project to date as follows:
GH-22-25 – multiple spodumene-bearing pegmatite dykes with 14.74m of 0.64% Li2O,
including 5.73m of 0.92% Li2O
GH-22-26 – 26m behind GH-22-25 – multiple spodumene-bearing pegmatite dykes with 9.5m of 1.08% Li2O, including 2.15m of 2.01% Li2O
GH-22-27 – 30m N of holes 25 and 26 along strike – 15.23m of 1.04% Li2O, including 4.18m of 1.48% Li2O and 2.98m of 1.23% Li2O
The gold projects Alliance has control over a district-scale lithium LCT-rich-area play along the prolific Appalachian-Caledonian Lithium Belt that extends from the UK to the eastern US. Included in the belt are the important deposits held by Piedmont Lithium Inc. in the Carolinas, US, as well as the Avalonia Project of International Lithium in a joint venture with GFL International Co. Ltd., a subsidiary of Ganfeng Lithium Co. Ltd. in the Caledonides of Ireland.
Surface sampling and drill core analytical results at Kraken are also on par with the results from advanced projects in the Canadian Shield: Quebec's James Bay lithium district, Northwestern Ontario's Georgia Lake area, and the Snow Lake lithium district of Manitoba.
The project has moved quickly from an initial chance discovery through multiple phases of exploration and two rounds of diamond drilling. The Alliance is extremely pleased with the continued success on the 100% owned, 800 square kilometre Golden Hope project and the new discovery of caesium along with lithium, tantalum, and rubidium in an area far removed from the original Kraken discovery site. Given the results obtained to date, the Alliance is confident of more discoveries along the 60km-long structural trend hosting the Kraken and other lithium-caesium-tantalum (LCT) rich dykes.
Further exploration and development
Future development potential is enhanced by the presence of important infrastructure proximal to the property. An all-season, paved highway is within 14km of the property, and a hydro substation is about 10km; electricity will be from hydroelectric non-emitting sources. Deep-water, ice-free ports for year-round ocean shipping are located on the southwest coast of Newfoundland, 35km away, providing easy access to markets in the eastern US, and potentially European or other global destinations.
A great deal of additional work is required, including a significant diamond-drill programme to assess the identified lithium-bearing dykes as well as to test the new caesium discovery targets. The true ultimate potential of this project likely remains to be uncovered.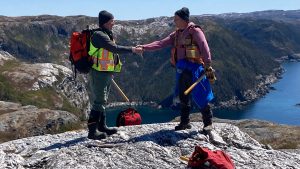 An aggressive, fully-funded 2023 field programme will commence in April, including:
Extensive prospecting and soil sampling, to expand the field;
Geological mapping, trenching, and following-up on geochemical results received to date; and
A minimum 5,000m drill programme.
Please note, this article will also appear in the fourteenth edition of our quarterly publication.

Go to this partner's profile page to learn more about them