Tide Ocean transforms ocean plastic waste into an award-winning, sustainable raw material, providing a circular solution to the plastic world that has a significant social and ecological impact.
If you are familiar with the watch industry, then you might have heard of the Braloba Group. The Swiss company is one of the world's leading manufacturers of watch straps. It has strong links to Asia and America with factories in China and Thailand, while its international partners both include Swiss watch brands and corporations such as Samsung, Fossil, and Fitbit.
Three years ago, Braloba's co-owner Thomas Schori was asked by a client if he could produce a watch strap made of ocean plastic. It was an intriguing idea, and one that had never been done before. Why? Because ocean plastic waste has been difficult to recycle due to the damage caused by UV rays, salt water, and sand. Could it be possible to transform the plastic waste threatening our oceans into new, sustainable goods?
Innovative entrepreneur
Being a true innovative entrepreneur, Schori connected with Professor Daniel Schwendemann, a renowned scientist from Switzerland's University of Applied Sciences. Together, they initiated a project at the Institute for Materials Technology and Plastics Processing (IWK) and came up with the solution in the form of a mechanical upcycling process.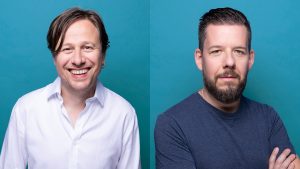 Schori says: "We have developed a method how to turn single-use plastic collected from the ocean into high-quality plastic granules. This raw material can be used for durable hard plastic products such as watches, furniture, automotive parts, or electronic devices, and can also be extruded into yarn for textiles such as apparel or watch straps."
Once the scientists had developed a method to repair the broken molecular chains without adding any chemicals, the potential of this achievement quickly became apparent. Schori registered #tide ocean material® and the innovative spin-off led to a company of its own, Tide Ocean SA, which is headquartered in Basel, Switzerland.
Designers are looking for sustainable plastic
Be it granules for injection, yarn for textiles, or filaments for 3D printing, #tide ocean material meets the challenging needs of the industry. Schori says: "Many manufacturers are looking for sustainable materials because they want to contribute to a better climate and cleaner oceans and add an inspiring story to their useful products. We are happy to make their wishes come true and present them with our eco-friendly solution."
Just a few weeks after #tide was officially launched in 2019, the company was honoured with the German Design & Technology Award MATERIALICA for its innovative approach. A jury of experts chaired by design Professor Peter Naumann (Munich University) awarded Tide Ocean with the first prize. "I find it very exciting how #tide takes a problem and turns it into new products," Naumann said. "This startup does not only recycle but also upcycles plastic waste. For me as a designer, that is always the highest aim: to create a cycle so that products have as long a life as possible."
A circular economy
Since then, #tide has also been awarded with the Swiss Plastics and the Hong Kong International Business Award for its eco-friendly campaign for, to quote a juror from Hong Kong, 'impact that matters'.
#tide not only provides a technological solution to achieve the goal of cleaner oceans, the company has also built a global network. #tide co-founder Marc Krebs says: "We are in full control of our supply chain: it starts with the fisherman collecting plastic on an island and ends with the brands using our sustainable material. By closing the circle of plastic production, we – and our partners – contribute to cleaner oceans and to a circular economy, and therefore reduce the use of non-renewable fossil resources."
Collecting ocean plastic
Together with social enterprises, #tide is collecting ocean-bound plastic in Southeast Asia, co-ordinated by its subsidiary in Ranong, Thailand. On five islands in the Andaman Sea, local fishermen are being trained and paid to gather and sort plastic waste. The material is registered, washed, and shredded in a social enterprise which is being implemented by the Swiss non-profit Jan & Oscar Foundation and the International Union for Conservation of Nature (IUCN).
Schori explains: "We organise beach clean-ups, pay fair wages, and comply with high ethical standards. A significant part of #tide's revenue benefits these coastal regions where the social and ecological impact is of the utmost importance. Hence, #tide is not only a material supplier of 100% recycled ocean-bound plastic, but also a strong, credible label for social and environmental sustainability and transparency."
Reducing greenhouse gas emissions
This additional impact is sought by many companies looking for new solutions to reduce waste and protect the environment. Still in its second operational year, #tide is already working on 130 projects with 90 different brands. These brands were all looking to replace virgin plastic and reduce greenhouse gas emissions to make their production more eco-friendly.
The numbers are impressive: recycling plastic saves 52% of energy (source: www.petrecycling.ch), and re-using plastic that already exists leads to 79% less CO2 emissions than virgin polyethylene terephthalate plastics (PET). On top of this, #tide's logistics process has also been certified by the Swiss foundation MyClimate as being carbon neutral.
In addition to PETs, #tide collects and sells polypropylene (PP) and polyethylene (HDPE or LDPE). All these plastics are compounded with Swiss precision with the help of solar energy, and are upcycled into a premium material for premium products.
Some of the upcycled material has already been given a second life as a new product, such as in watches made by Luminox and Bear Grylls. In addition to the strap, the watch case and bezel are also made of #tide ocean material. Krebs concludes: "We are more than happy that precise instruments such as watches can be created with so-called 'waste'. Currently, only 7% of the worldwide plastics are recycled. It is about time we took care of the other 93%."
Thomas Schori
CEO & Founder
Marc Krebs
CCO & Co-Founder
Tide Ocean SA
+41 (0) 32 328 30 30
hello@tide.earth
www.linkedin.com/company/tideoceanfabric/